Abstract
This study focused on the research of lung lesions in sheep slaughtered in the slaughterhouse of Batna city (Eastern Algeria). The objective of this study was to determine the frequency of lung lesions during the period from March to September 2013. Macroscopic examination was performed at the slaughterhouse to determine lung lesions and to take samples from injured lung areas for microscopic examination of anatomo-pathological lesions. Among 7420 inspected sheep, 2722 had pulmonary lesions (alone or in combination). The overall prevalence of lung affection was 36.68% (2722/7420), which is statistically significant (P < 0.001). Different pulmonary lesions were observed in the lungs with a rate of 43.91% (3258). The main pathologies of the lungs were heparization, verminous pneumonia, atelectasis, emphysema, edema, hydatid cysts, hemorrhage, pleurisy, suppurative broncho-pneumonia, abscess, and pulmonary congestion. Verminous pneumonia was the dominant pathology during the study period (745/3258) with a frequency of 22.87%. This lesion was preferentially localized in the caudal lobes, followed by atelectasis (22.16%) and hepatization (19.67%). The lesions of emphysema and suppurative broncho-pneumonia were observed only in young sheep with a frequency of 03.97% and 01.29%, respectively. Hydatid cyst was observed mainly in adults with 49 cases versus only one case in young animals. Season and age had a significant effect on the occurrence of some pulmonary lesions. Microscopic examination confirmed the macroscopic aspects of the lesions. The latter were well distributed on the different parts of the lung parenchyma, 05.27% of lesions were localized across the lung parenchyma. 73.79% of the lesions were localized in the right lung against 20.17% in the left lung.
This is a preview of subscription content, log in to check access.
Access options
Buy single article
Instant unlimited access to the full article PDF.
US$ 39.95
Price includes VAT for USA
Subscribe to journal
Immediate online access to all issues from 2019. Subscription will auto renew annually.
US$ 99
This is the net price. Taxes to be calculated in checkout.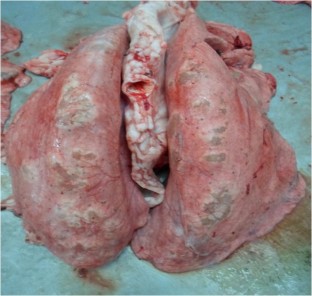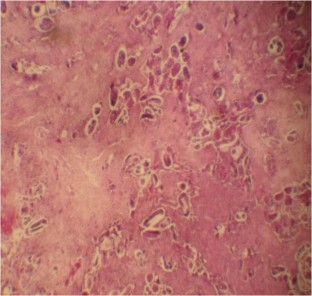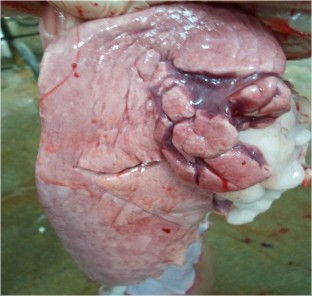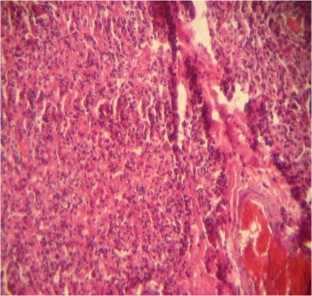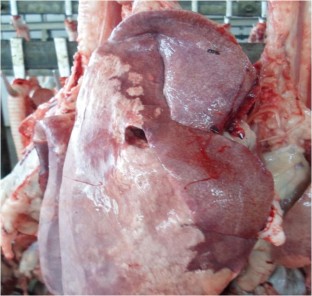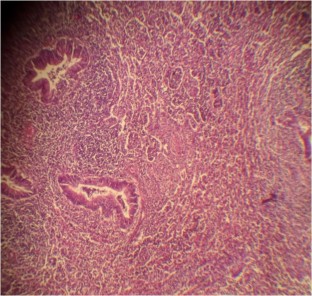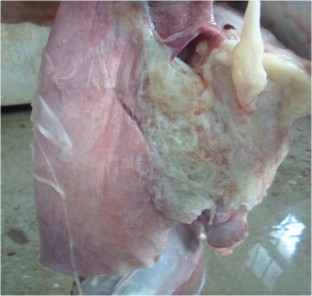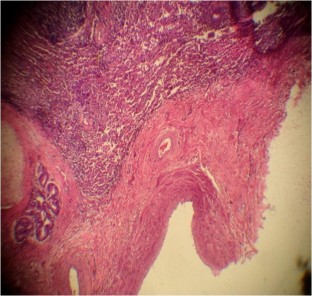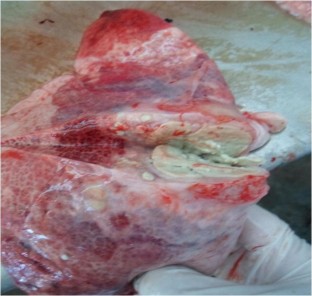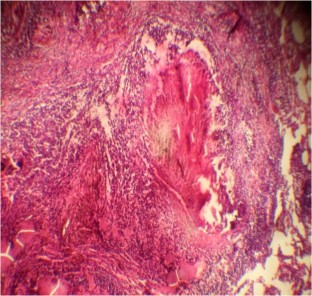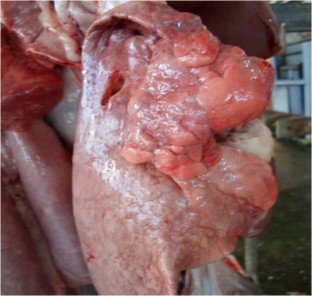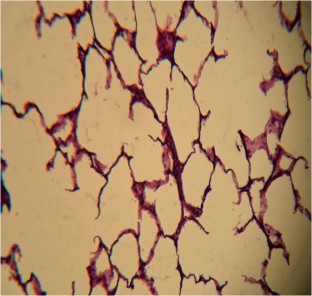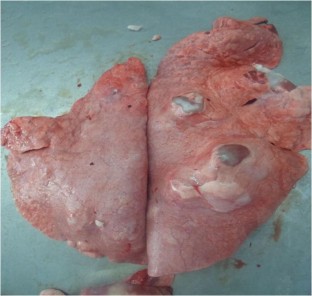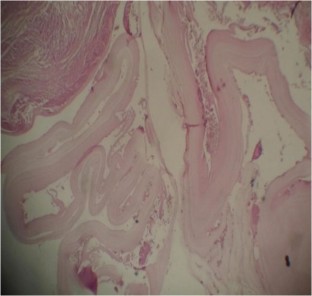 References
Acha PN, Szyfres B (1989) Zoonoses and communicable diseases common to man and animals "hydatid disease", 2nd edn. Office International des Epizooties, Paris, p 794–800

Addis M, Fromas A, Ebuy Y (2011) Study of the prevalence of lungworm infection in small ruminants in Gondar Town, Ethiopia. J Vet Anim Adv 10(13):1683–1687

Akloul K (2011) Epidemiological study of bacterial respiratory disease of sheep. Magister thesis in VetSci University Saad Dahlab, Blida 185 pp.

Alemayehu R, Nebyou M, Bekele M, Desta B, Dessie S, Etan D, Fufa A, Eystein S (2013) Major causes of organs and carcass condemnation in small ruminants slaughtered at Luna Export Abattoir, Oromia Regional State, Ethiopia. Prev Vet Med 110:139–148

Arbabi M, Hooshyar H (2006) Survey of echinococcosis and hydatidosis in Kashan region, central Iran. Iranian J Publ Hlth 35:75–81

Azizi S, Korani FS, Oryan A (2013) Pneumonia in slaughtered sheep in South-Western Iran. Pathological characteristics and aerobic bacterial etiology. Vet Ital 49(1):109–118

Azlaf R, Dakkak A (2006) Epidemiological study of cystic echinococcosis in Morocco. Vet Parasitol 137:83–93

Belkhiri M (2010) Frequency of lung damage in ruminants in Tiaret region. PhD Thesis in Vet. Sci. Hadj lakhdar University, Batna. 136 pp.

Berrag B, Cabaret J (1996) Impaired pulmonary gas exchange in ewes naturally infected by small lungworms. Int J Parasitol 26(12):1397–1400

Blaise J (2001) Prevalence and incidence of parasitic lesions of the liver and lung of ruminants in Haiti. Rev Med Vet 152(3):269–274

Borji H, Azizzadeh M, Ebrahimi M, Asadpour M (2012) Study on small ruminant-associated risk lungworms and factoring in northeastern Iran. Asian Pac J Trop Med 853–856:5

Bussieras J, Chermette R (1992) Compendium of veterinary parasitology, issue III: helminthology, parasitology department. National Veterinary School of Alfort, Maison, p 267

Cabrera PA, Irabedra P, Orlando D, Rista L, Haran G, Vinals G, Blanco MT, Alvarez M, Elola S, Morosoli D, Morana A, Bondad M, Sambran Y, Heinzen T, Chans L, Pineyro L, Pereyra I, Perez D (2003) National prevalence of larval echinococcosis in sheep in slaughtering plants: Ovis aries as an indicator in control programmes in Uruguay. Acta Trop 85:281–285

Chatelain E (1985) Anatomie de l'appareil respiratoire des ovins. Rev Med Vet 161(12):995–1007

Dion F (1986) Piped question. The Sheep breeding The Journal No. 144, 53

Direction des services agricole de la wilaya de Batna (2013) Services statistiques.

Esatgil MU, Tuzer E (2007) Prevalence of hydatidosis in slaughtered animals in Thrace, Turkey. Turkiye Parazitol Derg 31:41–45

Euzeby J (1971) Animal echinococcosis and their relative relationships with human echinococcosis, 2nd edn. Vigot Brothers Publishers, Paris 6th, pp 186–1208

Filliat R (1983) Role of vitamins and trace elements in the immune processes. Thesis Doc. Vet. National Veterinary School of Lyon. 104 pp.

Gab- Allah HM, Sahar ERS (2010) Incidence of hydatid cysts in slaughtered animals and their relation to public health at Sharkia province, Egypt. J Agric Res 88(1):286–287

Gemmel MA, Roberts G, Beard TC, Campano Diaz JR, Lawson JR, Monnemaker JM (2001) Control of Echinococcus granulosus. In: Eckert J, Gemmel MA, Meslin FX, Pawlowski ZS (eds) WHO / OIE Manual on echinococcosis in Humans and animals: a public health problem of global concern. France, Paris, pp 195–204

Getachew E W (2008) Major diseases of livestock export oriented in export abattoirs in/around Ada Liben Woreda, Debre Zeit. Online DVM Thesis, Faculty of veterinary medicine, University Haramaya, Ethiopia

Grandin T (1997) Assessment of stress during handling and transport. J Anim Sci 75:249–257

Haziroglu R, Diker KS, Gulbahar MY, Akan M, Guvenc T (1994) Studies of the pathology and microbiology of pneumonic lungs of lambs. Dtsch Tierartzl Wochensch 101:441–443

Ibrahim MM (2010) Study of cystic echinococcosis in slaughtered animals in Al Baha region, Saudi Arabia: Interaction between some biotic and abiotic factors. Acta Trop 113:26–33

Jaiem A (1984) L'échinococcose hydatique dans la région de Sousse (Tunisie). Enquête épidémiologique. Maghreb Vétérinaire I 1(3):15–20

Jibat T, Ejeta G, Asfaw Y, Wudie A (2008) Causes of abattoir condemnation in apparently healthy slaughtered sheep and goats at HELMEX abattoir, Debre Zeit, Ethiopia. Rev Med Vet 159(5):305–311

Kassahum A, Mersha C (2013) Study on the prevalence and pathological features of lung worm of sheep In Bahir Dar, Ethiopia. Acta Parasitol Glob 4(2):41–48

Kayoueche F Z (2009) Epidemiology of hydatidosis and fascioliasis in animals and humans in eastern Algeria. PhD in Sci. Vet. Mentouri University Constantine. 155 pp.

Kouidri M, Benchaib-Khoudja F, Boulkaboul A, Saddles Sidi Mohammed A (2013) Cystic echinococcosis in small ruminants in Tiaret (Algeria). Global Vet 11(6):753–758

Kumar P R (2005) Studies in the pathology of ovine pneumonia and experimental Pasteurella multocida infection in rabbits. Med Vet Sci Thesis, Submitted to Indian Vet Res Inst 127 pp

Lacasta D, Ferrer LM, Ramos JJ, Gonzales JM, De Las Heras M (2008) Influence of climatic factoring on the development of pneumonia in lambs. Small Rumin Res 80(1):28–32

Latief MD, Mohammad MD, Masood SM, Shayuaib AK, Adil R, Swaid A (2013) Prevalence of lung disease in sheep in northern temperate regions of India: A postmortem study. Small Rumin Res 110:57–61

Luna L (1968) Manual of histology, staining methods of armed forces, institute of pathology, 3rd edn. McGraw-Hill Book, co, New York, p 258

Magaji AA, Oboegbulem SI, Daneji AI, Garba HS, Salihu MD, Junaidu AU, Mohammed AA, Lawal M, Aminu S, Yakubu Y, Mamuda A (2011) Incidence of hydatid cyst disease in food animals slaughtered at Sokoto central Abbatoir, Sokoto state, Nigeria. Vet World 4:197–200

Martin WB, Weil ZM, Nelson RJ (2008) Seasonal exchange in vertebrate immune activity: mediation by physiological trade-offs. Philos Trans R Soc Lond Ser B Biol Sci 363:321–339

McGavin MD, Zachary JF (2007) Pathologic basis of veterinary disease, 4th edn. Mosby-Elsevier, St. Louis, p 1476

Mellau LSB, Nonga ET, Karimuribo ED (2010) A slaughterhouse survey of lung lesions in stocks slaughtered at Arusha, Tanzania. Prev Vet Med 97:77–82

Mohamed FA, Abdelsalem EB (2008) A review is pneumonic pasteurellosis respiratory Mannheimiosis with emphasis on pathogenesis, virulence mechanisms and predisposing factoring. Bulg J Vet Med 11(3):139–160

Nickel R, Schummer A, Seiferle E (1973) Respiratory system, the viscera of the domestics animals. Springer-Verlag, NY, p 245

Roy JHB (1990) Respiratory infections. In: Roy JHB (ed) The calf, Management of Health, vol 1, 5th edn. Butterworths, London, p 258

Seimenis A (2003) Overview of the epidemiological situation on echinococcosis in the mediterranean region. Acta Trop 85:191–195

Simon JL (2011) La bronchopneumonie domine en bergerie. Dossier Maladies Respiratoires. GDS info Rhône-Alpes:30–31

Soule C (1994) L'hydatidose des ruminants: état stationnaire. Point Vétérinaire. Maison d'Alfort. France. 26 (numéro spécial), 930–933

Wikse SE, Baker JC (1996) The Bronchopneumonias. In: Smith BP (ed) Large animal internal medicine, 2nd Edn. Mosby, St Louis, pp 632–650

Zanini F, Gonzalo R, Pérez H, Aparici I, Soto X, Guerrero J (2006) Epidemiological surveillance of ovine hydatidosis in Tierra del Fuego, Patagonia Argentina, 1997-1999. Vet Parasitol 138:377–381
Acknowledgments
The authors would like to express their special thanks to the staff members of Batna municipal slaughterhouse for all sorts of assistance and management for allowing us to conduct post mortem inspection on visceral organs of sheep, especially Dr. Idir, Dr. Boubguira, and Dr. Ramdhane.
The authors are indebted to the staff of the Laboratory of Anatomopathology of the University Teaching Hospital of Batna and to Dr. Bennoune and Dr. Kadri for their help in the Laboratory of Histology of the Institute of Veterinary and Agronomic Sciences, University Hadj Lakhdar Batna-1.
Funding
This study was funded by the authors.
Ethics declarations
Conflict of interest
The authors declare that they have no conflict of interest.
Ethical approval
All applicable international, national, and/or institutional guidelines for the care and use of animals were followed. This article does not contain any studies with human participants performed by any of the authors.
Additional information
Publisher's note
Springer Nature remains neutral with regard to jurisdictional claims in published maps and institutional affiliations.
About this article
Cite this article
Baghezza, S., Mamache, B., Belkhiri, M. et al. Anatomo-pathological study of lung lesions in slaughtered sheep at Batna municipal Slaughterhouse (Eastern Algeria). Comp Clin Pathol 29, 247–254 (2020). https://doi.org/10.1007/s00580-019-03050-6
Received:

Accepted:

Published:

Issue Date:
Keywords
Postmortem

Histopathology

Lung lesions

Sheep

Eastern Algeria