Abstract
Subclinical mastitis is one of the most important infectious diseases, and higher levels of oxidative stress in the peritpartum period were related to higher risk of mastitis. The objective of the present study was to evaluate the diagnostic value of milk oxidative stress variables in early lactation of dairy cow with subclinical mastitis. A total of 925 milk samples from quarters of cows during (7 ± 3) days post-calving from two dairy herds were included in the present study. Bacterial culture, somatic cell count (SCC), DTNB (dithiobis nitrobenzoic acid for oxidative capacity), and FRAP (ferric reducing antioxidant power for antioxidatant capacity) have been assayed. Receiver-operating characteristic (ROC) analysis was used to assess the accuracy diagnostic value of each test using bacterial culture as gold standard. The accuracy of DTNB assay was comparable to that observed for SCC (AUC = 0.724 vs. AUC = 0.739). Sensitivity and specificity of DTNB at the concentration of 2.00 μmol s−1 were also comparable to those for SCC at 165 × 103 SCCml−1 (59.1 and 80.7% vs. 56.9 and 82.2%, respectively). Concentrations of both DTNB and FRAP were significantly higher in milk samples of quarters infected with S. aureus, when compared to non-infected quarters and quarters infected with other bacteria. The results showed that colorimetric measurement of DTNB could be a valuable indicator of subclinical mastitis, especially infection caused by S. aureus.
This is a preview of subscription content, log in to check access.
Access options
Buy single article
Instant unlimited access to the full article PDF.
US$ 39.95
Price includes VAT for USA
Subscribe to journal
Immediate online access to all issues from 2019. Subscription will auto renew annually.
US$ 99
This is the net price. Taxes to be calculated in checkout.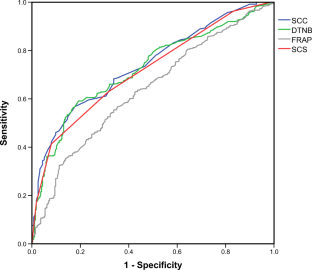 References
Andrei S, Matei S, Fit N, Cernea C, Ciupe S, Bogdan S, Groza I (2011) Glutathione peroxidase activity and its relationship with somatic cell count, number of colony forming units and protein content in subclinical mastitis cows milk. Rom Biotechnol Lett 16(3):6209–6217

Atakisi O, Oral H, Atakisi E, Merhan O, Pancarci SM, Ozcan A, Marasli S, Polat B, Colak A, Kaya S (2010) Subclinical mastitis causes alterations in nitric oxide, total oxidant and antioxidant capacity in cow milk. Res Vet Sci 89(1):10–13

Benzie IF, Strain JJ (1996) The ferric reducing ability of plasma (FRAP) as a measure of "antioxidant power": the FRAP assay. Anal Biochem 239(1):70–76

Bernabucci U, Ronchi B, Lacetera N, Nardone A (2005) Influence of body condition score on relationships between metabolic status and oxidative stress in periparturient dairy cows. Dairy Sci 88(6):2017–2026

Bouwstra R, Nielen M, Newbold J, Jansen E, Jelinek H, Van Werven T (2010) Vitamin E supplementation during the dry period in dairy cattle. Part II: oxidative stress following vitamin E supplementation may increase clinical mastitis incidence postpartum. J Dairy Sci 93(12):5696–5706

Castillo C, Hernandez J, Bravo A, Lopez-Alonso M, Pereira V, Benedito J (2005) Oxidative status during late pregnancy and early lactation in dairy cows. Vet J 169(2):286–292

Chen J, Lindmark-Månsson H, Gorton L, Åkesson B (2003) Antioxidant capacity of bovine milk as assayed by spectrophotometric and amperometric methods. Int Dairy J 13(12):927–935

Costantini D, Verhulst S (2009) Does high antioxidant capacity indicate low oxidative stress? Funct Ecol 23(3):506–509

Detilleux J, Arendt J, Lomba F, Leroy P (1999) Methods for estimating areas under receiver-operating characteristic curves: illustration with somatic-cell scores in subclinical intramammary infections. Prev Vet Med 41(2):75–88

Djabri B, Bareille N, Beaudeau F, Seegers H (2002) Quarter milk somatic cell count in infected dairy cows: a meta-analysis. Vet Res 33(4):335–357

Dohoo IR, Leslie K (1991) Evaluation of changes in somatic cell counts as indicators of new intramammary infections. Prev Vet Med 10(3):225–237

Dosogne H, Burvenich C, Freeman A, Kehrli M Jr, Detilleux J, Sulon J, Beckers JF, Hoeben D (1999) Pregnancy-associated glycoprotein and decreased polymorphonuclear leukocyte function in early post-partum dairy cows. Vet Immunol Immunopathol 67(1):47–54

Eckersall P, Young F, Nolan A, Knight CH, McComb C, Waterston M, Hogarth C, Scott E, Fitzpatrick J (2006) Acute phase proteins in bovine milk in an experimental model of Staphylococcus aureus subclinical mastitis. J Dairy Sci 89(5):1488–1501

Ellah MRA (2013) Role of free radicals and antioxidants in mastitis. J Adv Vet Res 3(1):1–7

Kapusta A, Kuczyńska B, Puppel K (2018) Relationship between the degree of antioxidant protection and the level of malondialdehyde in high-performance Polish Holstein-Friesian cows in peak of lactation. PLoS One 13(3):e0193512

Kirk J, Berry S, Reynolds J, Maas J, Ahmadi A (1996) Sensitivity and specificity analysis for somatic cell count (SCC) used to predict bacteriologically positive subclinical mastitis at calving in a dairy herd with low SCC. J Am Vet Med Assoc 208(7):1054–1057

Kizil O, Akar Y, Saat N, Kizil M, Yuksel M (2007) The plasma lipid peroxidation intensity (MDA) and chain-breaking antioxidant concentrations in the cows with clinic or subclinic mastitis. Rev Med Vet 158(11):529–533

Knowles RG, Moncada S (1994) Nitric oxide synthases in mammals. Biochem J 298(Pt 2):249–258

Koskinen M, Holopainen J, Pyörälä S, Bredbacka P, Pitkälä A, Barkema H, Bexiga R, Roberson JL, Piccinini R (2009) Analytical specificity and sensitivity of a real-time polymerase chain reaction assay for identification of bovine mastitis pathogens. J Dairy Sci 92(3):952–959

Laevens H, Deluyker H, Schukken Y.H, de Meulemeester L, Vandermeersch R (1999) NMC Laboratory Handbook on Bovine Mastitis (Revised Edition). West Madison WI, USA: National Mastitis Council Inc.

Leitner G, Merin U, Silanikove N (2011) Effects of glandular bacterial infection and stage of lactation on milk clotting parameters: comparison among cows, goats and sheep. Int Dairy J 21(4):279–285

Lindmark-Månsson H, Åkesson B (2000) Antioxidative factors in milk. Br J Nutr 84(S1):103–110

Lykkesfeldt J, Svendsen O (2007) Oxidants and antioxidants in disease: oxidative stress in farm animals. Vet J 173(3):502–511

Piccione G, Borruso M, Giannetto C, Morgante M, Giudice E (2007) Assessment of oxidative stress in dry and lactating cows. Acta Agric Scand Sec 57(2):101–104

Pyörälä S (2003) Indicators of inflammation in the diagnosis of mastitis. Vet Res 34(5):565–578

Pyörälä S, Pyörälä E (1997) Accuracy of methods using somatic cell count and N-acetyl-β-D-glucosaminidase activity in milk to assess the bacteriological cure of bovine clinical mastitis. J Dairy Sci 80(11):2820–2825

Radostits OM, Gay CC, Hinchcliff KW, Constable PD (2006) Veterinary Medicine: A textbook of the diseases of cattle, horses, sheep, pigs and goats (10th Edn) Elsevier Health Sciences, PP 795–798

Rice DN (1997) Using the California mastitis test (CMT) to detect subclinical mastitis, Cooperative Extension, Institute of Agriculture and Natural Resources, University of Nebraska--Lincoln

Ruegg PL, Reinemann DJ (2002) Milk quality and mastitis tests. Bov Prac 36(1):41–55

Sadek K, Saleh E, Ayoub M (2017) Selective, reliable blood and milk bio-markers for diagnosing clinical and subclinical bovine mastitis. Trop Anim Health Prod 49(2):431–437

Sargeant J, Leslie K, Shirley J, Pulkrabek B, Lim G (2001) Sensitivity and specificity of somatic cell count and California mastitis test for identifying intramammary infection in early lactation. J Dairy Sci 84(9):2018–2024

Seifu E, Donkin EF, Buys EM (2007) Potential of lactoperoxidase to diagnose subclinical mastitis in goats. Small Rumin Res 69(1):154–158

Silanikove N, Shapiro F, Shamay A, Leitner G (2005) Role of xanthine oxidase, lactoperoxidase, and NO in the innate immune system of mammary secretion during active involution in dairy cows: manipulation with casein hydrolyzates. Free Radic Biol Med 38(9):1139–1151

Silanikove N, Merin U, Shapiro F, Leitner G (2014) Subclinical mastitis in goats is associated with upregulation of nitric oxide-derived oxidative stress that causes reduction of milk antioxidative properties and impairment of its quality. J Dairy Sci 97(6):3449–3455

Sordillo L, O'boyle N, Gandy J, Corl C, Hamilton E (2007) Shifts in thioredoxin reductase activity and oxidant status in mononuclear cells obtained from transition dairy cattle. J Dairy Sci 90(3):1186–1192

Stefanon B, Colitti M, Gabai G, Knight CH, Wilde CJ (2002) Mammary apoptosis and lactation persistency in dairy animals. J Dairy Res 69(1):37–52

Suriyasathaporn W, Vinitketkumnuen U, Chewonarin T, Boonyayatra S, Kreausukon K, Schukken Y (2006) Higher somatic cell counts resulted in higher malondialdehyde concentrations in raw cows' milk. Int Dairy J 16(9):1088–1091

Van Der Vliet A, Eiserich JP, Halliwell B, Cross CE (1997) Formation of reactive nitrogen species during peroxidase-catalyzed oxidation of nitrite a potential additional mechanism of nitric oxide-dependent toxicity. J Biol Chem 272(12):7617–7625

Viguier C, Arora S, Gilmartin N, Welbeck K, O'Kennedy R (2009) Mastitis detection: current trends and future perspectives. Trends Biotechnol 27(8):486–493

Zarban A, Taheri F, Chahkandi T, Sharifzadeh G, Khorashadizadeh M (2009) Antioxidant and radical scavenging activity of human colostrum, transitional and mature milk. J Clin Biochem Nutr 45(2):150–154

Zhao X, Lacasse P (2008) Mammary tissue damage during bovine mastitis: causes and control. J Anim Sci 86(13_suppl):57–65
Additional information
Publisher's note
Springer Nature remains neutral with regard to jurisdictional claims in published maps and institutional affiliations.
About this article
Cite this article
Amiri, P., Fallah Rad, A.H., Heidarpour, M. et al. Diagnostic accuracy of milk oxidation markers for detection of subclinical mastitis in early lactation dairy cows. Comp Clin Pathol 29, 95–101 (2020) doi:10.1007/s00580-019-03024-8
Received:

Accepted:

Published:

Issue Date:
Keywords
DTNB

FRAP

Oxidative stress

Subclinical mastitis