Abstract
In this paper we present a MUX/DEMUX device based on a multilayer a-SiC:H optical filter that requires near-ultraviolet steady state optical switches to select desired wavelengths in the visible range. The selector filter is realized by using a two terminal double pi'n/pin a-SiC:H photodetector. Five visible communication channels are transmitted together, each one with a specific bit sequence. The combined optical signal is analyzed by reading out the photocurrent, under near-UV front steady state background. Data shows that 25 current levels are detected and corresponds to the thirty-two on/off possible states. The proximity of the magnitude of consecutive levels causes occasional errors in the decoded information. To minimize the errors, four parity bit are generated and stored along with the data word. The parity of the word is checked after reading the word to detect and correct the transmitted data. Results showed that the background works as a selector in the visible range, shifting the sensor sensitivity and together with the parity check bits allows the identification and decoding of the different input channels. A transmission capability of 60 kbps using the generated codeword was achieved.
This is a preview of subscription content, log in to check access.
Access options
Buy single article
Instant access to the full article PDF.
US$ 39.95
Price includes VAT for USA
Subscribe to journal
Immediate online access to all issues from 2019. Subscription will auto renew annually.
US$ 199
This is the net price. Taxes to be calculated in checkout.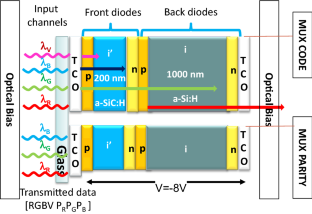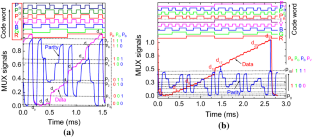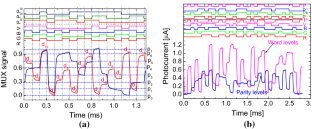 References
Cao MS, Wang XX, Zhang M, Shu JC, Cao WQ, Yang HJ, Fang XY, Yuan J (2019) Electromagnetic response and energy conversion for functions and devices in low-dimensional materials. Adv Funct Mater 29(25):1807398. https://doi.org/10.1002/adfm.201807398

Hamming RW (1960) Error detecting and error correcting codes. Bell Syst Tech J 29:147–160

O'Brien D, Minh HL, Zeng L, Faulkner G, Lee K, Jung D, Oh Y, Won ET (2008) Indoor visible light communications: challenges and prospects. Proc SPIE 7091:709106

Tsonev D, Chun H, Rajbhandari S, McKendry J, Videv S, Gu E, Haji M, Watson S, Kelly A, Faulkner G, Dawson M, Haas H, O'Brien D (2014) A 3-Gb/s single-LED OFDM-based wireless VLC link using a Gallium, Nitride μLED. IEEE Photon Technol Lett 26(7):637–640

Vieira M, Vieira MA, Louro P, Costa J, Fernandes M, Fantoni A, Barata M (2011a) Multilayer architectures based on a-SiC: H material: tunable wavelength filters in optical processing devices. J Nanosci Nanotechnol 11(6):5299–5304

Vieira MA, Louro P, Vieira M, Fantoni A, Steiger-Garcao A (2011b) Light-activated amplification in Si-C tandem devices: a capacitive active filter model. IEEE Sens J 12(6):1755–1762

Vieira M, Louro P, Fernandes M, Vieira MA, Fantoni A, Costa J (2011c) Three transducers embedded into one single SiC photodetector: LSP direct image sensor, optical amplifier and Demux device. Adv Photodiode InTech 22:403–425

Vieira MA, Vieira M, Silva V, Louro P, Barata M (2013a) Optoelectronic logic functions using optical bias controlled SiC multilayer devices. MRS Online Proc. 1536:91–96

Vieira MA, Vieira M, Louro P, Silva V, Costa J, Fantoni A (2013b) SiC multilayer structures as light controlled photonic active filters. Plasmonics. 8(1):63–70. https://doi.org/10.1007/s11468-012-9422-9

Vieira MA, Vieira M, Silva V, Louro P, Costa J (2015a) Optical signal processing for data error detection and correction using a-SiCH technology. Phys Status Solidi C 12:1393–1400

Vieira MA, Vieira M, Silva V, Louro P, Barata M (2015b) Error control on spectral data of four-wave mixing based on a-SiC technology. Phys Status Solidi C 1–2:181–186

Vieira A, Vieira M, Vieira P, Louro P (2017) Optical signal processing for a smart vehicle lighting system using a-SiCH technology. In: Proceedings of SPIE 10231, Optical Sensors 2017, 102311L.

Vieira M, Vieira MA, Louro P, Fantoni A, Vieira P (2017b) A fine-grained visible light communication position detection system. Sens Transducers. 218(12):32–39

Vieira M, Louro P, Fantoni A, Vieira P (2018) Light-emitting diodes aided indoor localization using visible light communication technology. Opt Eng 57(8):087105

Vieira M, Vieira M, Louro P, Vieira P (2019) Positioning and advertising in large indoor environments using visible light communication. Opt Eng 58(6):066102

Wang Y, Chi N, Yu J, Shang H (2013) Demonstration of 575-Mb/s downlink and 225-Mb/s uplink bi-directional SCM-WDM visible light communication using RGB LED and phosphor-based LED. Opt Express 21(1):1203–1208

Zhang M, Wang XX, Cao WQ, Yuan J, Cao MS (2014) Electromagnetic functions of patterned 2D materials for micro-nano devices covering GHz, THz, and optical frequency. Adv Opt Mater 2(3):214–219. https://doi.org/10.1002/adom.201300439
Acknowledgements
This work was sponsored by FCT-Fundação para a Ciência e a Tecnologia, within the Research Unit CTS-Center of Technology and systems, reference UID/EEA/00066/2013 and UID/EEA/00066/2019.
Additional information
Publisher's Note
Springer Nature remains neutral with regard to jurisdictional claims in published maps and institutional affiliations.
About this article
Cite this article
Vieira, M., Vieira, M.A. & Louro, P. MUX/DEMUX SiC receiver for visible light communications. Microsyst Technol (2020). https://doi.org/10.1007/s00542-020-04773-1
Received:

Accepted:

Published: