Abstract
A new apparatus for a moving induction heating and gas-assisted hot embossing apparatus has been developed. A mechanism was designed and implemented to move the platform in and out the wrapped coil, on which the sealed box for substrate/mold was placed. A chamber of 195 mm diameter and 221 mm length was machined. The movable platform, the sealed box with substrate/mold stack, wrapped coil and cooling fan were all implemented in the high pressure chamber. The nine-point thermocouples attached on the mold, thus, a temperature history of the moving induction heating can be obtained and study the influence of the moving path and power on the heating rate and temperature distribution. The micro V-cut structure hot embossing experiment were performed to prove the potential of this moving induction heating and gas-assisted pressuring hot embossing for fast fabrication of microstructure onto polymeric substrates. As a results, replication rates were all above 95% at 200 °C and 5 kgf/cm2 and the cycle time was less than 4 min and the optic measurement shows the replicated V-cut film can enhance the 36.8% illuminance. The experiment results show the manufacturing potential of this apparatus.
This is a preview of subscription content, log in to check access.
Access options
Buy single article
Instant access to the full article PDF.
US$ 39.95
Price includes VAT for USA
Subscribe to journal
Immediate online access to all issues from 2019. Subscription will auto renew annually.
US$ 199
This is the net price. Taxes to be calculated in checkout.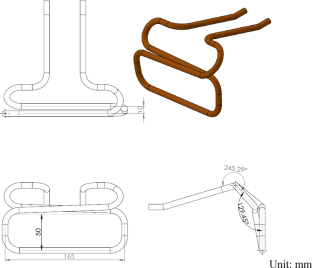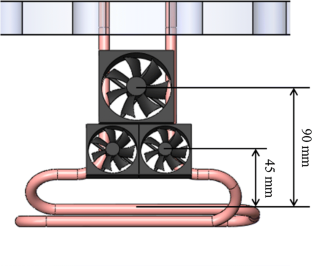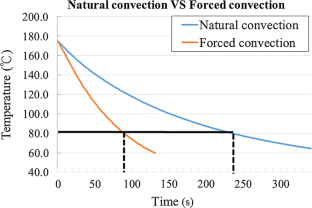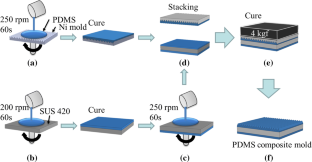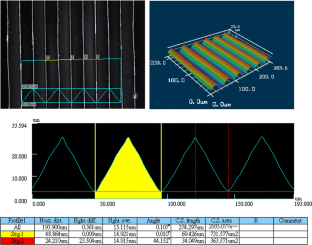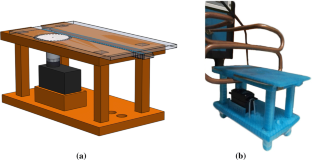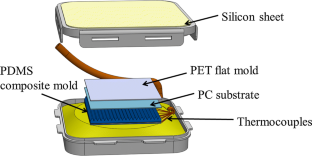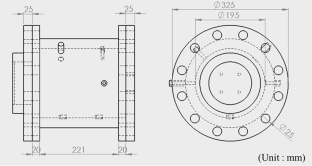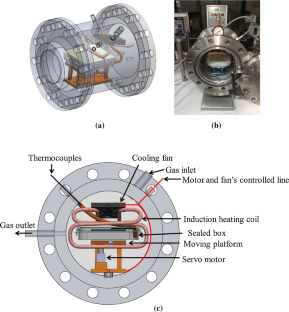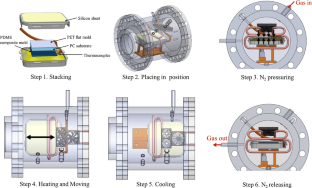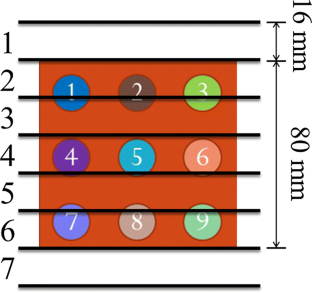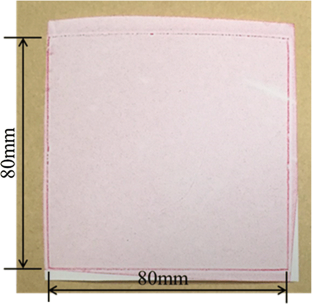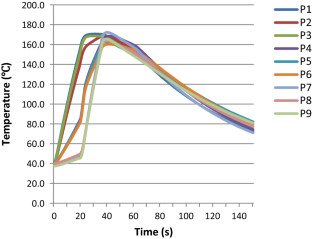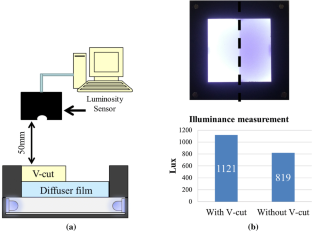 References
Chen Q, Zhang L, Chen G (2014) Far infrared-assisted embossing and bonding of poly(methyl methacrylate) microfluidic chips. RSC Adv 4(99):56440–56444

Gao H, Tan H, Zhang W, Morton K, Chou SY (2006) Air cushion press for excellent uniformity, high yield, and fast nanoimprint across a 100 mm field. Nano Lett 6(11):2438–2441

Goral VN, Hsieh Y-C, Petzold ON, Faris RA, Yuen PK (2011) Hot embossing of plastic microfluidic devices using poly(dimethylsiloxane) molds. J Micromech Microeng 21(1):017002

Hocheng H, Wen TT (2008) Innovative approach to uniform imprint of micron and submicron features. J Achiev Mater Manuf Eng 28(1):79–82

Hong S-K, Heo Y-M, Kang J (2008) Replication of polymeric micro patterns by rapid thermal pressing with induction heating apparatus. In: 2008 3rd IEEE international conference on nano/micro engineered and molecular systems, pp 911–915

Lin H-L, Chen S-C, Jeng M-C, Minh PS, Chang J-A, Hwang J-R (2012) Induction heating with the ring effect for injection molding plates. Int Commun Heat Mass Transf 39(4):514–522

Nian S-C, Tsai T-H, Huang M-S (2016) Novel inductive hot embossing for increasing micromolding efficiency. Int Commun Heat Mass Transf 70:38–46

Seunarine K, Gadegaard N, Riehle MO, Wilkinson CDW (2006) Optical heating for short hot embossing cycle times. Microelectron Eng 83(4–9):859–863

Sun Y, Wang Y, Yang X, Pang L (2013) A novel coil distribution for transverse flux induction heating. Phys Proc 50:32–37

Totten GE, Funatani K, Xie L (2004) Handbook of metallurgical process design. CRC Press, Boca Raton

Xie P et al (2014) Rapid hot embossing of polymer microstructures using carbide-bonded graphene coating on silicon stampers. Surf Coat Technol 258:174–180

Yang H-A, Lin C-W, Peng C-Y, Fang W (2006) On the selective magnetic induction heating of micron scale structures. J Micromech Microeng 16(7):1314

Zhang B, Cui J, Duan J, Cui M (2017) A new fabrication method for nano-gratings based on the high flexibility of PDMS. Opt Laser Technol 92:206–210
Additional information
Publisher's Note
Springer Nature remains neutral with regard to jurisdictional claims in published maps and institutional affiliations.
About this article
Cite this article
Kao, C., Ke, K., Hung, W. et al. Hot embossing of microstructure with moving induction heating and gas-assisted pressuring. Microsyst Technol 26, 957–967 (2020). https://doi.org/10.1007/s00542-019-04560-7
Received:

Accepted:

Published:

Issue Date: