Abstract
Use of diagnostic point of care ultrasound, has come to the forefront of interest within anesthesiology. Much data on the use of point of care ultrasound in emergency medicine and critical care medicine for diagnosis and treatment in acute situations exists. While use of point of care ultrasound has become more prevalent in anesthesia practice, documentation of its use and especially alteration in management based on real-time ultrasound findings in the perioperative period remains scarce. This case series discusses six pediatric patients in which real-time intra-operative use of point of care ultrasound resulted in alteration of management.
This is a preview of subscription content, log in to check access.
Access options
Buy single article
Instant unlimited access to the full article PDF.
US$ 39.95
Price includes VAT for USA
Subscribe to journal
Immediate online access to all issues from 2019. Subscription will auto renew annually.
US$ 99
This is the net price. Taxes to be calculated in checkout.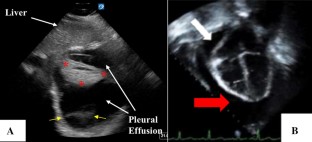 References
1.

Song IK, Kim EH, Lee JH, Kang P, Kim HS, Kim JT. Utility of perioperative lung ultrasound in pediatric cardiac surgery: a randomized controlled trial. Anesthesiology. 2018;128:718–27.

2.

Adler AC, Greeley WJ, Conlin F, Feldman JM. Perioperative anesthesiology ultrasonographic evaluation (PAUSE): a guided approach to perioperative bedside ultrasound. J Cardiothorac Vasc Anesth. 2016;30:521–9.

3.

Adler AC. Perioperative point-of-care ultrasound in pediatric anesthesiology: a case series highlighting intraoperative diagnosis of hemodynamic instability and alteration of management. J Cardiothorac Vasc Anesth. 2018;32:1411–4.

4.

Adler AC, Jablonka DH. Bedside ultrasound: a tool for assessment of iv functionality. Anesthesiology. 2016;124:959.

5.

Spencer KT, Anderson AS, Bhargava A, Bales AC, Sorrentino M, Furlong K, Lang RM. Physician-performed point-of-care echocardiography using a laptop platform compared with physical examination in the cardiovascular patient. J Am Coll Cardiol. 2001;37:2013–8.

6.

Kutty S, Attebery JE, Yeager EM, Natarajan S, Li L, Peng Q, Truemper E, Hammel JM, Danford DA. Transthoracic echocardiography in pediatric intensive care: impact on medical and surgical management. Pediatr Crit Care Med J Soc Crit Care Med World Fed Pediatr Intensive Crit Care Soc. 2014;15:329–35.

7.

Canty DJ, Royse CF, Kilpatrick D, Bowman L, Royse AG. The impact of focused transthoracic echocardiography in the pre-operative clinic. Anaesthesia. 2012;67:618–25.

8.

Spencer KT, Kimura BJ, Korcarz CE, Pellikka PA, Rahko PS, Siegel RJ. Focused cardiac ultrasound: recommendations from the American Society of Echocardiography. J Am Soc Echocardiogr Off Publ Am Soc Echocardiogr. 2013;26:567–81.

9.

Adler AC. Cardiac ultrasound: it's not just for cardiologists! J Cardiothorac Vasc Anesth. 2016;30:e58–e5959.

10.

Collins RT II. Cardiovascular disease in Williams syndrome. Circulation. 2013;127:2125–34.

11.

Burch TM, McGowan FX Jr, Kussman BD, Powell AJ, DiNardo JA. Congenital supravalvular aortic stenosis and sudden death associated with anesthesia: what's the mystery? Anesth Analg. 2008;107:1848–54.

12.

Kounis NG, Soufras GD, Mazarakis A. The mystery of sudden death in Williams–Beuren syndrome: cardiomyopathy or Kounis syndrome? Int J Cardiol. 2012;156:251–2.

13.

Soliman OI, van der Beek NA, van Doorn PA, Vletter WB, Nemes A, van Dalen BM, ten Cate FJ, van der Ploeg AT, Geleijnse ML. Cardiac involvement in adults with Pompe disease. J Intern Med. 2008;264:333–9.

14.

Kimura BJ. Point-of-care cardiac ultrasound techniques in the physical examination: better at the bedside. Heart (British Cardiac Society). 2017;103:987–94.

15.

Adler AC, Schwartz ER, Waters JM, Stricker PA. Anesthetizing a child for a large compressive mediastinal mass with distraction techniques and music therapies as the sole agents. J Clin Anesth. 2016;35:392–7.

16.

Via G, Hussain A, Wells M, Reardon R, ElBarbary M, Noble VE, Tsung JW, Neskovic AN, Price S, Oren-Grinberg A, Liteplo A, Cordioli R, Naqvi N, Rola P, Poelaert J, Guliĉ TG, Sloth E, Labovitz A, Kimura B, Breitkreutz R, Masani N, Bowra J, Talmor D, Guarracino F, Goudie A, Xiaoting W, Chawla R, Galderisi M, Blaivas M, Petrovic T, Storti E, Neri L, Melniker L. International Liaison Committee on Focused Cardiac UltraSound (ILC-FoCUS); International Conference on Focused Cardiac UltraSound (IC-FoCUS). International evidence-based recommendations for focused cardiac ultrasound. J Am Soc Echocardiogr Off Publ Am Soc Echocardiogr. 2014;27:683e1–683e33

17.

Jensen MB, Sloth E, Larsen KM, Schmidt MB. Transthoracic echocardiography for cardiopulmonary monitoring in intensive care. Eur J Anaesthesiol. 2004;21:700–7.

18.

Conlin F, Connelly NR, Eaton MP, Broderick PJ, Friderici J, Adler AC. Perioperative use of focused transthoracic cardiac ultrasound: a survey of current practice and opinion. Anesth Analg. 2017;125:1878–82.
Ethics declarations
Conflict of interest
The authors declare that they have no competing interests.
Additional information
Publisher's Note
Springer Nature remains neutral with regard to jurisdictional claims in published maps and institutional affiliations.
Electronic supplementary material
Below is the link to the electronic supplementary material.
Video 1: Lung ultrasound highlighting normal lung sliding followed by appearance of a lung pulse demonstrating a lung segment that is not being ventilated. (MP4 22426 kb)
Video 2: Parasternal short axis view identifying dyskinesia of the left ventricle anterolateral wall and hypokinesia of the anterior and anteroseptal segments with preserved ejection fraction. (MP4 71831 kb)
Video 3: Parasternal short axis view identifying left ventricle antero-septal wall hypokinesis as well as the brief period of absent cardiac activity coinciding with electrocardiographic asystole. (MP4 73269 kb)
Video 4: Subcostal 4 chamber view demonstrating the large pleural effusion with collapsed lung segment. Additional view reveals the paradoxical motion of the atrial septum. (MP4 15740 kb)
About this article
Cite this article
Adler, A.C., Chandrakantan, A. & Conlin, F.T. Perioperative point of care ultrasound in pediatric anesthesiology: a case series highlighting real-time intraoperative diagnosis and alteration of management augmenting physical examination. J Anesth 33, 435–440 (2019). https://doi.org/10.1007/s00540-019-02654-0
Received:

Accepted:

Published:

Issue Date:
Keywords
Ultrasound

Point of care ultrasound

Perioperative

Pediatric

Cardiac

Transthoracic