Abstract
Purpose
Although bronchoscopy can be safely performed through endotracheal tube in most intubated critically ill patients, sometimes it could lead to complications such as hypoxia and high airway pressures. Theoretically, transglottic bronchoscopy (TGB) does not interfere with mechanical ventilation and could avoid these complications. In a two-period crossover study, we compared this technique with trans-endotracheal tube bronchoscopy (TEB) in normal anesthetized sheep.
Methods
In five sheep, we did TGB first. The bronchoscope was introduced through the nasal nares and passed into the trachea via space between endotracheal tube and vocal folds. Heart rate, V T, P peak, and O2 saturation were recorded. One week later, we did TEB. In another five sheep, we did TEB first and TGB later.
Results
P peak increased and V T and O2 saturation decreased during TEB (53.2 ± 5.7 vs. 27.6 ± 0.6, P = 0.002; 210 ± 32 vs. 285 ± 26, P = 0.002; 94.3 ± 1.3 vs. 97.5% ± 0.5, P = 0.041, respectively), but not during TGB. The only statistically significant abnormal finding during TGB was a mild tachycardia (96.7 ± 5.7 vs. 94.7 ± 5.5, P = 0.034).
Conclusion
Although TGB is time consuming and less convenient than TEB, it has minimal interference with mechanical ventilation. Expertise with this technique could be useful in patients with anticipated significant hypoxia and high airway pressures during bronchoscopy.
This is a preview of subscription content, log in to check access.
Access options
Buy single article
Instant unlimited access to the full article PDF.
US$ 39.95
Price includes VAT for USA
Subscribe to journal
Immediate online access to all issues from 2019. Subscription will auto renew annually.
US$ 99
This is the net price. Taxes to be calculated in checkout.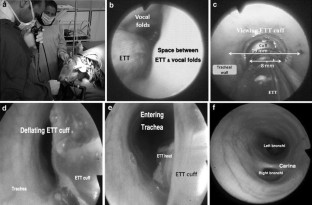 References
1.

Da Cunha Fragoso EG, Goncalves JMR. Role of fiberoptic bronchoscopy in intensive care unit: current practice. J Bronchol Intervent Pulmonol. 2011;18:69–83.

2.

Raoof S, Mehrishi S, Prakash UB. Role of bronchoscopy in modern medical intensive care unit. Clin Chest Med. 2001;22:241–61.

3.

Turner JS, Willcox PA, Hayhurst MD, Potgieter PD. Fiberoptic bronchoscopy in the intensive care unit: a prospective study of 147 procedures in 107 patients. Crit Care Med. 1994;22:259–64.

4.

Lindholm CE, Ollman B, Snyder JV, Millen EG, Grenvik A. Cardiorespiratory effects of flexible fiberoptic bronchoscopy in critically ill patients. Chest. 1978;74:362–8.

5.

Trouillet JL, Guiguet M, Gibert C, Fagon JY, Dreyfuss D, Blanchet F, Chastre J. Fiberoptic bronchoscopy in ventilated patients. Evaluation of cardiopulmonary risk under midazolam sedation. Chest. 1990;97:927–33.

6.

Sisson S, Grossman J, Getty R. The anatomy of the domestic animals. Philadelphia: Saunders; 1975. p. 1403.

7.

Grossman E, Jacobi AM. Minimal optimal endotracheal tube size for fiberoptic bronchoscopy. Anesth Analg. 1974;53:475–6.

8.

Abtahi H, Aliali M, Shaeri H. Feasibility and safety of a new method of broncoscopy in mechanically ventilated patients. ERJ. 2005;26:530s.

9.

Feldman NT, Sanders J. An alternate method for fiberoptic bronchoscopic examination of the intubated patient. Am Rev Respir Dis. 1975;111:562–3.

10.

Craven DE, Hjalmarson KL. Ventilator-associated tracheobronchitis and pneumonia: thinking outside the box. Clin Infect Dis. 2010;51:s59–66.

11.

Koerner RJ. Contribution of endotracheal tubes to the pathogenesis of ventilator-associated pneumonia. J Hosp Infect. 1997;35:83–5.

12.

Torres A, Gatell JM, Aznar E, el-Ebiary M, Puig de la Bellacasa J, González J, Ferrer M, Rodriguez-Roisin R. Re-intubation increases the risk of nosocomial pneumonia in patients needing mechanical ventilation. Am J Respir Crit Care Med. 1995;152:137–41.
Acknowledgments
This work was supported by Tehran University of Medical Sciences (Project No. 132-4987).
Electronic supplementary material
Below is the link to the electronic supplementary material.
Online Resource 1: Video clip of transglottic bronchoscopy in sheep model (MPG 21474 kb)
About this article
Cite this article
Amanpour, S., Abtahi, H., Rabbani, S. et al. Feasibility and safety of transglottic bronchoscopy in mechanically ventilated sheep. J Anesth 26, 525–530 (2012) doi:10.1007/s00540-012-1352-3
Received:

Accepted:

Published:

Issue Date:
Keywords
Transglottic bronchoscopy

Trans-endotracheal tube bronchoscopy

Mechanical ventilation

Sheep