Abstract
Endovascular aortic graft repair (EVAR) for patients with Type B aortic dissection is a less invasive surgical procedure (compared to traditional open surgical repair) that is associated with less morbidity and shortened recovery times. However, there are notable complications for the patients undergoing EVAR. We report a patient who was brought to our hospital with a Type B dissection and underwent a thoracic EVAR but suffered iatrogenic aortic injury resulting in cardiac tamponade. This case study highlights the importance of intraoperative transesophageal echocardiography to facilitate early detection of possible EVAR complications.
This is a preview of subscription content, log in to check access.
Access options
Buy single article
Instant unlimited access to the full article PDF.
US$ 39.95
Price includes VAT for USA
Subscribe to journal
Immediate online access to all issues from 2019. Subscription will auto renew annually.
US$ 99
This is the net price. Taxes to be calculated in checkout.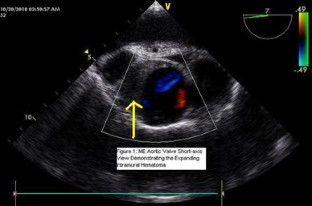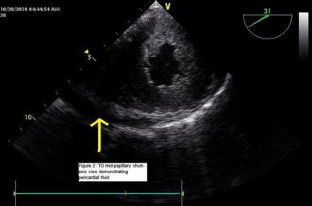 References:
1.

Beregi JP, Prat A, Gaxotte V, Delomez M, McFadden EP. Endovascular treatment for dissection of the descending aorta. Lancet. 2000;356(9228):482–3.

2.

Kische S, Ehrlich MP, Nienaber CA, Rosseau H, Heijmen R, Piquet P, Ince H, Beregi JP, Fattori R. Endovascular treatment of acute and chronic aortic dissection: midterm results from the Talent Thoracic Retrospective Registry. J Thorac Cardiovasc Surg. 2009;138(1):115–24.

3.

Mustafa ST, Sadat U, Majeed MU, Wong CM, Michaels J, Thomas SM. Endovascular repair of nonruptured thoracic aortic aneurysms: systematic review. Vascular. 2010;18(1):28–33.

4.

Piffaretti G, Mariscalco G, Tozzi M, Bruno VD, Sala A, Castelli P. Acute iatrogenic type A aortic dissection following thoracic aortic endografting. J Vasc Surg. 2010;51(4):993–9.

5.

Hansen CJ, Bui H, Donayre CE, Aziz I, Kim B, Kopchok G, Walot I, Lee J, Lippmann M, White RA. Complications of endovascular repair of high-risk and emergent descending thoracic aortic aneurysms and dissections. J Vasc Surg. 2004;40(2):228–34.

6.

Gonzalez-Fajardo JA, Gutierrez V, San Roman JA, Serrado A, Arreba E, del Rio L, Martin M, Carrera S, Vaquero C. Utility of intraoperative transesophageal echocardiography during endovascular stent-graft repair of acute thoracic aortic dissection. Ann Vasc Surg. 2002;16(3):297–303.

7.

Moskowitz DM, Kahn RA, Konstadt SN, Mitty H, Hollier LH, Marin ML. Intraoperative transoesophageal echocardiography as an adjuvant to fluoroscopy during endovascular thoracic aortic repair. Eur J Vasc Endovasc Surg. 1999;17(1):22–7.

8.

Swaminathan M, Lineberger CK, McCann RL, Mathew JP. The importance of intraoperative transesophageal echocardiography in endovascular repair of thoracic aortic aneurysms. Anesth Analg. 2003;97(6):1566–72.

9.

Neuhauser B, Greiner A, Jaschke W, Chemelli A, Fraedrich G. Serious complications following endovascular thoracic aortic stent-graft repair for type B dissection. Eur J Cardiothorac Surg. 2008;33(1):58–63.

10.

Setacci F, Sirignano P, De Donato G, Chisci E, Galzerano G, Massaroni R, Setacci C. Endovascular thoracic aortic repair and risk of spinal cord ischemia: the role of previous or concomitant treatment for aortic aneurysm. J Cardiovasc Surg (Torino). 2010;51(2):169–76.

11.

Civilini E, Melissano G, Chiesa R. Endovascular treatment of thoracic aortic pathology: lessons learned. Acta Chir Belg. 2006;106(3):323–31.

12.

van Zaane B, Nierich AP, Buhre WF, Brandon Bravo Bruinsma GJ, Moons KGM. Resolving the blind spot of transoesophageal echocardiography: a new diagnostic device for visualizing the ascending aorta in cardiac surgery. Br J Anaesth. 2007;98(4):434–41.

13.

Cywinski JB, Parker BM, Clair D. Left ventricle perforation during endovascular repair of an infrarenal aortic aneurysm. J Cardiothorac Vasc Anesth. 2006;20(2):247–50.
Electronic supplementary material
Below is the link to the electronic supplementary material.
Supplementary Figure 1 (S1). Color Doppler TEE image of an ascending aorta intramural hematoma at the sinotubular junction (midesophageal ascending aorta short axis view). Video attached (MP4 265 kb)
Supplementary Figure 2 (S2). TEE image of acute pericardial fluid collection with ventricular compression. Video attached (MP4 237 kb)
About this article
Cite this article
Kakazu, C., Augustus, J., Paullin, C. et al. Acute ascending aortic intramural hematoma as a complication of the endovascular repair of a Type B aortic dissection. J Anesth 26, 589–591 (2012). https://doi.org/10.1007/s00540-012-1350-5
Received:

Accepted:

Published:

Issue Date:
Keywords
Aortic dissection

Cardiac tamponade

Endovascular surgery

Transesophageal echocardiography