Abstract
Background
The caudate lobe of the liver is located behind both major lobes and is surrounded by the inferior vena cava, three main hepatic veins, and the hepatic hilum. Despite a hard-to-approach anatomic location, isolated complete removal of the caudate lobe is recommended to improve curability in hepatocellular carcinoma (HCC). This is because most patients with HCC cannot undergo caudate lobectomy (segmentectomy 1) with resection of adjacent liver regions due to their poor liver function.
Methods
We performed an anatomic isolated caudate lobectomy using a high dorsal resection technique in patients with HCC involving the paracaval portion of the liver. In this procedure, the caudate lobe is dissected, the boundary of the caudate lobe is identified using counterstaining and tattooing techniques, and the liver is transected along landmarks. The caudate lobe can be removed completely, without loss of the parenchyma of the major lobes, thereby preserving liver function.
Conclusions
Given that most patients with HCC concurrently have chronic liver disease, those with HCC in the caudate lobe are good candidates for high dorsal resection of the liver, which is safe, potentially curative procedure.
This is a preview of subscription content, log in to check access.
Access options
Buy single article
Instant unlimited access to the full article PDF.
US$ 39.95
Price includes VAT for USA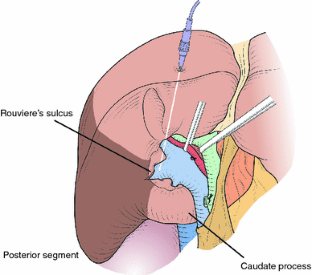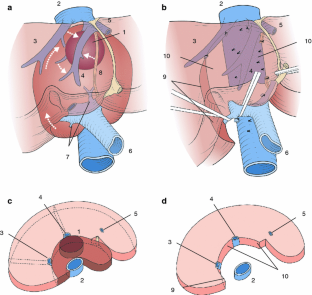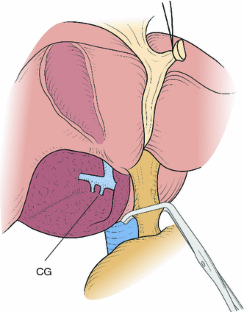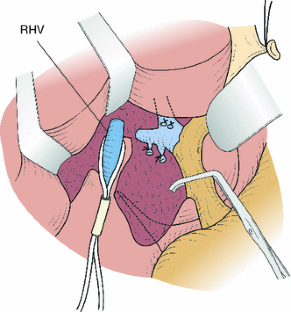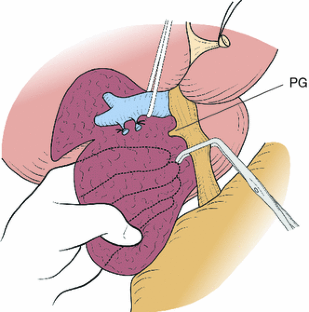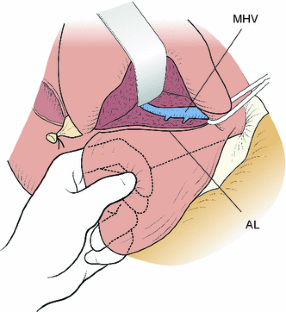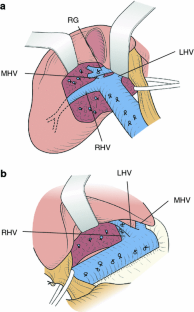 References
1.

Couinaud C. Posterior or dorsal liver. In: Couinaud C (ed.) Surgical anatomy of the liver revisited. 1989. p. 123–34.

2.

Takayama T, Makuuchi M, Kosuge T, et al. A hepatoblastoma originating in the caudate lobe radically resected with the inferior vena cava. Surgery. 1991;109:208–13.

3.

Takayama T, Tanaka T, Higaki T, et al. High dorsal resection of the liver. J Am Coll Surg. 1994;179:72–5.

4.

Yamamoto J, Takayama T, Kosuge T, et al. An isolated caudate lobectomy by the transhepatic approach for hepatocellular carcinoma in cirrhotic liver. Surgery. 1992;111:699–702.

5.

Kumon M. Portal vein and bile duct branches of the caudate lobe; analysis of liver cast and clinical cases (in Japanese). Kanzou (Acta Hepatol Jpn). 1985;26:1193–9.

6.

Makuuchi M, Kosuge T, Takayama T, et al. Surgery for small liver cancers. Semin Surg Oncol. 1993;9:298–304.

7.

Takayama T, Makuuchi M, Watanabe K, et al. A new method for mapping hepatic subsegment: counterstaining identification technique. Surgery. 1991;109:226–9.

8.

Makuuchi M, Hasegawa H, Yamazaki S. Ultrasonically guided subsegmentectomy. Surg Gynecol Obstet. 1985;161:346–50.

9.

Yanaga K, Matsumata T, Hayashi H, et al. Isolated hepatic caudate lobectomy. Surgery. 1994;115:757–61.

10.

Yamamoto J, Kosuge T, Shimada K, et al. Anterior transhepatic approach for isolated resection of the caudate lobe of the liver. World J Surg. 1999;23:97–101.

11.

Takayama T, Makuuchi M. Segmental liver resections, present and future-caudate lobe resection for liver tumors. Hepatogastroenterology. 1998;45:20–3.

12.

Ishizawa T, Hasegawa K, Ikeda M, et al. Transhepatic approach for a small paracaval tumor in repeat resection. Dig Surg. 2007;24:409–12.

13.

Takayama T. High dorsal resection of the liver. Visual Lectures on Cancer Operations in Japan: Tokyo; 2009. p. 429–50.
Acknowledgments
We thank Dr. Hisashi Nakayama for creation of the video.
Conflict of interest
The authors declare that they have no conflict of interest.
Electronic supplementary material
Below is the link to the electronic supplementary material.
Supplementary material 1 (MPG 48136 kb)
About this article
Cite this article
Midorikawa, Y., Takayama, T. Caudate lobectomy (segmentectomy 1) (with video). J Hepatobiliary Pancreat Sci 19, 48–53 (2012) doi:10.1007/s00534-011-0450-1
Keywords
High dorsal resection of the liver

Isolated caudate lobectomy

Liver function