Abstract
Background/purpose
Laparoscopic liver surgery is attracting wider interest for the treatment of benign and malignant neoplasms. Laparoscopy is a safe and feasible approach for lesions located in the left liver lobe. As the emphasis on minimizing the technique continues, single-port access surgery is quickly evolving. We present our initial experience of single-port laparoscopic liver surgery using a LaparoEndoscopic Single Site (LESS) approach with the TriPort System (ASC; Advanced Surgical Concepts, Bray, Ireland) to perform a left lateral sectionectomy via a single supraumbilical incision.
Methods
The abdomen was approached through a 15 mm supraumbilical incision and a single-port access device was used to perform a left lateral sectionectomy in a patient with a single colorectal metastasis.
Results
The total operative time was 145 min, with 50 ml blood loss. Hospital stay was 4 days.
Conclusions
Single-port laparoscopic left lateral sectionectomy is a feasible procedure, when performed by experienced laparoscopic surgeons. It has to be determined whether or not this approach would offer benefit to patients, except in terms of cosmesis, compared to standard laparoscopic liver resection.
This is a preview of subscription content, log in to check access.
Access options
Buy single article
Instant unlimited access to the full article PDF.
US$ 39.95
Price includes VAT for USA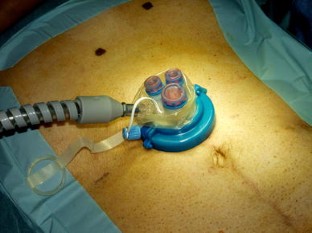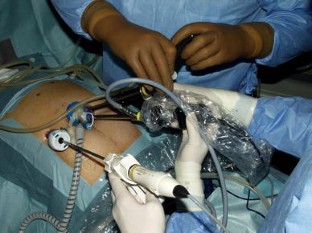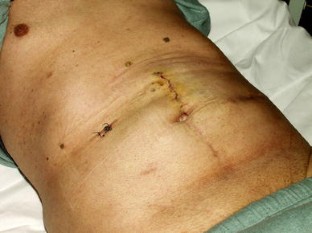 References
1.

Tracy CR, Raman JD, Cadeddu JA, et al. Laparoendoscopic single-site surgery in urology: where have we been and where are we heading? Nat Clin Pract Urol. 2008;5:561–8.

2.

Romanelli JR, Mark L, Omotosho PA. Single port laparoscopic cholecystectomy with the Triport system: a case report. Surg Innov. 2008;15:223–8.

3.

Bucher P, Pugin F, Buchs N, et al. Single port access laparoscopic cholecystectomy (with video). World J Surg. 2009;33:1015–9.

4.

Bucher P, Pugin F, Morel P. Single port access laparoscopic right hemicolectomy. Int J Colorectal Dis. 2008;23:1013–6.

5.

Aldrighetti L, Pulitanò C, Arru M, et al. Ultrasonic-mediated laparoscopic liver transection. Am J Surg. 2008;195:270–2.

6.

Aldrighetti L, Pulitanò C, Catena M, et al. A prospective evaluation of laparoscopic versus open left lateral hepatic sectionectomy. J Gastrointest Surg. 2008;12:457–62.
Electronic supplementary material
Below is the link to the electronic supplementary material.
Supplementary material 1 (MPG 98.8 mb)
About this article
Cite this article
Aldrighetti, L., Guzzetti, E. & Ferla, G. Laparoscopic hepatic left lateral sectionectomy using the LaparoEndoscopic Single Site approach: evolution of minimally invasive liver surgery. J Hepatobiliary Pancreat Sci 18, 103–105 (2011) doi:10.1007/s00534-010-0280-6
Received:

Accepted:

Published:

Issue Date:
Keywords
Laparoscopic hepatic resection

Single port