Abstract
Purpose
The aim of the study was to assess health-related quality of life (HRQoL) and contributing factors among parents of children with solid tumors in Serbia.
Methods
The cross-sectional study included 51 parents of children treated for different solid tumors at the Institute of Oncology and Radiology of Serbia. Parents filled out validated Serbian version of SF-36 questionnaire. Hierarchical multiple regression analysis was conducted to identify predictors of total score of SF-36.
Results
Almost all parents (94.1%) were mothers and average age was 38.6 ± 6.7 years. Majority of children had brain tumors (43.1%), followed by bone tumors (37.3%). The hierarchical regression analysis showed that socio-demographic characteristics explained 26% of the variance (p > 0.05) of the total score of SF-36. Addition of quality of life of children assessed by parents in the second model caused an increase of 21% in the variance explained (p < 0.05). After adding the Beck Depression Inventory score in the third block, an additional 18% of the variance in total score was explained (p < 0.05).
Conclusions
This study showed that HRQoL measured by SF-36 in parents of children with cancer is strongly influenced by depression and quality of life of children assessed by parents.
This is a preview of subscription content, log in to check access.
Access options
Buy single article
Instant access to the full article PDF.
US$ 39.95
Price includes VAT for USA
Subscribe to journal
Immediate online access to all issues from 2019. Subscription will auto renew annually.
US$ 199
This is the net price. Taxes to be calculated in checkout.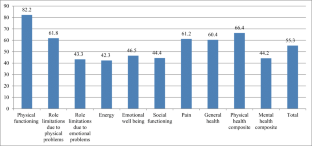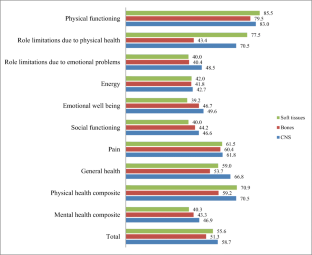 References
1.

Steliarova-Foucher E, Colombet M, Ries LAG, Moreno F, Dolya A, Bray F, Hesseling P, Shin HY, Stiller CA, IICC-3 contributors (2017) International incidence of childhood cancer, 2001–10: a population-based registry study. Lancet Oncol 18:719–731. https://doi.org/10.1016/S1470-2045(17)30186-9

2.

Gatta G, Capocaccia R, Stiller C, Kaatsch P, Berrino F, Terenziani M, EUROCARE Working Group (2005) Childhood cancer survival trends in Europe: a EUROCARE working group study. J Clin Oncol 23:3742–3751. https://doi.org/10.1200/JCO.2005.00.554

3.

Calaminus G, Kiebert G (1999) Studies on health-related quality of life in childhood cancer in the European setting: an overview. Int J Cancer 12:83–86

4.

Nathan PC, Furlong W, Barr RD (2004) Challenges to the measurement of health-related quality of life in children receiving cancer therapy. Pediatr Blood Cancer 43:215–223. https://doi.org/10.1002/pbc.20096

5.

Hoven E, Gronqvist H, Poder U, von Essen L, Lindahl Norberg A (2017) Impact of a child's cancer disease on parents' everyday life: a longitudinal study from Sweden. Acta Oncol 56:93–100. https://doi.org/10.1080/0284186X.2016.1250945

6.

Sultan S, Leclair T, Rondeau E, Burns W, Abate C (2016) A systematic review on factors and consequences of parental distress as related to childhood cancer. Eur J Cancer Care 25:616–637. https://doi.org/10.1111/ecc.12361

7.

Feraco AM, Dussel V, Orellana L, Kang TI, Geyer JR, Rosenberg AR, Feudtner C, Wolfe J (2017) Tumor talk and child well-being: perceptions of "good" and "bad" news among parents of children with advanced cancer. J Pain Symptom Manag 53:833–841. https://doi.org/10.1016/j.jpainsymman.2016.11.013

8.

Litzelman K, Catrine K, Gangnon R, Witt WP (2011) Quality of life among parents of children with cancer or brain tumors: the impact of child characteristics and parental psychosocial factors. Qual Life Res 20:1261–1269. https://doi.org/10.1007/s11136-011-9854-2

9.

Pro Quolid Patient-Reported Outcome and Quality of Life Instruments Database SF-36 Health Survey Serbian version. http://www.proquolid.org. [Accessed March 2016]

10.

Ware JE, Snow KK, Kosinski M, Gandek B (1993) SF-36 health survey: manual and interpretation guide. Nimrod Press, Boston

11.

Beck AT, Beck RW (1972) Screening depressed patients in family practice: a rapid technique. Postgrad Med 52:81–85

12.

Bumbasirevic U, Bojanic N, Pekmezovic T, Janjic A, Janicic A, Milojevic B, Tulic C (2013) Health-related quality of life, depression, and sexual function in testicular cancer survivors in a developing country: a Serbian experience. Support Care Cancer 21:757–763. https://doi.org/10.1007/s00520-012-1577-6

13.

Pekmezovic T, Tepavcevic DK, Jarebinski M, Kostic M, Bumbasirevic L (2007) Stroke mortality in Belgrade, Serbia: age, period, and cohort analyses. Cerebrovasc Dis 24:191–195

14.

Vlajinac HD, Marinkovic JM, Kocev NI, Adanja BJ, Pekmezovic TD, Sipetic SB, Jovanovic DJ (1997) Infectious diseases mortality in Central Serbia. J Epidemiol Community Health 51:172–174

15.

Vance YH, Morse RC, Jenney ME, Eiser C (2001) Issues in measuring quality of life in childhood cancer: measures, proxies, and parental mental health. J Child Psychol Psychiatry 42:661–667

16.

Wegner W, Pedro ENR (2009) Health conceptions under the perspective of lay caregiver women accompanying hospitalized children. Rev Lat Am Enfermagem 17:88–93. https://doi.org/10.1590/s0104-11692009000100014

17.

Witt WP, Litzelman K, Wisk LE, Spear HA, Catrine K, Levin N, Gottlieb CA (2010) Stress-mediated quality of life outcomes in parents of childhood cancer and brain tumor survivors: a case-control study. Qual Life Res 19:995–1005. https://doi.org/10.1007/s11136-010-9666-9

18.

Norberg AL, Boman KK (2008) Parent distress in childhood cancer: a comparative evaluation of posttraumatic stress symptoms, depression and anxiety. Acta Oncol 47:267–274. https://doi.org/10.1080/02841860701558773

19.

Klassen AF, Raina P, McIntosh C, Sung L, Klaassen RJ, O'Donnell M, Dix D (2011) Parents of children with cancer: which factors explain differences in health-related quality of life. Int J Cancer 129:1190–1198. https://doi.org/10.1002/ijc.25737

20.

Klassen AF, Klaassen R, Dix D, Pritchard S, Yanofsky R, O'Donnell M, Sung L (2008) Impact of caring for a child with cancer on parents' health-related quality of life. J Clin Oncol 26:5884–5889. https://doi.org/10.1200/JCO.2007.15.2835

21.

Hand C (2016) Measuring health-related quality of life in adults with chronic conditions in primary care settings. Can Fam Physician 62:e375–e383
Funding
This investigation was supported by the Ministry of Education, Science and Technological Development of the Republic of Serbia (Grant No. 175087).
Ethics declarations
Following detailed information about the aims of the study, all parents signed inform consent for participation in the research and all of them accepted to take a part in the investigation. Study was approved by the Ethical Commission of the Faculty of Medicine, University of Belgrade.
Conflict of interest
The authors declare that they have no conflict of interest.
Additional information
Publisher's note
Springer Nature remains neutral with regard to jurisdictional claims in published maps and institutional affiliations.
About this article
Cite this article
Ilic, V., Nikitovic, M., Maric, G. et al. Assessment of health-related quality of life among parents of children with solid tumors in Serbia. Support Care Cancer (2020). https://doi.org/10.1007/s00520-020-05348-6
Received:

Accepted:

Published:
Keywords
Health-related quality of life

Childhood cancer

Parents

Hierarchical regression analysis