Coping mechanisms for financial toxicity: a qualitative study of cancer patients' experiences in Germany
Abstract
Purpose
The coping mechanisms employed to deal with objective financial burden following a cancer diagnosis are considered mediators of financial toxicity, specifically for the relationship between increased costs and health outcomes. Using qualitative research, the aim of the study was to explore the financial adjustments experienced by cancer patients and identify key coping mechanisms.
Methods
Semistructured interviews with 39 cancer patients (aged from 40 to 86 years) were conducted between May 2017 and April 2018 in Germany. Narratives were transcribed verbatim and analysed via qualitative content analysis.
Results
In all, 28 participants reported that they made financial adjustments related to two major categories: (1) reducing expenditures related to basic needs, luxury needs, and health-related decisions, and (2) increasing financial resources by saving less, using savings, investing manpower, obtaining help from third parties, incurring bank debt, and making health-related decisions. Typically, cancer patients both reduced expenditures and increased financial resources, but no typical patterns of combinations of coping mechanisms could be identified. However, reducing spending on basic and luxury needs was found to occur more typically than increasing the available money through incurring bank debt, making health-related decisions, or investing manpower.
Conclusions
This qualitative study provides a comprehensive understanding of the complexity of the coping mechanisms used by patients to address either higher costs or changed needs and priorities following a cancer diagnosis. With regard to understanding patients' experiences of subjective financial stress, both increasing financial resources and reducing expenditures, particularly those relating to basic needs and luxury needs as distinct categories, might be relevant and should be considered. The financial situation impacts the treatment of cancer patients since health-related decisions were reported to be made with the aim of increasing financial resources by maintaining an ability to work or reducing expenditures through non-adherence.
Keywords
Cancer 
Financial toxicity 
Coping mechanisms 
Financial consequences 
Qualitative study 
Patients 
Introduction
Cancer can have severe consequences for a patient's financial situation, and higher costs may lead to financial toxicity [1, 2, 3]. In general, financial toxicity can be separated into the objective financial burden and subjective financial distress experienced by patients as a result of cancer treatment [1]. The coping mechanisms used to deal with objective financial burden are key mediators between increased costs (proximal consequences of cancer) and distress, indebtedness, and non-adherence, which can have an impact on quality of life and health outcomes (distal consequences) [1, 4, 5, 6].
Currently, financial toxicity and the coping mechanisms employed by cancer patients to address objective financial burden are not fully understood, and related research has lacked consistent terms, understanding, and definitions of financial toxicity [1]. Nevertheless, some quantitative studies on financial toxicity have analysed measures that are now defined as coping mechanisms and are differentiated from proximal and distal consequences. These studies often used different combinations of measurement parameters, e.g., using savings, incurring debt, declaring bankruptcy, selling or refinancing a home, borrowing money, having uncovered medical costs or unpaid bills/credit cards, spending less on food/clothing, spending less on other family members' health care, spending less on leisure activities, and making financial sacrifices [4, 6, 7, 8, 9, 10, 11, 12]. Since these studies included only a selection of parameters, they reported very different results, with the percentage of cancer patients identified as having a high risk of financial toxicity ranging from 17.9 to 89%. The variability in the parameters used reduces the comparability of the results and exemplifies that coping mechanisms are a complex issue. This complexity has become even more apparent in recent reviews on financial toxicity, which offered diverse definitions of coping mechanisms, such as limiting the definition to skipping medication and delaying physician visits [13] or to a combination of changes in consumption, money borrowing, use of savings, sale of assets, and non-adherence [1].
These quantitative studies relied on predefined parameters to measure coping mechanisms of financial toxicity. However, qualitative studies exploring financial coping mechanisms from the perspective of patients are rare. In addition, the results were related to not only coping mechanisms but also other domains of financial toxicity, i.e., experiences with higher costs and psychosocial responses, due to the lack of a common understanding at that time. The few existing studies that have provided a more detailed picture of coping mechanisms found that cancer patients—in alignment with the abovementioned mechanisms—receive financial support from organizational sources, budget very carefully, or make "trade-offs/choices" [14, 15, 16, 17]. Coping mechanisms have rarely been explored in-depth, and previous studies were conducted in countries with either publicly funded or privately funded healthcare; thus, research from countries with statutory health insurance is lacking. In countries with statutory health insurance, objective financial burden is comparatively low because of the broad social security system [18, 19], and coping mechanisms should therefore have low relevance for patients. Furthermore, existing studies have not revealed whether there are typical patterns of coping mechanisms among cancer patients, which is important to know when attempting to gain a better understanding of financial toxicity. Investigating coping mechanisms from the patient's perspective can be helpful in understanding how financial toxicity translates from higher costs to lower quality of life and worse health outcomes. Therefore, this study explores the coping mechanisms used by cancer patients as a consequence of objective financial burden in Germany—a country with statutory health insurance and typically modest treatment-related costs.
Methods
Design and participants
We conducted an exploratory qualitative study of cancer patients in Halle (Saale), Germany, and reached potential participants in diverse ways, mainly through hospitals and resident specialists and through snowball sampling conducted by posting flyers in, for example, the Cancer Society of Saxony-Anhalt. The inclusion criteria for this study were as follows: had a diagnosis of a first breast, prostate, lung or colorectal cancer; was ≥ 30 years of age; and had completed acute treatment for cancer within the last 5 years. We excluded moribund patients and those with insufficient language skills to participate in an interview. We selected a sample of maximally contrasting information-rich participants. Maximal variation was considered during sampling in terms of age, gender, socioeconomic and family status, and degree of objective financial burden and subjective financial stress. Data were analysed step-by-step concurrently with the recruitment of participants and the implementation of the interviews. For the purposes of contrasting and saturation, we later broadened the inclusion criteria to achieve maximal variation in terms of experience with financial toxicity and included some patients with other types of cancer, cancer recurrence, or a second diagnosis of cancer whose first cancer diagnosis occurred a long time ago or who were still receiving long-term acute therapy. In total, 58 participants provided consent to be contacted by a member of the research team or contacted the study group themselves. We reached sampling saturation after 39 interviews in terms of cancer patients' experiences with coping mechanisms. Saturation was reached predominantly with regard to an overall understanding of financial toxicity in Germany, which meant we included patients with and without objective financial burden (financial decline and changes) who did or did not experience subjective financial distress for several reasons. The characteristics of the 39 participants, aged from 40 to 86 years, are presented in Table
1
.
Table 1
Patient characteristics (39 patients)
Characteristic

Description

Sample distribution

Age

Average age (range)

58.7 years (40–86)

Gender

Female

18

Male

21

Cancer diagnosis*,1

Breast

11

Colon

9

Lung

7

Prostate

7

Other

5

Year of cancer diagnosis*,2

2003–2012

7

2013

2

2014

3

2015

10

2016

14

2017

3

Household and dependents

Partner, parents, older children

21

Single

10

Families (living with children)

6

Single parent

2
Data collection
In-depth semistructured interviews were conducted between May 2017 and April 2018. All participants were contacted and informed in advance about the study (process, goals) and then asked if they were interested in scheduling an appointment. Interviews were conducted only after participants provided written informed consent. The study was approved by the Ethics Review Committee of the Medical Faculty at Martin Luther University, Halle-Wittenberg (2016-126). A semistructured interview schedule (Online Appendix A) was used to guide the interview process and facilitate consistency and subsequent data analysis. Based on each participant's choice, the interviews took place at the Institute of Medical Sociology, at the participant's home, or in a private room during aftercare appointments. Two female researchers from the Institute of Medical Sociology conducted the interviews face to face: SLS and NS are research associates, and both have years of experience in qualitative health research. SLS has an educational background as an economist, and NS has an educational background as a sociologist. The interviews included only the participant and one interviewer, but in seven interviews, family members were present at the request of the participant. The interviews lasted between 23 and 160 min, with an average length of 68 min. All but one of the interviews were audio recorded with the interviewee's permission.
Data analysis
The pseudonymized transcripts of the interview records were analysed according to the qualitative content analysis [20]. Initially, six interviews were double-coded "data-driven" (inductively) by trained coders from the qualitative working group at the Institute of Medical Sociology. These codes were used to develop an initial code structure with categories. Subsequently, four interviews were double-coded by SLS and NS to enhance the preliminary coding tree. Either SLS or NS coded the following transcripts, and the initial coder's counterpart reviewed and supplemented the coding. Discrepancies were resolved through discussions among all the authors. The MAXQDA 12.0 software was used to facilitate coding and to compare and contrast the codes and categories across interviews. Any financial coping mechanisms resulting from higher costs were extracted from the codes separately for every participant. Subsequently, we compared and contrasted the identified coping mechanisms of every participant with those of others to find commonly used coping strategies.
Findings
Of the 39 participants, 11 reported no need to implement any financial adjustments. The remaining 28 participants described in detail the financial consequences and the financial adjustments they made to cope with cancer-related costs. These coping mechanisms reflected two major themes:
reducing expenditures
and
increasing financial resources
(see Fig. 
1
)
.
In terms of reducing expenditures, three major categories were identified: basic needs, luxury needs, and health-related decisions. The theme of increasing financial resources included saving less, using savings, investing manpower, obtaining help from third parties, incurring bank debt, and making health-related decisions. Notably, making health-related decisions has been reported to be done either with the aim of reducing expenditures or with the aim of increasing resources by maintaining the ability to work. The categories and codes are described in detail hereafter, followed by a description of the utilization of the coping mechanisms and typical strategies and patterns.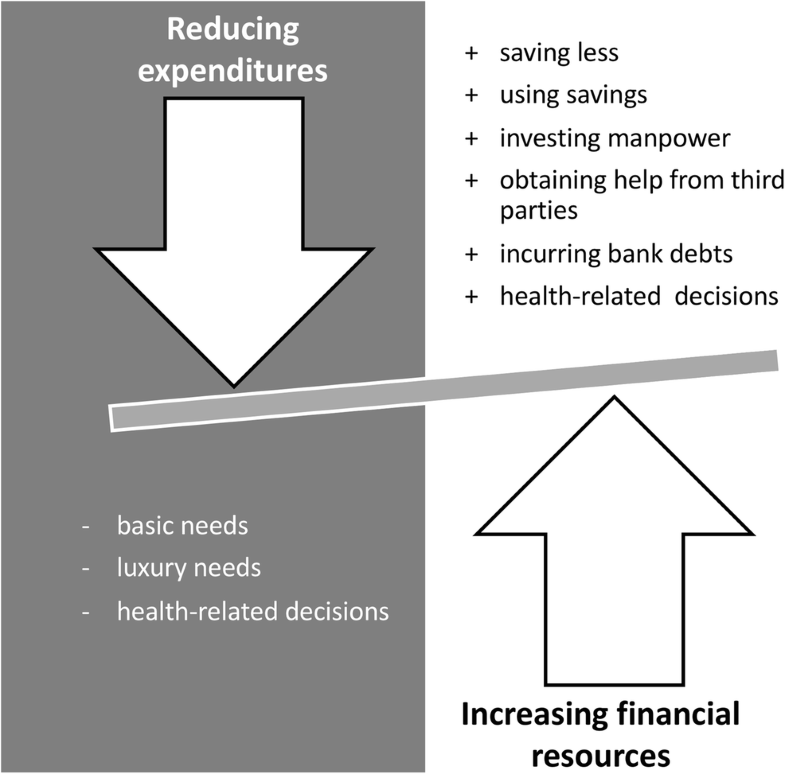 "I was forced to economize"
The participants reported that
reducing expenditures
was a coping mechanism used to reduce household spending. When a participant reported concrete ways of expenditure adjustments, these strategies were assigned to one of three categories: basic needs, luxury needs, or health-related decisions; these categories are described in detail with example quotes in Table
2
.
Table 2
"Reducing expenditure"-related categories and quotations
Basic needs
  Accommodation
    The worst part was that we wanted to redo the staircase in the house before I got ill. The old staircase was pulled out. All the steps were pulled out and made, and the carpenter in the joinery wanted to come. Well, then I got ill, so we said to wait. Well, and we have until today, it was two and a half years ago, and it's still not done. (B25, female, 55 years)
  Food
    We did not know something like this. This packaged food or canned food. Well, we had not had this before. But we had to have this during that time now and again. So that my two [husband and son] had at least something to eat. (B25, female, 55 years)
  Utility costs (energy, water consumption)
   I arranged to get wood to get through the winter at least because we do not have the money for coal, as we have furnace heating. (P1, male, 53 years)
  Transportation
    I sold the car because a car costs €160 every month. We pay only €70 to €80 to €90 for the parking space or garage place. Then, the insurance as well. Then, you have not driven one metre yet. (B10, male, 68 years)
  Clothing
    Now, we live, I have to say this, without affording anything extra, no chance to say "my winter shoes need to be renewed". Or something. No chance! (B19, female, 60 years)
  Major purchases
    We live, let us say it like this. We are happy when we get money. (laughing) To get a little more. Well, we cannot make purchases anyway. (B7, male, 61 years)
Luxury needs
  Holidays (forego or choose less expensive options)
    We had planned to got to Saint Petersburg in the early summer. Let us say, it's not quite inexpensive, this type of holiday. You have to strongly consider this. It's cancelled, let us say it like this, well and these ARE the little things that are apparent that you cannot indulge yourself with. (B2, male, 54 years)
    Thus, we did not go on holidays again because of the simple reason that the cash is gone, and there is no more money coming in. (B15, male, 70 years)
  Hobbies, social contacts, and leisure activities
    I know some who started a volunteer project or something to get out of the house. But you have to be able to afford this. Well, I thought they pay, even a little money, my expenses, but they did not. Then, I let it go. (B10, male, 68 years)
    For example, I meet twice a year with former colleagues where I did my apprenticeship. […] in November, we always go to a Greek restaurant. But this one time, I was unable to join. I said "No, I cannot". It will be about €20, €25. It depends on what you eat, well, then you drink something; thus, I said "No". Then, I said a little, "I am not doing well". (B31, female, 52 years)
    Well, well, we just say Yes, No. Surely you economize somewhere, see? You do not go out any longer. You do not drive anyway. (B4, female, 48 years)
  Preventive new purchases
    Well, and just technical things, one would have kept the television for about two, three more years, so one purchases a new one. Because the other one is eight years old or something. When this one busts, it starts all over again. Well, then you are without a television. This is preventive. Washing machine, dryer, everything that should last a little longer was replaced once again now. (B22, male, 60 years)
Health-related decisions
  Transport service
    I had 20 irradiations for four weeks. I drove there on my own every day and made no use of the transport service. For that, I would have had to pay €10 extra. (B3, female, 53 years)
  Medical remedies
    Or the bathing clothes. Those were too costly, so I did not buy them. Only because of this insert there, there is this pocket, well, and because it is structured differently. (B31, female, 52 years)
  Private health insurance
    I wanted to get out of the private insurance because I simply saw this as a burden. Indeed, I knew that I would not get one or another treatment after that, or at least not like that or not that quickly. I accepted this to minimize the financial burden, which existed every month. (B2, male, 54 years)
  Not following medical recommendations (nutrition, examinations, drugs, supplements)
    Not at all. You do not get anything [refunded from health insurance]. Well, it's these things. And all the probiotic things or whatever they want to give or prescribe you, well, these I have not taken—more or less—I must say. (B18, male, 52 years)
    I have skipped those [Viagra] a couple of times by now. And I have to find out. If not, then I will purchase them on the web; I will do this through a buddy. If it's more advantageous. (B12, male, 65 years)
With regard to reducing expenditures on basic needs, participants reported that they decreased their expenses related to accommodation (delaying rent or postponing maintenance of a residential property), food (buying food on sale or cooking inexpensive dishes), utility costs (reducing energy costs, water consumption, or heating costs), transportation (postponing maintenance of a car, selling a car, or foregoing purchasing a new car), clothes (being unable to buy new clothes for children or buying second-hand clothes), and major purchases (delaying these purchases) during the period of financial sacrifice.
Reducing expenditures on luxury needs included all reductions above the basic needs level, such as decreasing spending on holidays and/or foregoing spending on desired items in the long term. Holidays were either not affordable or the participants chose to go on holiday far less often or chose less expensive holidays. In some cases, this meant that not even weekend excursions to see family or friends were affordable. Other luxury needs that were reduced were those related to hobbies, social contacts, and risk insurance. Reductions to hobbies included limiting leisure activities, such as going out for a meal; foregoing the collection of items, e.g., for a record collection; and choosing not to pamper oneself, e.g., cancelling subscriptions. The impact on social contacts included reductions in visiting or going out with friends, not starting a volunteer project, or no longer providing financial support for one's children. Reductions to risk insurance included cancelling household or accident insurance. Finally, patients made no use of services needed due to physical weakness caused by illness and treatment and instead continued to perform these services themselves, such as changing a tyre on one's own car even though weakened by therapy. A counterintuitive finding was observed for one participant who reported having higher expenditures for the preventive replacement of furniture and technology, which was reported to be a consequence of the participant's possible death and the expectation that the spouse's future financial situation would not support funding for new purchases.
In some cases, the patients reported reducing expenditures by making less desirable health-related decisions once or several times. Examples included changing from private health insurance to statutory health insurance because of high premiums; foregoing transportation service or medical remedies due to high out-of-pocket payments; or not following medical recommendations with regard to healthy nutrition, examinations, drugs, or nutritional supplements due to financial reasons.
"If I hadn't had my parents, with whom I have plenty of debt now"
The second main theme related to
increasing financial resources
to increase the amount of money available. The six related categories—saving less, using savings, investing manpower, obtaining help from third parties, incurring bank debts, and making health-related decisions to increase resources—are described in detail with example quotes in Table
3
.
Table 3
"Increasing financial resources"-related categories and quotations
Saving less
  General
    But finally (…) actually only the standing order "saving" was left behind. Well (…) Well. Fate would have it. Anything had to be eliminated or something had to be economized to manage the smaller amount of money, well. That's the way it is. (B5, female, 45 years)
Surely you could. We could not save that much money in THIS year usually. (P2, female, 74 years)
    Like I said, maybe indeed this way, it was balanced. To say that you spent the money as usual and are not able to build reserves anymore. (B37, male, 55 years)
  Pension savings
    I did not change anything in this sense, except that now money that was specifically intended for old-age provision is not, let us say, available. (B2, male, 54 years)
Using savings
    Among other things I terminated, I prematurely terminated two types of precautionary insurance for my children. Really aggravating, but we did deliberate about this. I got together with my children and had to argue with the vile argument that otherwise I do not know how I would get through this. I said, "They will seize the house from under my feet; it will be compulsorily auctioned, and then I will have no options. Where should I go?" (B30, female, 57 years)
    I tell you, maybe it's like…because we saved [money] throughout our years of life, well. There is money. You take it from this, as I said, so it's just less. If nothing exists, you would certainly react differently. Though, currently that's the way it is. You can do it. (B15, male, 70 years)
Investing manpower
  Returned to work quickly
    At that time, I was worried about my subsistence. […] In a spirit of realism, it was a monetary decision in the beginning [to return to work quickly]. Though, I feel very comfortable in the company. (B28, female, 64 years)
  Marginal employment
    Then, one was forced to work. If more was required, you had to work MORE, to get MORE. (laughing) That's the way things are. (B27, male, 70 years)
Obtaining help from third parties
  Family and friends
    Well, like I said before, if I had not had my parents, (…)I have plenty of debt now, more specifically, my inheritance (laughing) has been used. (B17, female, 40 years)
    I went begging from my sister and from my father and from my parents. I just went begging; just asked them whether they could help me here and there. (P1, male, 53 years)
    Spouse: It worked, but with this, the boy helped a little. B1: Yes, well. There wasn't any other way. (B1, female, 56 years)
  Institutional support
    And education and participation are important for children. They get €100 every school year for school money, well, book money, then school trips are paid, then cultural activities; you can get all of this back, but only if you get a housing allowance. (B31, female, 52 years)
    Well, then we applied for this single additional financial support from the German Cancer Aid. Furthermore, I got this in full. (B29, female, 50 years)
Incurring bank debts
    Well, varifocals cost more than €600, see. [...] So, what do I do. I got there, asked for an instalment plan. You know, it's stupid. But there is no alternative. There is no alternative. (B3, female, 54 years)
    That at least the insurance, loans and everything was covered. That you do not get into a scrape. Thus, the result was that my husband went into overdraft with his account. We have been fighting until now to overcome this. (B25, female, 55 years)
    Well, particularly serious is the fact that you have to consider every month if you can afford the rental fee or cannot and to what extent you are going into overdraft. Losing your home or having no power or whatever. (B17, female, 40 years)
    And that annoyance. (…) If ten cents, no, not 10 cents, if €10 is due so to say or sometimes even €5, you are immediately (knocking), and then a whole credit instalment is set back. And then you pay an extra €40, although it was only €10, so to say. (B31, female, 52 years)
Making health-related decisions
    Then, chemotherapy again, but this time tablet based because some financial things still had to be cleared up. I had to work for half a year to get everything under control so far. (B22, male, 60 years)
Saving less involved reducing the amount of money placed into savings during the period of financial sacrifice; this could include one's own pension savings or savings for one's children. Moreover, in the context of savings, participants reported using existing savings, which involved using some or all of their savings, selling a car or increasing their available budget by cancelling endowment insurance.
With regard to investing manpower, participants reported that even though they were weak, for financial reasons, they returned to work quickly, continued self-employed work during treatment, or started marginal employment in addition to receiving a reduced earning capacity pension. Participants reported investing manpower only for financial reasons with the aim of increasing their available monthly budget despite experiencing the need for further physical and mental recovery time from cancer diagnosis and treatment.
Help from third parties was obtained by borrowing money or receiving money or informal assistance from parents, siblings, children, children's other parent (separated), or friends. Other help from third parties included receiving payments from non-profit associations and foundations or applying for government benefits, e.g., housing allowance or child and family income supplements. When patients received help from third parties, this help was mainly in the form of a single payment, but sometimes the help was provided on a regular basis.
Incurring bank debts involved making purchases through instalments, e.g., for new glasses or holidays. Other participants reported periodically utilizing their overdraft capacity. In addition, participants reported paying only part of large bills or debts or arranging to pay in instalments. Although incurring bank debts and paying in instalments provided an option to increase resources, fees for overdrafts or chargebacks for overdrawn accounts were reported to aggravate the financial situation.
One participant reported making a therapeutic decision, in which the participant opted for pill-based rather than infusion-based chemotherapy with the aim of returning to work quickly to increase household income instead of spending time in recovery.
Utilization of coping mechanisms—strategies and patterns
In total, the participants reported nine detailed coping mechanisms, each of which represented a different consequence and financial adjustment for dealing with higher costs or changed needs and priorities following a cancer diagnosis. Generally, the patients utilized a combination of several mechanisms in their individual coping strategy. When comparing and contrasting the different coping strategies, we found that participants typically utilized a strategy that was not based solely on reducing expenditures or increasing financial resources but on a combination of these two main categories. However, the way participants combined the coping mechanisms was extremely heterogeneous, and no typical strategies and patterns could be found. Nevertheless, some coping mechanisms were applied more commonly than others. Reducing expenditures on luxury or basic needs seemed to be a more common way to deal with objective financial burden, whereas increasing financial resources though incurring bank debt, making health-related decisions, and investing manpower were applied less frequently.
Discussion
This qualitative study provides a comprehensive understanding of cancer patients' financial consequences to cope with objective financial burden. Whereas some participants reported employing no financial adjustments, the majority reported using many coping mechanisms that we classified into nine categories related to the main themes of reducing expenditures and increasing financial resources. Typically, the participants utilized a combination of coping mechanisms related to both reducing expenditures and increasing financial resources. These combinations were unique to each participant, and no patterns could be found. In general, this study shows that reducing spending on basic and luxury needs was used more commonly than increasing financial resources by incurring bank debt, making health-related decisions, or investing manpower.
To obtain a better understanding of the subjective financial stress and higher mortality induced by higher costs, the intermediate step in which patients adopt coping mechanisms needs to be fully understood from the patient's perspective. We show that despite the comparatively low objective financial burden in Germany—due to the strong social security system—patients typically employed several coping mechanisms. Interestingly, we found that the causes underlying these financial consequences related not only to dealing with increased costs but also to the ability to fulfil the changed needs and priorities that arose in the context of a cancer diagnosis, such as the need for services due to physical weakness, a desire to pamper oneself and concerns about the financial situation of one's spouse if one dies. On the other hand, some patients reported no financial adjustments throughout the interview. We assume that the reason is predominantly that their financial situation remained largely unchanged. Another intuitive interpretation is that due to the cancer diagnosis being a major life event that can impact the individual needs and relevancy of consuming, financial coping might have subjectively been perceived as unnecessary.
The results provide evidence of the complexity of coping mechanisms used by cancer patients who are confronted with the objective financial burden. These mechanisms were comparable with those used by patients in countries with publicly or privately funded healthcare but proved to be more diverse than recent studies have indicated [1, 2, 13, 14, 15, 16, 21, 22, 23, 24]. In particular, increasing financial resources by saving less, investing manpower, and making health-related decisions has not been described before in detail to our knowledge. Only Céilleachair et al. found that self-employed individuals felt pressured to continue working regardless of their health or to schedule surgery sooner in order to return to work quickly [22], which is similar to our results. Notably, we showed that even in countries with statutory health insurance, patients make health-related decisions and incur bank debt to reduce expenditures and increase financial resources. Studies from the USA found that the likelihood of cancer survivors not receiving necessary medical care increases substantially with the amount of debt [6]. However, we found that patients typically used coping mechanisms related to both reducing expenditures and increasing financial resources, but savings on basic and luxury needs were reported more typically than increasing resources, which was pursued by incurring bank debt, making health-related decisions, and investing manpower. This differentiation has not previously been applied in research on financial toxicity. However, Nipp et al. grouped coping strategies into the categories of lifestyle and care altering and found that even in the USA, patients were more likely to use lifestyle-altering approaches [12]. Similar to our findings regarding the differentiation between expenditure reductions for basic and luxury needs, the authors subdivided lifestyle changes into leisure activities and basics [12]. This approach has rarely been considered in other studies, which measured more generally whether patients spent less, made financial sacrifices, budgeted carefully, or made choices [4, 6, 7, 10, 15, 16, 25].
Concordant with Timmons et al., we found that there were no patterns in the utilization of coping mechanisms, and financial adjustments seem to be "complex, multidimensional and dependent on the individuals combinations of circumstances and experiences" [25]. In line with the general evidence on coping strategies for stress, the coping mechanisms in this study depended on the individual person and his or her perception and interpretation of the situation as well as the individual's capacity to cope with the situation with his or her available resources [26]. We assume that having savings or being socially integrated has a lasting effect on the available options for financial coping mechanisms. Moreover, patients' individual consequences and strategies might be influenced by their financial literacy, that is, their "ability to effectively manage their household finances" [27]. Therefore, we expect that each of the nine identified coping mechanisms could be relevant with regard to an individual patient's quality of life or health outcomes and should be taken into account to understand individual patients' financial toxicity.
Limitations
Although we reached saturation with 39 interviews in terms of financial toxicity, the generalizability of the results to all patients with cancer is limited, e.g., younger patients or families with children who have cancer and patients from other countries or regions, and other coping mechanisms might be used among patients in a palliative setting. In this study, coping strategies were reported by only 28 of 39 patients; therefore, we might not have captured all strategies of coping mechanisms, and patterns could hardly be found due to the small sample size. In addition, as we relied on patient memory, some participants might not have remembered all aspects of their coping mechanisms, especially those patients who did not feel burdened by their financial consequences. It must be borne in mind that we analysed the participants' subjective perception of whether they made any financial adjustments, which can be influenced by the perception of one's own needs and wealth. Furthermore, we restricted the analysis to financial coping strategies and did not take psychosocial coping mechanisms into account, such as, the level of financial literacy and family support, which might affect the degree of experienced subjective financial stress.
Conclusion
This qualitative study helps in obtaining a comprehensive picture of the financial consequences and adjustments used by patients with cancer in order to cope with higher costs and changed needs and priorities following diagnosis. We found that many cancer patients reduced their expenditures and increased their financial resources, and both should be considered equally. With regard to further explorations on subjective financial distress, the subdivision of coping mechanisms into basic and luxury needs might be particularly relevant. However, coping mechanisms must be considered in the context of patients' individual circumstances, financial situation, and financial literacy as they reflected the individual preferences and opportunities more than priorities. As a consequence, social workers and psychooncologists must individualize their support and the information they provide. Consultations must involve detailed counselling and must be conducted face to face and individually rather than provided through informational brochures. Since consequences for health-related treatment decisions were observed even in a country with a comprehensive healthcare and social security system, physicians in every country should be aware of financial toxicity and take patients' preferences and financial resources into account to the fullest extent possible when making medical decisions and recommendations [28].
Notes
Acknowledgements
We thank the patients who participated in this study and shared their experiences regarding this personal topic with us. For their assistance with recruiting patients for this study, we acknowledge scientific assistants Julia Faltus and Johannes Niebuhr and our cooperation partners within the outpatient departments and doctors' practices. We thank Jürgen Walther and Marie Rösler from the German Cancer Society and Sven Weise from the Cancer Society of Saxony-Anhalt for their topical discussions on and insights into the issue of financial toxicity from the viewpoint of social counselling.
Funding information
We thank the German Cancer Aid for financing the study (grant number 70112452).
Compliance with ethical standards
Conflicts of interest
The authors declare that they have no conflicts of interest.
Informed consent
Informed consent was obtained from all individual participants included in the study.
Ethical approval
All procedures performed in studies involving human participants were in accordance with the ethical standards of the institutional and/or national research committee and with the 1964 Helsinki declaration and its later amendments or comparable ethical standards.
Copyright information
© Springer-Verlag GmbH Germany, part of Springer Nature 2019