The pathogenesis of mucositis: updated perspectives and emerging targets
Abstract
Mucositis research and treatment are a rapidly evolving field providing constant new avenues of research and potential therapies. The MASCC/ISOO Mucositis Study Group regularly assesses available literature relating to pathogenesis, mechanisms, and novel therapeutic approaches and distils this to summary perspectives and recommendations. Reviewers assessed 164 articles published between January 2011 and June 2016 to identify progress made since the last review and highlight new targets for further investigation. Findings were organized into sections including established and emerging mediators of toxicity, potential insights from technological advances in mucositis research, and perspective. Research momentum is accelerating for mucositis pathogenesis, and with this has come utilization of new models and interventions that target specific mechanisms of injury. Technological advances have the potential to revolutionize the field of mucositis research, although focused effort is needed to move rationally targeted interventions to the clinical setting.
Keywords
Mucositis 
Pathogenesis 
Microbiome 
Permeability 
Technology 
Perspectives 
Introduction
The MASCC/ISOO Mucositis Study Group periodically reviews the literature relating to mucositis pathogenesis, mechanisms, and novel therapeutic approaches and distils this to summary perspectives and recommendations for research. Continuing this tradition, in 2017, 164 articles published between January 2011 and June 2016 were identified by systematic review and critiqued by 15 reviewers in a bid to uncover progress made and highlight new targets for further investigation. Moreover, all findings have been assessed in the context of the current state of knowledge discussed in the previous reviews [1, 2, 3]. The approach differed slightly from the last update that reviewed 90 articles, in that each paper was critiqued by one reviewer compared to two previously due to the substantial increase in new literature that needed to be included, although all other aspects including the key search terms, databases mined, and the review form were unchanged (for further details see [1]).
In the previous review, a summary of the key mediators of mucosal toxicity was provided including a discussion of the role of tissue structure (including the extracellular matrix and epithelial tight-junctions [TJ]), inflammation, and the microbiome. In addition, discussion also focused on emerging understanding of the toxicities associated with targeted anti-cancer agents, toxicity clusters, biomarkers of mucosal injury, and risk prediction of mucosal injury. Collectively, this was an exhaustive summary of the state of the field when published. This update aimed to provide a perspective on advances and momentum shift since 2011 in regards to understanding the pathogenesis of mucositis (Table
1
).
Table 1
Evolution of the pathogenesis of mucositis
|   | 2004 Sonis Perspectives [3] | 2013 MSG Update [1] | 2018 MSG Update |
| --- | --- | --- | --- |
| Mucosally-restricted mechanisms | Direct cytotoxicity (irreversible DNA-strand breaks in basal cell populations leading to apoptosis) during initiation phase; mucosal atrophy in oral cavity and crypt ablation/villous blunting in GIT; non-DNA injury initiated through ROS production | Tight junction defects and epithelial barrier dysfunction highlighted as important factor in exacerbating injury; appreciation for cellular kinetics of ECM e.g. cell cytostasis, ↓fibronectin/↑collagen deposits during primary damage response; AMP18 received attention for ability to rescue epithelia. | Key mechanisms outlined in 2004 & 2013 remain fundamental to initiation of injury. Functional appreciation for endotoxin and bacterial translocation through permeable tight junctions, with subsequent innate immune activation and mucositis severity. |
| Inflammatory-based mechanisms | NF-κB- and NRF2-dependent damage response resulting in pro-inflammatory cytokine production and MMP signaling. COX2, MAPK and tyrosine kinase production underpin tissue injury. Signal amplification results in worsened injury. | IL-6, IL-1β and TNF⍺ considered key inflammatory mediators; inverse role for anti-inflammatory cytokines suggested but only minimally investigated. | More complex understanding of inflammatory signaling. Successful targeting of downstream mediators (e.g. CXCLs, IL-1RA, IL-4) continues to support key role of pro-inflammatory cytokines and chemokines in mucositis. Upstream modulation of reactive oxygen species through scavengers highlights new target for mucositis prevention. |
| Host innate immune responses | – | – | Emerging role of TLRs in mediating mucosal injury indicated by genetic knockout studies; role in mucositis progression appear receptor- and drug class-specific. Concern for translation as TLR signaling is necessary for adequate anti-tumor response. Emergent role for innate lymphoid cells. |
| Microbial-mediated mechanisms and host-microbe interactions | Colonization during ulcerative phase; translocation predisposes to infectious complications. | Dysbiosis of host microbiome (oral and GI) following raft of anticancer therapies; conclusions remains correlative. | Host-microbe interactions at baseline critical for treatment efficacy and toxicity (key interest for risk stratification and prediction); dynamic changes in resident microbes (such as proteobacteria dominance in injury) continue to be characterized with increasingly sophisticated techniques including meta-genomics and use of germ-free mice. Conclusions largely remain correlative. |
| Neuroimmune signaling | – | – | Possible involvement of enteric glia and specific neuronal cell populations; more research urgently needed to characterize chronic intestinal dysfunction. GI motility following anti-cancer therapy remains poorly studied. |
| Other | Non-epithelial factors considered important: endothelial dysfunction and apoptosis, platelet aggregation, submucosal connective tissue alterations including fibroblast apoptosis; ECM remodeling and MMP signaling critical in healing phase. | Importance of symptom clusters and mucosally-derived inflammation highlighted. | Mesenchymal stem cells assessed for therapeutic efficacy in prevention and treatment of mucositis. Emergence of sophisticated in vitro systems to supplement reliance on animal models, including 3D and complex multicellular models with/without fluid and microbial compartments; genetically manipulated organoid structures. |
Established and emerging mediators of toxicity
Microbiome and host immune response
While shifts in oral microbial composition during development of oral mucositis have been long recognized [4] and targeted [5], the role for gastrointestinal (GI) flora in intestinal injury has only more recently been appreciated. Underpinning much of the new knowledge has been technical advancement in microbial species identification through genomic sequencing. What is emerging is a complex interaction between the baseline composition of diverse species, as well as dynamic changes as a result of cancer treatment as being important in both oral and intestinal mucositis. Recent patient studies have looked at overall diversity of oral flora and shifts during chemotherapy [6] to determine relationships with oral mucositis. In vitro models of oral keratinocytes have also been used to demonstrate how microbes impact healing [7, 8], as well as the functional changes to the microbes themselves during exposure to irradiation [9, 10]. The field has also been advancing rapidly in the area of intestinal mucositis, where microbial dysbiosis, measured in easily accessible fecal samples, has led researchers to postulate that gut microbiome composition can be used as a surrogate marker for changes leading to diarrhea [11]. Furthermore, there appears to be mechanistic linkages with altered microbial signatures during high-dose chemotherapy and ability to metabolize nutrients and xenobiotics [12]. The plausible relationships between microbiota and cancer chemotherapy outcomes have been extensively reviewed by Alexander et al. [13].
Although it would be presumptuous to directly compare microbial composition in humans to animal models of mucositis, there has been some evidence of overlapping features that are commonly seen and could be used for comparative studies. This includes the observation of a general decrease in microbial diversity seen following cancer treatment [14, 15, 16], and a shift towards increased relative proportions of proteobacteria which include facultative anaerobes such as E. coli and Salmonella spp. [15, 16, 17, 18]. Given these overlaps, it encourages exploring the relationship between microbiome shifts and mucositis further in animal models.
Opportunities for targeting microbial-mucosal interactions have been elegantly demonstrated with the emergence of genetic knock out models of mucositis. The toll-like receptors (TLRs) have been a major area of focus due to their direct interface between microbial ligands and signaling cascades through epithelial, neural and immune cells [19]. In the context of irinotecan-induced intestinal mucositis, germ-line deletion of TLR4 is protective [20], as is MYD88 [21] which is the main adapter protein for the TLR signaling pathway. However, protective effects of TLR deletion can be receptor and drug class-specific. For example, methotrexate-induced intestinal mucositis is exacerbated in TLR2 knock out mice, a phenotype that is corrected when the co-receptor MD2 is also deleted [22]; yet, TLR2 knock out is protective against irinotecan-induced mucositis [21]. In contrast, TLR2 deletion and TLR9 antagonism are protective against doxorubicin-induced intestinal mucositis [23]. Importantly, TLRs are also able to signal non-microbe related cellular danger signals (damage-associated molecular patterns) [24]. As such, more work is needed to interpret the role of pathogen verses non-pathogen related activation of TLR signaling in the development of mucositis.
Evidence for a direct contribution of the intestinal microbes was demonstrated in germ-free mice which were protected against irinotecan-induced GI mucositis, but lost protection when colonized with a diverse microbiome [25]. Furthermore, the contribution of B-glucuronidase-producing microbes was shown to be associated with the development of mucositis, but not wholly responsible [25]. This is in contrast to studies that have found no clear protection against oral mucositis with antibiotic treatment designed to ablate the oral microbial load [5].
TLR agonism may also be protective in some settings. The TLR5 agonist, CBLB502, was shown to reduce radiation-induced oral mucositis [26], while the natural ligand, flagellin, protects against radiation-induced intestinal injury [27]. A TLR9 agonist could protect against lethal doses of whole body and abdominal radiation in mice [28]. Finally, addition of lipopolysaccharide (LPS), the cogent TLR4 agonist, prior to abdominal radiation has previously been shown to reduce radiotherapy-induced mucosal barrier injury via a cyclooxygenase-dependent manner [29]. Whether TLR agonism confers direct protection to the epithelium or via resident microbes is still to be shown. However, this does support recent evidence that consumption of probiotics can dampen mucosal injury following cancer treatment [30, 31, 32, 33, 34, 35, 36, 37]. The evidence for probiotics is strongest in the setting of pelvic radiation [38, 39], and this suggests that the protective effects in rodent models of radiation-induced mucositis may be translated to the clinic. The potential mechanisms may relate to TLR agonism by gram-positive species such as Lactobacillus. However, given the variability in outcomes of probiotic clinical trials, much more exploratory work is needed to fully understand the microbial-mucosal interactions specific to mucositis pathogenesis.
In contrast to intestinal microbiota, there was a lack of research articles exploring relationships between oral microbial composition and development of oral mucositis published during the review period. Although generally agreed that the oral microbiome plays a role in the susceptibility to, and infectious consequences of ulcerative mucositis, as well as being altered by cancer treatments, there is a lack of mechanistic understanding [40]. Two studies explored changes in oral microbial composition during treatment and identified potential species important for mucositis pathogenesis [6, 41], although these included different cohorts and detection methods. As such, further work is required to unravel the complexities regarding the oral microflora and mucositis, particularly in the setting of baseline composition linked to mucositis susceptibility, given the lack of effectiveness of broad spectrum antibiotic treatment.
The emerging potential to manipulate the microbiome with new treatments beyond the current concept of probiotics and prebiotics also delineates a clear path forward. As such, we should now consider the role of the microbiome in all phases of mucositis pathogenesis (Fig. 
1
), rather than viewing it as a passive contributor of the ulcerative phase.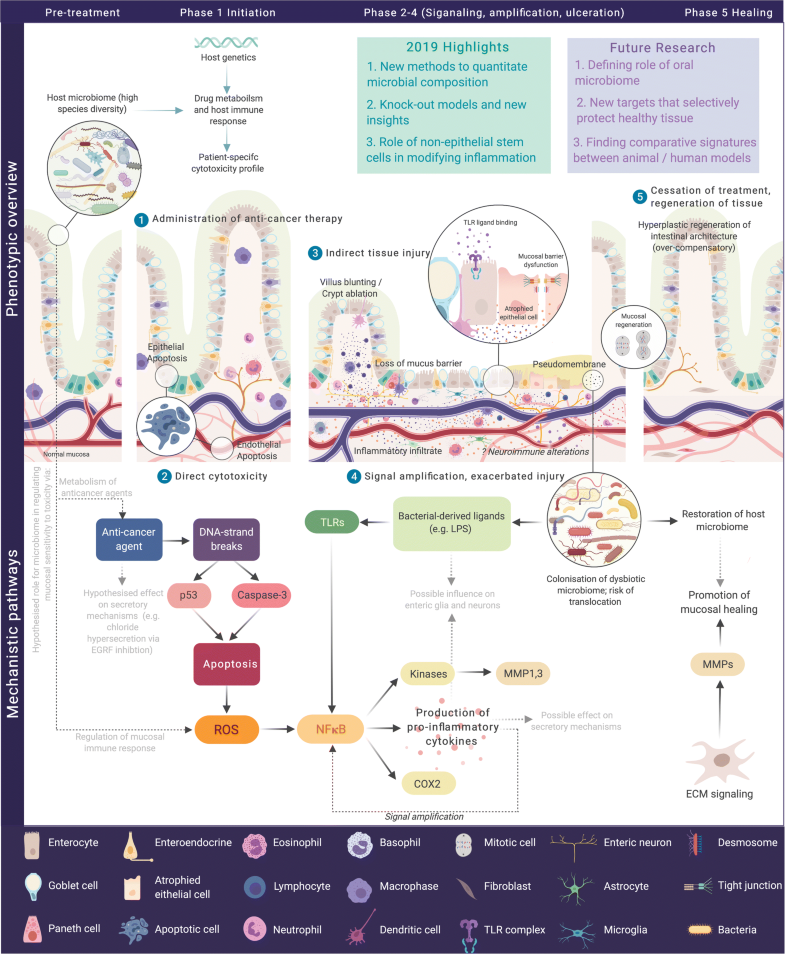 Sophisticated targeting of inflammation
The previous review identified inflammation as central to mucositis pathogenesis and expanded on the role of pro-inflammatory cytokines and NF-κB signaling [1]. Although based on a sound scientific rationale, the approach to inhibition of these pathways, such as with pentoxifylline and celecoxib, has thus far poorly translated from the preclinical [42, 43, 44] to clinical setting [45, 46]. Newer studies have continued to investigate the potential for use of anti-inflammatory agents for mucositis management in preclinical models, although focused on broader outcome measures to link effectiveness with mechanisms. Since the last pathogenesis update, there have been two preclinical studies testing IL-1ra, the naturally occurring IL-1 antagonist [47, 48, 49]. Both studies found protection against chemotherapy-induced intestinal mucositis and crypt destruction in the small intestine which was attributed to apoptosis prevention. Work using transgenic mice expressing nuclear protein Smad7 in keratinocytes has shown that antagonizing TGF-β1 and NF-κB effectively prevents radiotherapy-induced oral mucositis [50]. Furthermore, Smad7 delivered as a local therapy also prevented oral mucositis with similar effectiveness to palifermin and was able to significantly reduce epithelial apoptosis. Production of reactive oxygen and nitrogen species and oxidative stress are well-characterized upstream mediators of NF-κB activation as well as inflammasomes [51, 52]. Oxygen radical scavengers and antioxidant enzymes, such as superoxide dismutase, have shown promise as anti-mucotoxic agents [53, 54, 55]. As such, there remains a clear benefit to targeting NF-κB-mediated inflammatory signaling, including upstream and downstream regulators, for prevention of oral and intestinal mucositis. However, more research is needed to confirm if protection is mediated via a NF-κB-specific effect, or part of shared signaling cascades.
Other protein-based anti-inflammatory therapies have included antibodies against chemokines, CXCL4 [56] and CXCL9 [57], indicating a more sophisticated knowledge of the immune contributors to mucositis pathogenesis and how it could be more precisely targeted. Downstream of TLR activation is the well-characterized upregulation of NF-κB-dependent cytokine production; targeting these downstream mediators, for instance by knocking out IL-4 [58], is protective in rodent models of intestinal mucositis. This might emerge as the preferred technique when translating to the clinic since it has been recently suggested that intact TLR signaling is necessary for adequate anti-tumor responses to chemotherapy and immunotherapy [59].
Cell-based approaches to established inflammation management have recently emerged and present a paradigm shift from the traditional protein and pharmaceutical compound mode of mucositis therapy. Mesenchymal stem cell (MSC) therapy has been investigated in autologous transplant to pigs and rats with radiation-induced proctitis [60, 61]; transplant of human umbilical cord MSCs to mice with radiation-induced intestinal mucositis [62], and guinea pigs with radiation-induced oral mucositis [63]; and adipose-derived MSCs have shown effectiveness for resolving radiation-induced colonic inflammation [64]. The utility of MSCs to prevent oral mucositis induced by fractionated radiotherapy has also shown promising results in mice; interestingly, the positive modulation was dependent on the timing of MSC transplantation [65]. Collectively, this provides some early evidence for MSC therapy in the setting of radiation-induced inflammation and with either bone marrow derived or peripheral sources of stem cells. However, while promising results thus far in some preclinical models of established inflammation, translation to the clinic will require longer term safety and further efficacy studies. Finally, a new subset of immune cells, the innate lymphoid cells, have recently been suggested to play a role in protection against oral mucositis following hematologic stem cell transplant [66]. This underscores the importance of continuing to explore immune responses, both innate and cellular, in the pathogenesis of mucositis.
Altered functional physiology
Diarrhea occurs when there is unmatched absorptive and secretory capacity of the intestines, often due to enhanced motility or presence of osmotically active or inflammatory luminal contents. Clinical anti-diarrheal agents target secretory process and motility, yet there is a lack of attention in preclinical models on these as outcome measures [67, 68]. Models capable of assessing absorption of nutrients have been recently developed [69, 70, 71], and the role of secretory processes has been extensively profiled in models of inflammatory bowel disease [72]. However, there is a dearth of papers that have directly examined changes in motility in response to cancer therapy, both in preclinical models and the clinic. Some papers have recently assessed changes in enteric neuron populations following chemotherapy [73, 74] and provide mechanistic insight to the underlying functional changes. Furthermore, neural support cells, enteric glia, have been shown in vitro to mitigate altered permeability following exposure to inflammatory cytokines [75]. Collectively, the role of motility and particularly enteric neurons in the pathogenesis of mucositis is an under-researched field that has the potential to uncover new therapeutic targets aimed at underlying functional changes in the intestines during mucositis.
Chemotherapy and radiation therapy have been known to alter TJs and increase intestinal permeability for decades [76]. However, there have been recent advances in our understanding of the role specific TJs play and how intestinal permeability leads to not only microbiome translocation and subsequent activation of immune responses to mediate mucositis pathogenesis, but also may also be essential for systemic anti-tumor responses [13]. At the time of the last update, it was unknown to what extent TJ alterations contribute directly to clinical symptoms of mucositis. There was a single study showing an association between protection against oral mucositis and retention of TJ properties following radiation [77]. Wardill and colleagues showed a relationship between endotoxin levels and diarrhea, which was linked to changes in TJs and FITC-dextran translocation [20, 78]. Further studies exploring the specific relationship between altered permeability and mucositis have been conducted by Biju et al., who used a surrogate maker for endotoxemia during radiotherapy in mice [79]; Russo et al., who evaluated blood and urine markers of mucosal barrier injury in patients [80]; and Beutheu et al., who showed that amino acid supplemented feed was protective against chemotherapy induced mucosal barrier injury in rats by preventing FITC-dextran translocation [81]. Given that TJ loss is the preceding lesion to increased intestinal permeability, future research should measure the ability of mucositis interventions to stabilize these proteins as a routine outcome measure.
Potential insights from technological advances in mucositis research
Efforts to replicate the complexities of the mucosa has led to the emergence of novel in vitro models of mucositis. Gut-on-a-chip and other microfluidic-style technology [82] provides opportunities to ask more sophisticated questions in a physiologically relevant environment consisting of multiple cell types that differentiate into mature intestinal structures over long term culture. Human cell, three-dimensional, tissue models of oral mucosa [83, 84, 85, 86], and the role of co-culturing with microbial biofilm [7] provide a more comprehensive interaction of factors related to radiation-induced oral mucositis pathogenesis. Finally, intestinal organoids; crypt structures formed by stem cells from either human or mice, can be genetically manipulated for expression of factors important in mucositis pathogenesis [87, 88, 89]. It is expected that these approaches will overcome the reliance on monoculture models and rodents which been used in the past and provide an incomplete view of dynamic interactions between tissues during mucositis development, or lack translatability between animal and human settings, respectively. Nonetheless, it is noteworthy that despite the gaps noted above, the predictive value of animal models in guiding clinical development has been demonstrated by correlative pre-clinical and clinical studies [90, 91, 92, 93].
The study of the mechanistic aspects of mucositis has been largely characterized by approaches that have been derived and framed around an approach which favors evaluating molecular, cellular, and tissue changes in the context of specific elements such as cells, pathways, or genes. This reductionist approach has been an important component of biomedical research for years and has been an effective tool to understand many fundamental phenomenon. But while it has value, it also has significant limitations, especially in its ability to accurately define complex diseases or phenotypes such as mucositis in which there are multiple cellular elements, dynamic cross-talk, a trajectory in which biology changes over time and which may well be subject to external influences such as the microbiome. Consequently, one of the major opportunities going forward is to begin to assess the impact of multiple mechanistic variables—genomics, proteomics, metabolomics, microbiomics—simultaneously in a systems biology and medicine approach.
While in vitro and organotypic models offer tools to answer specific fundamental questions about mucositis, their limited utility in defining complex processes is clear. Finally, it has become increasingly clear that mechanistic learnings from diseases with similar clinical endpoints such as Crohn's disease, inflammatory bowel disease and irritable bowel syndrome with diarrhea may well be informative as we try to better understand mucositis. In a reciprocal way, given the kinetics of mucosal regimen-related injury, studies that determine how mucosal injury is elicited by chemotherapy or radiation may provide fundamental knowledge about the pathogenesis of chronic diseases.
Perspective
Of the papers reviewed, there was a dominance of work carried out in rodents; with a modest reliance on clinical-sample-derived research; and a paucity of human in vitro evidence which likely reflects the difficulty in conducting mucositis research outside of interventional clinical trials. While we have evolved over the years from the separation of oral mucositis and GI mucositis to alimentary mucositis in terms of underlying pathobiology, the two are still overwhelming investigated in "silos". While there is proven overlap in the downstream inflammatory signaling cascades including NF-κB and proinflammatory cytokine production, upstream microbe-receptor interactions are region-specific due to the inherent compositional differences of the oral verses intestinal microbiome. Understanding of the role of the extracellular matrix in alimentary mucositis in the panel's opinion has not been significantly advanced since the last update and thus indicates a missed opportunity for new targets that promote healing. Models continue to be developed for investigation of single modality cancer treatments which no longer reflects current clinical practice. It would be of assistance to the field if future research incorporated combination of classes of agents when investigating both mechanisms of injury and new interventions. In addition, in vitro and animal models should, where possible, incorporate measures that are relevant for both oral and GI mucositis knowledge creation. Investigation of natural agents and plant derivatives [94, 95, 96, 97, 98, 99, 100, 101, 102, 103, 104] has shown promise through protection from oxidative stress pathways in oral and GI mucositis models. Yet, the isolated active components and specific mechanisms of protection require further elucidation. Finally, while not addressed in this review, the issue of personalized medicine and mucositis risk prediction is still vital and needs urgent attention. Concurrently, knowledge gained can also be applied to the recently appreciated area of predicting response to mucositis interventions.
Take home messages
Research momentum is accelerating for mucositis pathogenesis, reflected by the increased publications reviewed in this update compared to the previous effort. With this has come utilization of new models and interventions that target more specific mechanisms of injury. Technological advances have the potential to revolutionize the field of mucositis research.

More effort is needed to establish transdisciplinary research teams to promote discovery as well as translation to the clinic of mucositis interventions that are mechanistically targeted, and tailored to those who are at risk as well as likely to respond.

Clear selection of outcome measures in animal models that reflect changes in clinical settings are needed to confirm effectiveness of new interventions. In particular, the non-invasive and dynamic measurement of intestinal changes, with peripheral and fecal compounds such as citrulline, FITC-dextran, and calprotectin, should be included as standard. This will improve the ability to identify the most capable agents for translation to clinical trials.

It will be vital to keep up with the emergence of novel regimens in the clinic (including immunotherapy) and understanding of increased complexity of mucositis pathogenesis related to combinations of traditional drugs, radiation, and targeted agents.
Notes
Acknowledgements
We would like to acknowledge the expert assistance of our research librarians during the development of the database search terms and paper retrieval; Lorraine Porcello (Bibby Dental Library, Eastman Institute for Oral Health, University of Rochester Medical Center, Rochester, NY, USA) and Daniel A. Castillo (Edward G. Miner Library, University of Rochester Medical Center, Rochester, NY, USA). Additionally, we would like to thank Vinisha Ranna, DDS, and Anusha Vaddi, BDS, for their assistance with retrieving the papers.
Compliance with ethical standards
Conflict of interest
Authors that report no conflict of interest: JB, NA, HW, YVS, AA, JRD, EB, MEC, JRD, AK, BM, RN, AS, KTB, DT, KC, SE.
PB has served an advisory role for AstraZeneca, Helsinn, and Kyowa Kyrin and received grants from Merck, Kyowa Kyrin, and Roche. RVL has served as a consultant for Colgate Oral Pharmaceuticals, Galera Therapeutics, Ingalfarma SA, Monopar Therapeutics, Mundipharma, and Sucampo Pharma; has received research support to his institution from Galera Therapeutics, Novartis, Oragenics, and Sucampo Pharma, and has received stock in Logic Biosciences. SS is an employee at Biomodels LLC and a partner at Primary Endpoint Solutions.
Copyright information
© Springer-Verlag GmbH Germany, part of Springer Nature 2019