Abstract
Purpose
To determine the level of recall, satisfaction, and perceived benefits of early mobility (EM) among ventilated cancer patients after extubation in the intensive care unit (ICU).
Methods
A survey of patients' perceptions and recollections of EM was administered within 72 h of extubation. Data on recall of EM participation, activities achieved, adequacy of staffing and rest periods, strength to participate, activity level of difficulty, satisfaction with staff instructions, breathing management, and overall rating of the experience were analyzed. The Confusion Assessment Method for ICU (CAM-ICU) was used for delirium screening.
Results
Fifty-four patients comprised the study group. Nearly 90% reported satisfaction with instructions, staffing, rest periods, and breathing management during EM. Participants indicated that EM maintained their strength (67%) and gave them control over their recovery (61%); a minority felt optimistic (37%) and safe (22%). Patients who achieved more sessions and "out-of-bed" exercises had better recall of actual activities compared with those who exercised in bed. Overall, patients with CAM-ICU-positive results (33%) performed less physical and occupational therapy exercises.
Conclusions
Ventilated cancer patients reported an overall positive EM experience, but factual memory impairment of EM activities was common. These findings highlight the needs and the importance of shaping strategies to deliver a more patient focused EM experience.
This is a preview of subscription content, log in to check access.
Access options
Buy single article
Instant unlimited access to the full article PDF.
US$ 39.95
Price includes VAT for USA
Subscribe to journal
Immediate online access to all issues from 2019. Subscription will auto renew annually.
US$ 199
This is the net price. Taxes to be calculated in checkout.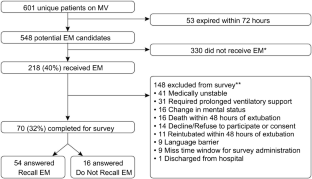 References
1.

Hodgson CL, Berney S, Harrold M, Saxena M, Bellomo R (2013) Clinical review: early patient mobilization in the ICU. Crit Care 17(1):207. https://doi.org/10.1186/cc11820

2.

Schweickert WD, Pohlman MC, Pohlman AS, Nigos C, Pawlik AJ, Esbrook CL, Spears L, Miller M, Franczyk M, Deprizio D, Schmidt GA, Bowman A, Barr R, McCallister KE, Hall JB, Kress JP (2009) Early physical and occupational therapy in mechanically ventilated, critically ill patients: a randomised controlled trial. Lancet 373(9678):1874–1882. https://doi.org/10.1016/S0140-6736(09)60658-9

3.

Needham DM, Korupolu R, Zanni JM, Pradhan P, Colantuoni E, Palmer JB, Brower RG, Fan E (2010) Early physical medicine and rehabilitation for patients with acute respiratory failure: a quality improvement project. Arch Phys Med Rehabil 91(4):536–542. https://doi.org/10.1016/j.apmr.2010.01.002

4.

Davidson JE, Harvey MA, Bemis-Dougherty A, Smith JM, Hopkins RO (2013) Implementation of the pain, agitation, and delirium clinical practice guidelines and promoting patient mobility to prevent post-intensive care syndrome. Crit Care Med 41(9 Suppl 1):S136–S145. https://doi.org/10.1097/CCM.0b013e3182a24105

5.

Lord RK, Mayhew CR, Korupolu R, Mantheiy EC, Friedman MA, Palmer JB, Needham DM (2013) ICU early physical rehabilitation programs: financial modeling of cost savings. Crit Care Med 41(3):717–724. https://doi.org/10.1097/CCM.0b013e3182711de2

6.

Hodgson CL, Bailey M, Bellomo R, Berney S, Buhr H, Denehy L, Gabbe B, Harrold M, Higgins A, Iwashyna TJ, Papworth R, Parke R, Patman S, Presneill J, Saxena M, Skinner E, Tipping C, Young P, Webb S, Trial of Early A, Mobilization Study I (2016) A binational multicenter pilot feasibility randomized controlled trial of early goal-directed mobilization in the ICU. Crit Care Med 44(6):1145–1152. https://doi.org/10.1097/CCM.0000000000001643

7.

Weeks A, Campbell C, Rajendram P, Shi W, Voigt L (2017) A descriptive report of early mobilization for critically ill ventilated patients with cancer. Rehabil Oncol 35(3):144–150. https://doi.org/10.1097/01.REO.0000000000000070

8.

Dubb R, Nydahl P, Hermes C, Schwabbauer N, Toonstra A, Parker AM, Kaltwasser A, Needham DM (2016) Barriers and strategies for early mobilization of patients in intensive care units. Ann Am Thorac Soc 13(5):724–730. https://doi.org/10.1513/AnnalsATS.201509-586CME

9.

Castro E, Turcinovic M, Platz J, Law I (2015) Early mobilization: changing the mindset. Crit Care Nurse 35(4):e1–5; quiz e6. https://doi.org/10.4037/ccn2015512

10.

Parry SM, Knight LD, Connolly B, Baldwin C, Puthucheary Z, Morris P, Mortimore J, Hart N, Denehy L, Granger CL (2017) Factors influencing physical activity and rehabilitation in survivors of critical illness: a systematic review of quantitative and qualitative studies. Intensive Care Med 43(4):531–542. https://doi.org/10.1007/s00134-017-4685-4

11.

Holdsworth C, Haines KJ, Francis JJ, Marshall A, O'Connor D, Skinner EH (2015) Mobilization of ventilated patients in the intensive care unit: an elicitation study using the theory of planned behavior. J Crit Care 30(6):1243–1250. https://doi.org/10.1016/j.jcrc.2015.08.010

12.

Hush JM, Cameron K, Mackey M (2011) Patient satisfaction with musculoskeletal physical therapy care: a systematic review. Phys Ther 91(1):25–36. https://doi.org/10.2522/ptj.20100061

13.

Walker W, Wright J, Danjoux G, Howell SJ, Martin D, Bonner S (2014) Project Post Intensive Care eXercise (PIX): a qualitative exploration of intensive care unit survivors' perceptions of quality of life post-discharge and experience of exercise rehabilitation. J Intensive Care Soc 16(1):37–44. https://doi.org/10.1177/1751143714554896

14.

Deacon KS (2012) Re-building life after ICU: a qualitative study of the patients' perspective. Intensive Crit Care Nurs 28(2):114–122. https://doi.org/10.1016/j.iccn.2011.11.008

15.

Sottile PD, Nordon-Craft A, Malone D, Schenkman M, Moss M (2015) Patient and family perceptions of physical therapy in the medical intensive care unit. J Crit Care 30(5):891–895. https://doi.org/10.1016/j.jcrc.2015.04.119

16.

Burry L, Cook D, Herridge M, Devlin JW, Fergusson D, Meade M, Steinberg M, Skrobik Y, Olafson K, Burns K, Dodek P, Granton J, Ferguson N, Jacka M, Tanios M, Fowler R, Reynolds S, Keenan S, Mallick R, Mehta S, Investigators S, Canadian Critical Care Trials G (2015) Recall of ICU stay in patients managed with a sedation protocol or a sedation protocol with daily interruption. Crit Care Med 43(10):2180–2190. https://doi.org/10.1097/CCM.0000000000001196

17.

Schwarzkopf D, Behrend S, Skupin H, Westermann I, Riedemann NC, Pfeifer R, Günther A, Witte OW, Reinhart K, Hartog CS (2013) Family satisfaction in the intensive care unit: a quantitative and qualitative analysis. Intensive Care Med 39(6):1071–1079. https://doi.org/10.1007/s00134-013-2862-7

18.

Jones C, Humphris G, Griffiths R (2000) Preliminary validation of the ICUM tool: a tool for assessing memory of the intensive care experience. Clin Intensive Care 11(5):251–255

19.

U.S. National Library of Medicine (2017) How to write easy-to-read health materials. https://medlineplus.gov/etr.html. Accessed 10 May 2018

20.

Myhren H, Ekeberg O, Toien K, Karlsson S, Stokland O (2010) Posttraumatic stress, anxiety and depression symptoms in patients during the first year post intensive care unit discharge. Crit Care 14(1):R14. https://doi.org/10.1186/cc8870

21.

Zetterlund P, Plos K, Bergbom I, Ringdal M (2012) Memories from intensive care unit persist for several years--a longitudinal prospective multi-centre study. Intensive Crit Care Nurs 28(3):159–167. https://doi.org/10.1016/j.iccn.2011.11.010

22.

Legg AM, Andrews SE, Huynh H, Ghane A, Tabuenca A, Sweeny K (2015) Patients' anxiety and hope: predictors and adherence intentions in an acute care context. Health Expect 18(6):3034–3043. https://doi.org/10.1111/hex.12288

23.

Jolley SE, Regan-Baggs J, Dickson RP, Hough CL (2014) Medical intensive care unit clinician attitudes and perceived barriers towards early mobilization of critically ill patients: a cross-sectional survey study. BMC Anesthesiol 14:84. https://doi.org/10.1186/1471-2253-14-84

24.

Davidson JE, Harvey MA (2016) Patient and family post-intensive care syndrome. AACN Adv Crit Care 27(2):184–186. https://doi.org/10.4037/aacnacc2016132

25.

Higgins T, Larson E, Schnall R (2017) Unraveling the meaning of patient engagement: a concept analysis. Patient Educ Couns 100(1):30–36. https://doi.org/10.1016/j.pec.2016.09.002
Financial support
Supported, in part, by the Core Grant (P30 CA008748) and the Department of Anesthesiology and Critical Care Medicine, Memorial Sloan Kettering Cancer Center.
Ethics declarations
Recommendations from the pilot were incorporated into the final version of the survey, which was approved by the Institutional Review Board (IRB). Informed consent was obtained from all study patients.
Conflict of interest
The authors declare that they have no conflict of interest.
Additional information
Publisher's note
Springer Nature remains neutral with regard to jurisdictional claims in published maps and institutional affiliations.
Electronic supplementary material
About this article
Cite this article
Hsu, S.H., Campbell, C., Weeks, A.K. et al. A pilot survey of ventilated cancer patients' perspectives and recollections of early mobility in the intensive care unit. Support Care Cancer 28, 747–753 (2020). https://doi.org/10.1007/s00520-019-04867-1
Received:

Accepted:

Published:

Issue Date:
Keywords
Early mobility

Mechanical ventilation

Satisfaction

Perception

Memory recall