Abstract
Purpose
Within the framework of a questionnaire-based health survey in Germany, we examined ambulant health care utilisation among childhood cancer survivors' offspring compared to utilisation among children of the general population.
Methods
In total, 1299 former patients received a questionnaire for every known biological child in two cross-sectional surveys, 2013/14 (n = 393) and 2015/16 (n = 906). For investigation of health care utilisation, questions on frequencies and kind of ambulant medical services were chosen for bivariate and multivariate analyses. Correlations between utilisation and anxiety, diagnosis of the parent, pain or preterm birth of the child and social indicators were conducted. For comparison with the general population, data of 17,640 children and adolescents aged 0 to 17 years were used for matched-pair analysis. These data were available from the KIGGS baseline study on the health of children and adolescents in Germany, conducted by the Robert Koch Institute.
Results
Overall, 852 (65.6%) of the contacted 1299 survivors completed 1340 questionnaires on their children's health. Childhood cancer survivors' offspring showed a similar attendance of ambulant primary health care compared to the general population (paediatricians 83.1% vs. 82.1%). However, the majority of specialist physicians was visited significantly more often (e.g. dermatologist 10.5% vs. 6.2%) by childhood cancer survivors' offspring compared to children from the general population. Logistic regression showed that parental diagnosis and anxiety on children's health significantly influenced health care utilisation.
Conclusions
Further improvement of after-care for childhood cancer survivors by including topics on offspring seems necessary. Offspring's paediatricians should implement counselling and providing of information considering the special family anamnesis.
This is a preview of subscription content, log in to check access.
Access options
Buy single article
Instant unlimited access to the full article PDF.
US$ 39.95
Price includes VAT for USA
Subscribe to journal
Immediate online access to all issues from 2019. Subscription will auto renew annually.
US$ 199
This is the net price. Taxes to be calculated in checkout.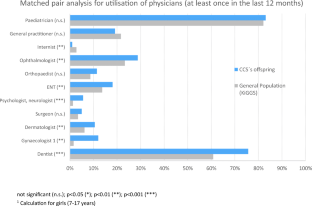 Abbreviations
CCS:

Childhood cancer survivor

ENT:

Ear, nose and throat physician

GCCR:

German Childhood Cancer Registry

GPOH:

Society for Paediatric Oncology and Haematology

HRR:

Hospitalisation rate risk

KiGGS:

German Health Interview and Examination Survey for Children and Adolescents

RKI:

Robert Koch Institute
References
1.

Gatta G, Botta L, Rossi S, Aareleid T, Bielska-Lasota M, Clavel J, Dimitrova N, Jakab Z, Kaatsch P, Lacour B, Mallone S, Marcos-Gragera R, Minicozzi P, Sánchez-Pérez MJ, Sant M, Santaquilani M, Stiller C, Tavilla A, Trama A, Visser O, Peris-Bonet R (2014) Childhood cancer survival in Europe 1999-2007: results of EUROCARE-5--a population-based study. Lancet Oncol 15(1):35–47

2.

Kaatsch P, Grabow D, Spix C, German Childhood Cancer Registry- Annual Report 2016 (1980-2015) 2016 Institute of Medical Biostatistics, Epidemiology and Informatics (IMBEI) at the University Medical Center of the Johannes Gutenberg University Mainz

3.

Hohmann C, Borgmann-Staudt A, Rendtorff R, Reinmuth S, Holzhausen S, Willich S (2011) Patient counselling on the risk of infertility and its impact on childhood Cancer Survivars: results from a National Survey. J Psychosoc Oncol 29(3):274–285

4.

Reinmuth S et al (2008) Having children after surviving cancer in childhood or adolescence - results of a Berlin survey. Klin Padiatr 220(3):159–165

5.

Green DM et al (2009) Fertility of female survivors of childhood cancer: a report from the childhood cancer survivor study. J Clin Oncol 27(16):2677–2685

6.

Reulen RC et al (2009) Pregnancy outcomes among adult survivors of childhood cancer in the British Childhood Cancer Survivor Study. Cancer Epidemiol Biomark Prev 18(8):2239–2247

7.

Reinmuth S, Hohmann C, Rendtorff R, Balcerek M, Holzhausen S, Müller A, Henze G, Keil T, Borgmann-Staudt A (2013) Impact of chemotherapy and radiotherapy in childhood on fertility in adulthood: the FeCt-survey of childhood cancer survivors in Germany. J Cancer Res Clin Oncol 139(12):2071–2078

8.

Gunnes MW, Lie RT, Bjørge T, Ghaderi S, Ruud E, Syse A, Moster D (2016) Reproduction and marriage among male survivors of cancer in childhood, adolescence and young adulthood: a national cohort study. Br J Cancer 114(3):348–356

9.

Tang SW et al (2016) Birth rates among male cancer survivors and mortality rates among their offspring: a population-based study from Sweden. BMC Cancer 16:196

10.

Winther JF et al (2012) Genetic disease in the children of Danish survivors of childhood and adolescent cancer. J Clin Oncol 30(1):27–33

11.

Signorello LB et al (2012) Congenital anomalies in the children of cancer survivors: a report from the childhood cancer survivor study. J Clin Oncol 30(3):239–245

12.

Sankila R et al (1998) Risk of cancer among offspring of childhood-cancer survivors. Association of the Nordic Cancer Registries and the Nordic Society of Paediatric Haematology and Oncology. N Engl J Med 338(19):1339–1344

13.

Shliakhtsitsava K, Romero SAD, Dewald SR, Su HI (2018) Pregnancy and child health outcomes in pediatric and young adult leukemia and lymphoma survivors: a systematic review. Leuk Lymphoma 59(2):381–397

14.

Mols F, Helfenrath KA, Vingerhoets AJJM, Coebergh JWW, van de Poll-Franse LV (2007) Increased health care utilization among long-term cancer survivors compared to the average Dutch population: a population-based study. Int J Cancer 121(4):871–877

15.

Winther JF et al (2010) Hospitalizations among children of survivors of childhood and adolescent cancer: a population-based cohort study. Int J Cancer 127(12):2879–2887

16.

Kamtsiuris P et al (2007) Use of medical services. Results of the German Health Interview and Examination Survey for Children and Adolescents (KiGGS). Bundesgesundheitsbl Gesundheitsforsch Gesundheitsschutz 50(5–6):836–850

17.

Holling H et al (2012) The KiGGS study. Nationwide representative longitudinal and cross-sectional study on the health of children and adolescents within the framework of health monitoring at the Robert Koch Institute. Bundesgesundheitsbl Gesundheitsforsch Gesundheitsschutz 55(6–7):836–842

18.

Calaminus G, Kaatsch P, Creutzig U, Langer T (2013) First baseline study among lifesituation, health status and life quality after surviving cancer in childhood in Germany ("VIVE"). Monatsschrift Kinderheilkunde 161(11):1065–1080

19.

Balcerek M et al (2015) Nationwide survey on the health of offspring from former childhood cancer patients in Germany. Klin Padiatr 227(6–7):350–354

20.

Borgmann-Staudt A FeCt Nachkommenstudie 2010 und 2013–2019. 2017 27.09.2018]; Available from: https://kinderonkologie.charite.de/forschung/ag_borgmann_staudt/fect_nachkommenstudie_20102013_19/

21.

Lechert Y, Schroedter J, Lüttinger P (2006) [Implemantation of CASMIN classification of education for population census 1970, microcensus 1971 and additional microcensus 1976–2004] 1610–9953

22.

Brauns H, Scherer S, Steinmann S (2003) The CASMIN Educational Classification in International Comparative Research, in Advances in Cross-National Comparison. An European Working Book for Demographic and Socio-Economic Variables, K.A.P. Publisher, Editor. p 221–244

23.

Robert Koch Institute, Subjective Health, in [Discover- Value- Act: Health of Children and Adolescents in Germany] 2008, Robert Koch-Institut, Bundeszentrale für gesundheitliche Aufklärung RKI, Berlin
Acknowledgements
We thank all participants in our Multicentre Offspring Study for participation, as well as the Robert-Koch Institute, the VIVE study and the German Childhood Cancer Registry for the good cooperation.
Funding
The Multicentre Offspring Study was supported by the Madeleine Schickedanz Kinderkrebsstiftung, KINDerLEBEN e.V. Berlin, the Junior Clinician-Scientist Program (Charité–Universitätsmedizin Berlin and Berlin Institute of Health) and with a doctoral grant from the José Carreras Leukämie-Stiftung.
Ethics declarations
Conflict of interest
The authors declare that they have no conflict of interest.
Mrs. Borgmann-Staudt, Mrs. Balcerek, Mrs. Schuster and Mr. Schilling were supported by nonprofit organisations for accomplishment of the study. The authors have full control of primary data and would allow review of the data if requested.
Ethical approval
All procedures performed in studies involving human participants were in accordance with the ethical standards of the institutional and national research committee and with the 1964 Helsinki declaration and its later amendments or comparable ethical standards.
Statement of informed consent
Informed consent was obtained from all individual participants included in the study.
Additional information
Publisher's note
Springer Nature remains neutral with regard to jurisdictional claims in published maps and institutional affiliations.
Electronic supplementary material
About this article
Cite this article
Schuster, T., Korte, E., Schilling, R. et al. Ambulant health care utilisation among children of childhood cancer survivors in Germany. Support Care Cancer 28, 787–795 (2020) doi:10.1007/s00520-019-04861-7
Received:

Accepted:

Published:

Issue Date:
Keywords
Childhood cancer survivors

Cancer survivor's offspring

Ambulant health care utilisation

Anxiety