Abstract
Purpose
To evaluate primary care physicians' (PCPs) role in survivorship care of older breast cancer survivors, their experiences and opinions of survivorship care plans (SCPs), and suggestions for improving care coordination and facilitation of SCPs among older (≥ 65 years) breast cancer survivors.
Methods
A web-based questionnaire was completed individually by PCPs about their training and what areas of survivorship they address under their care. A subset of survey participants were interviewed about survivorship care, care coordination, and the appropriateness and effects of SCPs on older breast cancer survivors' outcomes.
Results
Physician participants (N = 29) had an average of 13.5 years in practice. PCPs surveyed that their main role was to provide general health promotion and their least common role was to manage late- and/or long-term effects. Semi-structured interviews indicated that the majority of PCPs did not receive a SCP from their patients' oncologists and that communication regarding survivorship care was poor. Participants' suggestions for improvements to SCPs and survivorship care included regular communication with oncologists, delegation from oncologists regarding roles, and mutual understanding of each other's roles.
Conclusion
PCPs indicated that survivorship care and SCPs should be improved, regarding communication and roles related to their patients' survivorship. PCPs should assume an active role to enhance PCP-oncologist communication. Future research in PCPs' role in survivorship care in a broad, diverse cancer survivor population is warranted.
Implications for cancer survivors
More attention needs to focus on the importance of PCPs, as they are an integral part of dual management for older breast cancer survivors post-treatment.
This is a preview of subscription content, log in to check access.
Access options
Buy single article
Instant unlimited access to the full article PDF.
US$ 39.95
Price includes VAT for USA
Subscribe to journal
Immediate online access to all issues from 2019. Subscription will auto renew annually.
US$ 199
This is the net price. Taxes to be calculated in checkout.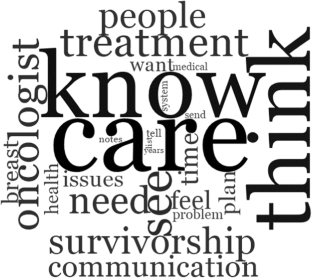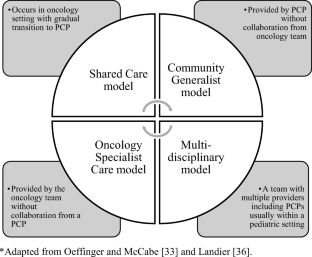 References
1.

Bluethmann SM, Mariotto AB, Rowland JH (2016) Anticipating the "silver tsunami": prevalence trajectories and comorbidity burden among older cancer survivors in the United States. Cancer epidemiology, biomarkers & prevention : a publication of the American Association for Cancer Research, cosponsored by the American Society of Preventive. Oncology 25(7):1029–1036

2.

Siegel RL, Miller KD, Jemal A (2018) Cancer statistics, 2018. CA Cancer J Clin 68(1):7–30

3.

Faul LA, Luta G, Sheppard V, Isaacs C, Cohen HJ, Muss HB, Yung R, Clapp JD, Winer E, Hudis C, Tallarico M, Wang J, Barry WT, Mandelblatt JS (2014) Associations among survivorship care plans, experiences of survivorship care, and functioning in older breast cancer survivors: CALGB/Alliance 369901. J Cancer Surviv 8(4):627–637

4.

Meneses K, Benz R, Azuero A, Jablonski-Jaudon R, McNees P (2015) Multimorbidity and breast cancer. Semin Oncol Nurs 31(2):163–169

5.

Jacobsen PB, DeRosa AP, Henderson TO, Mayer DK, Moskowitz CS, Paskett ED et al Systematic review of the impact of cancer survivorship care plans on health outcomes and health care delivery. J Clin Oncol. 2018:Jco2018777482

6.

Risendal BC, Sedjo RL, Giuliano AR, Vadaparampil S, Jacobsen PB, Kilbourn K, Barón A, Byers T (2016) Surveillance and beliefs about follow-up care among long-term breast cancer survivors: a comparison of primary care and oncology providers. J Cancer Surv 10(1):96–102

7.

LaGrandeur W, Armin J, Howe CL, Ali-Akbarian L (2018) Survivorship care plan outcomes for primary care physicians, cancer survivors, and systems: a scoping review. J Cancer Surviv 12(3):334–347

8.

Blanch-Hartigan D, Forsythe LP, Alfano CM, Smith T, Nekhlyudov L, Ganz PA, Rowland JH (2014) Provision and discussion of survivorship care plans among cancer survivors: results of a nationally representative survey of oncologists and primary care physicians. J Clin Oncol 32(15):1578–1585

9.

Shalom MM, Hahn EE, Casillas J, Ganz PA (2011) Do survivorship care plans make a difference? A primary care provider perspective. J Oncol Pract 7(5):314–318

10.

Dittus KL, Sprague BL, Pace CM, Dulko DA, Pollack LA, Hawkins NA et al (2014) Primary care provider evaluation of cancer survivorship care plans developed for patients in their practice. J Gen Pract (Los Angeles) 2(4):163

11.

Cheung WY, Aziz N, Noone AM, Rowland JH, Potosky AL, Ayanian JZ, Virgo KS, Ganz PA, Stefanek M, Earle CC (2013) Physician preferences and attitudes regarding different models of cancer survivorship care: a comparison of primary care providers and oncologists. J Cancer Surviv 7(3):343–354

12.

Shen MJ, Binz-Scharf M, D'Agostino T, Blakeney N, Weiss E, Michaels M, Patel S, McKee MD, Bylund CL (2015) A mixed-methods examination of communication between oncologists and primary care providers among primary care physicians in underserved communities. Cancer 121(6):908–915

13.

Sada YH, Street RL Jr, Singh H, Shada RE, Naik AD (2011) Primary care and communication in shared cancer care: a qualitative study. Am J Manag Care 17(4):259–265

14.

Dossett LA, Hudson JN, Morris AM, Lee MC, Roetzheim RG, Fetters MD, Quinn GP (2017) The primary care provider (PCP)-cancer specialist relationship: a systematic review and mixed-methods meta-synthesis. CA Cancer J Clin 67(2):156–169

15.

Forsythe LP, Parry C, Alfano CM, Kent EE, Leach CR, Haggstrom DA, Ganz PA, Aziz N, Rowland JH (2013) Use of survivorship care plans in the United States: associations with survivorship care. J Natl Cancer Inst 105(20):1579–1587

16.

Haq R, Heus L, Baker NA, Dastur D, Leung FH, Leung E, Li B, Vu K, Parsons JA (2013) Designing a multifaceted survivorship care plan to meet the information and communication needs of breast cancer patients and their family physicians: results of a qualitative pilot study. BMC Med Informatics Decis Mak 13:76

17.

Bober SL, Recklitis CJ, Campbell EG, Park ER, Kutner JS, Najita JS, Diller L (2009) Caring for cancer survivors: a survey of primary care physicians. Cancer 115(18 Suppl):4409–4418

18.

American College of Surgeons Commission on Cancer (2012) Cancer program standards 2012: ensuring patient-centered care. Chicago, IL

19.

American Society of Clinical Oncology (2014) Survivorship care planning tools. Available from: https://www.asco.org/practice-guidelines/cancer-care-initiatives/prevention-survivorship/survivorship-compendium. Accessed 5 Dec 2018

20.

Office of Cancer Communications NCI (2002) Making health communication programs work : a planner's guide. U.S. Dept. of health and human services, public health service, National Institutes of Health, Bethesda

21.

Hewitt M, Greenfield S, Stovall E (2006) From cancer patient to cancer survivor: lost in translation. Institute of Medicine, Washington, DC

22.

Runowicz CD, Leach CR, Henry NL, Henry KS, Mackey HT, Cowens-Alvarado RL, Cannady RS, Pratt-Chapman ML, Edge SB, Jacobs LA, Hurria A, Marks LB, LaMonte SJ, Warner E, Lyman GH, Ganz PA (2016) American cancer society/American society of clinical oncology breast cancer survivorship care guideline. J Clin Oncol 34(6):611–635

23.

Virgo KS, Lerro CC, Klabunde CN, Earle C, Ganz PA (2013) Barriers to breast and colorectal cancer survivorship care: perceptions of primary care physicians and medical oncologists in the United States. J Clin Oncol 31(18):2322–2336

24.

Nekhlyudov L, O'Malley DM, Hudson SV (2017) Integrating primary care providers in the care of cancer survivors: gaps in evidence and future opportunities. Lancet Oncol 18(1):e30–ee8

25.

Hong S, Nekhlyudov L, Didwania A, Olopade O, Ganschow P (2009) Cancer survivorship care: exploring the role of the general internist. J Gen Intern Med 24(Suppl 2):S495–S500

26.

Ezendam NP, Nicolaije KA, Kruitwagen RF, Pijnenborg JM, Vos MC, Boll D et al (2014) Survivorship care plans to inform the primary care physician: results from the ROGY care pragmatic cluster randomized controlled trial. J Cancer Surviv 8(4):595–602

27.

Mayer DK, Nekhlyudov L, Snyder CF, Merrill JK, Wollins DS, Shulman LN (2014) American Society of Clinical Oncology clinical expert statement on cancer survivorship care planning. J Oncol Pract 10(6):345–351

28.

Wildiers H, Heeren P, Puts M, Topinkova E, Janssen-Heijnen ML, Extermann M et al (2014) International Society of Geriatric Oncology consensus on geriatric assessment in older patients with cancer. J Clin Oncol 32(24):2595–2603

29.

Dulko D, Pace CM, Dittus KL, Sprague BL, Pollack LA, Hawkins NA, Geller BM (2013) Barriers and facilitators to implementing cancer survivorship care plans. Oncol Nurs Forum 40(6):575–580

30.

Greenfield G, Foley K, Majeed A (2016) Rethinking primary care's gatekeeper role. BMJ 354:i4803

31.

Association of American Medical Colleges (2017) Physician specialty data report

32.

Mead H, Pratt-Chapman ML, Gianattasio K, Cleary S, Gerstein M (2017) Identifying models of cancer survivorship care. J Clin Oncol 35(5S):1–11

33.

Oeffinger KC, McCabe MS (2006) Models for delivering survivorship care. J Clin Oncol 24(32):5117–5124

34.

Donohue S, Haine JE, Li Z, Trowbridge ER, Kamnetz SA, Feldstein DA et al (2017) The impact of a primary care education program regarding cancer survivorship care plans: results from an engineering, primary care, and oncology collaborative for survivorship health. J Cancer Educ

35.

White B (2012) The state of family medicine. Fam Pract Manag 19(1):20–26

36.

Yabroff KR, Guy GP Jr, Ekwueme DU, McNeel T, Rozjabek HM, Dowling E, Li C, Virgo KS (2014) Annual patient time costs associated with medical care among cancer survivors in the United States. Med Care 52(7):594–601

37.

Faul LA, Rivers B, Shibata D, Townsend I, Cabrera P, Quinn GP, Jacobsen PB (2012) Survivorship care planning in colorectal cancer: feedback from survivors & providers. J Psychosoc Oncol 30(2):198–216

38.

Baravelli C, Krishnasamy M, Pezaro C, Schofield P, Lotfi-Jam K, Rogers M, Milne D, Aranda S, King D, Shaw B, Grogan S, Jefford M (2009) The views of bowel cancer survivors and health care professionals regarding survivorship care plans and post treatment follow up. J Cancer Surviv 3(2):99–108
Ethics declarations
Conflict of interest
The authors declare that they have no conflict of interest.
Ethical approval
All procedures performed in studies involving human participants were in accordance with the ethical standards of the institutional and/or national research committee and with the 1964 Helsinki declaration and its later amendments or comparable ethical standards.
Informed consent was obtained from all individual participants included in the study.
Additional information
Publisher's note
Springer Nature remains neutral with regard to jurisdictional claims in published maps and institutional affiliations.
About this article
Cite this article
Krok-Schoen, J.L., DeSalvo, J., Klemanski, D. et al. Primary care physicians' perspectives of the survivorship care for older breast cancer survivors: a pilot study. Support Care Cancer 28, 645–652 (2020). https://doi.org/10.1007/s00520-019-04855-5
Received:

Accepted:

Published:

Issue Date:
Keywords
Cancer survivorship

Survivorship care plans

Primary care physicians

Care coordination

Geriatrics