Abstract
Purpose
Hydronephrosis due to ureteric obstruction (UO) is stage-defining at cervical cancer presentation but may occur after primary staging. We aimed to determine the incidence and review the presentation and management of UO in women with cervical cancer attending our center. Particular attention was paid to the evolving role of interventional radiology (IR) in management.
Methods
Women with a new diagnosis of cervical cancer between January 2012 and December 2016 formed the cohort that was retrospectively reviewed from the oncology database and patient records.
Results
There were 310 women diagnosed with cervical cancer; 240 were stages I/II and 70 were stages III/IV. Primary treatments were chemoradiotherapy (n = 168; 54.2%), surgery (n = 121; 39.0%), and palliative care alone (n = 21; 6.8%). UO occurred in 74 (23.9%); present at primary staging in 53 (71.6%) and arising after staging in 21 (28.4%). Primary interventions for hydronephrosis were IR (n = 50; 67.6%), cystoscopic stenting (n = 19; 25.7%), bowel urinary conduit construction (n = 2; 2.7%), and none (n = 3; 4.1%). For those who attended IR, the mean number of IR procedures was 2.2, range 1–7. Maximum serum creatinine was 303 μmol/L for women with UO at primary staging compared with 252 μmol/L for UO after staging (P = 0.267). Thirty-eight women experienced substantial morbidity related to UO. Stage-adjusted mortality risk was 2.3 times higher for UO cases compared with those without UO.
Conclusions
UO is associated with substantial morbidity and survival disadvantage in cervical cancer and may present after primary cancer staging. We recommend renal biochemistry during routine follow-up. A majority of cervical cancer-associated UO cases are managed with IR in our center.
This is a preview of subscription content, log in to check access.
Access options
Buy single article
Instant unlimited access to the full article PDF.
US$ 39.95
Price includes VAT for USA
Subscribe to journal
Immediate online access to all issues from 2019. Subscription will auto renew annually.
US$ 199
This is the net price. Taxes to be calculated in checkout.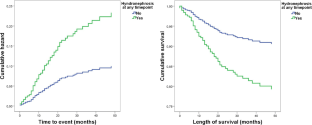 References
1.

Comparing Interventions for the Prevention of Cervical Cancer (CoheaHr) Project [CoheaHr Web site] (2017). http://www.coheahr.eu/background/cervical-cancer-burden/ . Accessed 1 June 2017

2.

FIGO Committee on Gynecologic Oncology (2009) Revised FIGO staging for carcinoma of the vulva, cervix and endometrium. Int J Gynecol Obstet 105:103–104

3.

McIntyre JF, Eifel PJ, Levenback C, Oswald MJ (1995) Ureteral stricture as a late complication of radiotherapy for stage IB carcinoma of the uterine cervix. Cancer 75:836–843

4.

Eifel PJ, Levenback C, Wharton JT, Oswald MJ (1995) Time course and incidence of late complications in patients treated with radiation therapy for FIGO stage IB carcinoma of the uterine cervix. Int J Radiat Oncol Biol Phys 32:1289–1300

5.

Liberman D, Mehus B, Elliott SP (2014) Urinary adverse effects of pelvic radiotherapy. Translational Andrology and Urology 3:186–195

6.

Rose PG, Ali S, Whitney CW, Lanciano R, Stehman FB (2010) Impact of hydronephrosis on outcome of stage IIIB cervical cancer patients with disease limited to the pelvis, treated with radiation and concurrent chemotherapy: a gynecologic oncology group study. Gynecol Oncol 117:270–275

7.

Lapitan MCM, Buckley BS (2011) Impact of palliative urinary diversion by percutaneous nephrostomy drainage and ureteral stenting among patients with advanced cervical cancer and obstructive uropathy: a prospective cohort. J Obstet Gynaecol Res 37:1061–1070

8.

Chao KSC, Leung WM, Grigsby PW et al (1998) The clinical implications of hydronephrosis and the level of ureteral obstruction in stage IIIB cervical cancer. Int J Radiat Oncol Biol Phys 40:1095–1100

9.

Goldfarb RA, Fan Y, Jarosek S, Elliott SP, University of Minnesota, USA (2017) The burden of chronic ureteral stenting in cervical cancer survivors. Int Braz J Urol 43:104–111

10.

Thornton RH, Covey AM (2016) Urinary drainage procedures in interventional radiology. Tech Vasc Interv Radiol 19:170–181

11.

Levey AS, Coresh J, Greene T, Stevens LA, Zhang Y(L), Hendriksen S, Kusek JW, van Lente F, for the Chronic Kidney Disease Epidemiology Collaboration* (2006) Using standardized serum creatinine values in the Modification of Diet in Renal Disease study equation for estimating glomerular filtration rate. Ann Intern Med 145:247–254

12.

Kidney disease: Improving Global Outcomes (KDIGO) (2013) Clinical practice guideline for the evaluation and management of chronic kidney disease. Kidney Int Suppl 3:1–163

13.

McCarthy E, Kavanagh J, McKernan S et al (2015) Fluoroscopically guided transurethral removal and/or replacement of ureteric stents in women. Acta Radiol 56:635–640

14.

Pradhan TS, Duan H, Katsoulakis E, Salame G, Lee YC, Abulafia O (2011) Hydronephrosis as a prognostic indicator of survival in advanced cervix cancer. Int J Gynecol Cancer 21:1091–1096

15.

Patel K, Foster NR, Kumar A, Grudem M, Longenbach S, Bakkum-Gamez J, Haddock M, Dowdy S, Jatoi A (2015) Hydronephrosis in patients with cervical cancer: an assessment of morbidity and survival. Support Care Cancer 23:1303–1309

16.

Tuite DJ, Ryan JM, Johnston C, Brophy DP, McEniff N (2006) Ureteroiliac fistula: a late sequela of radiotherapy and long-term ureteric stent placement. Clin Radiol 61:531–534

17.

Pillai AK, Anderson ME, Reddick MA, Sutphin PD, Kalva SP (2015) Ureteroarterial fistula: diagnosis and management. Am J Roentgenol 204:W592–W598

18.

Bietz G, House A, Erickson D, Endean ED (2014) Diagnosis and treatment of arterial-ureteric fistula. J Vasc Surg 59:1701–1704
Ethics declarations
Ethical approval
All procedures performed in studies involving human participants were in accordance with the ethical standards of the institutional and/or national research committee and with the 1964 Helsinki Declaration and its later amendments or comparable ethical standards.
This article does not contain any studies with animals performed by any of the authors.
The study was approved by the Institutional Research Office (reference number 4991).
Conflict of interest
The authors declare that they have no conflict of interest.
The authors have full control of the all primary data related to this research and we agree to allow the journal to review our data if requested.
Additional information
Publisher's note
Springer Nature remains neutral with regard to jurisdictional claims in published maps and institutional affiliations.
About this article
Cite this article
Maguire, P.J., Sobota, A., Mulholland, D. et al. Incidence, management, and sequelae of ureteric obstruction in women with cervical cancer. Support Care Cancer 28, 725–730 (2020) doi:10.1007/s00520-019-04851-9
Received:

Accepted:

Published:

Issue Date:
Keywords
Neoplasms

Ureteric obstruction