Downsizing possibilities of a PM synchronous motor for a hybrid vehicle
Abstract
In the project "Twin-drive range-extender (DE-REX)", an innovative serial-parallel hybrid drive concept is being developed for a test bench and a demonstrator prototype vehicle and evaluated. The electric motors for the powertrain DE-REX are 6-pole interior permanent magnet synchronous machines with distributed round wire winding, buried permanent magnets in V-shape in the rotor and a stator water-jacket cooling. Based on the test bench measurement results of the electric motors a thermal reserve of the electric motors was confirmed. Hence, a concept study was conducted on the downsizing of the electric motors. Based on the measurement data and the requirements of the electric motor for the powertrain DE-REX, first a smaller electric machine with round wire winding without any thermal reserve was designed, which has a reduced active volume by 23%. In a second step, the round wire winding was replaced by a hairpin profile wire wave winding, which allowed a reduction of the active motor volume by 32%, compared to the original electric motor.
Keywords
interior permanent magnet synchronous machine 
hybrid vehicle with range extender 
hairpin winding 
downsizing of electric machine 
two-drive transmission 
Möglichkeiten zur Verkleinerung von PM-Synchronmotoren für Hybrid-Automobile
Zusammenfassung
Im Vorhaben "Doppel-E-Antrieb mit Range Extender (DE-REX)" wird ein innovatives parallel-serielles Hybrid-Antriebskonzept am Prüfstand und in einem Test-Fahrzeug aufgebaut und betrieben. Die beiden Elektromotoren für den Antriebsstrang DE-REX sind 6-polige Innenläufer-Permanentmagnet-Synchronmaschinen mit vergrabenen Magneten in V-Form mit einer verteilten Runddrahtwicklung im Stator und Wassermantelkühlung. Die Messergebnisse der Motoren auf dem Motorprüfstand zeigen eine thermische Reserve. Da im DE-REX-Konzept der Bauraum des Antriebssystems so klein wie möglich sein soll und der Elektromotor noch thermische Reserven besitzt, wird eine Konzeptstudie zum "Down-sizing" des Elektromotors durchgeführt. Im ersten Schritt wird zunächst eine kleinere elektrische Maschine mit verteilter Runddrahtwicklung ohne thermische Reserve entworfen, die ein um 23% verringertes aktives Volumen hat. In einem zweiten Schritt wird die Runddrahtwicklung durch eine Flachdraht-Wicklung als Hairpin-Wellenwicklung ersetzt, die eine Reduzierung des aktiven Volumens um 32% im Vergleich zum ursprünglichen Elektromotor des Antriebsstrangs DE-REX ermöglicht.
Schlüsselwörter
Permanentmagnet-Synchronmaschine mit vergrabenen Magneten 
Hybridfahrzeug mit Range Extender 
Hairpin-Wicklung 
Downsizing 
Doppel-E-Antrieb 
Notes
Acknowledgements
This project was financially supported by Deutsches Zentrum für Luft- und Raumfahrt, DLR and attended by Forschungsvereinigung Antriebstechnik e.V. (FVA). Authors are grateful to company
Vacuumschmelze
GmbH, Hanau, Germany, for supplying the high-energy rare earth magnets free of charge.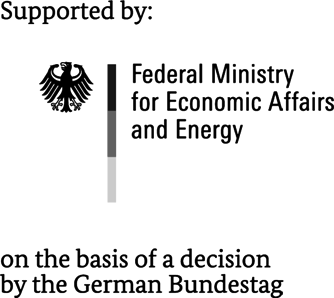 Copyright information
© Springer-Verlag GmbH Austria, ein Teil von Springer Nature 2019