Abstract
Computational fluid dynamics (CFD) has constantly evolved in the last decades and nowadays play an important role in the design and development of modern steelmaking converters. Although the flow inside the converter is highly complex and comprises many physical phenomena, like chemical reactions, heat transfer, and the flow of gas bubbles in the liquid melt, it is possible to capture major effects for the design of new converters with modern simulation tools. It is well known that the decarburization reaction is strongly influenced by the partial pressure of CO. To ensure a low partial pressure of CO, a flat bath design with low bath height shows advantages. On the other hand, the bath height needs to be sufficient to ensure enough time for the reactions of the rising gas plume with liquid melt as well as proper mixing. Primetals Technologies has used extensive numerical simulations to compare various bath geometries for a 120 t AOD to improve bath mixing and the interaction between slag and steel phase. As a result, an optimized flat bath geometry could be found, which was an intermediate configuration between deep bath and flat bath design that ensures both high mixing efficiency for the reduction phase and low partial pressure for the decarburization phase. In this paper the most important aspects of numerical modelling of the flow and mixing inside an AOD converter are described, followed by a detailed comparison of different vessel geometries and presentation of an optimized version.
Zusammenfassung
Die numerische Strömungssimulation hat sich in den letzten Jahren stetig weiterentwickelt und spielt heute eine signifikante Rolle für den Entwurf und die Entwicklung von modernen Konvertern. Obwohl die Strömung im Inneren des AOD Konverters reichlich komplex ist und dort eine Vielzahl chemischer und physikalischer Phänomene auftreten (z. B.: chemische Reaktionen, Wärmeaustausch, Mehrphasenströmung, und mehr), ist es dennoch möglich, die grundlegenden Effekte mittels moderner Simulationswerkzeuge abzubilden und daraus mögliche Optimierungspotentiale abzuleiten. Für die Dekarbonisierung ist bekannt, dass dieser Prozessschritt stark vom Partialdruck des CO beeinflusst wird. Ein niedriger Partialdruck kann durch ein flaches Bad-Design mit einer niedrigen Badhöhe erreicht werden. Auf der anderen Seite muss die Badhöhe ausreichend sein, um sicherzustellen, dass durch die aufsteigenden Gasblasen ausreichend Energie ans Bad transferiert wird und das eine entsprechende Durchmischung im Bad sichergestellt werden kann. Primetals Technologies hat hierfür unterschiedliche Badgeometrien für einen 120 t Konverter mittels CFD Simulationen untersucht. Als Ergebnis der Simulationen wird ein optimales Bad-Design vorgestellt, welches einen Kompromiss zwischen einem flachen Bad- und einem tiefen Bad-Design darstellt und das somit sowohl eine gute Entkohlung für die Dekarbonisierung als auch einen ausreichenden Stofftransport zwischen Schlacke und Stahl für die Reduktionsphase sicherstellt. Im vorliegenden Beitrag werden die wichtigsten Aspekte der numerischen Simulation sowie auch die hierfür verwendeten Modelle umrissen. Anschließend werden die unterschiedlichen Geometrien und deren Einfluss auf den Stofftransport und auf die Strömung im Bad präsentiert.
This is a preview of subscription content, log in to check access.
Access options
Buy single article
Instant unlimited access to the full article PDF.
US$ 39.95
Price includes VAT for USA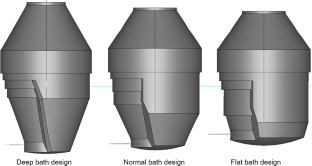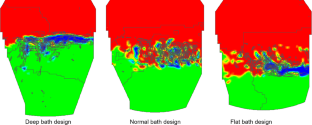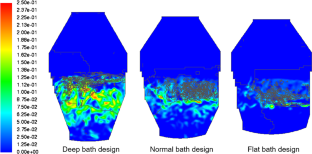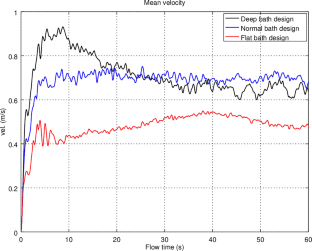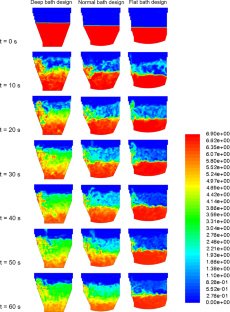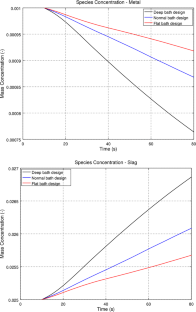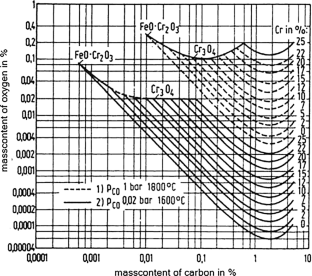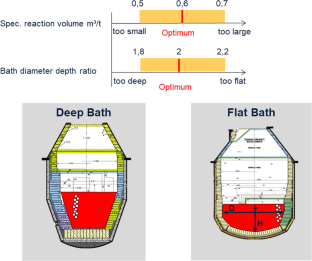 References
1.

ANSYS 19 Fluent Theory Guide, ANSYS Inc., 2018

2.

Ferziger, J. H.; Peric, M.: Computational Methods for Fluid Dynamics, Heidelberg, Berlin, New York: Springer, 2013

3.

Anderson, J. D.: Computational Fluid Dynamics, New York: McGraw-Hill, 1995

4.

Ishii, M.;Zuber, N.: Drag Coefficient and Relative Velocity in Bubbly, Droplet or Particulate Flows, AIChE Journal, 25 (1979), pp 843–855

5.

Crowe, C. T.; Schwarzkopf, J. D.; Sommerfeld, M.; Tsuji, Y.: Multiphase Flows with Droplets and Particles, Boca Raton: CRC Press, 2012

6.

Poirier, D. R.; Geiger, G. H.: Transport Phenomena in Materials Processing, Heidelberg, Berlin, New York: Springer, 2016

7.

Pawlek, F.: Metallhüttenkunde, Berlin: Walter de Gruyter, 2011
Additional information
Publisher's Note
Springer Nature remains neutral with regard to jurisdictional claims in published maps and institutional affiliations.
About this article
Cite this article
Wimmer, E., Kahrimanovic, D., Pastucha, K. et al. Computational Fluid Dynamics Simulations for Understanding and Optimizing the AOD Converter. Berg Huettenmaenn Monatsh 165, 3–10 (2020). https://doi.org/10.1007/s00501-019-00938-2
Keywords
AOD converter

Multiphase flow

Eulerian-Lagrangian model

VOF model

CFD
Schlüsselwörter
AOD Konverter

Mehrphasenströmung

VOF model

CFD

Numerische Simulation