Abstract
Secondary hyperparathyroidism and renal osteodystrophy are major problems in patients with end-stage renal failure and may result in poor growth in children on dialysis. Whether vitamin D sterols should be given intermittently or daily remains a controversial issue. We studied 16 bilaterally nephrectomised infants with congenital nephrosis of the Finnish type (median age 0.54 years), all on peritoneal dialysis. Nine of them were receiving intermittent 1-α calcidol therapy and seven daily 1-α calcidol therapy. The target serum parathyroid hormone (PTH) level was 2–3 times the upper limit of normal (ULN). There were no statistically significant differences in PTH values between the groups (1.7-times vs 0.5-times the ULN at 3 months and 3.1-times vs 3.4-times the ULN at 6 months, respectively). The required weekly doses of 1-α calcidol were low, and there were no significant differences between the intermittent and daily groups (0.06 μg/kg vs 0.04 μg/kg at 3 months and 0.09 μg/kg vs 0.05 μg/kg at 6 months, respectively). The infants on intermittent 1-α calcidol showed significant catch-up growth during dialysis after nephrectomy relative to the infants on daily 1-α calcidol (−1.6 SD to −0.7 SD vs −1.4 SD to −1.0 SD, respectively; P < 0.05). Our results indicate that either intermittent or daily vitamin D analogue therapy, if started early, will prevent secondary hyperparathyroidism equally well in children on peritoneal dialysis (PD), but intermittent therapy might be more favourable for growth.
This is a preview of subscription content, log in to check access.
Access options
Buy single article
Instant unlimited access to the full article PDF.
US$ 39.95
Price includes VAT for USA
Subscribe to journal
Immediate online access to all issues from 2019. Subscription will auto renew annually.
US$ 199
This is the net price. Taxes to be calculated in checkout.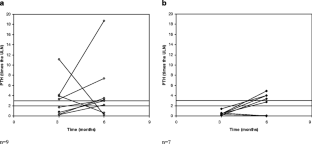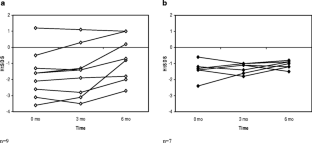 References
1.

Salusky IB, Coburn JW, Brill J, Foley J, Slatopolsky E, Fine RN, Goodman WG (1988) Bone disease in pediatric patients undergoing dialysis with CAPD or CCPD. Kidney Int 33:975–982

2.

Sherrad DJ, Hercz G, Pei Y, Maloney NA, Greenwood C, Manuel A, Saiphoo C, Fenton SS, Segre GV (1993) The spectrum of bone disease in end-stage renal failure—an evolving disorder. Kidney Int 43:436–442

3.

Fivush BA, Jabs K, Neu AM, Sullivan EK, Feld L, Kohaut E, Fine R (1998) Chronic renal insufficiency in children and adolescents: the 1996 annual report of NAPRTCS. Pediatr Nephrol 12:328–337

4.

Kuizon BD, Salusky IB (1999) Growth retardation in children with chronic renal failure. J Bone Miner Res 14:1680–1690

5.

Holmberg C, Antikainen M, Rönnholm K, Ala-Houhala M, Jalanko H (1995) Management of congenital nephrotic syndrome of the Finnish type. Pediatr Nephrol 9:87–93

6.

Salusky IB, Goodman WG (1996) The management of renal osteodystrophy. Pediatr Nephrol 10:651–655

7.

Drueke TB (1999) Medical management of secondary hyperparathyroidism in uremia. Am J Med Sci 317:383–389

8.

Herrmann P, Ritz E, Schmidt-Gayk H, Schafer I, Geyer J, Nonnast-Daniel B, Koch KM, Weber U, Hohrl W, Haas-Worle A, Kühn K, Bierther B, Schneider P (1994) Comparison of intermittent and continuous oral administration of calcitriol in dialysis patients: a randomized prospective trial. Nephron 67:48–53

9.

Ala-Houhala M, Holmberg C, Ronnholm K, Paganus A, Laine J, Koskimies O (1995) Alphacalcidol oral pulses normalize uremic hyperparathyroidism prior to dialysis. Pediatr Nephrol 9:737–741

10.

Quarles LD, Yohay DA, Carroll BA, Spritzer CE, Minda SA, Bartholomay D, Lobaugh BA (1994) Prospective trial of pulse oral versus intravenous calcitriol treatment of hyperparathyroidism in ESRD. Kidney Int 45:1710–1721

11.

Levine BS, Song M (1996) Pharmacokinetics and efficacy of pulse oral versus intravenous calcitriol in hemodialysis patients. J Am Soc Nephrol 7:488–496

12.

Panichi V, Andreini B, DePietro S, Migliori M, Taccola D, Giovannini L, Ferdeghini M, Palla R (1998) Calcitriol oral therapy for the prevention of secondary hyperparathyroidism in patients with predialysis renal failure. Clin Nephrol 49:245–250

13.

Schmitt CP, Ardissino G, Testa S, Claris-Appiani A, Mehls O, The European Study Group on Vitamin D in Children with Chronic Renal Failure (2003) Growth in children with chronic renal failure on intermittent versus daily calcitriol. Pediatr Nephrol 18:440–444

14.

Antikainen M, Holmberg C, Taskinen M-R (1992) Growth, serum lipoproteins and apoproteins in infants with congenital nephrosis. Clin Nephrol 38:254–263

15.

Hölttä T, Rönnholm K, Jalanko H, Holmberg C (2000) Clinical outcome of pediatric patients on peritoneal dialysis under adequacy control. Pediatr Nephrol 14:889–897

16.

Goodman WG, Ramirez JA, Belin TR, Chon Y, Gales B, Segre GV, Salusky IB (1994) Development of adynamic bone in patients with secondary hyperparathyroidism after intermittent calcitriol therapy. Kidney Int 46:1160–1166

17.

Kuizon BD, Goodman WG, Juppner H, Boechat I, Nelson P, Gales B, Salusky IB (1998) Diminished linear growth during intermittent calcitriol therapy in children undergoing CCPD. Kidney Int 53:205–211

18.

Kuizon BD, Salusky IB (1998) Intermittent calcitriol therapy and growth in children with chronic renal failure. Miner Electrolyte Metab 24:290–295

19.

Fournier A, Oprisiu R, El Esper N, Moriniere P (1995) Optimal plasma concentrations of intact parathyroid hormone in predialysis patients. Nephrol Dial Transplant 10:2376–2378

20.

Felsenfeld AJ (1997) Considerations for the treatment of secondary hyperparathyroidism in renal failure. J Am Soc Nephrol 8:993–1004

21.

Waller S, Ledermann S, Trompeter R, van't Hoff W, Ridout D, Rees L (2003) Catch-up growth with normal parathyroid hormone levels in chronic renal failure. Pediatr Nephrol 18:1236–1241

22.

Wang M, Hercz G, Sherrard DJ, Maloney NA, Segre GV, Pei Y (1995) Relationship between intact 1-84 parathyroid hormone and bone histomorphometric parameters in dialysis patients without aluminum toxicity. Am J Kidney Dis 26:836–844

23.

Ridgen SP (1996) The treatment of renal osteodystrophy. Pediatr Nephrol 10:653–655

24.

Klaus G, Watson A, Edefonti A, Fischbach M, Rönnholm K, Schaefer F, Simkova E, Stefanidis CJ, Strazdins V, Vande Walle J, Schröder C, Zurowska A, Ekim M (2006) Prevention and treatment of renal osteodystrophy in children on chronic renal failure: European guidelines. Pediatr Nephrol 21:151–159

25.

Yalçınkaya F, Tümer N, Çakar N, Özkaya N (1997) Low-dose erythropoietin is effective and safe in children on continuous ambulatory peritoneal dialysis. Pediatr Nephrol 11:350–352

26.

Hölttä T, Rönnholm K, Holmberg C (2000) Adequacy of dialysis with tidal and continuous cycling peritoneal dialysis in children. Nephrol Dial Transplant 15:1438–1442

27.

Hölttä T, Rönnholm K, Jalanko H, Ala-Houhala M, Antikainen M, Holmberg C (1997) Peritoneal dialysis in children under 5 years of age. Perit Dial Int 17:573–580

28.

Huttunen N-P (1976) Congenital nephrotic syndrome of the Finnish type. Study of 75 patients. Arch Dis Child 51:344–348

29.

Antikainen M (1993) Protein and lipid metabolism in nephrotic infants on peritoneal dialysis after nephrectomy. Pediatr Nephrol 7:428–433

30.

Ardissino G, Schmitt CP, Testa S, Claris-Appiani A, Mehls O for the European Study Group on Vitamin D in Children with Renal Failure (2000) Calcitriol pulse therapy is not more effective than daily calcitriol therapy in controlling secondary hyperparathyroidism in children with chronic renal failure. Pediatr Nephrol 14:664–668

31.

Klaus G, Meinhold-Heerlein R, Milde P, Ritz E, Mehls O (1991) Effect of vitamin D on growth cartilage cell proliferation in vitro. Pediatr Nephrol 5:461–466

32.

Sanchez CP, Yu-Zhu H (2005) Daily or intermittent calcitriol administration during growth hormone therapy in rats with renal failure and advanced secondary hyperparathyroidism. J Am Soc Nephrol 16:929–938

33.

Tam CS, Heersche JNM, Murray TM, Parsons JA (1982) Parathyroid hormone stimulates the bone apposition rate independently of its resorption action: differential effects of intermittent and continuous administration. Endocrinology 110:506–512

34.

Gunness-Hey M, Hock JM (1984) Increased trabecular bone mass in rats treated with human synthetic parathyroid hormone. Metab Bone Dis 5:177–180

35.

Schmitt CP, Hessing S, Oh J, Weber L, Ochlich P, Mehls O (2000) Intermittent administration of parathyroid hormone (1–37) improves growth and bone mineral density in uremic rats. Kidney Int 57:1484–1492

36.

Mehls O, Knöller N, Oh J, Wesch H, Wünsche B, Schmitt CP (2000) Daily but not pulse calcitriol therapy improves growth in experimental uremia. Pediatr Nephrol 14:658–663

37.

Avila-Diaz M, Matos M, Garcia-Lopez E, Prado MD, Castro-Vazquez F, Ventura MD, Gonzalez E, Amato D, Paniagua R (2006) Serum markers of low turnover bone disease in Mexican children with chronic kidney disease undergoing dialysis. Perit Dial Int 26:78–84
Acknowledgements
The authors wish to thank Hannu Jalanko, MD, Hanne Laakkonen, MD, and Tuula Hölttä, MD, for their valuable contributions to this study. We also wish to thank the staff on the paediatric wards caring for these children for their valuable contribution to the practical administration of the therapy. This research was supported by the Sigrid Juselius Foundation, Helsinki, Finland.
About this article
Cite this article
Saarinen, T.T., Arikoski, P., Holmberg, C. et al. Intermittent or daily administration of 1-alpha calcidol for nephrectomised infants on peritoneal dialysis?. Pediatr Nephrol 22, 1931–1938 (2007) doi:10.1007/s00467-007-0592-1
Received:

Revised:

Accepted:

Published:

Issue Date:
Keywords
Growth

Children

Vitamin D analogue treatment

Parathyroid hormone (PTH)

Congenital nephrosis

End-stage renal failure