Abstract
Introduction
The development of chronic groin pain after inguinal hernia repair is a complex problem with many potential factors contributing to its development. Surgical options for alleviation of symptoms are limited and only performed by a few centers dedicated to its treatment. Opportunities to apply the principles of a prehabilitation program, including Cognitive Behavioral Therapy (CBT), aim to improve the surgical outcomes for this condition.
Methods and procedures
A multi-disciplinary hernia team has implemented a clinical quality improvement (CQI) effort in an attempt to better measure and improve outcomes for patients suffering with chronic groin pain after inguinal hernia repair. Between April 2011 and August 2018, 129 patients (157 groins) underwent surgical treatment for chronic groin pain after inguinal hernia repair. Data were collected to compare outcomes for those undergoing preoperative CBT and patients who did not have CBT prior to their operation.
Results
Of 129 total patients, baseline demographics were similar in terms of gender, age, and BMI. In total, 27 patients (32 groins) underwent prehabilitation with CBT (20.93%). We found none of the patients who underwent preoperative CBT had new postoperative pain and all patient procedures were able to be performed on an outpatient basis. Overall, 15 (14.7%) patients had no improvement in symptoms after surgery from the non-CBT group, whereas there was improvement in chronic pain for all patients who underwent CBT.
Conclusion
This attempt at process improvement demonstrated beneficial effects for patients who had CBT as part of a prehabilitation program prior to a surgical procedure to attempt to relieve groin pain after inguinal hernia repair. As with any CQI analysis, other factors may have contributed to these outcomes and these results may be different in another local environment.
This is a preview of subscription content, log in to check access.
Access options
Buy single article
Instant access to the full article PDF.
US$ 39.95
Price includes VAT for USA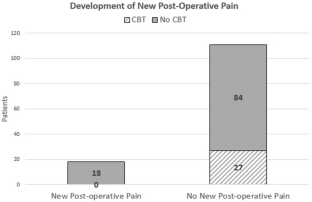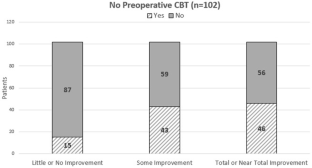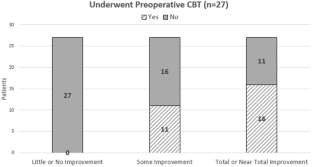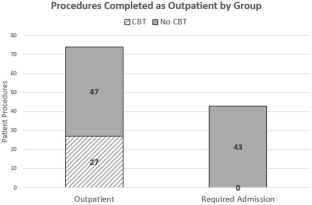 References
1.

Aasvang E, Kehlet H (2005) Chronic postoperaive pain: the case of inguinal herniorrhaphy. Br J Anaesth 95:69–76

2.

Nienhuijs S, Staal E, Strobbe L, Rosman C, Groenewound H, Bleichrodt R (2007) Chronic pain after mesh repair of inguinal hernia: a systematic review. Am J Surg 194(3):394–400

3.

Franneby U, Sandblom G, Nordin P, Nyren O, Gunnarsson U (2006) Risk factors for long-term pain after hernia surgery. Ann Surg 244(2):212–219

4.

Ferzeli GS, Edwards E, Al-Khoury G, Hardin R (2008) Postherniorrhapy groin pain and how to avoid it. Surg Clin N Am 88:203–209

5.

Kehlet H (2008) Chronic pain after groin hernia repair. Br J Surg 95:135–136

6.

van der Pool AEM, Harlaar JJ, den Hoard PT, Weidema WF, van Veen RN (2010) Long-term follow-up evaluation of chronic pain after endoscopic total extraperitoneal repair of primary and recurrent inguinal hernia. Surg Endosc 24:1707–1711

7.

Dabbas N, Adams K, Pearson K, Royle G (2011) Frequency of abdominal wall hernias: is classical teaching out of date? JRSM Short Rep 2:5

8.

Primatesta P, Goldacre M (1996) Inguinal hernia repair: incidence of elective and emergency surgery, readmission and mortality. Int J Epidemiol 25:835–839

9.

Carbonell J, Sanchez J, Peris R, Ivorra JC, Del Bano MJ, Sanchez CS, Arraez JI, Greus PC (1993) Risk factors associated with inguinal hernia: a case control study. Eur J Surg 159:481–486

10.

Abrahamson J (1998) Etiology and pathophysiology of primary and recurrent groin hernia formation. Surg Clin N Am 78:954–973

11.

Rodrigues JAJ, de Tolosa EM, de Carvalho CA (1990) Electron microscopic study of the elastic and elastic related fibres in human transversalis fascia at different ages. Gegenbaurs Morphol Jahrb 136:645–652

12.

Connor WT, Peacock EE Jr (1973) Some studies on the aetiology of inguinal hernia. Am J Surg 126:732–735

13.

Peacock EE Jr, Madden JW (1974) Studies on the biology and treatment of recurrent inguinal hernia. Ann Surg 179:567–571

14.

Poobalan AS, Bruce J, Smith WC, King PM, Krukowski ZH, Chambers WA (2003) A review of chronic pain after inguinal herniorrhaphy. Clin J Pain 19:48–54

15.

Aasvang E, Kehlet H (2005) Surgical management of chronic pain after inguinal hernia repair. Br J Surg 92:795–801

16.

Cullen KA, Hall MJ, Golosinskiy A (2009) Ambulatory surgery in the United States. Natl Health Stat Rep 11:1–25

17.

Rutkow IM, Robbins AW (1993) Demographic, classificatory, and socioeconomic aspects of hernia repair in the United States. Surg Clin N Am 73:413–426

18.

Rutkow IM (2003) Demographic and socioeconomic aspects of hernia repair in the United States in 2003. Surg Clin N Am 83:1045–1051

19.

Macintyre PE, Scott DA, Schug SA, Visser EJ, Walker SM, et al (2010) Working Group of the Australian and New Zealand College of Anaesthetists and Faculty of Pain Medicine (2010) Acute pain management: scientific evidence (3rd edn). Australian and New Zealand College of Anaesthetists and Faculty of Pain medicine, Melbourne

20.

Pauli EM, Rosen MJ (2013) Open ventral hernia repair with component separation. Surg Clin N Am 93:1111–1133

21.

Martindale RG, Deveney CW (2013) Preoperative risk reduction: strategies to optimize outcomes. Surg Clin N Am 93:1041–1055

22.

Kaplan RS, Porter ME (2011) The big idea: how to solve the cost crisis in health care. Har Bus Rev September 2011. https://hbr.org/2011/09/how-to-solve-the-cost-crisis-in-health-care. Accessed 7 Feb 2019

23.

Porter ME, Lee TH (2013) The strategy that will fix health care. Harvard Business Publishing. Har Bus Rev October 2013. https://hbr.org/2013/10/the-strategy-that-will-fix-health-care/. Accessed 7 Feb 2019

24.

Zimmerman B, Lindberg C, Plsek P (1998) Edgeware: insights from complexity science for health care leaders, 2nd edn. VHA, Inc., Irving

25.

Ramshaw B, Vetrano V, Jagadish M, Forman B, Heidel E, Mancini M (2017) Laparoscopic approach for the treatment of chronic groin pain after inguinal hernia repair: laparoscopic approach for inguinodynia. Surg Endosc 31:5267–5274

26.

Agency for Healthcare Research and Quality (2004) Community-based participatory research: assessing the evidence (AHRQ Publication No. 04-E022-2). Rockville, MD

27.

Mavros MN, Athanasiou S, Gkegkes ID, Polyzos KA, Peppas G, Falagas ME (2001) Do psychological variables affect early surgical recovery? PLoS ONE. https://doi.org/10.1371/journal.pone.0020306

28.

Alvin MD, Miller JA, Lubelski D, Nowacki AS, Scheman J, Mathews M, McGirt MJ, Benzel EC, Mroz TE (2016) The impact of preoperative depression and health state on quality-of-life outcomes after anterior cervical diskectomy and fusion. Glob Spine J 6:306–313

29.

Doering LV, Chen B, Cross Bodán R, Magsarili MC, Nyamathi A, Irwin MR (2013) Early cognitive behavioral therapy for depression after cardiac surgery. J Cardiovasc Nurs 28:370–379

30.

Ehde DM, Dillworth TM, Turner JA (2014) Cognitivie-behavioral therapy of individuals with chronic pain. Am Psychol 69:153–166

31.

Brander VA, Stulberg SD, Kirk J (2015) Reducing the impact of psychological factors on outcome. In: Hirschmann MT, Becker R (eds) The unhappy total knee replacement: a comprehensive review and management guide. Springer, New York, pp 285–295

32.

Paul L, Van Der Heiden C, Hoek HW (2017) Cognitive behavioral therapy and predictors of weight loss in bariatric surgery patients. Curr Opin Psychol 30:474–479

33.

Johannsen M, O'Connor M, O'Toole MS, Jensen AB, Højris I, Zachariae R (2016) Efficacy of mindfulness-based cognitive therapy on late post-treatment pain in women treated for primary breast cancer: a randomized controlled trial. J Clin Oncol 34:3390–3399

34.

Rolving N, Nielsen CV, Christensen FB, Holm R, Bünger CE, Oestergaard LG (2016) Preoperative cognitive-behavioral intervention improves in-hospital mobilization and analgesic use for lumbar spinal fusion patients. BMC Musculoskelet Disord 17:217

35.

Craner JR, Sperry JA, Evans MM (2016) The relationship between pain catastrophizing and outcomes of a 3-week comprehensive pain rehabilitation program. Pain Med 17:2026–2035

36.

Darnall BD, Sturgeon JA, Kao MC, Hah JM, Mackey SC (2014) From catastrophizing to recovery: a pilot study of a single-session treatment for pain catastrophizing. J Pain Res 7:219–226
Funding
No funding was received for this study.
Ethics declarations
Disclosures
Dr Bruce Ramshaw has received honoraria and/or consulting fees for providing speaking and/or advisory services for WL Gore, Medtronic, Ethicon, Pacira, Acelity, B Braun, Atrium, BG Medical CondMed, and Ariste Medical. He is also a Founder and Shareholder in CQInsights, a healthcare data analytics company. Brandie Forman is a Founder and Shareholder in CQInsights. Eric Heidel has received consulting fees for consulting services from CQInsights. Drs. Miles Landry, Rachel Lewis, and Michael Lew have nothing to disclose.
Additional information
Publisher's Note
Springer Nature remains neutral with regard to jurisdictional claims in published maps and institutional affiliations.
About this article
Cite this article
Landry, M., Lewis, R., Lew, M. et al. Evaluating effectiveness of cognitive behavioral therapy within multimodal treatment for chronic groin pain after inguinal hernia repair. Surg Endosc (2019). https://doi.org/10.1007/s00464-019-07082-5
Received:

Accepted:

Published:
Keywords
Clinical quality improvement (CQI)

Inguinodynia

Chronic pain

Inguinal hernia

Cognitive behavioral therapy (CBT)