Abstract
Introduction
There are few studies that investigate the usefulness of the preoperative intragastric balloon (IGB). This study will evaluate if pre-surgical weight loss with IGB reduces morbidity and mortality after surgery.
Method
Prospective randomised study of patients with morbid obesity treated with gastric bypass or vertical gastrectomy, with two arms: the balloon arm (B-arm), where an IGB was inserted within the 6 months before surgery, and the control arm (C-arm).
Results
The study included 66 patients: 65.6% women, 69.6% with bypass. Age: 43 years (SD 10.2) B-arm and 42.6 years (SD 9.2) in the C-arm. We found 34.4% therapeutic failures in IGB. The mean body weight loss, %EWL and BMI reduction before surgery was 16.2 kg (SD 9.84) B-arm versus 4.7 (SD 8.70) in the C-arm, 23.6% versus 4.7% (p < 0.001) and 6.04 versus 1 (p < 0.001), respectively. The hospital stay was 7 days (p25–75: 5–8) B-arm and 7 days (p25–75: 5–9) in the C-arm (p = 0.937). Post-surgical morbidity with IGB was 25% versus 29.5% in the C-arm, p = 0.689. The number needed to treat (NNT) to prevent of post-surgical morbidity was 23 patients. The B-arm presented 54.5% moderate-severe post-surgical adverse events (12.5%) versus 82.6% in the C-arm (23.5%), p = 0.111. The cost of placing a balloon was more than 4000 Euros each.
Conclusions
The preoperative balloon does not achieve a reduction in the post-surgical morbidity, nor does it reduce the hospital stay or rate of re-operations. The balloon achieves a higher weight loss result when compared to a diet programme, its added cost must also be given due consideration.
Trail Registry
This study has been registered on ClinicalTrials.gov with the Identifier: NCT01998243 (November 28, 2013).
This is a preview of subscription content, log in to check access.
Access options
Buy single article
Instant access to the full article PDF.
US$ 39.95
Price includes VAT for USA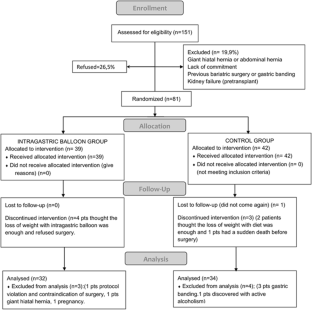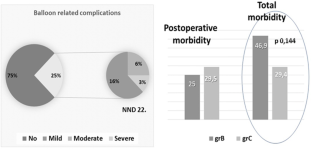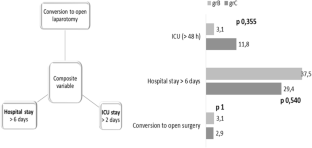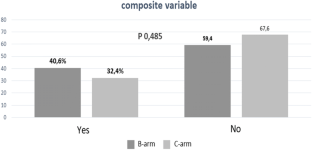 References
1.

Coskun H, Bozkurt S (2009) A case of asymptomatic fungal and bacterial colonization of an intragastric balloon. World J Gastroenterol 15(45):5751–5753

2.

Abu-Dayyeh BK, Sarmiento R, Rajan E, Vazquez-Sequeiros E, Gostout CJ (2014) Endoscopic treatments of obesity and metabolic disease: are we there yet? Revista espanola de enfermedades digestivas 106(7):467–476

3.

Gutierrez-Fisac JL, Guallar-Castillon P, Leon-Munoz LM, Graciani A, Banegas JR, Rodriguez-Artalejo F (2012) Prevalence of general and abdominal obesity in the adult population of Spain, 2008–2010: the ENRICA study. Obes Rev 13(4):388–392. https://doi.org/10.1111/j.1467-789X.2011.00964.x

4.

Mazure RA, Breton I, Cancer E, Mellado C, Abiles V, Aviles J, Escarti MA, Gines R, Alvarez V, Paez N, Velasco C, Pavon L, Miras M, Martinez Olmo M, Culebras JM, Grupo de trabajo Obesminva S (2009) Intragastric balloon in obesity treatment. Nutr Hosp 24(2):138–143

5.

Dabrowiecki S, Szczesny W, Poplawski C, Sosnowski D (2011) Intragastric balloon (BIB system) in the treatment of obesity and preparation of patients for surgery—own experience and literature review. Polski przeglad chirurgiczny 83(4):181–187. https://doi.org/10.2478/v10035-011-0028-2

6.

Ghoneim HaH I (2014) Intragastric balloon (BIB) for the anagement of obesity, report on the first egyptian experience. Open J Gastroenterol 4:295–304

7.

Fernandes M, Atallah AN, Soares BG, Humberto S, Guimaraes S, Matos D, Monteiro L, Richter B (2007) Intragastric balloon for obesity. Cochrane Database Syst Rev. https://doi.org/10.1002/14651858.cd004931.pub2

8.

Adrianzen Vargas M, Cassinello Fernandez N, Ortega Serrano J (2011) Preoperative weight loss in patients with indication of bariatric surgery: which is the best method? Nutr Hosp 26(6):1227–1230. https://doi.org/10.1590/S0212-16112011000600005

9.

Spyropoulos C, Katsakoulis E, Mead N, Vagenas K, Kalfarentzos F (2007) Intragastric balloon for high-risk super-obese patients: a prospective analysis of efficacy. Surg Obes Relat Dis 3(1):78–83. https://doi.org/10.1016/j.soard.2006.11.001

10.

Force ABET, Sullivan S, Kumar N, Edmundowicz SA, Abu Dayyeh BK, Jonnalagadda SS, Larsen M, Thompson CC (2015) ASGE position statement on endoscopic bariatric therapies in clinical practice. Gastrointest Endosc 82(5):767–772. https://doi.org/10.1016/j.gie.2015.06.038

11.

Pasulka PS, Bistrian BR, Benotti PN, Blackburn GL (1986) The risks of surgery in obese patients. Ann Intern Med 104(4):540–546

12.

Zerrweck C, Maunoury V, Caiazzo R, Branche J, Dezfoulian G, Bulois P, Verkindt H, Pigeyre M, Arnalsteen L, Pattou F (2012) Preoperative weight loss with intragastric balloon decreases the risk of significant adverse outcomes of laparoscopic gastric bypass in super-super obese patients. Obes Surg 22(5):777–782. https://doi.org/10.1007/s11695-011-0571-2

13.

Shenkman Z, Shir Y, Brodsky JB (1993) Perioperative management of the obese patient. Br J Anaesth 70(3):349–359

14.

Alvarado R, Alami RS, Hsu G, Safadi BY, Sanchez BR, Morton JM, Curet MJ (2005) The impact of preoperative weight loss in patients undergoing laparoscopic Roux-en-Y gastric bypass. Obes Surg 15(9):1282–1286. https://doi.org/10.1381/096089205774512429

15.

Wahlen CH, Bastens B, Herve J, Malmendier C, Dallemagne B, Jehaes C, Markiewicz S, Monami B, Weerts J (2001) The BIOENTERICS intragastric balloon (BIB): how to Use it. Obes Surg 11(4):524–527. https://doi.org/10.1381/096089201321209468

16.

Strasberg SM, Linehan DC, Hawkins WG (2009) The accordion severity grading system of surgical complications. Ann Surg 250(2):177–186. https://doi.org/10.1097/SLA.0b013e3181afde41

17.

Alastrue Vidal A, Sitges Serra A, Jaurrieta Mas E, Sitges Creus A (1982) Anthropometric parameters for a Spanish population (author's transl). Med Clin 78(10):407–415

18.

Vicente C, Rabago LR, Ortega A, Arias M, Vazquez Echarri J (2017) Usefulness of an intra-gastric balloon before bariatric surgery. Revista espanola de enfermedades digestivas. https://doi.org/10.17235/reed.2017.4624/2016

19.

Fris RJ (2004) Preoperative low energy diet diminishes liver size. Obes Surg 14(9):1165–1170. https://doi.org/10.1381/0960892042386977

20.

Benotti PN, Still CD, Wood GC, Akmal Y, King H, El Arousy H, Dancea H, Gerhard GS, Petrick A, Strodel W (2009) Preoperative weight loss before bariatric surgery. Arch Surg 144(12):1150–1155. https://doi.org/10.1001/archsurg.2009.209

21.

Gerber P, Anderin C, Thorell A (2015) Weight loss prior to bariatric surgery: an updated review of the literature. Scand J Surg 104(1):33–39. https://doi.org/10.1177/1457496914553149

22.

Schiavo L, Sans A, Scalera G, Barbarisi A, Iannelli A (2016) Why Preoperative weight loss in preparation for bariatric surgery is important. Obes Surg 26(11):2790–2792. https://doi.org/10.1007/s11695-016-2381-z

23.

Frutos MD, Morales MD, Lujan J, Hernandez Q, Valero G, Parrilla P (2007) Intragastric balloon reduces liver volume in super-obese patients, facilitating subsequent laparoscopic gastric bypass. Obes Surg 17(2):150–154. https://doi.org/10.1007/s11695-007-9040-3

24.

Blackledge C, Graham LA, Gullick AA, Richman J, Stahl R, Grams J (2016) Outcomes associated with preoperative weight loss after laparoscopic Roux-en-Y gastric bypass. Surg Endosc 30(11):5077–5083. https://doi.org/10.1007/s00464-016-4856-3

25.

Anderin C, Gustafsson UO, Heijbel N, Thorell A (2015) Weight loss before bariatric surgery and postoperative complications: data from the Scandinavian Obesity Registry (SOReg). Ann Surg 261(5):909–913. https://doi.org/10.1097/SLA.0000000000000839

26.

Conaty EA, Bonamici NJ, Gitelis ME, Johnson BJ, DeAsis F, Carbray JM, Lapin B, Joehl R, Denham W, Linn JG, Haggerty SP, Ujiki MB (2016) Efficacy of a required preoperative weight loss program for patients undergoing bariatric surgery. J Gastroint Surg 20(4):667–673. https://doi.org/10.1007/s11605-016-3093-3

27.

Sherman WE, Lane AE, Mangieri CW, Choi YU, Faler BJ (2015) Does preoperative weight change predict postoperative weight loss after laparoscopic sleeve gastrectomy? Bariatr Surg Pract Pat Care 10(3):126–129. https://doi.org/10.1089/bari.2015.0023

28.

Solomon H, Liu GY, Alami R, Morton J, Curet MJ (2009) Benefits to patients choosing preoperative weight loss in gastric bypass surgery: new results of a randomized trial. J Am Coll Surg 208(2):241–245. https://doi.org/10.1016/j.jamcollsurg.2008.09.028

29.

Milone L, Strong V, Gagner M (2005) Laparoscopic sleeve gastrectomy is superior to endoscopic intragastric balloon as a first stage procedure for super-obese patients (BMI > or = 50). Obes Surg 15(5):612–617. https://doi.org/10.1381/0960892053923833

30.

Imaz I, Martinez-Cervell C, Garcia-Alvarez EE, Sendra-Gutierrez JM, Gonzalez-Enriquez J (2008) Safety and effectiveness of the intragastric balloon for obesity. A meta-analysis. Obes Surg 18(7):841–846. https://doi.org/10.1007/s11695-007-9331-8

31.

de Goederen-van der Meij S, Pierik RG, Oudkerk Pool M, Gouma DJ, Mathus-Vliegen LM (2007) Six months of balloon treatment does not predict the success of gastric banding. Obes Surg 17(1):88–94

32.

Escudero Sanchis A, Catalan Serra I, Gonzalvo Sorribes J, Bixquert Jimenez M, Navarro Lopez L, Herrera Garcia L, Durban Serrano L, Monforte Albalat A (2008) Effectiveness, safety, and tolerability of intragastric balloon in association with low-calorie diet for the treatment of obese patients. Revista espanola de enfermedades digestivas 100(6):349–354

33.

Zheng Y, Wang M, He S, Ji G (2015) Short-term effects of intragastric balloon in association with conservative therapy on weight loss: a meta-analysis. J Trans Med 13:246. https://doi.org/10.1186/s12967-015-0607-9

34.

Perisse LG, Ecbc-Rj PC, Ribeiro KF (2016) Gastric wall changes after intragastric balloon placement: a preliminary experience. Revista do Colegio Brasileiro de Cirurgioes 43(4):286–288. https://doi.org/10.1590/0100-69912016004011

35.

Genco A, Cipriano M, Materia A, Bacci V, Maselli R, Musmeci L, Lorenzo M, Basso N (2009) Laparoscopic sleeve gastrectomy versus intragastric balloon: a case-control study. Surg Endosc 23(8):1849–1853. https://doi.org/10.1007/s00464-008-0285-2

36.

Melissas J, Mouzas J, Filis D, Daskalakis M, Matrella E, Papadakis JA, Sevrisarianos N, Charalambides D (2006) The intragastric balloon—smoothing the path to bariatric surgery. Obes Surg 16(7):897–902. https://doi.org/10.1381/096089206777822188

37.

Gould JC, Garren MJ, Boll V, Starling JR (2006) Laparoscopic gastric bypass: risks vs benefits up to two years following surgery in super-super obese patients. Surgery 140(4):524–529. https://doi.org/10.1016/j.surg.2006.07.002 discussion 529-531

38.

Busetto L, Segato G, De Luca M, Bortolozzi E, MacCari T, Magon A, Inelmen EM, Favretti F, Enzi G (2004) Preoperative weight loss by intragastric balloon in super-obese patients treated with laparoscopic gastric banding: a case-control study. Obes Surg 14(5):671–676. https://doi.org/10.1381/096089204323093471

39.

Alami RS, Morton JM, Schuster R, Lie J, Sanchez BR, Peters A, Curet MJ (2007) Is there a benefit to preoperative weight loss in gastric bypass patients? A prospective randomized trial. Surgery for obesity and related diseases 3(2):141–145. https://doi.org/10.1016/j.soard.2006.11.006 discussion 145-146

40.

Coffin B, Maunoury V, Pattou F, Hebuterne X, Schneider S, Coupaye M, Ledoux S, Iglicki F, Mion F, Robert M, Disse E, Escourrou J, Tuyeras G, Le Roux Y, Arvieux C, Pouderoux P, Huten N, Alfaiate T, Hajage D, Msika S (2016) Impact of intragastric balloon before laparoscopic gastric bypass on patients with super obesity: a randomized multicenter study. Obes Surg. https://doi.org/10.1007/s11695-016-2383-x

41.

Livhits M, Mercado C, Yermilov I, Parikh JA, Dutson E, Mehran A, Ko CY, Gibbons MM (2009) Does weight loss immediately before bariatric surgery improve outcomes: a systematic review. Surg Obes Relat Dis 5(6):713–721. https://doi.org/10.1016/j.soard.2009.08.014

42.

Giordano S, Victorzon M (2014) The impact of preoperative weight loss before laparoscopic gastric bypass. Obes Surg 24(5):669–674. https://doi.org/10.1007/s11695-013-1165-y

43.

Al-Sabah S, Al-Marri F, Vaz JD (2016) Intragastric balloon as a bridge procedure in patients with high body mass index. Surg Obes Relat Dis 12(10):1900–1901. https://doi.org/10.1016/j.soard.2016.08.494

44.

Zerrweck C, Sepulveda EM, Maydon HG, Campos F, Spaventa AG, Pratti V, Fernandez I (2014) Laparoscopic gastric bypass vs. sleeve gastrectomy in the super obese patient: early outcomes of an observational study. Obesity surgery 24(5):712–717. https://doi.org/10.1007/s11695-013-1157-y

45.

Parikh MS, Laker S, Weiner M, Hajiseyedjavadi O, Ren CJ (2006) Objective comparison of complications resulting from laparoscopic bariatric procedures. J Am Coll Surg 202(2):252–261. https://doi.org/10.1016/j.jamcollsurg.2005.10.003

46.

Buchwald H, Estok R, Fahrbach K, Banel D, Sledge I (2007) Trends in mortality in bariatric surgery: a systematic review and meta-analysis. Surgery 142(4):621–632. https://doi.org/10.1016/j.surg.2007.07.018 discussion 632-625

47.

Sallet JA, Marchesini JB, Paiva DS, Komoto K, Pizani CE, Ribeiro ML, Miguel P, Ferraz AM, Sallet PC (2004) Brazilian multicenter study of the intragastric balloon. Obes Surg 14(7):991–998. https://doi.org/10.1381/0960892041719671

48.

Hutter MM, Schirmer BD, Jones DB, Ko CY, Cohen ME, Merkow RP, Nguyen NT (2011) First report from the American College of Surgeons Bariatric Surgery Center Network: laparoscopic sleeve gastrectomy has morbidity and effectiveness positioned between the band and the bypass. Ann Surg 254(3):410–420. https://doi.org/10.1097/sla.0b013e31822c9dac discussion 420-412

49.

Longitudinal Assessment of Bariatric Surgery C, Flum DR, Belle SH, King WC, Wahed AS, Berk P, Chapman W, Pories W, Courcoulas A, McCloskey C, Mitchell J, Patterson E, Pomp A, Staten MA, Yanovski SZ, Thirlby R, Wolfe B (2009) Perioperative safety in the longitudinal assessment of bariatric surgery. The New England journal of medicine 361(5):445–454

50.

Fernandez Mere LA, Alvarez Blanco M (2004) Obesity and bariatric surgery: anesthesia implications. Nutr Hosp 19(1):34–44

51.

Bluher M (2014) Are metabolically healthy obese individuals really healthy? Eur J Endocrinol 171(6):R209–R219. https://doi.org/10.1530/eje-14-0540

52.

Cetin D, Lessig BA, Nasr E (2016) Comprehensive evaluation for obesity: beyond body mass index. J Am Osteopathic Assoc 116(6):376–382. https://doi.org/10.7556/jaoa.2016.078

53.

De Lorenzo A, Soldati L, Sarlo F, Calvani M, Di Lorenzo N, Di Renzo L (2016) New obesity classification criteria as a tool for bariatric surgery indication. Eating Weight Disord 22(2):681–703. https://doi.org/10.1007/s40519-016-0278-4
Acknowledgements
The authors express their gratitude to the four nurses Concepción Cuevas, Anabel Isabel García, Susana Álvarez and Beatriz Rodríguez who helped us and assisted in all the endoscopic procedures.
Funding
This study was supported by and funded by a National Grant coming from the Spanish Healthcare System P1070682.
Ethics declarations
Disclosure
Cristina Vicente Martin, Luis R. Rabago Torre, Luis A. Castillo Herrera, Marisa Arias Rivero, Miguel Perez Ferrer, David Collado Pacheco, Maria Dolores Martin Rios, Raquel Barba Martin, Javier Ramiro Martin, Jaime Vazquez‑Echarri, and Norberto Herrera Merino declare that they have no conflicts of interest or financial ties to disclose.
Ethical approval
The clinical research was approved by the Research and Ethics Committee of the Hospital Severo Ochoa, Leganes.
Informed consent
Written informed consents were obtained from the patients for using their data in scientific studies while protecting their anonymity before the procedure.
Additional information
Publisher's Note
Springer Nature remains neutral with regard to jurisdictional claims in published maps and institutional affiliations.
About this article
Cite this article
Vicente Martin, C., Rabago Torre, L.R., Castillo Herrera, L.A. et al. Preoperative intragastric balloon in morbid obesity is unable to decrease early postoperative morbidity of bariatric surgery (sleeve gastrectomy and gastric bypass): a clinical assay. Surg Endosc (2019). https://doi.org/10.1007/s00464-019-07061-w
Received:

Accepted:

Published:
Keywords
Morbid obesity

Intragastric balloon

Surgical morbidity

Laparoscopic bariatric surgery

Gastric bypass

Vertical gastrectomy