Abstract
Background
Current studies suggest that laparoscopic colorectal surgery is an advantageous alternative to open surgery due to improved post-operative outcomes in high-risk patient groups. Limited data is currently available on the benefits of minimally invasive colectomy for diverticulitis in patients with significant pre-operative respiratory comorbidities.
Study design
The NSQIP 2005–2017 datasets were used to identify patients that underwent partial colectomies due to diverticulitis. Partial colectomy cases were identified using CPT codes and then filtered to include only ICD 9 and 10 codes for diverticulitis. Pre-operative respiratory comorbidities included dyspnea, chronic obstructive pulmonary disease (COPD), and smoking status. Propensity matching was performed based on patient demographic and pre-operative risk factor data to create comparable groups for each respiratory comorbidity subset. Outcomes of interest were 30-day post-operative mortality and morbidity, incidence of return to operating room (ROR), and hospital length of stay (LoS). Laparoscopy and open surgery groups were compared using Chi square tests for categorical variables and t tests for continuous variables. A p value less than 0.05 was considered statistically significant.
Results
Among 70,420 cases with diverticulitis, 15,237 cases were identified as smokers, 3934 had dyspnea, and 3219 had COPD. Patients that had open procedures had significantly greater odds of mortality (OR 2.624 for smokers; OR 2.698 for dyspnea; OR 2.663 for COPD), morbidity (OR 2.590 for smokers; OR 2.344 for dyspnea; OR 2.883 for COPD), wound complication (OR 1.989 for smokers; OR 1.461 for dyspnea; OR 1.956 for COPD), and ROR (OR 1.184 for smokers; OR 1.634 for dyspnea; OR 1.975 for COPD). Laparoscopic procedures resulted in significantly lower average LoS (5.34 vs. 9.46 days for smokers; 6.84 vs. 11.06 days for dyspnea; 7.41 vs. 12.62 days for COPD; all p < .0001).
Conclusion
Laparoscopic colectomy for diverticulitis diagnosis for a matched cohort of patients with pre-operative respiratory comorbidities such as smoking status, dyspnea, and COPD resulted in significantly improved post-operative outcomes, lower odds of mortality and morbidity, and shorter LoS.
This is a preview of subscription content, log in to check access.
Access options
Buy single article
Instant access to the full article PDF.
US$ 39.95
Price includes VAT for USA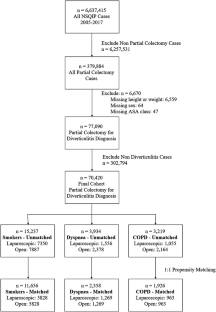 References
1.

Moghadamyeghaneh Z, Carmichael JC, Mills S, Pigazzi A, Nguyen NT, Stamos MJ (2015) Variations in laparoscopic colectomy utilization in the United States. Dis Colon Rectum 58(10):950–956

2.

Wilson MZ, Hollenbeak CS, Stewart DB (2014) Laparoscopic colectomy is associated with a lower incidence of postoperative complications than open colectomy: a propensity score-matched cohort analysis. Colorectal Dis 16(5):382–389

3.

Lacy AM, Garcia-Valdecasas JC, Delgado S et al (2002) Laparoscopy-assisted colectomy versus open colectomy for treatment of non-metastatic colon cancer: a randomised trial. Lancet (Lond, Engl) 359(9325):2224–2229

4.

Kannan U, Reddy VS, Mukerji AN et al (2015) Laparoscopic vs open partial colectomy in elderly patients: Insights from the American College of Surgeons—National Surgical Quality Improvement Program database. World J Gastroenterol 21(45):12843–12850

5.

Hardiman K, Chang ET, Diggs BS, Lu KC (2013) Laparoscopic colectomy reduces morbidity and mortality in obese patients. Surg Endosc 27(8):2907–2910

6.

Wu Q, Wei M, Ye Z et al (2017) Laparoscopic colectomy versus open colectomy for treatment of transverse colon cancer: a systematic review and meta-analysis. J Laparoendosc Adv Surg Tech Part A 27(10):1038–1050

7.

Sujatha-Bhaskar S, Alizadeh RF, Inaba CS et al (2018) Respiratory complications after colonic procedures in chronic obstructive pulmonary disease: does laparoscopy offer a benefit? Surg Endosc 32(3):1280–1285

8.

Hodari A, Tsiouris A, Eichenhorn M, Horst M, Rubinfeld I (2013) Exploring National Surgical Quality Improvement Program respiratory comorbidities: developing a predictive understanding of postoperative respiratory occurrences, Clavien 4 complications, and death. J Surg Res 183(2):663–667

9.

The Population Reference Bureau report, Aging in the United States" https://www.prb.org/wp-content/uploads/2016/01/aging-us-population-bulletin-1.pdf. Accessed January 2019

10.

Horesh N, Wasserberg N, Zbar AP et al (2016) Changing paradigms in the management of diverticulitis. Int J Surg (Lond, Engl) 33(Pt A):146–150

11.

Peery AF, Crockett SD, Barritt AS et al (2015) Burden of gastrointestinal, liver, and pancreatic diseases in the United States. Gastroenterology 149(7):1731–1741

12.

Valizadeh N, Suradkar K, Kiran RP (2018) Specific factors predict the risk for urgent and emergent colectomy in patients undergoing surgery for diverticulitis. Am Surg 84(11):1781–1786

13.

El-Sayed C et al (2018) Risk of recurrent disease and surgery following an admission for acute diverticulitis. Dis Colon Rectum 61(3):382–389

14.

Sheer AJ et al (2011) Congestive heart failure and chronic obstructive pulmonary disease predict poor surgical outcomes in older adults undergoing elective diverticulitis surgery. Dis Colon Rectum 54(11):1430–1437

15.

Cohen ME, Ko CY, Bilimoria KY et al (2013) Optimizing ACS NSQIP modeling for evaluation of surgical quality and risk: patient risk adjustment, procedure mix adjustment, shrinkage adjustment, and surgical focus. J Am Coll Surg 217(2):336–346

16.

Fuchshuber PR, Greif W, Tidwell CR et al (2012) The power of the National Surgical Quality Improvement Program—achieving a zero-pneumonia rate in general surgery patients. Perm J 16(1):39–45

17.

Shiloach M, Frencher SK Jr, Steeger JE et al (2010) Toward robust information: data quality and inter-rater reliability in the American College of Surgeons National Surgical Quality Improvement Program. J Am Coll Surg 210(1):6–16

18.

Kulaylat AN, Hollenbeak CS, Sangster W, Stewart DB Sr (2015) Impact of smoking on the surgical outcome of Crohn's disease: a propensity-score matched National Surgical Quality Improvement Program analysis. Colorectal Dis 17(10):891–902

19.

Sharma A, Deeb AP, Iannuzzi JC, Rickles AS, Monson JR, Fleming FJ (2013) Tobacco smoking and postoperative outcomes after colorectal surgery. Ann Surg 258(2):296–300

20.

Segal CG, Waller DK, Tilley B, Piller L, Bilimoria K (2014) An evaluation of differences in risk factors for individual types of surgical site infections after colon surgery. Surgery 156(5):1253–1260

21.

Tseng J, Loper B, Jain M, Lewis AV, Margulies DR, Alban RF (2017) Predictive factors of mortality after colectomy in ischemic colitis: an ACS-NSQIP database study. Trauma Surg Acute Care Open 2(1):e000126

22.

Sharma KC, Brandstetter RD, Brensilver JM, Jung LD (1996) Cardiopulmonary physiology and pathophysiology as a consequence of laparoscopic surgery. Chest 110(3):810–815

23.

Fields AC, Divino CM (2016) Surgical outcomes in patients with chronic obstructive pulmonary disease undergoing abdominal operations: an analysis of 331,425 patients. Surgery 159(4):1210–1216

24.

Dimick JB, Chen SL, Taheri PA, Henderson WG, Khuri SF, Campbell DA Jr (2004) Hospital costs associated with surgical complications: a report from the private-sector National Surgical Quality Improvement Program. J Am Coll Surg 199(4):531–537

25.

Patel K, Hadian F, Ali A et al (2016) Postoperative pulmonary complications following major elective abdominal surgery: a cohort study. Perioper Med (Lond, Engl) 5:10

26.

Visser BC, Keegan H, Martin M, Wren SM (2009) Death after colectomy: it's later than we think. Arch Surg (Chicago, IL 1960) 144(11):1021–1027
Funding
This research did not receive any specific grant from funding agencies in the public, commercial, or not-for-profit sectors.
Ethics declarations
Disclosures
Dr. Aziz M. Merchant, Dr. Pavel Zagadailov, and Ms. Richa Patel have no conflicts of interest or financial ties to disclose.
Additional information
Publisher's Note
Springer Nature remains neutral with regard to jurisdictional claims in published maps and institutional affiliations.
Electronic supplementary material
Below is the link to the electronic supplementary material.
About this article
Cite this article
Patel, R., Zagadailov, P. & Merchant, A.M. Laparoscopic colectomy for diverticulitis in patients with pre-operative respiratory comorbidity: analysis of post-operative outcomes in the United States from 2005 to 2017. Surg Endosc (2019). https://doi.org/10.1007/s00464-019-06943-3
Received:

Accepted:

Published:
Keywords
Laparoscopic colectomy

Diverticulitis

Respiratory comorbidities

Post-operative outcomes

Colorectal surgery