Abstract
Introduction
Surgical fires are a rare event that still occur at a significant rate and can result in severe injury and death. Surgical fires are fueled by vapor from alcohol-based skin preparations in the presence of increased oxygen concentration and a spark from an energy device. Carbon dioxide (CO2) is used to extinguish electrical fires, and we sought to evaluate its effect on fire creation in the operating room. We hypothesize that CO2 delivered by the energy device will decrease the frequency of surgical fires fueled by alcohol-based skin preparations.
Methods
An ex vivo model with 15 × 15 cm section of clipped, porcine skin was used. A commercially available electrosurgical pencil with a smoke evacuation tip was connected to a laparoscopic CO2 insufflation system. The electrosurgical pencil was activated for 2 s at 30 watts coagulation mode immediately after application of alcohol-based surgical skin preparations: 70% isopropyl alcohol with 2% chlorhexidine gluconate (CHG-IPA) or 74% isopropyl alcohol with 0.7% iodine povacrylex (Iodine-IPA). CO2 was infused via the smoke evacuation pencil at flow rates from 0 to 8 L/min. The presence of a flame was determined visually and confirmed with a thermal camera (FLIR Systems, Boston, MA).
Results
Carbon dioxide eliminated fire formation at a flow rate of 1 L/min with CHG-IPA skin prep (0% vs. 60% with no CO2, p < 0.0001). Carbon dioxide reduced fire formation at 1 L/min (25% vs. 47% with no CO2, p = 0.1) with Iodine-IPA skin prep and fires were eliminated at 2 L/min of flow with Iodine-IPA skin prep (p < 0.0001).
Conclusion
Carbon dioxide can eliminate surgical fires caused by energy devices in the presence of alcohol-based skin preps. Future studies should determine the optimal technique and flow rate of carbon dioxide in these settings.
This is a preview of subscription content, log in to check access.
Access options
Buy single article
Instant unlimited access to the full article PDF.
US$ 39.95
Price includes VAT for USA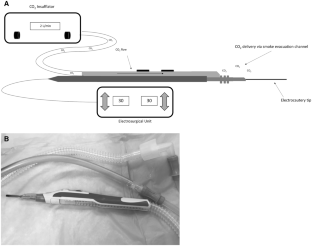 References
1.

Mehta SP, Bhananker SM, Posner KL, Domino KB (2013) Operating room fires: a closed claims analysis. Anesthesiology 118:1133–1139

2.

PPS Authority (2007) Three 'never complications of surgery' are hardly that. Patient Safety Advisory 4

3.

Food and Drug Administration. Consumer update: FDA and partners working to prevent surgical fires—Council on Surgical and Perioperative Safety (CSPS). Food and Drug Administration; October 5th. http://www.cspsteam.org/consumer-update-fda-and-partners-working-to-prevent-surgical-fires

4.

Apfelbaum JL, Caplan RA, Barker SJ, Connis RT, Cowles C, Ehrenwerth J, Nickinovich DG, Pritchard D, Roberson DW, Caplan RA, Barker SJ, Connis RT, Cowles C, de Richemond AL, Ehrenwerth J, Nickinovich DG, Pritchard D, Roberson DW, Wolf GL, American Society of Anesthesiologists Task Force on Operating Room F (2013) Practice advisory for the prevention and management of operating room fires: an updated report by the American Society of Anesthesiologists Task Force on Operating Room Fires. Anesthesiology 118:271–290

5.

PPS Authority. Fire safety video. https://www.apsf.org/resources/fire-safety/. Accessed 21 Dec 2018

6.

Institue ECRI (2009) New clinical guide to surgical fire prevention. Health Dev 38:314–332

7.

Fuchshuber P (2016) Only teams can prevent or fires. SAGES 2016 Annual Meeting, Boston, MA

8.

Jones TS, Black IH, Robinson TN, Jones EL (2019) Operating room fires. Anesthesiology 130:492–501

9.

Overbey DM, Townsend NT, Chapman BC, Bennett DT, Foley LS, Rau AS, Yi JA, Jones EL, Stiegmann GV, Robinson TN (2015) Surgical energy-based device injuries and fatalities reported to the food and drug administration. J Am Coll Surg 221(197–205):e191

10.

Jones EL, Overbey DM, Chapman BC, Jones TS, Hilton SA, Moore JT, Robinson TN (2017) Operating room fires and surgical skin preparation. J Am Coll Surg 225:160–165

11.

Eberhardie RE (1940) CO2 fire protection for the chemical industry. J Soc Chem Ind 59:541–543

12.

Ho AM, Wan S, Karmakar MK (2007) Flooding with carbon dioxide prevents airway fire induced by diathermy during open tracheostomy. J Trauma 63:228–231

13.

Culp WC Jr, Kimbrough BA, Luna S, Maguddayao AJ (2014) Operating room fire prevention: creating an electrosurgical unit fire safety device. Ann Surg 260:214–217

14.

National Center for Biotechnology Information. "Carbon Dioxide". PubChem compound database. https://pubchem.ncbi.nlm.nih.gov/compound/280. Accessed 21 Jan 2019

15.

Kerr RA (1987) Lake Nyos was rigged for disaster. Science (New York, NY) 235:528–529

16.

Peacock AJ (1998) ABC of oxygen: oxygen at high altitude. BMJ 317:1063–1066

17.

Culp WC Jr, Kimbrough BA, Luna S (2013) Flammability of surgical drapes and materials in varying concentrations of oxygen. Anesthesiology 119:770–776

18.

Roy S, Smith LP (2011) What does it take to start an oropharyngeal fire? Oxygen requirements to start fires in the operating room. Int J Pediatr Otorhinolaryngol 75:227–230

19.

Davis LB, Saxen MA, Jones JE, McGlothlin JD, Yepes JF, Sanders BJ (2018) The Effects of different levels of ambient oxygen in an oxygen-enriched surgical environment and production of surgical fires. Anesth Prog 65:3–8

20.

Greco RJ, Gonzalez R, Johnson P, Scolieri M, Rekhopf PG, Heckler F (1995) Potential dangers of oxygen supplementation during facial surgery. Plast Reconstr Surg 95:978–984

21.

Barnes AM, Frantz RA (2000) Do oxygen-enriched atmospheres exist beneath surgical drapes and contribute to fire hazard potential in the operating room? AANA J 68:153–161

22.

VanCleave AM, Jones JE, McGlothlin JD, Saxen MA, Sanders BJ, Vinson LA (2014) The effect of intraoral suction on oxygen-enriched surgical environments: a mechanism for reducing the risk of surgical fires. Anesth Prog 61:155–161

23.

DeHaan JD (1996) The dynamics of flash fires involving flammable hydrocarbon liquids. Am J Forensic Med Pathol 17:24–31

24.

Tooher R, Maddern GJ, Simpson J (2004) Surgical fires and alcohol-based skin preparations. ANZ J Surg 74:382–385

25.

Patel R, Chavda KD, Hukkeri S (2010) Surgical field fire and skin burns caused by alcohol-based skin preparation. J Emerg Trauma Shock 3:305

26.

Schultz L (2014) An analysis of surgical smoke plume components, capture, and evacuation. AORN J 99:289–298

27.

Katz JD (2017) Control of the Environment in the operating room. Anesth Analg 125:1214–1218

28.

Orhan-Sungur M, Komatsu R, Sherman A, Jones L, Walsh D, Sessler DI (2009) Effect of nasal cannula oxygen administration on oxygen concentration at facial and adjacent landmarks. Anaesthesia 64:521–526

29.

Coronado CJR, Carvalho JA, Andrade JC, Cortez EV, Carvalho FS, Santos JC, Mendiburu AZ (2012) Flammability limits: a review with emphasis on ethanol for aeronautical applications and description of the experimental procedure. J Hazard Mater 241–242:32–54
Ethics declarations
Disclosures
Drs. Samuels, Carmichael, Wikiel, Robinson, Barnett, Jones, and Jones have no conflicts of interests or financial ties to disclose.
Additional information
Publisher's Note
Springer Nature remains neutral with regard to jurisdictional claims in published maps and institutional affiliations.
Electronic supplementary material
Below is the link to the electronic supplementary material.
Supplementary material 1 (MP4 66106 kb)
About this article
Cite this article
Samuels, J.M., Carmichael, H., Wikiel, K.J. et al. Carbon dioxide can eliminate operating room fires from alcohol-based surgical skin preps. Surg Endosc (2019) doi:10.1007/s00464-019-06939-z
Received:

Accepted:

Published:
Keywords
Surgical fire

Carbon dioxide

Smoke evacuation

OR safety