Abstract
Introduction
The use of the internet and technology has increased, and its implication with medicine is inevitable. Along with these technologies, social media platforms have changed the interaction between peers, forcing an evolution on medical activities and patient relationship. There is no clear information on how surgeons interact with these platforms within their daily practice.
Methods
A transverse study with a survey obtained from general and bariatric surgeons from Mexico was performed, aimed to gather information about social media platforms use (Facebook, Instagram, Twitter, and LinkedIn). Personal, professional, academic, and marketing activities were analyzed and compared between general and bariatric surgeons. Secondly, the same analysis was performed in younger participants. Other variables were also analyzed, such as type of marketing and monthly budget.
Results
We obtained 523 surveys (84.1% general and 15.8% bariatric surgeons), where male gender comprised 86.4%. Almost a third considered social media as an important tool. In 53% of the cases, Facebook was preferred for professional activities; Twitter was the second most used. Bariatric surgeons were younger, used all platforms more frequently, and preferred Facebook for every activity. They also invested more in publicity, and showed wider marketing methods than general surgeons.
Conclusion
There is an important awareness of internet and social media use among general and bariatric surgeons. Facebook leads the activities for both specialties (personal, professional, academic, and marketing), but bariatric surgeons are significantly more involved; additionally, there are more marketing strategies and investment among them.
This is a preview of subscription content, log in to check access.
Access options
Buy single article
Instant access to the full article PDF.
US$ 39.95
Price includes VAT for USA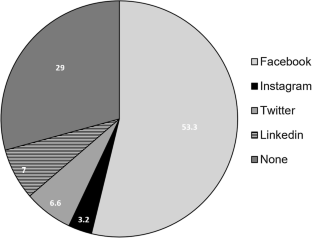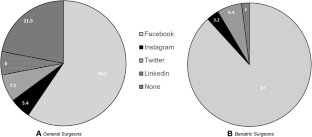 References
1.

(2018) Internet Growth Statistics. Today's road to e-Commerce and Global Trade Internet Technology Reports (2018). https://www.internetworldstats.com/emarketing.htm

2.

Tarver WL, Menser T, Hesse BW, Johnson TJ, Beckjord E, Ford EW, Huerta TR (2018) Growth dynamics of patient-provider internet communication: trend analysis using the health information national trends survey (2003 to 2013). J Med Internet Res 20:e109

3.

Corporation ID (2018). www.idc.com

4.

Graham YNH, Hayes C, Mahawar KK, Small PK, Attala A, Seymour K, Woodcock S, Ling J (2017) Ascertaining the place of social media and technology for bariatric patient support: what do allied health practitioners think? Obes Surg 27:1691–1696

5.

Abedin T, Al Mamun M, Lasker MAA, Ahmed SW, Shommu N, Rumana N, Turin TC (2017) Social media as a platform for information about diabetes foot care: a study of facebook groups. Can J Diabetes 41:97–101

6.

Bittner JGt, Logghe HJ, Kane ED, Goldberg RF, Alseidi A, Aggarwal R, Jacob BP (2019) A Society of Gastrointestinal and Endoscopic Surgeons (SAGES) statement on closed social media (Facebook(R)) groups for clinical education and consultation: issues of informed consent, patient privacy, and surgeon protection. Surg Endosc 33:1–7

7.

McEvenue G, Copeland A, Devon KM, Semple JL (2016) How social are we? A cross-sectional study of the website presence and social media activity of canadian plastic surgeons. Aesthet Surg J 36:1079–1084

8.

Chan WS, Leung AY (2018) Use of Social network sites for communication among health professionals: systematic review. J Med Internet Res 20:e117

9.

Yang PC, Lee WC, Liu HY, Shih MJ, Chen TJ, Chou LF, Hwang SJ (2018) Use of facebook by hospitals in Taiwan: a nationwide survey. Int J Environ Res Public Health 15:1188

10.

Gould DJ, Leland HA, Ho AL, Patel KM (2016) Emerging trends in social media and plastic surgery. Ann Transl Med 4:455

11.

McLawhorn AS, De Martino I, Fehring KA, Sculco PK (2016) Social media and your practice: navigating the surgeon-patient relationship. Curr Rev Musculoskelet Med 9:487–495

12.

Khwaja HA, Nedelcu M, Galvao Neto M, Lagardere AO, Schauer PR, Deitel M, Rogula TG (2013) The International Bariatric Club–a worldwide web educational network for bariatric professionals. Obes Surg 23:2121–2123

13.

Gholami-Kordkheili F, Wild V, Strech D (2013) The impact of social media on medical professionalism: a systematic qualitative review of challenges and opportunities. J Med Internet Res 15:e184

14.

Lugo-Fagundo C, Johnson MB, Thomas RB, Johnson PT, Fishman EK (2016) New frontiers in education: facebook as a vehicle for medical information delivery. J Am Coll Radiol 13:316–319

15.

Barreto JE, Whitehair CL (2017) Social media and web presence for patients and professionals: evolving trends and implications for practice. PM R 9:S98–S105

16.

Mogul DB, Nagy PG, Bridges JFP (2017) Building stronger online communities through the creation of facebook-integrated health applications. JAMA Pediatr 171:933–934

17.

Biancovilli P, Jurberg C (2018) How to optimize health messages about cancer on facebook: mixed-methods study. JMIR Cancer 4:e11073

18.

Silfee VJ, Lopez-Cepero A, Lemon SC, Estabrook B, Nguyen O, Wang ML, Rosal MC (2018) Adapting a behavioral weight loss intervention for delivery via facebook: a pilot series among low-income postpartum women. JMIR Form Res 2:e18

19.

Koball AM, Jester DJ, Domoff SE, Kallies KJ, Grothe KB, Kothari SN (2017) Examination of bariatric surgery Facebook support groups: a content analysis. Surg Obes Relat Dis 13:1369–1375

20.

Mogul DB, Henderson ML, Bridges JFP (2018) Expanding the facebook platform to engage and educate online communities. Am J Gastroenterol 113:457–458

21.

Thomas RB, Johnson PT, Fishman EK (2018) Social media for global education: pearls and pitfalls of using facebook, twitter, and instagram. J Am Coll Radiol 15:1513–1516

22.

Essary AC (2011) The impact of social media and technology on professionalism in medical education. J Physician Assist Educ 22:50–53

23.

Logghe HJ, McFadden CL, Tully NJ, Jones C (2017) History of social media in surgery. Clin Colon Rectal Surg 30:233–239

24.

Markham MJ, Gentile D, Graham DL (2017) Social media for networking, professional development, and patient engagement. Am Soc Clin Oncol Educ Book 37:782–787

25.

Angrisani L, Santonicola A, Iovino P, Vitiello A, Higa K, Himpens J, Buchwald H, Scopinaro N (2018) IFSO worldwide survey 2016: primary, endoluminal, and revisional procedures. Obes Surg 28:3783–3794
Ethics declarations
Disclosures
The author (Dr. Zerrweck) and coauthors (Dr. Arana Dr. Calleja, Dr. Rodríguez, Dr. Moreno, Dr. Pantoja, and Dr. Donatini) have no conflict of interest or financial ties to disclose.
Ethical approval
For this type of study, formal consent is not required.
Additional information
Publisher's Note
Springer Nature remains neutral with regard to jurisdictional claims in published maps and institutional affiliations.
Annex 1: Social media, internet, and advertising survey
Annex 1: Social media, internet, and advertising survey
1.

Gender

a.

Male

b.

Female

2.

Main specialty (the one you practice the most, choose one):

a.

General surgery

b.

Colo-Rectal

c.

Chest

d.

Transplant

e.

Bariatric

f.

Vascular

3.

Age

a.

25–35

b.

36–45

c.

46–55

d.

56–65

e.

66 or more

4.

Do you consider social media

a.

Not very useful in our guild

b.

They are very useful

c.

They expose doctors

d.

They lend to misinform rather than informing

e.

I don´t care

5.

Why do you use them?

a.

Contact friends and family

b.

Share material for academic use.

c.

Contact with patients.

d.

Marketing and publicity.

e.

All of the above.

6.

How much time do you spend on social media for PERSONAL use (not academic)?

a.

Daily (multiple times).

b.

Daily (once a day)

c.

2–3 times per week.

d.

Weekends.

e.

I have accounts, but I do not use them.

f.

I do not have/Do not use

7.

Which social media do you use more FREQUENTLY for personal purpose?

a.

Facebook

b.

Instagram

c.

Twitter

d.

LinkedIn

e.

Any

8.

Which social media do you use more FREQUENTLY for professional purpose?

a.

Facebook

b.

Instagram

c.

Twitter

d.

LinkedIn

e.

Any

f.

Internet page

9.

Which social media do you use more FREQUENTLY for academic purpose?

a.

Facebook

b.

Instagram

c.

Twitter

d.

LinkedIn

e.

None

10.

What academic activities do you perform through social network?

a.

Share/search articles or medical info.

b.

Discuss/comment articles

c.

Upload and/or discuss videos

d.

Opinion/polls

e.

Live surgeries

f.

Search expert opinions

11.

How much time do you dedicate to the ACADEMIC/PROFESSIONAL use of social media?

a.

Daily (multiple times)

b.

Daily (once a day)

c.

2–3 times per week

d.

Weekends.

e.

I have accounts, but I do not use them

f.

I do not have/Do not use

12.

Which ones do you use for marketing purposes?

a.

Facebook

b.

Instagram

c.

Twitter

d.

LinkedIn

e.

Own website

f.

Medical directories/database

g.

None of the above

13.

What kind of advertising do you use through social networks?

a.

Advertisements

b.

Offers and promotions

c.

Description of services

d.

Awareness

e.

Testimonials

f.

Videos/articles

14.

My professional practice is mostly:

a.

Public

b.

Private

c.

Both

d.

Resident

15.

In case of investing in professional promotion, on a monthly basis:

a.

There is no monthly expense

b.

Expense less than 50 USD

c.

Expense between 50 and 100 USD

d.

Expense around 250 USD

e.

Expense more than 250 USD

16.

Which social network (only one) is the one you use the most professionally?

a.

Facebook

b.

Instagram

c.

Twitter

d.

LinkedIn

e.

None
About this article
Cite this article
Zerrweck, C., Arana, S., Calleja, C. et al. Social media, advertising, and internet use among general and bariatric surgeons. Surg Endosc (2019). https://doi.org/10.1007/s00464-019-06933-5
Received:

Accepted:

Published:
Keywords
Bariatric surgery

Social media

General surgery

Facebook

Twitter

Instagram

Internet