Abstract
Background
Laparoscopic pancreaticoduodenectomy (LPD) is a feasible option in selected patients. However, its use has not yet been generalized since it is time-consuming, physically demanding, and technically challenging. It might be essential to share the experience of high-volume centers to understand its use.
Methods
We retrospectively reviewed the data of 500 consecutive patients who underwent LPD at a single institution between January 2007 and December 2017.
Results
The patients included 272 women and 228 men (mean age, 57.1 years). The most common indication for LPD was intraductal papillary neoplasm (n = 104, 20.8%). Overall and major (Clavien–Dindo grades III–V) complication rates were 37.2% and 4.8%, respectively. Fifty-four patients (10.8%) had clinically relevant (grade B/C) pancreatic fistulas. There were 3 (0.6%) 90-day mortalities. The most common late complication was bilioenteric stricture (25, 5%). Two hundred thirty patients were diagnosed with periampullary cancer. The 5-year overall survival rates of pancreatic cancer, common bile duct cancer, ampulla of Vater cancer, and duodenal cancer were 37.4, 63.2, 78, and 88.9%, respectively. We analyzed learning curves of first-generation and second-generation surgeons. A risk-adjusted cumulative sum analysis demonstrated a learning curve of 55 cases for LPD with the first-generation surgeon and earlier competency with the second-generation surgeon.
Conclusions
LPD has the potential to become an alternative surgery to open pancreaticoduodenectomy for periampullary tumors with acceptable outcomes. We could reduce the steep learning curve with structured training, close supervision, and well-trained operation teams. Perioperative and oncologic outcomes of LPD will be optimized after overcoming the learning curve.
This is a preview of subscription content, log in to check access.
Access options
Buy single article
Instant access to the full article PDF.
US$ 39.95
Price includes VAT for USA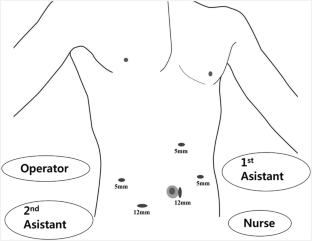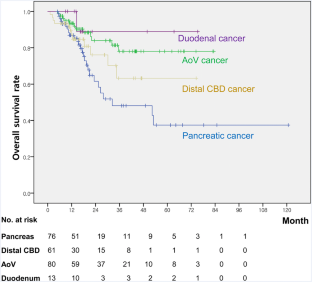 References
1.

Conrad C et al (2017) Comparable long-term oncologic outcomes of laparoscopic versus open pancreaticoduodenectomy for adenocarcinoma: a propensity score weighting analysis. Surg Endosc 31(10):3970–3978

2.

Shin SH et al (2015) A comparative study of laparoscopic vs. open distal pancreatectomy for left-sided ductal adenocarcinoma: a propensity score-matched analysis. J Am Coll Surg 220(2):177–185

3.

Khaled YS et al (2018) Matched case-control comparative study of laparoscopic versus open pancreaticoduodenectomy for malignant lesions. Surg Laparosc Endosc Percutan Tech 28(1):47–51

4.

Maher H et al (2017) The prospective of laparoscopic pancreaticoduodenectomy for cancer management. Chin Clin Oncol 6(1):8

5.

Dindo D, Demartines N, Clavien PA (2004) Classification of surgical complications: a new proposal with evaluation in a cohort of 6336 patients and results of a survey. Ann Surg 240(2):205–213

6.

Bassi C et al (2017) The 2016 update of the International Study Group (ISGPS) definition and grading of postoperative pancreatic fistula: 11 years after. Surgery 161(3):584–591

7.

Wente MN et al (2007) Delayed gastric emptying (DGE) after pancreatic surgery: a suggested definition by the International Study Group of Pancreatic Surgery (ISGPS). Surgery 142(5):761–768

8.

Forbes TL et al (2004) Cumulative sum failure analysis of the learning curve with endovascular abdominal aortic aneurysm repair. J Vasc Surg 39(1):102–108

9.

Choi DH et al (2009) Learning curves for laparoscopic sigmoidectomy used to manage curable sigmoid colon cancer: single-institute, three-surgeon experience. Surg Endosc 23(3):622–628

10.

Nomi T et al (2015) Learning curve for laparoscopic major hepatectomy. Br J Surg 102(7):796–804

11.

Kim CW et al (2015) Learning curve for single-incision laparoscopic anterior resection for sigmoid colon cancer. J Am Coll Surg 221(2):397–403

12.

Lee W et al (2016) Comparison of learning curves for major and minor laparoscopic liver resection. J Laparoendosc Adv Surg Tech A 26(6):457–464

13.

Ramsay CR et al (2000) Assessment of the learning curve in health technologies. A systematic review. Int J Technol Assess Health Care 16(4):1095–1108

14.

Tomassini F et al (2016) The single surgeon learning curve of laparoscopic liver resection: a continuous evolving process through stepwise difficulties. Medicine (Baltimore) 95(43):e5138

15.

Lin CW et al (2016) The learning curve of laparoscopic liver resection after the Louisville statement 2008: will it be more effective and smooth? Surg Endosc 30(7):2895–2903

16.

Gagner M, Pomp A (1994) Laparoscopic pylorus-preserving pancreatoduodenectomy. Surg Endosc 8(5):408–410

17.

Gagner M, Pomp A (1997) Laparoscopic pancreatic resection: is it worthwhile? J Gastrointest Surg 1(1):20–25 discussion 25–6

18.

Dokmak S et al (2015) Laparoscopic pancreaticoduodenectomy should not be routine for resection of periampullary tumors. J Am Coll Surg 220(5):831–838

19.

Kendrick ML, Cusati D (2010) Total laparoscopic pancreaticoduodenectomy: feasibility and outcome in an early experience. Arch Surg 145(1):19–23

20.

Croome KP et al (2014) Total laparoscopic pancreaticoduodenectomy for pancreatic ductal adenocarcinoma: oncologic advantages over open approaches? Ann Surg 260(4):633–638 discussion 638–40

21.

Kim SC et al (2013) Short-term clinical outcomes for 100 consecutive cases of laparoscopic pylorus-preserving pancreatoduodenectomy: improvement with surgical experience. Surg Endosc 27(1):95–103

22.

Boggi U et al (2015) Laparoscopic pancreaticoduodenectomy: a systematic literature review. Surg Endosc 29(1):9–23

23.

Hu BY et al (2016) Risk factors for postoperative pancreatic fistula: analysis of 539 successive cases of pancreaticoduodenectomy. World J Gastroenterol 22(34):7797–7805

24.

Akamatsu N et al (2010) Risk factors for postoperative pancreatic fistula after pancreaticoduodenectomy: the significance of the ratio of the main pancreatic duct to the pancreas body as a predictor of leakage. J Hepatobiliary Pancreat Sci 17(3):322–328

25.

Callery MP et al (2013) A prospectively validated clinical risk score accurately predicts pancreatic fistula after pancreatoduodenectomy. J Am Coll Surg 216(1):1–14

26.

Lee HG et al (2010) Management of bleeding from pseudoaneurysms following pancreaticoduodenectomy. World J Gastroenterol 16(10):1239–1244

27.

Blanc T et al (2007) Hemorrhage after pancreaticoduodenectomy: when is surgery still indicated? Am J Surg 194(1):3–9

28.

Ding X et al (2011) Therapeutic management of hemorrhage from visceral artery pseudoaneurysms after pancreatic surgery. J Gastrointest Surg 15(8):1417–1425

29.

Treckmann J et al (2008) Sentinel bleeding after pancreaticoduodenectomy: a disregarded sign. J Gastrointest Surg 12(2):313–318

30.

Imamura M et al (2016) Effects of antecolic versus retrocolic reconstruction for gastro/duodenojejunostomy on delayed gastric emptying after pancreatoduodenectomy: a systematic review and meta-analysis. J Surg Res 200(1):147–157

31.

Zhao Z et al (2017) A systemic review and an updated meta-analysis: minimally invasive vs open pancreaticoduodenectomy. Sci Rep 7(1):2220

32.

Reid-Lombardo KM et al (2007) Long-term anastomotic complications after pancreaticoduodenectomy for benign diseases. J Gastrointest Surg 11(12):1704–1711

33.

House MG et al (2006) Incidence and outcome of biliary strictures after pancreaticoduodenectomy. Ann Surg 243(5):571–576 discussion 576–8

34.

Zhu JQ et al (2017) Bilioenteric anastomotic stricture in patients with benign and malignant tumors: prevalence, risk factors and treatment. Hepatobiliary Pancreat Dis Int 16(4):412–417

35.

Malgras B et al (2016) Early biliary complications following pancreaticoduodenectomy: prevalence and risk factors. HPB (Oxford) 18(4):367–374

36.

Mauri G et al (2013) Biodegradable biliary stent implantation in the treatment of benign bilioplastic-refractory biliary strictures: preliminary experience. Eur Radiol 23(12):3304–3310

37.

Kaffes A et al (2014) A randomized trial of a fully covered self-expandable metallic stent versus plastic stents in anastomotic biliary strictures after liver transplantation. Therap Adv Gastroenterol 7(2):64–71

38.

Cioffi JL et al (2016) Pancreaticojejunostomy stricture after pancreatoduodenectomy: outcomes after operative revision. J Gastrointest Surg 20(2):293–299

39.

Demirjian AN et al (2010) The inconsistent nature of symptomatic pancreatico-jejunostomy anastomotic strictures. HPB (Oxford) 12(7):482–487

40.

Bai MD et al (2008) Experimental study on operative methods of pancreaticojejunostomy with reference to anastomotic patency and postoperative pancreatic exocrine function. World J Gastroenterol 14(3):441–447

41.

Torphy RJ et al (2018) Comparing short-term and oncologic outcomes of minimally invasive versus open pancreaticoduodenectomy across low and high volume centers. Ann Surg. https://doi.org/10.1097/SLA.0000000000002810

42.

Senthilnathan P et al (2015) Long-term results of laparoscopic pancreaticoduodenectomy for pancreatic and periampullary cancer-experience of 130 cases from a tertiary-care center in South India. J Laparoendosc Adv Surg Tech A 25(4):295–300

43.

Stauffer JA et al (2017) Laparoscopic versus open pancreaticoduodenectomy for pancreatic adenocarcinoma: long-term results at a single institution. Surg Endosc 31(5):2233–2241

44.

Wang M et al (2016) Learning curve for laparoscopic pancreaticoduodenectomy: a CUSUM analysis. J Gastrointest Surg 20(5):924–935

45.

Lu C et al (2016) Analysis of learning curve for laparoscopic pancreaticoduodenectomy. J Vis Surg 2:145

46.

Chedid AD et al (2015) Achieving good perioperative outcomes after pancreaticoduodenectomy in a low-volume setting: a 25-year experience. Int Surg 100(4):705–711
Funding
This study was supported by a grant of the Korean Health Technology R&D Project, Ministry of Health & Welfare, South Korea (Grant Number: HI14C2640).
Ethics declarations
Disclosures
Ki Byung Song, Song Cheol Kim, Woohyung Lee, Dae Wook Hwang, Jae Hoon Lee, Jaewoo Kwon, Guisuk Park, Yejong Park, and Seung Jae Lee have no conflicts of interest or financial ties to disclose.
Additional information
Publisher's Note
Springer Nature remains neutral with regard to jurisdictional claims in published maps and institutional affiliations.
Electronic supplementary material
Below is the link to the electronic supplementary material.
About this article
Cite this article
Song, K.B., Kim, S.C., Lee, W. et al. Laparoscopic pancreaticoduodenectomy for periampullary tumors: lessons learned from 500 consecutive patients in a single center. Surg Endosc 34, 1343–1352 (2020). https://doi.org/10.1007/s00464-019-06913-9
Received:

Accepted:

Published:

Issue Date:
Keywords
Laparoscopic pancreaticoduodenectomy

Survival

Complications

Learning curve