Abstract
Background
Various core biopsy needles have previously been developed for endoscopic ultrasound-guided fine-needle biopsy (EUS-FNB). However, the properties of needle gauge in the diagnostic outcomes of solid pancreatic lesions remain unknown. This trial compared the procurement rates of histologic cores from solid pancreatic lesions with EUS-FNB using 20- and 25-gauge (G) FNB needles.
Methods
In a prospective randomized multicenter clinical trial, patients with solid pancreatic lesions underwent EUS-FNB with either a 20-gauge or a 25-gauge FNB needle. The rates of histologic core procurement, overall diagnostic accuracy, and adverse events were compared between the two groups (20-gauge or 25-gauge FNB needle).
Results
In total, 88 patients (48 men, 40 women, mean age 65.7 years) were enrolled. No significant differences were found in the demographic characteristics between the two groups (20-gauge or 25-gauge FNB needle). The procurement rate of histologic cores in the 20-guage FNB needle group (41/45, 91.1%) was significantly higher than that in the 25-guage FNB needle group (32/43, 74.4%, P = 0.037). However, no significant differences were found in the overall diagnostic accuracy between 20-guage FNB needle (40/45, 88.9%) and 25-guage FNB needle (34/43, 79.1%, P = 0.208). No procedure-related adverse events were observed in either group.
Conclusions
Although both FNB needles provided high overall diagnostic accuracy, the reliability of the 20-guage FNB needle is better than the 25-guage FNB needle when retrieving samples for histological analysis.
This is a preview of subscription content, log in to check access.
Access options
Buy single article
Instant access to the full article PDF.
US$ 39.95
Price includes VAT for USA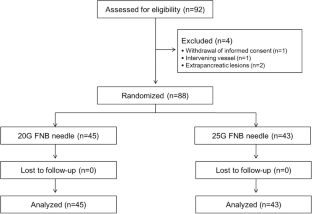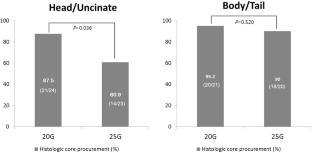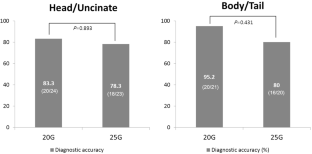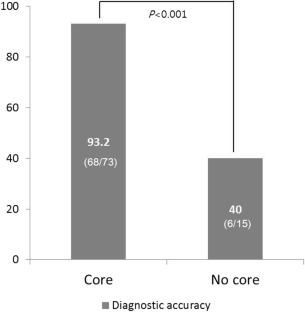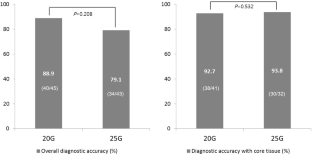 References
1.

Siegel RL, Miller KD, Jemal A (2018) Cancer statistics, 2018. CA: Cancer J Clin 68:7–30

2.

Hidalgo M (2010) Pancreatic cancer. N Engl J Med 362:1605–1617

3.

Rahib L, Smith BD, Aizenberg R, Rosenzweig AB, Fleshman JM, Matrisian LM (2014) Projecting cancer incidence and deaths to 2030: the unexpected burden of thyroid, liver, and pancreas cancers in the United States. Can Res 74:2913–2921

4.

Ooi M, Phan A, Nguyen NQ (2017) Future role of endoscopic ultrasound in personalized management of pancreatic cancer. Endosc Ultrasound 6:300–307

5.

Austin MC, Smith C, Pritchard CC, Tait JF (2016) DNA yield from tissue samples in surgical pathology and minimum tissue requirements for molecular testing. Arch Pathol Lab Med 140:130–133

6.

Ngamruengphong S, Li F, Zhou Y, Chak A, Cooper GS, Das A (2010) EUS and survival in patients with pancreatic cancer: a population-based study. Gastrointestinal Endosc 72:78–83

7.

Othman MO, Wallace MB (2012) The role of endoscopic ultrasonography in the diagnosis and management of pancreatic cancer. Gastroenterol Clin North Am 41:179–188

8.

Li H, Li W, Zhou QY, Fan B (2018) Fine needle biopsy is superior to fine needle aspiration in endoscopic ultrasound guided sampling of pancreatic masses: a meta-analysis of randomized controlled trials. Medicine 97:e0207

9.

Nakai Y, Isayama H, Chang KJ, Yamamoto N, Hamada T, Uchino R, Mizuno S, Miyabayashi K, Yamamoto K, Kawakubo K, Kogure H, Sasaki T, Hirano K, Tanaka M, Tada M, Fukayama M, Koike K (2014) Slow pull versus suction in endoscopic ultrasound-guided fine-needle aspiration of pancreatic solid masses. Dig Dis Sci 59:1578–1585

10.

Ramesh J, Bang JY, Hebert-Magee S, Trevino J, Eltoum I, Frost A, Hasan MK, Logue A, Hawes R, Varadarajulu S (2015) Randomized trial comparing the flexible 19G and 25G needles for endoscopic ultrasound-guided fine needle aspiration of solid pancreatic mass lesions. Pancreas 44:128–133

11.

Bang JY, Hebert-Magee S, Trevino J, Ramesh J, Varadarajulu S (2012) Randomized trial comparing the 22-gauge aspiration and 22-gauge biopsy needles for EUS-guided sampling of solid pancreatic mass lesions. Gastrointest Endosc 76:321–327

12.

Dumonceau JM, Deprez PH, Jenssen C, Iglesias-Garcia J, Larghi A, Vanbiervliet G, Aithal GP, Arcidiacono PG, Bastos P, Carrara S, Czako L, Fernandez-Esparrach G, Fockens P, Gines A, Havre RF, Hassan C, Vilmann P, van Hooft JE, Polkowski M (2017) Indications, results, and clinical impact of endoscopic ultrasound (EUS)-guided sampling in gastroenterology: European Society of Gastrointestinal Endoscopy (ESGE) Clinical Guideline—Updated January 2017. Endoscopy 49:695–714

13.

Committee AT, Hwang JH, Aslanian HR, Thosani N, Goodman A, Manfredi M, Navaneethan U, Pannala R, Parsi MA, Smith ZL, Sullivan SA, Banerjee S, Maple JT (2017) Devices for use with EUS. VideoGIE: an official video journal of the American Society for Gastrointestinal Endoscopy 2:35–45

14.

Iglesias-Garcia J, Poley JW, Larghi A, Giovannini M, Petrone MC, Abdulkader I, Monges G, Costamagna G, Arcidiacono P, Biermann K, Rindi G, Bories E, Dogloni C, Bruno M, Dominguez-Munoz JE (2011) Feasibility and yield of a new EUS histology needle: results from a multicenter, pooled, cohort study. Gastrointest Endosc 73:1189–1196

15.

Park SW, Chung MJ, Lee SH, Lee HS, Lee HJ, Park JY, Park SW, Song SY, Kim H, Chung JB, Bang S (2016) Prospective Study for Comparison of Endoscopic Ultrasound-Guided Tissue Acquisition Using 25- and 22-Gauge Core Biopsy Needles in Solid Pancreatic Masses. PLoS ONE 11:e0154401

16.

Iwashita T, Nakai Y, Samarasena JB, Park DH, Zhang Z, Gu M, Lee JG, Chang KJ (2013) High single-pass diagnostic yield of a new 25-gauge core biopsy needle for EUS-guided FNA biopsy in solid pancreatic lesions. Gastrointest Endosc 77:909–915

17.

Larghi A, Iglesias-Garcia J, Poley JW, Monges G, Petrone MC, Rindi G, Abdulkader I, Arcidiacono PG, Costamagna G, Biermann K, Bories E, Doglioni C, Dominguez-Munoz JE, Hassan C, Bruno M, Giovannini M (2013) Feasibility and yield of a novel 22-gauge histology EUS needle in patients with pancreatic masses: a multicenter prospective cohort study. Surg Endosc 27:3733–3738

18.

Nishioka N, Ogura T, Kurisu Y, Imanishi M, Onda S, Takagi W, Sano T, Okuda A, Miyano A, Amano M, Higuchi K (2018) Prospective histological evaluation of a 20G core trap with a forward-cutting bevel needle for EUS-FNA of pancreatic lesions. Surg Endosc 32:4125–4131

19.

Antonini F, Delconte G, Fuccio L, De Nucci G, Fabbri C, Armellini E, Frazzoni L, Fornelli A, Magarotto A, Mandelli E, Occhipinti P, Masci E, Manes G, Macarri G (2018) EUS-guided tissue sampling with a 20-gauge core biopsy needle for the characterization of gastrointestinal subepithelial lesions: a multicenter study. Endosc Ultrasound 8:105

20.

Khan MA, Grimm IS, Ali B, Nollan R, Tombazzi C, Ismail MK, Baron TH (2017) A meta-analysis of endoscopic ultrasound-fine-needle aspiration compared to endoscopic ultrasound-fine-needle biopsy: diagnostic yield and the value of onsite cytopathological assessment. Endosc Int Open 5:E363–E375
Ethics declarations
Disclosures
Drs. Eunae Cho, Chang-Hwan Park, Tae Hyeon Kim, Chang-Min Cho, Dong Wan Seo, Jaihwan Kim, Jun Ho Choi, and Sung-Hoon Moon have no conflicts of interest or financial ties to disclose.
Additional information
Publisher's Note
Springer Nature remains neutral with regard to jurisdictional claims in published maps and institutional affiliations.
About this article
Cite this article
Cho, E., Park, C., Kim, T.H. et al. A prospective, randomized, multicenter clinical trial comparing 25-gauge and 20-gauge biopsy needles for endoscopic ultrasound-guided sampling of solid pancreatic lesions. Surg Endosc 34, 1310–1317 (2020). https://doi.org/10.1007/s00464-019-06903-x
Received:

Accepted:

Published:

Issue Date:
Keywords
Endosonography

Tissue sampling

Core tissue

Pancreatic neoplasm