Abstract
Background
Barbed suture has been adopted across all surgical specialties. One of the infrequent complications seen with the use of barbed suture is small bowel obstructions (SBOs). In this study, we perform a review of the literature and the Manufacturer and User Facility Device Experience Database (MAUDE) to characterize SBOs after the use of barbed sutures in a variety of operative procedures.
Methods
A review of the literature was performed by searching PubMed and Ovid. We used the search terms: "barbed," "suture," "bowel," and "obstructions." For each case report, we examined the initial surgical procedure, type of barbed suture used, the type of complication, the time to complication, the presentation, and the type of operative interventions required. We did the same with the MAUDE database.
Results
Our review of the literature revealed 18 different cases of SBO secondary to the use of barbed suture. The four most common procedures, with a total of four cases each, were inguinal hernia procedures, myomectomy, hysterectomy, and pelvic floor reconstructive procedures.
The average time of presentation to SBO was found to be 26.3 days post-op (1–196 days). A total of 16 patients (88.9%) presented with abdominal pain. Other common complaints included vomiting (33.3%), abdominal distension (27.8%), oral intolerance (22.2%), and constipation (16.7%). A total of 5 cases were also found to have a possible volvulus on computed tomography (CT), and 2 cases were reported to have strangulation. The MAUDE database had 14 cases reporting on obstruction.
Conclusions
Surgeons should have a high index of suspicion for SBO if a patient presents with obstructive symptoms after a surgery that used barbed suture. This will often present as a mesenteric volvulus on CT. These particular SBOs require operative exploration, with laparoscopy being successful in the majority of cases.
This is a preview of subscription content, log in to check access.
Access options
Buy single article
Instant access to the full article PDF.
US$ 39.95
Price includes VAT for USA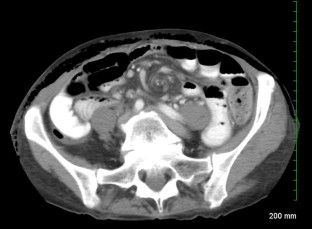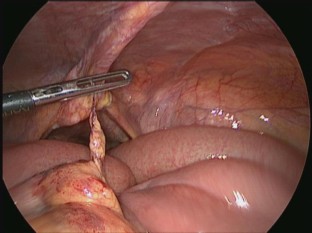 References
1.

Alcamo J (1964) Surgical needle. US Patent 3,123,077

2.

Buncke H (1999) Surgical methods using one-way suture. US Patent 5,931,855, 3 August 1999

3.

Ruff GL, Matarasso A (2013) The history of barbed sutures. Aesthet Surg J 33(1):12–16s

4.

V-loc™ Wound Closure Devices Overview. https://www.medtronic.com/content/dam/covidien/library/us/en/product/wound-closure/v-loc-wound-closure-devices-guide-to-wound-closure-applications.pdf. Accessed 21 Jan 2019

5.

Instructions for use. https://www.ethicon.com/na/products/wound-closure/tissue-control-devices/stratafix-spiral-knotless-tissue-control-device. Accessed 21 Jan 2019

6.

Uccella S, Ceccaroni M, Cromi A, Malzoni M, Berretta R, De Iaco P et al (2012) Vaginal cuff dehiscence in a series of 12,398 hysterectomies: effect of different types of colpotomy and vaginal closure. Obstet Gynecol 120(3):516–523

7.

Angioli R, Plotti F, Montera R, Damiani P, Terranova C, Oronzi I, Luvero D, Scaletta G, Muzii L, Panici PB (2012) A new type of absorbable barbed suture for use in laparoscopic myomectomy. Int J Gynaecol Obstet 117:220–223

8.

Mikhail E, Wyman A, Hahn L, Hart S (2016) Barbed sutures in minimally invasive gynecologic surgery. Surg Technol Int 28:185–191

9.

Takayama S, Nakai N, Shiozaki M, Ogawa R, Sakamoto M, Takeyama H (2012) Use of barbed suture for peritoneal closure in transabdominal preperitoneal hernia repair. World J Gastrointest Surg 4:177–179

10.

Yokoyama K, Tanigawa N, Ogata A, Nagai T, Higashino M (2015) Laparoscopic technique and initial experiences of choledocholithotomy closure with knotless unidirectional barbed sutures after surgery for biliary stone disease. Surg Laparosc Endosc Percutan Tech 25(4):e129–e133

11.

Kim EY, Tae H (2015) Laparoscopic longitudinal pancreaticojejunostomy using barbed sutures: an efficient and secure solution for pancreatic duct obstructions in patients with chronic pancreatitis. J Gastrointest Surg 20(4):861–866

12.

Costantino F, Dente M, Perrin P, Sarhan FA, Keller P (2013) Barbed unidirectional V-Loc 180 suture in laparoscopic Roux-en-Y gastric bypass: a study comparing unidirectional barbed monofilament and multifilament absorbable suture. Surg Endosc 27(10):3846–3851

13.

Vidarsson B, Sundbom M, Edholm D (2017) Shorter overall operative time when barbed suture is used in primary laparoscopic gastric bypass: a cohort study of 25,006 cases. Surg Obes Relat Dis 13(9):1484–1488

14.

Tyner RP, Clifton GT, Fenton SJ (2013) Hand-sewn gastrojejunostomy using knotless unidirectional barbed absorbable suture during laparoscopic gastric bypass. Surg Endosc 27(4):1360–1366

15.

Donnellan NM, Mansuria SM (2011) Small bowel obstruction resulting from laparoscopic vaginal cuff closure with a barbed suture. J Minim Invasive Gynecol 18(4):528–530

16.

Thubert T, Pourcher G, Deffieux X (2011) Small bowel volvulus following peritoneal closure using absorbable knotless device during laparoscopic sacral colpopexy. Int Urogynecol J 22(6):761–763

17.

Buchs NC, Ostermann S, Hauser J, Roche B, Iselin CE, Morel P (2012) Intestinal obstruction following use of laparoscopic barbed suture: a new complication with new material? Minim Invasive Ther Allied Technol 21(5):369–371

18.

Kindinger LM, Setchell TE, Miskry TS (2012) Bowel obstruction due to entanglement with unidirectional barbed suture following laparoscopic myomectomy. Gynecol Surg 9(3):357–358

19.

Rombaut S, Baulies S, Cusido M, Barri-Soldevila P, Rodriguez I, Ubeda A (2012) Quill barbed suture-related complication. Gynecol Surg 9(3):359–361

20.

Burchett MA, Mattar SG, McKenna DT (2013) Iatrogenic intestinal and mesenteric injuries with small bowel volvulus following use of barbed suture during laparoscopic myomectomy. J Laparoendosc Adv Surg Tech A 23(7):632–634

21.

Filser J, Reibetanz J, Krajinovic K, Germer CT, Dietz UA, Seyfried F (2015) Small bowel volvulus after transabdominal preperitoneal hernia repair due to improper use of V-Loc™ barbed absorbable wire—do we always "read the instructions first"? Int J Surg Case Rep 8C:193–195

22.

Köhler G, Mayer F, Lechner M, Bittner R (2015) Small bowel obstruction after TAPP repair caused by a self-anchoring barbed suture device for peritoneal closure: case report and review of the literature. Hernia 19(3):389–394

23.

Lee ET, Wong FW (2015) Small bowel obstruction from barbed suture following laparoscopic myomectomy—a case report. Int J Surg Case Rep 16:146–149

24.

Oor J, de Castro S, van Wagensveld B (2015) V-loc™ capable of grasping surrounding tissue causes obstruction at the jejunojejunostomy after Roux-en-Y laparoscopic gastric bypass. Asian J Endosc Surg 8(2):209–211

25.

Segura-Sampedro JJ, Ashrafian H, Navarro-Sánchez A, Jenkins JT, Morales-Conde S, Martínez-Isla A (2015) Small bowel obstruction due to laparoscopic barbed sutures: an unknown complication? Rev Esp Enferm Dig 107(11):677–680

26.

Vahanian SA, Finamore PS, Lazarou G (2015) Delayed small bowel obstruction after robotic-assisted sacrocolpopexy. Female Pelvic Med Reconstr Surg 21(1):e11–e13

27.

Chen H, Hong MK, Ding DC (2017) Acute small bowel obstruction caused by barbed suture on the second day after laparoscopic hysterosacropexy: a case report and literature review. Taiwan J Obstet Gynecol 56(2):247–249

28.

Jang SH, Jung YK, Choi SJ, Ha TK (2017) Postoperative mechanical small bowel obstruction induced by V-Loc barbed absorbable sutures after laparoscopic distal gastrectomy. Ann Surg Treat Res 92(5):380–382

29.

Lee JS, Yoon YC (2017) Laparoscopic treatment of choledochal cyst using barbed sutures. J Laparoendosc Adv Surg Tech A 27(1):58–62

30.

Tagliaferri EM, Wong Tavara SL, Abad de Jesus JL, Bergmann H, Hammans S, Seidlmayer CM (2018) Small bowel obstruction SBO after TAPP repair caused by a self-anchoring barbed suture device for peritoneal closure: case report. J Surg Case Rep 2018(7):165

31.

Kulkarni S, Davies AJ, Gowreeson G, Al-Akra M (2004) Flank abscess and bladder stone—late complications of permanent suture material used in colposuspension. J Obstet Gynaecol 24(8):938–939

32.

Yazdany T, Yip S, Bhatia NN, Nguyen JN (2010) Suture complications in a teaching institution among patients undergoing uterosacral ligament suspension with permanent braided suture. Int Urogynecol J 21(7):813–818

33.

MAUDE—Manufacturer and User Facility Device Experience. https://www.accessdata.fda.gov/scripts/cdrh/cfdocs/cfmaude/textsearch.cfm. Accessed 4 May 2019
Ethics declarations
Disclosures
Benjamin Clapp MD, Carlos Lodeiro BS, Ellen Wicker DO, Loyd Christensen MS, Robert Jones, William Klingsporn MD, and Alan Tyroch MD have no conflicts of interest or financial ties to disclose.
Additional information
Publisher's Note
Springer Nature remains neutral with regard to jurisdictional claims in published maps and institutional affiliations.
About this article
Cite this article
Clapp, B., Klingsporn, W., Lodeiro, C. et al. Small bowel obstructions following the use of barbed suture: a review of the literature and analysis of the MAUDE database. Surg Endosc 34, 1261–1269 (2020). https://doi.org/10.1007/s00464-019-06890-z
Received:

Accepted:

Published:

Issue Date:
Keywords
Barbed suture

Complications

Small bowel obstruction

Laparoscopy