Abstract
Background
Surgical treatment of giant hepatic hemangioma larger than 10 cm in diameter often requires major laparoscopic liver resection (LLR), which is very difficult and has a high risk of bleeding. There is no consensus as to whether giant hepatic hemangioma is an indication or a contraindication for laparoscopic surgery.
Methods
From 2011/09 to 2018/05, 58 patients with giant hepatic hemangioma larger than 10 cm underwent laparoscopic surgery. They were divided into high-difficulty (HD) group and low-difficulty (LD) group according to the operation difficulty score. The perioperative data of the two groups were analyzed and compared.
Results
There were 30 patients in the LD group and 28 in the HD group. No differences were showed in sex, age, ASA grade, tumor size, operation time, conversion rate, intraoperative and post-operative blood transfusion rate, and post-operative complications between the two groups. The amount of bleeding in the HD group was significantly higher than that in the LD group (285.7 ± 224.0 vs 189.6 ± 157.6 ml, p = 0.007). The time of hepatic hilar occlusion in the HD group was longer than that in the LD group (25.4 ± 8.8 vs 20.6 ± 7.3 min, p = 0.001), and the rate of hepatic hilar occlusion in the HD group was also higher than that in the LD group (71.4% vs 33.3%, p = 0.004). The incidence of hospitalization days and discharge time in the LD group were shorter than those in the HD group (6.3 ± 1.6 vs 8.2 ± 1.4 days, p = 0.000; 16.4 ± 5.5 vs 21.9 ± 4.6 h, p = 0.019). There was no significant difference in enzymatic parameters between the two groups after operation.
Conclusions
Although there are great difficulties and risks objectively, laparoscopic treatment of giant hepatic hemangioma is safe and feasible.
This is a preview of subscription content, log in to check access.
Access options
Buy single article
Instant access to the full article PDF.
US$ 39.95
Price includes VAT for USA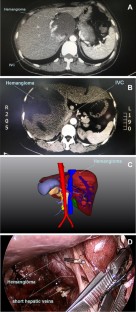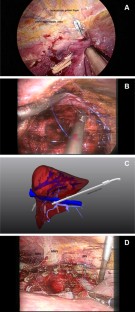 References
1.

Choi BY, Nguyen MH (2005) The diagnosis and management of benign hepatic tumors. J Clin Gastroenterol 39(5):401–412

2.

Toro A, Mahfouz AE, Ardiri A et al (2014) What is changing in indications and treatment of hepatic hemangiomas. A review. Ann Hepatol. 13(4):327–339

3.

Di CI, Koshy R, Al MS, Ardiri A, Bertino G, Toro A (2016) Giant cavernous liver hemangiomas: is it the time to change the size categories. Hepatobiliary Pancreat Dis Int. 15(1):21–29

4.

Bin J, Binghai Z, Sanyuan H (2016) Liver exposure using sterile glove pouch during laparoscopic right liver surgery in hepatocellular carcinoma patients. World J Surg 40(4):946–950

5.

Jin B, Jiang Z, Hu S et al (2018) Surgical technique and clinical analysis of twelve cases of isolated laparoscopic resection of the hepatic caudate lobe. Biomed Res Int 2018:5848309

6.

Schnelldorfer T, Ware AL, Smoot R, Schleck CD, Harmsen WS, Nagorney DM (2010) Management of giant hemangioma of the liver: resection versus observation. J Am Coll Surg 211(6):724–730

7.

Choi J, Lee YJ, Hwang DW, Chon SH, Nagpal A, Park KM (2011) Surgical treatment of giant hepatic hemangiomas: technical point of view. Am Surg 77(1):48–54

8.

Yedibela S, Alibek S, Müller V et al (2013) Management of hemangioma of the liver: surgical therapy or observation. World J Surg 37(6):1303–1312

9.

Karahasanoglu T, Altinli E, Ergüney S, Ertem M, Numan F (2001) Laparoscopic enucleation of giant liver hemangioma. Surg Endosc 15(12):1489

10.

Lanthaler M, Freund M, Nehoda H (2005) Laparoscopic resection of a giant liver hemangioma. J Laparoendosc Adv Surg Tech A. 15(6):624–626

11.

Bai DS, Chen P, Qian JJ et al (2015) Modified laparoscopic hepatectomy for hepatic hemangioma. Surg Endosc 29(11):3414–3421

12.

Kim SH, Kim KH, Kirchner VA, Lee SK (2017) Pure laparoscopic right hepatectomy for giant hemangioma using anterior approach. Surg Endosc 31(5):2338–2339

13.

Wakabayashi G, Cherqui D, Geller DA et al (2015) Recommendations for laparoscopic liver resection: a report from the second international consensus conference held in Morioka. Ann Surg 261(4):619–629
Ethics declarations
Disclosures
Jin bin, Yang Jinhuan, Du Gang, Shi Binyao, and Ma Huan have no conflicts of interest or financial ties to disclose.
Additional information
Publisher's Note
Springer Nature remains neutral with regard to jurisdictional claims in published maps and institutional affiliations.
About this article
Cite this article
Jinhuan, Y., Gang, D., Binyao, S. et al. Is laparoscopic hepatectomy suitable for giant hepatic hemangioma larger than 10 cm in diameter?. Surg Endosc 34, 1224–1230 (2020). https://doi.org/10.1007/s00464-019-06880-1
Received:

Accepted:

Published:

Issue Date:
Keywords
Laparoscopic hepatectomy

Giant hepatic hemangioma

Vascular treatment

Bleeding control