Abstract
Background
It has been argued that laparoscopy should be a standard treatment in rectal cancer due to its greater technical complexity. The objective of this study was to conduct a cost-effectiveness analysis to compare laparoscopy with open surgery for rectal cancer adjusting for age and clinical stage.
Methods
A real-world prospective cost-effectiveness cohort study was conducted with data on costs and effectiveness at individual patient level. A "genetic matching" algorithm was used to correct for selection bias. After balancing the sample groups, combined multivariate analysis of total costs and quality-adjusted life years (QALYs) was performed using seemingly unrelated regression (SUR) models. These models were first constructed without interactions and, subsequently, effects of any age-stage interaction were analyzed.
Results
The sample included 601 patients (400 by laparoscopy and 201 by open surgery). Crude cost-effectiveness analysis indicated that overall laparoscopy was cheaper and associated with higher QALYs. The SUR models without interactions showed that while laparoscopy remained dominant, the incremental effectiveness decreased to the point that it offered no statistically significant benefits over open surgery. In the subgroup analysis, at advanced stages of the disease, although none of the coefficients were significant, the mean incremental effectiveness (QALYs value) for laparoscopy was positive in younger patients and negative in older patients. Further, for advanced stages, the mean cost of open surgery was lower in both age subgroups but differences did not reach statistical significance. In early stages, laparoscopy cost was significantly lower in the subgroup younger than 70 and higher in the older subgroup.
Conclusions
The cost-effectiveness of laparoscopy in surgery for rectal cancer justifies this being the standard surgical procedure in young patients and those at initial stages. The choice of procedure should be discussed with patients who are older and/or in advanced stages of the disease.
Trial registration ClinicalTrials.gov Identifier: NCT02488161.
This is a preview of subscription content, log in to check access.
Access options
Buy single article
Instant access to the full article PDF.
US$ 39.95
Price includes VAT for USA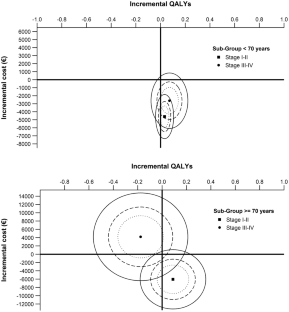 References
1.

Tanis PJ, Buskens CJ, Bemelman WA (2014) Laparoscopy for colorectal cancer. Best Pract Res Clin Gastroenterol 28:29–39

2.

Miskovic D, Ni M, Wyles SM, Kennedy RH, Francis NK, Parvaiz A, Cunningham C, Rockall TA, Gudgeon AM, Coleman MG, Hanna GB, National Training in Programme Laparoscopic Colorectal Surgery in England (2013) Is competency assessment at the specialist level achievable? A study for the national training programme in laparoscopic colorectal surgery in England. Ann Surg 257:476–482

3.

Miskovic D, Ni M, Wyles SM, Tekkis P, Hanna GB (2012) Learning curve and case selection in laparoscopic colorectal surgery: systematic review and international multicenter analysis of 4852 cases. Dis Colon Rectum 55:1300–1310

4.

Row D, Weiser MR (2010) An update on laparoscopic resection for rectal cancer. Cancer Control 17:16–24

5.

Jayne DG, Thorpe HC, Copeland J, Quirke P, Brown JM, Guillou PJ (2010) Five-year follow-up of the Medical Research Council CLASICC trial of laparoscopically assisted versus open surgery for colorectal cancer. Br J Surg 97:1638–1645

6.

Quintana JM, Anton-Ladislao A, Lázaro S, Gonzalez N, Bare M, de Larrea NF, Redondo M, Briones E, Escobar A, Sarasqueta C, Garcia-Gutierrez S, REDISSEC-CARESS, CCR group (2018) Outcomes of open versus laparoscopic surgery in patients with rectal cancer. Int J Colorectal Dis 33:99–103

7.

Quintana JM, González N, Lázaro S, Baré M, Fernández-de-Larrea N, Redondo M, Briones E, Escobar A, Sarasqueta C, García-Gutierrez S, Antón-Ladislao A, REDISSEC-CARESS/CCR group (2018) Predictors of 1- and 2-year mortality in patients with rectal cancer. Colorectal Dis 20:676–687

8.

Garrison LP, Neumann PJ, Erickson P, Marshall D, Mullins CD (2007) Using real-world data for coverage and payment decisions: the ISPOR Real-World Data Task Force report. Value Health 10:326–335

9.

Cox E, Martin BC, Van Staa T, Garbe E, Siebert U, Johnson ML (2009) Good research practices for comparative effectiveness research: approaches to mitigate bias and confounding in the design of nonrandomized studies of treatment effects using secondary data sources: the International Society for Pharmacoeconomics and Outcomes Research Good Research Practices for Retrospective Database Analysis Task Force Report—Part II. Value Health 12:1053–1061

10.

Keller DS, Champagne BJ, Reynolds HL, Stein SL, Delaney CP (2014) Cost-effectiveness of laparoscopy in rectal cancer. Dis Colon Rectum 57:564–569

11.

Braga M, Frasson M, Vignali A, Zuliani W, Capretti G, Di Carlo V (2007) Laparoscopic resection in rectal cancer patients: outcome and cost-benefit analysis. Dis Colon Rectum 50:464–471

12.

Murray A, Lourenco T, de Verteuil R, Hernandez R, Fraser C, McKinley A, Krukowski Z, Vale L, Grant A (2006) Clinical effectiveness and cost-effectiveness of laparoscopic surgery for colorectal cancer: systematic reviews and economic evaluation. Health Technol Assess 10(1–141):iii–iv

13.

Ara R, Basarir H, Keetharuth AD, Barbieri M, Weatherly HL, Sculpher MJ, Ahmed H, Brown S (2014) Are policy decisions on surgical procedures informed by robust economic evidence? A systematic review. Int J Technol Assess Health Care 30:381–393

14.

Berger ML, Dreyer N, Anderson F, Towse A, Sedrakyan A, Normand S-L (2012) Prospective observational studies to assess comparative effectiveness: the ISPOR good research practices task force report. Value Health 15:217–230

15.

Berger ML, Martin BC, Husereau D, Worley K, Allen JD, Yang W, Quon NC, Mullins CD, Kahler KH, Crown W (2014) A questionnaire to assess the relevance and credibility of observational studies to inform health care decision making: an ISPOR-AMCP-NPC Good Practice Task Force report. Value Health 17:143–156

16.

Brenner H, Kloor M, Pox CP (2014) Colorectal cancer. Lancet 383:1490–1502

17.

Glick HA, Doshi JA, Sonnad SS, Polsky D (2014) Economic evaluation in clinical trials. Oxford University Press, Oxford

18.

Ramsey S, Willke R, Briggs A, Brown R, Buxton M, Chawla A, Cook J, Glick H, Liljas B, Petitti D, Reed S (2005) Good research practices for cost-effectiveness analysis alongside clinical trials: the ISPOR RCT-CEA Task Force report. Value Health J 8:521–533

19.

Quintana JM, Antón-Ladisla A, González N, Lázaro S, Baré M, Fernández de Larrea N, Redondo M, Briones E, Escobar A, Sarasqueta C, García-Gutierrez S, REDISSEC-CARESS, CCR group (2018) Outcomes of open versus laparoscopic surgery in patients with colon cancer. Eur J Surg Oncol 44:1344–1353

20.

Quintana JM, Gonzalez N, Anton-Ladislao A, Redondo M, Bare M, Fernandez de Larrea N, Briones E, Escobar A, Sarasqueta C, Garcia-Gutierrez S, Aguirre U, REDISSEC-CARESS, CCR group (2016) Colorectal cancer health services research study protocol: the CCR-CARESS observational prospective cohort project. BMC Cancer 16:435

21.

Drummond MF (2005) Methods for the economic evaluation of health care programmes. Oxford University Press, Oxford

22.

López Bastida J, Oliva J, Antoñanzas F, García-Altés A, Gisbert R, Mar J, Puig-Junoy J (2010) A proposed guideline for economic evaluation of health technologies. Gac Sanit 24:154–170

23.

López Bastida J, Oliva J, Antoñanzas F, García-Altés A, Gisbert R, Mar J, Puig-Junoy J (2010) Spanish recommendations on economic evaluation of health technologies. Eur J Health Econ 11:513–520

24.

Badia X, Roset M, Montserrat S, Herdman M, Segura A (1999) The Spanish version of EuroQol: a description and its applications. European Quality of Life scale. Med Clin (Barc) 112(Suppl 1):79–85

25.

EuroQol Group (1990) EuroQol—a new facility for the measurement of health-related quality of life. Health Policy 16:199–208

26.

Mar J, Anton-Ladislao A, Ibarrondo O, Arrospide A, Lázaro S, Gonzalez N, Bare M, Callejo D, Redondo M, Quintana JM, REDISSEC-CARESS, CCR group (2018) Cost-effectiveness analysis of laparoscopic versus open surgery in colon cancer. Surg Endosc 32:4912–4922

27.

Lanzeta I, Mar J, Arrospide A (2016) Cost-utility analysis of an integrated care model for multimorbid patients based on a clinical trial. Gac Sanit 30:352–358

28.

Sekhon JS (2011) Multivariate and propensity score matching software with automated balance optimization: the matching package for R. J Stat Softw 42:1–52

29.

Kreif N, Grieve R, Radice R, Sadique Z, Ramsahai R, Sekhon JS (2012) Methods for estimating subgroup effects in cost-effectiveness analyses that use observational data. Med Decis Mak 32:750–763

30.

Hardin JW, Hilbe JM, Hilbe J (2007) Generalized linear models and extensions. Stata Press, Texas

31.

Willan AR, Briggs AH (2006) Statistical analysis of cost-effectiveness data. Wiley, Chichester

32.

Jensen CC, Prasad LM, Abcarian H (2012) Cost-effectiveness of laparoscopic vs open resection for colon and rectal cancer. Dis Colon Rectum 55:1017–1023

33.

Schwenk W, Haase O, Günther N, Neudecker J (2007) Methodological quality of randomised controlled trials comparing short-term results of laparoscopic and conventional colorectal resection. Int J Colorectal Dis 22:1369–1376

34.

Leung KL, Kwok SP, Lam SC, Lee JF, Yiu RY, Ng SS, Lai PB, Lau WY (2004) Laparoscopic resection of rectosigmoid carcinoma: prospective randomised trial. Lancet 363:1187–1192

35.

Chen ST, Wu MC, Hsu TC, Yen DW, Chang CN, Hsu WT, Wang CC, Lee M, Liu SH, Lee CC, Health Economics and Outcome Research Group, National Taiwan University Hospital (2018) Comparison of outcome and cost among open, laparoscopic, and robotic surgical treatments for rectal cancer: a propensity score matched analysis of nationwide inpatient sample data. J Surg Oncol 117:497–505

36.

Lakkis Z, Panis Y (2017) Is there any reason not to perform standard laparoscopic total mesorectal excision? Clin Colon Rectal Surg 30:333–338

37.

Vernet R, Borras JM, Aliste L, Antonio M, Guarga A, Manchon-Walsh P (2018) Influence of age on variation in patterns of care in patients with rectal cancer in Catalonia (Spain). Clin Transl Oncol. https://doi.org/10.1007/s12094-018-1882-8

38.

Wrenn SM, Cepeda-Benito A, Ramos-Valadez DI, Cataldo PA (2018) Patient perceptions and quality of life after colon and rectal surgery: what do patients really want? Dis Colon Rectum 61:971–978

39.

Burke JP, Martin-Perez B, Khan A, Nassif G, de Beche-Adams T, Larach SW, Albert MR, Atallah S (2016) Transanal total mesorectal excision for rectal cancer: early outcomes in 50 consecutive patients. Colorectal Dis 18:570–577
Acknowledgements
We would like to acknowledge the help of Ideas Need Communicating Language Services in improving the use of English in the manuscript.
Funding
This work was supported in part by grants from the Fondo de Investigación Sanitaria (PS09/00314, PS09/00910, PS09/00746, PS09/00805, PI09/90460, PI09/90490, PI09/90397, PI09/90453, PI09/90441); Department of Health of the Basque Country (2010111098); KRONIKGUNE—Centro de Investigación en Cronicidad (KRONIK 11/006); and the European Regional Development Fund. These institutions had no further role in the study design; in the collection, analysis and interpretation of data; in the writing of the manuscript; or in the decision to submit the paper for publication.
Ethics declarations
Disclosures
Javier Mar MD, Ane Anton-Ladislao M.Sc., Oliver Ibarrondo Ph.D., Arantzazu Arrospide Ph.D., Santiago Lázaro MD, Nerea Gonzalez Ph.D., Marisa Bare MD, Antonio Escobar MD, Maximino Redondo MD and, José M. Quintana MD have no conflicts of interest or financial ties to disclose.
Additional information
Publisher's Note
Springer Nature remains neutral with regard to jurisdictional claims in published maps and institutional affiliations.
Electronic supplementary material
Below is the link to the electronic supplementary material.
About this article
Cite this article
Mar, J., Anton-Ladislao, A., Ibarrondo, O. et al. Stage- and age-adjusted cost-effectiveness analysis of laparoscopic surgery in rectal cancer. Surg Endosc 34, 1167–1176 (2020). https://doi.org/10.1007/s00464-019-06867-y
Received:

Accepted:

Published:

Issue Date:
Keywords
Rectal cancer

Laparoscopy

Open surgery

Cost-effectiveness

Stage

Age