Abstract
Background
Pancreatic fluid collections (PFC) may develop following acute pancreatitis (AP). Endoscopic and laparoscopic internal drainage are accepted modalities for drainage of PFCs but have not been compared in a randomized trial. Our objective was to compare endoscopic and laparoscopic internal drainage of pseudocyst/walled-off necrosis following AP.
Patients and methods
Patients with symptomatic pseudocysts or walled-off necrosis suitable for laparoscopic and endoscopic transmural internal drainage were randomized to either modality in a randomized controlled trial. Endoscopic drainage comprised of per-oral transluminal cystogastrostomy. Additionally, endoscopic lavage and necrosectomy were done following a step-up approach for infected collections. Surgical laparoscopic cystogastrostomy was done for drainage, lavage, and necrosectomy. Primary outcome was resolution of PFCs by the intended modality and secondary outcome was complications.
Results
Sixty patients were randomized, 30 each to laparoscopic and endoscopic drainage. Both groups were comparable for baseline characteristics. The initial success rate was 83.3% in the laparoscopic and 76.6% in the endoscopic group (p = 0.7) after the index intervention. The overall success rate of 93.3% (28/30) and 90% (27/30) in the laparoscopic and endoscopic groups respectively was also similar (p = 1.0). Two patients in the laparoscopic group required endoscopic cystogastrostomy for persistent collections. Similarly, two patients in the endoscopic group required laparoscopic drainage. Postoperative complications were comparable between the groups except for higher post-procedure infection in the endoscopic group (19 vs. 9; p = 0.01) requiring endoscopic re-intervention.
Conclusions
Endoscopic and laparoscopic techniques have similar efficacy for internal drainage of suitable pancreatic fluid collections with < 30% debris. The choice of procedure should depend on available expertise and patient preference.
This is a preview of subscription content, log in to check access.
Access options
Buy single article
Instant access to the full article PDF.
US$ 39.95
Price includes VAT for USA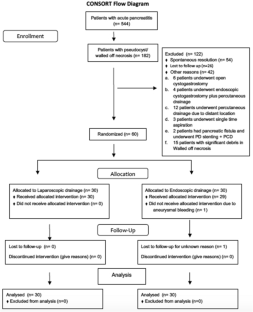 References
1.

Krishna SG, Kamboj AK, Hart PA, Hinton A, Conwell DL (2017) The changing epidemiology of acute pancreatitis hospitalizations: a decade of trends and the impact of chronic pancreatitis. Pancreas 46:482–488

2.

Roberts SE, Morrison-Rees S, John A, Williams JG, Brown TH, Samuel DG (2017) The incidence and aetiology of acute pancreatitis across Europe. Pancreatology 17:155–165

3.

Banks PA, Bollen TL, Dervenis C, Gooszen HG, Johnson CD, Sarr MG, Tsiotos GG, Vege SS (2013) Classification of acute pancreatitis–2012: revision of the Atlanta classification and definitions by international consensus. Gut 62:102–111

4.

Manrai M, Kochhar R, Gupta V, Yadav TD, Dhaka N, Kalra N, Sinha SK, Khandelwal N (2018) Outcome of acute pancreatic and peripancreatic collections occurring in patients with acute pancreatitis. Ann Surg 267:357–363

5.

Tyberg A, Karia K, Gabr M, Desai A, Doshi R, Gaidhane M, Sharaiha RZ, Kahaleh M (2016) Management of pancreatic fluid collections: A comprehensive review of the literature. World J Gastroenterol 22:2256–2270

6.

Keane MG, Sze SF, Cieplik N, Murray S, Johnson GJ, Webster GJ, Thorburn D, Pereira SP (2016) Endoscopic versus percutaneous drainage of symptomatic pancreatic fluid collections: a 14-year experience from a tertiary hepatobiliary centre. Surg Endosc 30:3730–3740

7.

Rosso E, Alexakis N, Ghaneh P, Lombard M, Smart HL, Evans J, Neoptolemos JP (2003) Pancreatic pseudocyst in chronic pancreatitis: endoscopic and surgical treatment. Dig Surg 20:397–406

8.

Fisher JM, Gardner TB (2013) Endoscopic therapy of necrotizing pancreatitis and pseudocysts. Gastrointest Endosc Clin N Am 23:787–802

9.

Varadarajulu S, Bang JY, Sutton BS, Trevino JM, Christein JD, Wilcox CM (2013) Equal efficacy of endoscopic and surgical cystogastrostomy for pancreatic pseudocyst drainage in a randomized trial. Gastroenterology 145:583–90.e1

10.

van Brunschot S, Hollemans RA, Bakker OJ, Besselink MG, Baron TH, Beger HG, Boermeester MA, Bollen TL, Bruno MJ, Carter R, French JJ, Coelho D, Dahl B, Dijkgraaf MG, Doctor N, Fagenholz PJ, Farkas G, Castillo CFD, Fockens P, Freeman ML, Gardner TB, Goor HV, Gooszen HG, Hannink G, Lochan R, McKay CJ, Neoptolemos JP, Oláh A, Parks RW, Peev MP, Raraty M, Rau B, Rösch T, Rovers M, Seifert H, Siriwardena AK, Horvath KD, van Santvoort HC (2018) Minimally invasive and endoscopic versus open necrosectomy for necrotizing pancreatitis: a pooled analysis of individual data for 1980 patients. Gut 67:697–706

11.

Oida T, Mimatsu K, Kano H, Kawasaki A, Kuboi Y, Fukino N, Kida K, Amano S (2011) Laparoscopic cystogastrostomy via the posterior approach for pancreatic pseudocyst drainage. Hepatogastroenterology 58:1771–1775

12.

Khaled YS, Malde DJ, Packer J, Fox T, Laftsidis P, Ajala-Agbo T, De Liguori Carino N, Deshpande R, O'Reilly DA, Sherlock DJ, Ammori BJ (2014) Laparoscopic versus open cystgastrostomy for pancreatic pseudocysts: a case-matched comparative study. J Hepato-Biliary-Pancreat Sci 21:818–823

13.

Aljarabah M, Ammori BJ (2007) Laparoscopic and endoscopic approaches for drainage of pancreatic pseudocysts: a systematic review of published series. Surg Endosc 21:1936–1944

14.

Garg PK, Sharma M, Madan K, Sahni P, Banerjee D, Goyal R (2010) Primary conservative treatment results in mortality comparable to surgery in patients with infected pancreatic necrosis. Clin Gastroenterol Hepatol 8:1089–1094

15.

Dindo D, Demartines N, Clavien P-A (2004) Classification of surgical complications. Ann Surg 240:205–213

16.

Lerch MM, Stier A, Wahnschaffe U, Mayerle J (2009) Pancreatic pseudocysts: observation, endoscopic drainage, or resection? Dtsch Arzteblatt Int 106:614–621

17.

Yang D, Amin S, Gonzalez S, Gonzalez S, Mullady D, Hasak S, Gaddam S, Edmundowicz SA, Gromski MA, DeWitt JM, El Zein M, Khashab MA, Wang AY, Gaspar JP, Uppal DS, Nagula S, Kapadia S, Buscaglia JM, Bucobo JC, Schlachterman A, Wagh MS, Draganov PV, Jung MK, Stevens T, Vargo JJ, Khara HS, Huseini M, Diehl DL, Keswani RN, Law R, Komanduri S, Yachimski PS, DaVee T, Prabhu A, Lapp RT, Kwon RS, Watson RR, Goodman AJ, Chhabra N, Wang WJ, Benias P, Carr-Locke DL, DiMaio CJ (2016) Transpapillary drainage has no added benefit on treatment outcomes in patients undergoing EUS-guided transmural drainage of pancreatic pseudocysts: a large multicenter study. Gastrointest Endosc 83:720–729

18.

Zerem E, Hauser G, Loga-Zec S, Kunosić S, Jovanović P, Crnkić D (2015) Minimally invasive treatment of pancreatic pseudocysts. World J Gastroenterol 21:6850–6860

19.

Palanivelu C, Senthilkumar K, Madhankumar MV, Rajan PS, Shetty AR, Jani K, Rangarajan M, Maheshkumaar GS (2007) Management of pancreatic pseudocyst in the era of laparoscopic surgery- experience from a tertiary centre. Surg Endosc 21:2262–2267

20.

Khreiss M, Zenati M, Clifford A, Lee KK, Hogg ME, Slivka A, Chennat J, Gelrud A, Zeh HJ, Papachristou GI, Zureikat AH (2015) Cyst Gastrostomy and necrosectomy for the management of sterile walled-off pancreatic necrosis: a comparison of minimally invasive surgical and endoscopic outcomes at a high-volume pancreatic center. J Gastrointest Surg 19:1441–1448

21.

Sharaiha RZ, DeFilippis EM, Kedia P, Gaidhane M, Boumitri C, Lim HW, Han E, Singh H, Ghumman SS, Kowalski T, Loren D, Kahaleh M, Siddiqui A (2015) Metal versus plastic for pancreatic pseudocyst drainage: clinical outcomes and success. Gastrointest Endosc 82:822–827

22.

Bang JY, Hasan M, Navaneethan U, Hawes R, Varadarajulu S (2017) Lumen-apposing metal stents (LAMS) for pancreatic fluid collection (PFC) drainage: may not be business as usual. Gut 66:2054–2056

23.

Bang JY, Navaneethan U, Hasan MK, Sutton B, Hawes R (2018) Varadarajulu S (2018) Non-superiority of lumen-apposing metal stents over plastic stents for drainage of walled-off necrosis in a randomised trial. Gut. https://doi.org/10.1136/gutjnl-2017-315335

24.

Varadarajulu S, Christein JD, Tamhane A, Drelichman ER, Wilcox CM (2008) Prospective randomized trial comparing EUS and EGD for transmural drainage of pancreatic pseudocysts (with videos). Gastrointest Endosc 68:1102–1111

25.

Lakhtakia S, Basha J, Talukdar R, Gupta R, Nabi Z, Ramchandani M, Kumar BVN, Pal P, Kalpala R, Reddy PM, Pradeep R, Singh JR, Rao GV, Reddy DN (2017) Endoscopic "step-up approach" using a dedicated biflanged metal stent reduces the need for direct necrosectomy in walled-off necrosis (with videos). Gastrointest Endosc 85:1243–1252

26.

Health C for D and R. Recently-Approved Devices. https://www.fda.gov/MedicalDevices/ProductsandMedicalProcedures/DeviceApprovalsandClearances/Recently-ApprovedDevices/default.htm

27.

Van Brunschot S, van Grinsven J, van Santvoort HC, Bakker OJ, Besselink MG, Boermeester MA, Bollen TL, Bosscha K, Bouwense SA, Bruno MJ, Cappendijk VC, Consten EC, Dejong CH, van Eijck CH, Erkelens WG, van Goor H, van Grevenstein WMU, Haveman JW, Hofker SH, Jansen JM, Laméris JS, van Lienden KP, Meijssen MA, Mulder CJ, Nieuwenhuijs VB, Poley JW, Quispel R, de Ridder RJ, Römkens TE, Scheepers JJ, Schepers NJ, Schwartz MP, Seerden T, Spanier BWM, Straathof JWA, Strijker M, Timmer R, Venneman NG, Vleggaar FP, Voermans RP, Witteman BJ, Gooszen HG, Dijkgraaf MG, Fockens P, Dutch Pancreatitis Study Group (2018) Endoscopic or surgical step-up approach for infected necrotizing pancreatitis: a multicenter randomized trial. Lancet 391:51–58
Acknowledgements
We thank Dr. Vishnubhatla Sreenivas from the department of Biostatistics at the All India Institute of Medical Sciences, New Delhi for his great help with the statistical analysis.
Funding
The study was supported by a Grant from Indian Council of Medical Research.
Ethics declarations
Disclosures
Drs. Pramod Kumar Garg, Danishwar Meena, Divya Babu, Rajesh Kumar Padhan, Rajan Dhingra, Asuri Krishna, Subodh Kumar, Mahesh Chandra Misra, and Virinder Kumar Bansal have no conflicts of interest or financial ties to disclose.
Additional information
Publisher's Note
Springer Nature remains neutral with regard to jurisdictional claims in published maps and institutional affiliations.
Electronic supplementary material
Below is the link to the electronic supplementary material.
About this article
Cite this article
Garg, P.K., Meena, D., Babu, D. et al. Endoscopic versus laparoscopic drainage of pseudocyst and walled-off necrosis following acute pancreatitis: a randomized trial. Surg Endosc 34, 1157–1166 (2020). https://doi.org/10.1007/s00464-019-06866-z
Received:

Accepted:

Published:

Issue Date:
Keywords
Pancreatic fluid collections

Pseudocyst

Walled off necrosis

Cystogastrostomy

Endoscopic

Laparoscopic