Abstract
Background and aims
Endoscopic therapy of gastroesophageal reflux disease (GERD) overcomes the "treatment gap" for patients with refractory GERD, who are not willing to go into surgery. We propose an easy and efficient technique that is referred to as anti-reflux mucosectomy (ARMS) using cap-assisted endoscopic mucosal resection (EMR-C) which could be called ARMS-C. This study aimed to investigate the short-term outcomes of ARMS-C in GERD patients.
Methods
From December 2016 to February 2018, we performed ARMS-C in 33 patients with pathologic reflux disease and esophageal hypersensitivity. ARMS-C involved endoscopic mucosal resection at the circumference of the esophagogastric junction (EGJ), resulting in narrowing of the hiatal opening after healing. The GERD symptoms, 24-h pH monitoring results, manometry, endoscopy, and EGJ distensibility were compared before and after the procedure.
Results
Six months after ARMS-C, 63% of patients discontinued the use of pump inhibitors (PPIs), while 30% patients reduced their PPI dose. The GERD questionnaire scores significantly decreased after ARMS-C, from 11.0 to 6.0 (P < 0.001). The median DeMeester score and acid exposure time based on pH monitoring also improved after ARMS-C. Furthermore, the median flap valve grade and EGJ distensibility decreased from 3.0 to 1.0 (P < 0.001) and from 19.0 to 13.9 (P < 0.001), respectively. Two patients were treated with balloon dilation due to stricture, but no other serious adverse events were encountered.
Conclusion
ARMS-C may be an effective and safe treatment method for GERD in terms of short-term outcomes.
This is a preview of subscription content, log in to check access.
Access options
Buy single article
Instant access to the full article PDF.
US$ 39.95
Price includes VAT for USA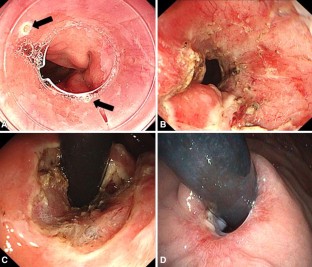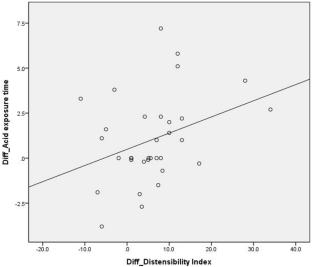 References
1.

Dent J, El-Serag HB, Wallander MA, Johansson S (2005) Epidemiology of gastro-oesophageal reflux disease: a systematic review. Gut 54:710–717

2.

Subramanian CR, Triadafilopoulos G (2015) Refractory gastroesophageal reflux disease. Gastroenterol Rep 3:41–53

3.

Bais JE, Bartelsman JF, Bonjer HJ, Cuesta MA, Go PM, Klinkenberg-Knol EC, van Lanschot JJ, Nadorp JH, Smout AJ, van der Graaf Y, Gooszen HG (2000) Laparoscopic or conventional Nissen fundoplication for gastro-oesophageal reflux disease: randomised clinical trial. The Netherlands Antireflux Surgery Study Group. Lancet (London, England) 355:170–174

4.

Hatemi I, Esatoglu SN (2017) What is the long term acid inhibitor treatment in gastroesophageal reflux disease? What are the potential problems related to long term acid inhibitor treatment in gastroesophageal reflux disease? How should these cases be followed? Turk J Gastroenterol 28:S57–S60

5.

Naggie S, Miller BA, Zuzak KB, Pence BW, Mayo AJ, Nicholson BP, Kutty PK, McDonald LC, Woods CW (2011) A case-control study of community-associated Clostridium difficile infection: no role for proton pump inhibitors. Am J Med 124:276.e271–276.e277

6.

Nabi Z, Reddy DN (2016) Endoscopic management of gastroesophageal reflux disease: revisited. Clin Endosc 49:408–416

7.

Inoue H, Ito H, Ikeda H, Sato C, Sato H, Phalanusitthepha C, Hayee B, Eleftheriadis N, Kudo SE (2014) Anti-reflux mucosectomy for gastroesophageal reflux disease in the absence of hiatus hernia: a pilot study. Ann Gastroenterol 27:346–351

8.

Soetikno RM, Gotoda T, Nakanishi Y, Soehendra N (2003) Endoscopic mucosal resection. Gastrointest Endosc 57:567–579

9.

Hill LD, Kozarek RA, Kraemer SJ, Aye RW, Mercer CD, Low DE, Pope CE 2nd (1996) The gastroesophageal flap valve: in vitro and in vivo observations. Gastrointest Endosc 44:541–547

10.

Jonasson C, Moum B, Bang C, Andersen KR, Hatlebakk JG (2012) Randomised clinical trial: a comparison between a GerdQ-based algorithm and an endoscopy-based approach for the diagnosis and initial treatment of GERD. Aliment Pharmacol Ther 35:1290–1300

11.

de Bortoli N, Martinucci I, Bertani L, Russo S, Franchi R, Furnari M, Tolone S, Bodini G, Bolognesi V, Bellini M, Savarino V, Marchi S, Savarino EV (2016) Esophageal testing: what we have so far. World J Gastrointest Pathophysiol 7:72–85

12.

DeMeester TR, Johnson LF (1976) The evaluation of objective measurements of gastroesophageal reflux and their contribution to patient management. Surg Clin N Am 56:39–53

13.

Hopkins J, Switzer NJ, Karmali S (2015) Update on novel endoscopic therapies to treat gastroesophageal reflux disease: a review. World J Gastrointest Endosc 7:1039–1044

14.

Lipka S, Kumar A, Richter JE (2015) No evidence for efficacy of radiofrequency ablation for treatment of gastroesophageal reflux disease: a systematic review and meta-analysis. Clin Gastroenterol Hepatol 13:1058–1067.e1051

15.

Kim MS, Holloway RH, Dent J, Utley DS (2003) Radiofrequency energy delivery to the gastric cardia inhibits triggering of transient lower esophageal sphincter relaxation and gastroesophageal reflux in dogs. Gastrointest Endosc 57:17–22

16.

Keller J (2018) What is the impact of high-resolution manometry in the functional diagnostic workup of gastroesophageal reflux disease? Visc Med 34:101–108

17.

Weijenborg PW, Savarino E, Kessing BF, Roman S, Costantini M, Oors JM, Smout AJ, Bredenoord AJ (2015) Normal values of esophageal motility after antireflux surgery; a study using high-resolution manometry. Neurogastroenterol Motil 27:929–935

18.

Seleem WM, Hanafy AS, Mohamed SI (2018) Endoscopic management of refractory gastroesophageal reflux disease. Scand J Gastroenterol 53:390–397

19.

Kwiatek MA, Pandolfino JE, Hirano I, Kahrilas PJ (2010) Esophagogastric junction distensibility assessed with an endoscopic functional luminal imaging probe (EndoFLIP). Gastrointest Endosc 72:272–278
Acknowledgements
We thank the Center for Clinical Development (CHA Health Systems) for providing the statistical help.
Ethics declarations
Disclosures
Authors In kyung Yoo, Weon Jin Ko, Hak Su Kim, Hee Kyung Kim, Jung Hyun Kim, Won Hee Kim, Sung Pyo Hong, Abdullah Özgür Yeniova, Joo Young Cho have no conflicts of interest or financial ties to disclose.
Additional information
Publisher's Note
Springer Nature remains neutral with regard to jurisdictional claims in published maps and institutional affiliations.
About this article
Cite this article
Yoo, I.k., Ko, W.J., Kim, H.S. et al. Anti-reflux mucosectomy using a cap-assisted endoscopic mucosal resection method for refractory gastroesophageal disease: a prospective feasibility study. Surg Endosc 34, 1124–1131 (2020). https://doi.org/10.1007/s00464-019-06859-y
Received:

Accepted:

Published:

Issue Date:
Keywords
Gastroesophageal reflux disease

Anti-reflux mucosectomy

Short-term outcomes

Cap-assisted endoscopic mucosal resection