Abstract
Introduction
Nowadays in Europe, laparoscopic ventral mesh rectopexy is the gold standard treatment of external rectal prolapse (ERP). The benefits of robot ventral mesh rectopexy (RVMR) are not clearly defined. The primary objective of the study was to evaluate the long-term results of RVMR. The secondary objective was to determine predictive factors of recurrence.
Design
Monocentric, retrospective study. Data, both pre-operative and peri-operative, were collected, and follow-up data were assessed prospectively by a telephone questionnaire. The study was performed in a tertiary referral center.
Methods
Between August 2007 and August 2017, we evaluate all consecutive patients who underwent RVMR for ERP by three different surgeons. The primary outcome was the recurrence rate perceived by patients. Secondary outcome were functional results based on Knowles–Eccersley–Scott-Symptom score for constipation and Wexner score for incontinence, compared before and after surgery.
Results
During the study period 96 patients (86 women) underwent RVMR. The mean age was 62.3 years (range 16–90). Twelve patients had a history of ERP repair. Sixty-nine patients were analyzed for long-term outcomes with a mean follow-up of 37 months (range 2.3–92 months). Recurrence rate was 12.5%. After surgery, constipation was significantly reduced: 44 patients were constipated before surgery versus 23 after surgery. Six patients described de novo constipation (6.25%). Fecal incontinence was significantly reduced: 59 patients were incontinent before surgery versus 14 after surgery. No predictive factor for recurrence was identified after multivariate analysis. No mesh related complications were related.
Conclusions
In conclusion, RVMR presents good long-term functional result and a recurrence rate similar to LVMR as published in the literature. The rate of mesh related complications seems lower.
This is a preview of subscription content, log in to check access.
Access options
Buy single article
Instant unlimited access to the full article PDF.
US$ 39.95
Price includes VAT for USA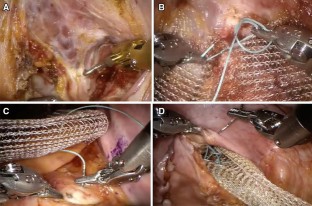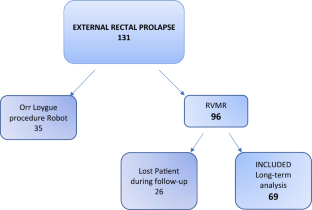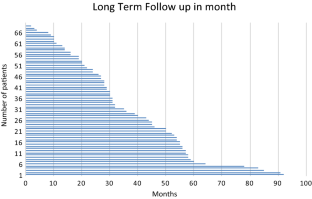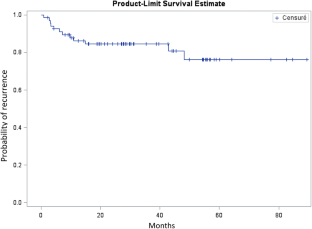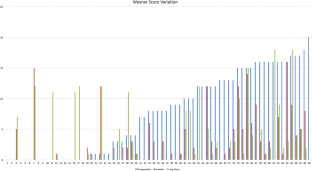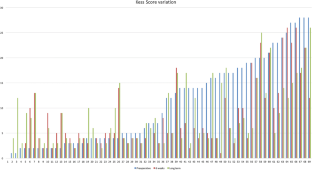 References
1.

D'Hoore A (2003) Obstructed defecation. Colorectal Dis 5:280–287

2.

Bordeianou L, Hicks CW, Kaiser AM et al (2014) Rectal prolapse: an overview of clinical features, diagnosis and patients-specific management strategies. J Gastrointest Surg 18:1059–1069

3.

Marchal F, Bresler L, Ayav A et al (2005) Long-term results of Delorme's procedure and Orr–Loygue rectopexy to treat complete rectal prolapse. Dis Colon Rectum 48:1785–1790

4.

Madiba TE, Baig MK, Wexner SD (2005) Surgical management of rectal prolapse. Arch Surg 140:63–73

5.

Penninckx F, D'Hoore A, Sohier S, Kerremans R (1996) Abdominal rectopexy versus Delorme's procedure: a predicable outcome. Int J Colorectal Dis 12:49–50

6.

Senagore AJ (2003) Management of rectal prolapse: the role of laparoscopic approaches. Semin Laparosc Surg 10:197–202

7.

Salkeld G, Bagia M, Solomon M (2004) Economic impact of laparoscopic versus open abdominal rectopexy. Br J Surg 91:1188–1191

8.

Brown AJ, Anderson JH, McKee RF, Finlay IG (2004) Strategy for selection of operation for rectal prolapse based on clinical criteria. Dis Colon Rectum 47:103–107

9.

Cadeddu F, Sileri P, Grande M, De Luca E, Franceschilli L, Milito G (2012) Focus on abdominal rectopexy for full thickness rectal prolapse: meta-analysis of literature. Tech Coloproctol 16:37–53

10.

D'Hoore A, Cadoni R, Penninckx F (2004) Long term outcome of laparoscopic ventral rectopexy for total rectal prolapse. Br J Surg 91:1500–1505

11.

Mollen RM, Kuipers JH, Van Hoek F (2000) Effects of rectal mobilization and lateral ligaments division on colonic anorectal function. Dis Colon Rectum 43:1283–1287

12.

Scaglia M, Fasth S, Hallgren T, Nordgren S, Oresland T, Hulten L (1994) Abdominal rectopexy for rectal prolapse: influence of surgical technique on functional outcome. Dis Colon Rectum 37:805–813

13.

Speakman CTM, Madden MV, Nicholls RJ, Kamm MA (1991) Lateral ligament division during rectopexy causes constipation but prevents recurrence: results of a prospective randomized study. Br J Surg 78:1431–1433

14.

D'Hoore A, Penninckx F (2006) Laparoscopic ventral recto(colpo)pexy for rectal prolapse: surgical technique ant outcome for 109 patients. Surg Endosc 20:1919–1923

15.

Consten E, Van Iersel J, Verheijen P, Broeders I, Wolthuis A, D'Hoore A (2015) Long-term outcome after laparoscopic ventral mesh rectopexy. Ann Surg 262:742–748

16.

Van Iersel J, Paulides T, Verheijen P, Lumley J, Broeders I, Consten E (2016) Current status of laparoscopic and robotic ventral mesh rectopexy for external and internal rectal prolapse. World J Gastroenterol 22:4977–4987

17.

Rogers C, McCawley N, Hanly M, Deasy J, Mc Namara A, Burke P (2018) Trends in treatment of rectal prolapse: population analysis. Int J Colorectal Dis 33:459–465

18.

Evans C, Stevenson A, Sileri P, Mercer-Jones M, Dixon A, Cunningham C, Jones O, Lindsey I (2015) A multicenter collaboration to assess the safety of laparoscopic ventral rectopexy. Dis Colon Rectum 58:799–807

19.

Makela-Kaikkonen J, Rautio T, Kairaluoma M, Carpelan-Holmstrom M, Kossi J, Rautio A, Ohtonen P, Makela J (2018) Does ventral rectopexy improve pelvic floor function in the long term? Dis Colon Rectum 61:230–238

20.

Faucheron JL, Trilling B, Girard E, Sage PY, Barbois S, Reche F (2015) Anterior rectopexy for full-thickness rectal prolapse: technical and functional results. World J Gastroenterol 21:5049–5055

21.

Ayav A, Bresler L, Brunaud L, Boissel P (2004) Early results of one-year robotic surgery using the Da Vinci system to perform advanced laparoscopic procedures. J Gastrointest Surg 8:720–726

22.

Munz Y, Moorthy K, Kudchadkar R, Hernandez JD, Martin S, Darzi A, Rockall T (2004) Robotic assisted rectopexy. Am J Surg 187:88–92

23.

Perrenot C, Germain A, Scherrer ML, Ayav A, Brunaud L, Bresler L (2013) Long-term outcomes of robot assisted laparoscopic rectopexy for rectal prolapse. Dis Colon Rectum 56:909–914

24.

Inaba S, Sujatha-Bhaskar S, Koh Y, Jafari D, Milss D, Carmichael C, Stamos J, Pigazzi A (2017) Robotic ventral mesh rectopexy for rectal prolapse: a single institution experience. Tech Coloproctol 21:667–671

25.

Van Iersel J, Formijne Jonkers H, Paulides T, Verheijen P, Draaisma W, Consten E, Broeders I (2017) Robot-assisted ventral mesh rectopexy for rectal prolapse: a 5-year experience at tertiary referral center. Dis Colon Rectum 60:1215–1223

26.

Makela-Kaikkonen J, Rautio T, Koivurova S, Paakko E, Ohtonen P, Biancari F, Makela J (2016) Anatomical and functional changes to the pelvic floor after robotic versus laparoscopic ventral rectopexy: a randomized study. Int Urogynecol J 27:1837–1845

27.

Ramage L, Georgio P, Tekkis P, Tan E (2015) Is robotic ventral mesh rectopexy better than laparoscopy in the treatment of rectal prolapse and obstructed defecation? A meta-analysis. Tech Coloproctol 19:381–389

28.

Knowles CH, Scott SM, Legg PE, Allison ME, Lunniss PJ (2002) Level of classification performance of KESS (syndrome scoring system for constipation) validated in a prospective series of 105 patients. Dis Colon Rectum 45:842–843

29.

Seong MK, Jung S, Kim TW, Joh HK (2011) Comparative analysis of summary scoring systems in measuring fecal incontinence. J Korean Surg 81:326–331

30.

Dindo D, Demartines N, Clavien PA (2004) Classification of surgical complications: a new proposal with evaluation in a cohort of 6336, patients and results of a survey. Ann Surg 240:205–213

31.

Badrek-Al Amoudi AH, Greenslade GL, Dixon AR (2013) How to deal with complications after laparoscopic ventral mesh rectopexy: lessons learnt from a tertiary referral centre. Colorectal Dis 15:707–712

32.

Cherylin W, Andrew R, Stevenson M (2017) Risk factors for recurrence after laparoscopic ventral rectopexy. Dis Colon Rectum 60:178–186

33.

Gurland B, Carvalho ME, Ridgeway B, Paraiso MF, Hull T, Zutshi M (2017) Should we offer ventral rextopexy to patients with recurrent external rectal prolapse? J Colorectal Dis 32:1561–1567

34.

Mantoo S, Podevin J, Regenet N, Rigaud J, Lehur PA, Meurette G (2013) Is robotic-assisted ventral mesh rectopexy superior to laparoscopic ventral mesh rectopexy in the management of obstructed defecation? Colorectal Dis 15:469–475

35.

Germain A, Perrenot C, Scherrer ML et al (2014) Long-term outcome of robotic-assisted laparoscopic rectopexy for full-thickness rectal prolapse in elderly patients. Colorectal Dis 16:198–202

36.

Smart NJ, Pathak S, Boorman P, Daniels IR (2013) Synthetic or biological mesh use in laparoscopic ventral mesh rectopexy—a systematic review. Colorectal Dis 15:650–654

37.

Heemskerk J, De Hoog DE, Van Germert WG, Baeten CG, Greve JW, Bouvy ND (2007) Robot assisted vs conventional laparoscopic rectopexy for rectal prolapse: a comparative study of costs and time. Dis Colon Rectum 50:1825–1830

38.

Jensen CC, Madoff RD (2016) Value of robotic colorectal surgery. Br J Surg 103:12–13

39.

Faucheron JL, Trilling B, Barbois S, Sage PY, Waroquet PA, Reche F (2016) Day case robotic ventral rectopexy compared with day case laparoscopic ventral rectopexy: a prospective study. Tech Coloproctol 20:665–700
Ethics declarations
Disclosures
Laurent Bresler, MD, PhD has financial disclosure; he is Proctor for Intuitive Surgical (Sunnyvale, CA). Agathe Postillon, Cyrille Perrenot, MD, Adeline Germain, MD, PhD, Marie-Lorraine Scherrer, MD, Cyrille Buisset, MD, Laurent Brunaud, MD, PhD, and Ahmet Ayav, MD, PhD have no conflicts of interest or financial ties to disclose.
Additional information
Publisher's Note
Springer Nature remains neutral with regard to jurisdictional claims in published maps and institutional affiliations.
About this article
Cite this article
Postillon, A., Perrenot, C., Germain, A. et al. Long-term outcomes of robotic ventral mesh rectopexy for external rectal prolapse. Surg Endosc 34, 930–939 (2020) doi:10.1007/s00464-019-06851-6
Received:

Accepted:

Published:

Issue Date:
Keywords
Constipation

Fecal incontinence

Rectal prolapse

Rectopexy

Recurrence

Robotics