Abstract
Background
A similar technique to measure crural closure tension has not been described before and with this method there is now a possibility to optimise this operation with objective measures, a hundred years after it was first described. The aims of this study were to develop a reliable method for measuring the tension of crural closure during hiatal hernia repair and to describe the tension characteristics of crural closure.
Methods
50 patients underwent crural tension measurement. Hiatal surface area (HSA) was measured intraoperatively and a Sauter FH 50 Universal Digital Force Gauge was used to measure the tension of crural closure during cruroplasty. Outcome measures included the mean tension of the crural closure and the presence of any muscle splitting during the cruroplasty.
Results
A combined total of 148 interrupted cruroplasty sutures were performed in all fifty patients. Each interrupted suture had three tension measurements recorded. The mean standard deviation amongst 148 sets of tension measurements was 0.27. Age, hiatal width and HSA were positively correlated with crural tension with r values of 0.44 (p = 0.0015), 0.81 (p < 0.0001) and 0.78 (p < 0.0001), respectively. Strength of association was low for age (r2 = 0.19) but moderate for hiatal width and HSA (r2 = 0.65 and 0.61, respectively). The presence of muscle splitting occurred at higher crural closure tension (5.3 N vs. 1.62 N, p < 0.0001). The lowest observed mean crural closure tension causing muscle splitting was 3.52 N (IQR 3.93–6.77 N).
Conclusions
We have developed a technique for measuring the tension of crural closure during laparoscopic repair of hiatal hernia which is reproducible, quick, of low cost and requires only minimal additional equipment. Initial findings suggest that crural closure tension up to ~ 4 N could be the permissible tension threshold for suture cruroplasty and higher tension often results in muscle splitting during cruroplasty.
This is a preview of subscription content, log in to check access.
Access options
Buy single article
Instant unlimited access to the full article PDF.
US$ 39.95
Price includes VAT for USA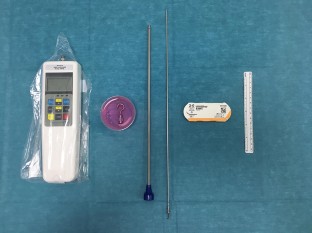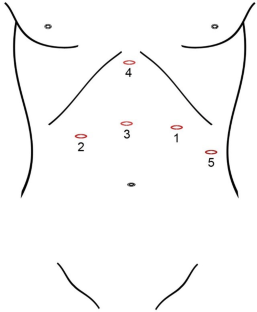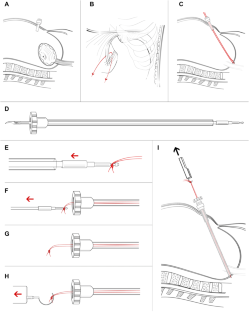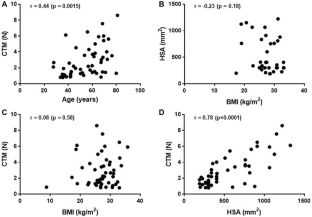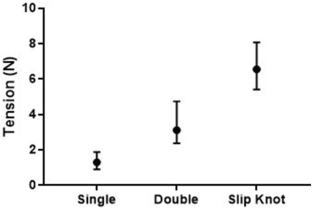 References
1.

Frantzides CT, Madan AK, Carlson MA, Stavropoulos GP (2002) A prospective, randomized trial of laparoscopic polytetrafluoroethylene (PTFE) patch repair vs simple cruroplasty for large hiatal hernia. Arch Surg 137:649–652

2.

Carlson MA, Richards CG, Frantzides CT (1999) Laparoscopic prosthetic reinforcement of hiatal herniorrhaphy. Dig Surg 16:407–410

3.

Granderath FA, Schweiger UM, Kamolz T, Asche KU, Pointer R (2005) Laparoscopic Nissen fundoplication with prosthetic hiatal closure reduces postoperative intrathoracic wrap herniation: preliminary results of a prospective randomized functional and clinical study. Arch Surg 140:40–48

4.

Paul MG, DeRosa RP, Petrucci PE, Palmer ML, Danovitch SH (1997) Laparoscopic tension-free repair of large paraesophageal hernias. Surg Endosc 11:303–307

5.

Trus TL, Bax T, Richardson WS, Branum GD, Mauren SJ, Swanstrom LL, Hunter JG (1997) Complications of laparoscopic paraesophageal hernia repair. J Gastrointest Surg 1:221–228

6.

Tatum RP, Shalhub S, Oelschlager BK, Pellegrini CA (2008) Complications of PTFE mesh at the diaphragmatic hiatus. J Gastrointest Surg 12:953–957

7.

Oelschlager BK, Pellegrini CA, Hunter J, Soper N, Brunt M, Sheppard B, Jobe B, Polissar N, Mitsumori L, Nelson J, Swanstrom L (2006) Biologic prosthesis reduces recurrence after laparoscopic paraesophageal hernia repair a multicentre, prospective, randomized trial. Ann Surg 244:481–488

8.

Oelschlager BK, Pellegrini CA, Hunter JG, Brunt ML, Soper NJ, Sheppard BC, Polissar NL, Neradilek MB, Mitsumori LM, Rohmann CA, Swanstrom LL (2011) Biologic prosthesis to prevent recurrence after laparoscopic paraesophageal hernia repair: long-term follow-up from a multicentre, prospective, randomized trial. J Am Coll Surg 213:461–468

9.

Tam V, Winger DG, Nason KS (2016) A systematic review and meta-analysis of mesh versus suture cruroplasty in laparoscopic large hiatal hernia repair. Am J Surg 211:226–238

10.

Memon MA, Memon B, Yunus RM, Khan S (2016) Suture cruroplasty versus prosthetic hiatal herniorrhaphy for large hiatal hernia: A meta-analysis and systematic review of randomized controlled trials. Ann Surg 263:258–266

11.

Furnee EJ, Smith CD, Hazebroek EJ (2015) The use of mesh in laparoscopic large hiatal hernia repair: A survey of European surgeons. Surg Laparosc Endosc Percutan Tech 25:307–311

12.

Bradley DD, Louie BE, Farivar AS, Wilshire CL, Baik PU, Aye RW (2015) Assessment and reduction of diaphragmatic tension during hiatal hernia repair. Surg Endosc 29:796–804

13.

Granderath FA, Schweiger UM, Pointner R (2007) Laparoscopic antireflux surgery: tailoring the hiatal closure to the size of hiatal surface area. Surg Endosc 21:542–548

14.

Braghetto J, Korn O, Csendes A, Burdiles P, Valladares H, Brunet L (2010) Postoperative results after laparoscopic approach for treatment of large hiatal hernias: is mesh always needed? Is the addition of an antireflux procedure necessary? Int Surg 95:80–87

15.

Ringley CD, Bochkarev V, Ahmed SI, Vitamvas ML, Oleynikov D (2006) Laparoscopic hiatal hernia repair with human acellular dermal matrix patch: our initial experience. Am J Surg 192:767–772

16.

Morino M, Giaccone C, Pellegrino L, Rebecchi F (2006) Laparoscopic management of giant hiatal hernia: factors influencing long-term outcome. Surg Endosc 20:1011–1016

17.

Goers TA, Cassera MA, Dunst CM, Swanstrom LL (2011) Paraesophageal hernia repair with biomesh does not increase postoperative dysphagia. J Gastrointest Surg 15:1743–1749

18.

Zaninotto G, Portale G, Costantini M, Fiamingo P, Rampado S, Guirroli E, Nicoletti L, Ancona E (2007) Objective follow-up after laparoscopic repair of large type III hiatal hernia. Assessment of safety and durability. World J Surg 31:2177–2183

19.

Dallemagne B, Kohnen L, Perretta S, Weerts J, Markiewicz S, Jehaes C (2011) Laparoscopic repair of paraesophageal hernia: long-term follow-up reveals good clinical outcome despite high radiological recurrence rate. Ann Surg 253:291–296

20.

Grubnik VV, Malynovskyy AV (2013) Laparoscopic repair of hiatal hernias: new classification supported by long-term results. Surg Endosc 27:4337–4346

21.

Silver E, Wu R, Grady J, Song L (2016) Knot security – how is it affected by suture technique, material, size, and number of throws? J Oral Maxillofac Surg 74:1304–1312

22.

Soresi AL (1919) Diaphragmatic hernia: its unsuspected frequency: diagnosis and technique for radical cure. Ann Surg 69:254–270
Acknowledgements
The authors thank Cally Kilduff for the illustrations.
Funding
Department of Upper GI Surgery, Northwick Park & St Mark's Hospitals, Watford Road, Harrow, London, HA1 3UJ, United Kingdom. There were no other sources of funding from other organisations
Ethics declarations
Disclosures
Lalin Navaratne, Hutan Ashrafian and Alberto Isla have no conflicts of interest or financial ties to disclose.
Additional information
Publisher's Note
Springer Nature remains neutral with regard to jurisdictional claims in published maps and institutional affiliations.
Electronic supplementary material
Below is the link to the electronic supplementary material.
Supplementary material 1 (M4V 240909 kb)
About this article
Cite this article
Navaratne, L., Ashrafian, H. & Martínez-Isla, A. Quantifying tension in tension-free hiatal hernia repair: a new intra-operative technique. Surg Endosc 33, 3040–3049 (2019) doi:10.1007/s00464-019-06843-6
Received:

Accepted:

Published:

Issue Date:
Keywords
Suture cruroplasty

Mesh cruroplasty

Crural tension measurement

Hiatal hernia

Hiatal surface area