Abstract
Background
Lateral pelvic lymph node dissection (LPND) is a technically demanding procedure. Consequently, there is a possibility of incomplete dissection of lateral pelvic lymph nodes (LPNs). We aimed to identify metastatic LPNs intraoperatively in real-time under dual guidance of fluorescence imaging and 3D lymphovascular reconstruction, and then to remove them completely.
Methods
Rectal cancer patients who were scheduled to undergo LPND after preoperative chemoradiotherapy (CRT) were prospectively enrolled. We traced changes in suspected metastatic LPNs during preoperative CRT and defined them as index LPNs on post-CRT imaging studies. For fluorescence imaging, indocyanine green (ICG) at a dose of 2.5 mg was injected transanally around the tumor before the operation. For 3D reconstruction images, each patient underwent preoperative axial CT scan with contrast (0.6 mm slice thickness). These images were then manipulated with OsiriX. Index LPNs and essential structures in the pelvic sidewall, such as the obturator nerve, were reconstructed with abdominal arteries from 3D volume rendering. All surgical procedures were performed via laparoscopic or robotic approach.
Results
From March to July 2017, ten rectal cancer patients underwent total mesorectal excision with LPND after preoperative CRT under dual image guidance. Bilateral LPND was performed in five patients. All index LPNs among ICG-bearing lymph nodes were clearly identified intraoperatively by matching with their corresponding 3D images. Pathologic LPN metastasis was confirmed in four patients (40.0%) and in five of the 15 dissected pelvic sidewalls (33.0%). All metastatic LPNs were identified among index LPNs. Four (80.0%) of the five metastatic LPNs were located in the internal iliac area.
Conclusion
Index LPNs among ICG-bearing lymph nodes in pelvic sidewall were clearly identified and completely removed by matching with their corresponding 3D reconstruction images. Further studies and long-term oncologic outcomes are required to determine the real impact of dual image guidance in LPND.
Graphical abstract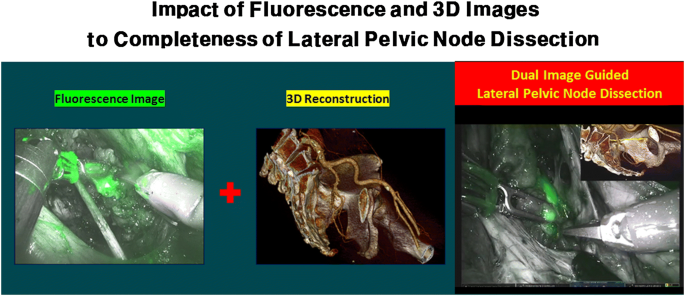 This is a preview of subscription content, log in to check access.
Access options
Buy single article
Instant unlimited access to the full article PDF.
US$ 39.95
Price includes VAT for USA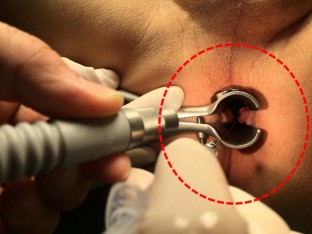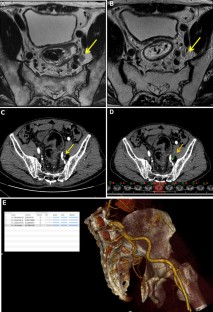 References
1.

Akiyoshi T, Ueno M, Matsueda K, Konishi T, Fujimoto Y, Nagayama S, Fukunaga Y, Unno T, Kano A, Kuroyanagi H, Oya M, Yamaguchi T, Watanabe T, Muto T (2014) Selective lateral pelvic lymph node dissection in patients with advanced low rectal cancer treated with preoeprative chemoradiotherapy based on pretreatment imaging. Ann Surg Oncol 21:189–196

2.

Lim SB, Yu CS, Kim CW, Yoon YS, Park SH, Kim TW, Kim JH, Kim JC (2013) Clinical implication of additional selective lateral lymph node excision in patients with locally advanced rectal cancer who underwent preoperative chemoradiotherapy. Int J Colorectal Dis 28:1667–1674

3.

Kim HJ, Choi GS, Park JS, Park SY, Cho SH, Lee SJ, Kang BW, Kim JG (2017) Optimal treatment strategies for clinically suspicious lateral pelvic lymph node metastasis in rectal cancer. Oncotarget 8:100724–100733

4.

Park JS, Choi GS, Lim KH, Jang YS, Kim HJ, Park SY, Jun SH (2011) Laparoscopic extended lateral pelvic node dissection following total mesorectal excision for advanced rectal cancer: initial clinical experience. Surg Endosc 25:3322–3329

5.

Liang JT (2011) Technical feasibility of laparoscopic lateral pelvic lymph node dissection for patients with low rectal cancer after concurrent chemoradiation therapy. Ann Surg Oncol 18:153–159

6.

Boni L, David G, Mangano A, Dionigi G, Rausei S, Spampatti S, Cassinotti E, Fingerhut A (2015) Clinical applications of indocyanine green (ICG) enhanced fluorescence in laparoscopic surgery. Surg Endosc 29:2046–2055

7.

Nishigori N, Koyama F, Nakagawa T, Nakamura S, Ueda T, Inoue T, Kawasaki K, Obara S, Nakamoto T, Fujii H, Nakajima Y (2016) Visualization of lymph/blood flow in laparoscopic colorectal cancer surgery by ICG fluorescence imaging (Lap-IGFI). Ann Surg Oncol 23(Suppl 2):S266–S274

8.

Noura S, Ohue M, Seki Y, Tanaka K, Motoori M, Kishi K, Miyashiro I, Ohigashi H, Yano M, Ishikawa O, Miyamoto Y (2010) Feasibility of a lateral region sentinel node biopsy of lower rectal cancer guided by indocyanine green using a near-infrared camera system. Ann Surg Oncol 17:144–151

9.

Schaafsma BE, van der Vorst JR, Gaarenstroom KN, Peters AA, Verbeek FP, de Kroon CD, Trimbos JB, van Poelgeest MI, Frangioni JV, van de Velde CJ, Vahrmeijer AL (2012) Randomized comparison of near-infrared fluorescence lymphatic tracers for sentinel lymph node mapping of cervical cancer. Gynecol Oncol 127:126–130

10.

Kim HJ, Park JS, Choi GS, Park SY, Lee HJ (2017) Fluorescence-guided robotic total mesorectal excision with lateral pelvic lymph node dissection in locally advanced rectal cancer: a video presentation. Dis Colon Rectum 60:1332–1333

11.

Volonte F, Pugin F, Buchs NC, Spaltenstein J, Hagen M, Ratib O, Morel P (2013) Console-integrated stereoscopic OsiriX 3D volume-rendered images for da Vinci colorectal robotic surgery. Surg Innov 20:158–163

12.

Chae MP, Hunter-Smith DJ, Rozen WM (2016) Comparative study of software techniques for 3D mapping of perforators in deep inferior epigastric artery perforator flap planning. Gland Surg 5:99–106

13.

Yao F, Wang J, Yao J, Hang F, Lei X, Cao Y (2017) Three-dimensional image reconstruction with free open-source OsiriX software in video-assisted thoracoscopic lobectomy and segmentectomy. Int J Surg 39:16–22

14.

Rosset A, Spadola L, Ratib O (2004) OsiriX: an open-source software for navigating in multidimensional DICOM images. J Digital Imaging 17:205–216

15.

Kim HJ, Choi GS, Park JS, Park SY, Lee HJ, Woo IT, Park IK (2018) Selective lateral pelvic lymph node dissection: a comparative study of the robotic versus laparoscopic approach. Surg Endosc 32:2466–2473

16.

Kobayashi H, Mochizuki H, Kato T, Mori T, Kameoka S, Shirouzu K, Sugihara K (2009) Outcomes of surgery alone for lower rectal cancer with and without pelvic sidewall dissection. Dis Colon Rectum 52:567–576

17.

Sugie T, Sawada T, Tagaya N, Kinoshita T, Yamagami K, Suwa H, Ikeda T, Yoshimura K, Niimi M, Shimizu A, Toi M (2013) Comparison of the indocyanine green fluorescence and blue dye methods in detection of sentinel lymph nodes in early-stage breast cancer. Ann Surg Oncol 20:2213–2218

18.

James DR, Ris F, Yeung TM, Kraus R, Buchs NC, Mortensen NJ, Hompes RJ (2015) Fluorescence angiography in laparoscopic low rectal and anorectal anastomoses with pinpoint perfusion imaging–a critical appraisal with specific focus on leak risk reduction. Colorectal Dis 17(Suppl 3):16–21

19.

Kim JC, Lee JL, Park SH (2017) Interpretative guidelines and possible indications for indocyanine green fluorescence imaging in robot-assisted sphincter-saving operations. Dis Colon Rectum 60:376–384

20.

Boni L, Fingerhut A, Marzorati A, Rausei S, Dionigi G, Cassinotti E (2017) Indocyanine green f fluorescence angiography during laparoscopic low anterior resection: results of a case-matched study. Surg Endosc 31:1836–1840

21.

Cahill RA, Anderson M, Wang LM, Lindsey I, Cunningham C, Mortensen NJ (2012) Near-infrared (NIR) laparoscopy for intraoperative lymphatic road-mapping and sentinel node identification during definitive surgical resection of early-stage colorectal neoplasia. Surg Endosc 26:197–204

22.

Hirche C, Mohr Z, Kneif S, Doniga S, Murawa D, Strik M, Hunerbein M (2012) Ultrastaging of colon cancer by sentinel node biopsy using fluorescence navigation with indocyanine green. Int J Colorectal Dis 27:319–324

23.

Huynh KT, Bilchik AJ (2015) Sentinel lymph node biopsy and nodal ultrastaging in colorectal cancer. Cancer J 21:11–16

24.

Tsioulias GJ, Wood TF, Morton DL, Bilchik AJ (2000) Lymphatic mapping and focused analysis of sentinel lymph nodes upstage gastrointestinal neoplasms. Arch Surg 135:926–932

25.

Merrie AE, Phillips LV, Yun K, McCall JL (2001) Skip metastases in colon cancer: assessment by lymph node mapping using molecular detection. Surgery 129:684–691

26.

Akiyoshi T, Matsueda K, Hiratsuka M, Unno T, Nagata J, Nagasaki T, Konishi T, Fujimoto Y, Nagayama S, Fukunaga Y, Ueno M (2015) Indications for lateral pelvic lymph node dissection based on magnetic resonance imaging before and after preoperative chemoradiotherapy in patients with advanced low-rectal cancer. Ann Surg Oncol 22(Suppl 3):S614–S620

27.

KSAR Study Group for Rectal Cancer (2017) Essential items for structured reporting of rectal cancer MRI: 2016 Consensus Recommendation from the Korean Society of Abdominal Radiology. Korean J Radiol 18:132–151

28.

Mori T, Takahashi K, Yasuno M (1998) Radical resection with autonomic nerve preservation and lymph node dissection techniques in lower rectal cancer surgery and its results: the impact of lateral lymph node dissection. Langenbecks Arch Surg 383:409–415

29.

Kawahara H, Nimura H, Watanabe K, Kobayashi T, Kashiwagi H, Yanaga K (2007) Where does the first lateral pelvic lymph node receive drainage from? Dig Surg 24:413–417

30.

Volonté F, Pugin F, Bucher P, Sugimoto M, Ratib O, Morel P (2011) Augmented reality and image overlay navigation with OsiriX in laparoscopic and robotic surgery: not only a matter of fashion. J Hepatobiliary Pancreat Sci 18:506–509

31.

Volonté F, Buchs NC, Pugin F, Spaltenstein J, Schiltz B, Jung M, Hagen M, Ratib O, Morel P (2013) Augmented reality to the rescue of the minimally invasive surgeon. The usefulness of the interposition of stereoscopic images in the Da Vinci robotic console. Int J Med Robot 9:e34–e38

32.

Fujita S, Akasu T, Mizusawa J, Saito N, Kinugasa Y, Kanemitsu Y, Ohue M, Fujii S, Shiozawa M, Yamaguchi T, Moriya Y, Colorectal Cancer Study Group of Japan Clinical Oncology Group (2012) Postoperative morbidity and mortality after mesorectal excision with and without lateral lymph node dissection for clinical stage II or stage III lower rectal cancer (JCOG0212): results from a multicentre, randomised controlled, non-inferiority trial. Lancet Oncol 13:616–621

33.

Moriya Y, Sugihara K, Akasu T, Fujita S (1997) Importance of extended lymphadenectomy with lateral node dissection for advanced lower rectal cancer. World J Surg 21:728–732
Acknowledgments
This research was supported by Basic Science Research Program through the National Research Foundation of Korea (NRF) funded by the Ministry of Science, ICT and future Planning.(2016R1C1B2016002).
Ethics declarations
Disclosures
Hye Jin Kim, Gyu-Seog Choi, Jun Seok Park, Soo Yeun Park, Seung Hyun Cho, An Na Seo, and Ghuil Suk Yoon have no conflicts of interest or financial ties to disclose.
Additional information
Publisher's Note
Springer Nature remains neutral with regard to jurisdictional claims in published maps and institutional affiliations.
Electronic supplementary material
Below is the link to the electronic supplementary material.
Supplementary material 1 Supplement Digtal Content 1. Video clip of dual image-guided LPND (MPG 307720 kb)
About this article
Cite this article
Kim, H.J., Choi, G., Park, J.S. et al. S122: impact of fluorescence and 3D images to completeness of lateral pelvic node dissection. Surg Endosc 34, 469–476 (2020). https://doi.org/10.1007/s00464-019-06830-x
Received:

Accepted:

Published:

Issue Date:
Keywords
Lateral pelvic node dissection

ICG-fluorescence

3D reconstruction

Image-guided surgery