Abstract
Background
During laparoscopic operations, the trocars are often out of the viewing field of the laparoscope. Blind insertion of laparoscopic instruments is potentially dangerous especially when they are pointed or hot. A guidance of the instrument to the target point has the potential to improve the safety of instrument insertion.
Methods
In this study, the effect of a mechanical and an optical tool for guided instrument insertion into the abdominal cave was evaluated. The controlled prospective randomized study measured safety and efficiency of instrument insertion by 60 novices in an inanimate standardized box trainer. A post-test questionnaire based on the NASA Task Load Index prompted for the subjective impressions of the subjects.
Results
Instrument insertion with optical guidance showed a shorter (p = 0.002) insertion time (median 87.5 s for nine insertions) compared with blind insertion (median 112.0 s for nine insertions). The error number with optical guidance (median 0.5) was lower (p = 0.064) compared with blind insertion (median 1.0). The mechanical guidance showed a shorter (p = 0.001) insertion time (median 89.0 s for nine insertions) and less (p = 0.044) touch errors (median 0) compared with blind insertion. The results of the two guidance tools (mechanical vs. optical guidance) showed no significant difference. In the questionnaire, 89% of the novices subjectively judged the mechanical guidance tool better than blind insertion. The assessments of optical compared to mechanical guidance turned out quite similar.
Conclusions
In the experimental setup, instrument insertion with a guidance tool performed faster and safer compared with blind insertion. The subjective assessments confirmed the benefit of instrument guidance.
This is a preview of subscription content, log in to check access.
Access options
Buy single article
Instant unlimited access to the full article PDF.
US$ 39.95
Price includes VAT for USA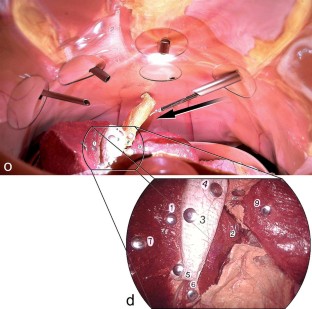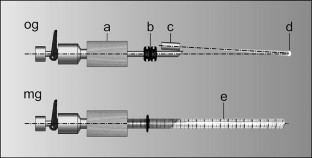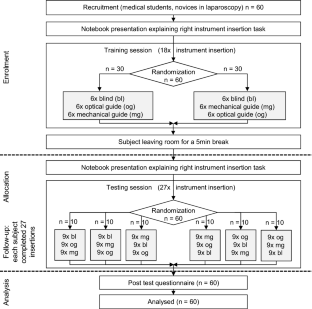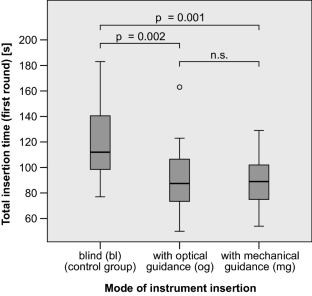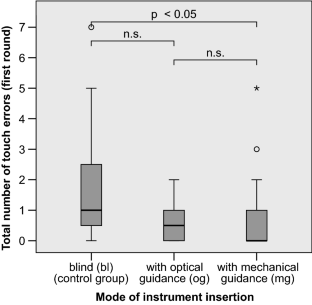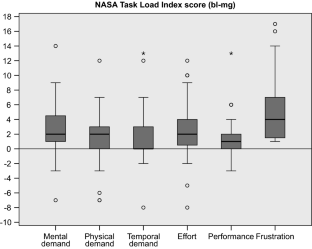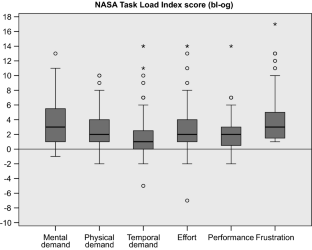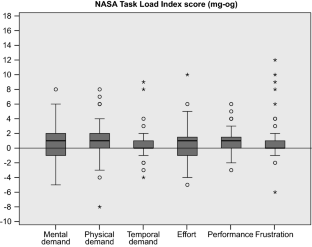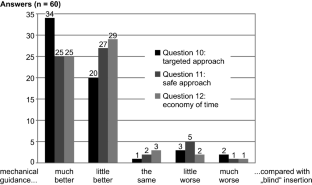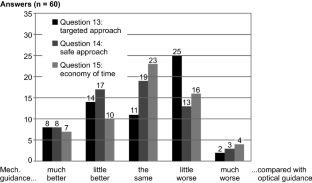 References
1.

Martin KE, Moore CM, Tucker R, Fuchshuber P, Robinson T (2016) Quantifying inadvertent thermal bowel injury from the monopolar instrument. Surg Endosc 30:4776–4784

2.

Kaplan JR, Lee Z, Eun DD, Reese AC (2016) Complications of minimally invasive surgery and their management. Curr Urol Rep 17:47

3.

Cornette B, Berrevoet F (2016) Trocar Injuries in Laparoscopy: techniques, tools, and means for prevention. A systematic review of the literature. World J Surg 40:2331–2341

4.

van der Voort M, Heijnsdijk EAM, Gouma DJ (2004) Bowel injury as a complication of laparoscopy. Brit J Surg 91:1253–1258

5.

Levy B, Mobasheri M (2017) Principles of safe laparoscopic surgery. Surgery (Oxford) 35:216–219

6.

Rajab TK (2013) Modified trocar with laser diode for instrument guidance. Surg Innov 20:604–606

7.

Schulz KF, Altman DG, Moher D, Grp C (2010) CONSORT 2010 Statement: updated guidelines for reporting parallel group randomised trials. Bmj-Brit Med J 340:c332

8.

Hart SG, Staveland LE (1988) Development of NASA-TLX (task load index): results of empirical and theoretical research. In: Peter AH, Najmedin M (eds) Advances in psychology. Elsevier, North-Holland, pp 139–183

9.

Khoiy KA, Mirbagheri A, Farahmand F (2016) Automatic tracking of laparoscopic instruments for autonomous control of a cameraman robot. Minim Invasive Ther Allied Technol 25:121–128

10.

Franz AM, Haidegger T, Birkfellner W, Cleary K, Peters TM, Maier-Hein L (2014) Electromagnetic tracking in medicine-a review of technology, validation, and applications. IEEE T Med Imaging 33:1702–1725

11.

Lahanas V, Loukas C, Georgiou E (2016) A simple sensor calibration technique for estimating the 3D pose of endoscopic instruments. Surg Endosc 30:1198–1204

12.

Lahanas V, Loukas C, Smailis N, Georgiou E (2015) A novel augmented reality simulator for skills assessment in minimal invasive surgery. Surg Endosc 29:2224–2234
Acknowledgments
We gratefully acknowledge the implementation of two line laser modules to achieve laser cross-functionality by Patrick Haas and the suggestion of a "mechanical" guidance tool by PhD Sebastian Halder (TWT). We are also very thankful for the statistical support of the Institute for Clinical Epidemiology and Applied Biometry (Tübingen University).
Funding
The Panorama-Camera project is funded by the German Federal Ministry of Economics and Technology. Grant Number: KF2171006LW3
Ethics declarations
Disclosures
W. Kunert, C. Land, M. Braun, J. Reichold, A. Kirschniak and C. Falch had and have no conflicts of interest or financial ties to disclose.
Additional information
Publisher's Note
Springer Nature remains neutral with regard to jurisdictional claims in published maps and institutional affiliations.
About this article
Cite this article
Kunert, W., Land, C., Braun, M. et al. The impact of guided instrument insertion during laparoscopy: a randomized study with novices in an optical box trainer. Surg Endosc 34, 787–795 (2020) doi:10.1007/s00464-019-06829-4
Received:

Accepted:

Published:

Issue Date:
Keywords
Laparoscopic surgery

Laser guide

Trocar with laser

Instrument insertion

Randomized controlled trial

Experimental setup