Abstract
Background
Handheld laparoscopic robotized instruments have been developed to combine the advantages of a robotic operation system and conventional laparoscopic instruments. Direct objective standards are needed to quantify surgeons' skill level and validate the advantages of new instruments. This study describes and objectively evaluates the use of a robotized instrument using a force-sensing test platform.
Methods
The test platform consists of 12 rings on a hypersensitive force sensor. Forty volunteers were recruited: the expert group included 20 laparoscopic experts and the novice group included 20 medical students in their 4th year without laparoscopic skills. The baseline of the two groups was identified using a conventional needle holder. Participants then repeated the test with the robotized needle holder after training. The maximum force and impulse of each ring were analyzed for each group. Institutional review board approval is not needed for this study.
Results
Significantly lower maximum force and impulse were observed in the expert group than in the novice group during the baseline test (all P < 0.05). After training, a significant difference remained in maximum force and impulse between the two groups using the robotized needle holder (all P < 0.05). Within each group, there was no difference in maximum force or impulse using the robotized needle holder after training compared to that on using the conventional needle holder (all P > 0.05).
Conclusions
The maximum force and impulse recorded by a test platform can accurately identify participants' laparoscopic skill level. Six hours' training can ensure that experts master the use of the robotized needle holder, but this training session is too short for novices to improve their performance with a new instrument. The force-sensing test platform can reflect the suturing characteristics of users based on the skill level and is useful for laparoscopic suture training.
This is a preview of subscription content, log in to check access.
Access options
Buy single article
Instant unlimited access to the full article PDF.
US$ 39.95
Price includes VAT for USA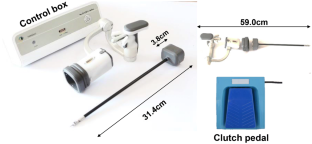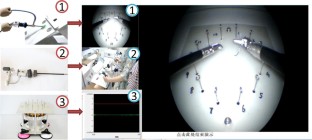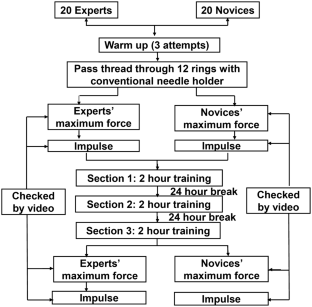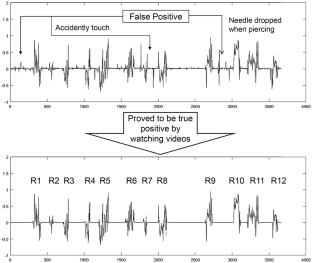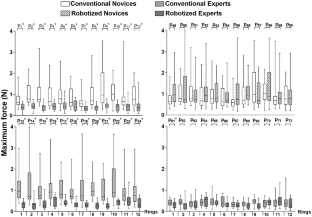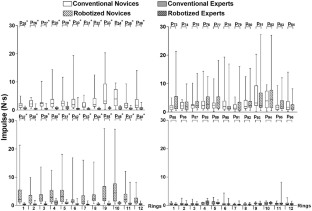 References
1.

Koh DH, Jang WS, Park JW, Ham WS, Han WK, Rha KH, Choi YD (2018) Efficacy and safety of robotic procedures performed using the da Vinci robotic surgical system at a single institute in Korea: experience with 10000 cases. Yonsei Med J 59:975–981

2.

Matthews CA (2009) Surgical techniques: robot-assisted laparoscopic colposacropexy with the da Vinci® surgical system. J Robot Surg 3:35–39

3.

Yin L, Wang S, Zuo S (2018) Water-jet outer sheath with braided shape memory polymer tubes for upper gastrointestinal tract screening. Int J Med Robot 14:e1944

4.

Krebs HI, Celestino J, Williams D, Ferraro M, Volpe B, Hogan N (2004) 24 A wrist extension for MIT-MANUS. In: Bien ZZ, Stefanov D (eds) Advances in rehabilitation robotics: human-friendly technologies on movement assistance and restoration for people with disabilities. Springer, Berlin Heidelberg, Berlin, Heidelberg, pp 377–390

5.

Dakin GF, Gagner M (2003) Comparison of laparoscopic skills performance between standard instruments and two surgical robotic systems. Surg Endosc 17:574–579

6.

Casella DP, Fox JA, Schneck FX, Cannon GM, Ost MC (2013) Cost analysis of pediatric robot-assisted and laparoscopic pyeloplasty. J Urol 189:1083–1086

7.

Tsuda S, Oleynikov D, Gould J, Azagury D, Sandler B, Hutter M, Ross S, Haas E, Brody F, Satava R (2015) SAGES TAVAC safety and effectiveness analysis: da Vinci® surgical system (Intuitive Surgical, Sunnyvale, CA). Surg Endosc 29:2873–2884

8.

Sánchez-Margallo JA, Sánchez-Margallo FM (2017) Initial experience using a robotic-driven laparoscopic needle holder with ergonomic handle: assessment of surgeons' task performance and ergonomics. Int J Comp Assist Radiol Surg 12:2069–2077

9.

De Wilde RL, Herrmann A (2013) Robotic surgery—advance or gimmick? Best Pract Res Clin Obstet Gynaecol 27:457–469

10.

Simon J, Finter F, Ignatius A, Meilinger M, Durselen L (2011) Maximum tensile force of different suture techniques in reconstruction of the renal remnant after nephron-sparing surgery. Surg Endosc 25:503–507

11.

Cundy TP, Thangaraj E, Rafii-Tari H, Payne CJ, Azzie G, Sodergren MH, Yang GZ, Darzi A (2015) Force-sensing enhanced simulation environment (ForSense) for laparoscopic surgery training and assessment. Surgery 157:723–731

12.

Bensignor T, Morel G, Reversat D, Fuks D, Gayet B (2016) Evaluation of the effect of a laparoscopic robotized needle holder on ergonomics and skills. Surg Endosc 30:446–454

13.

De Win G, Van Bruwaene S, Aggarwal R, Crea N, Zhang Z, De Ridder D, Miserez M (2013) Laparoscopy training in surgical education: the utility of incorporating a structured preclinical laparoscopy course into the traditional apprenticeship method. Surg Ed 70:596–605

14.

Nguyen NT, Mayer KL, Bold RJ, Larson M, Foster S, Ho HS, Wolfe BM (2000) Laparoscopic suturing evaluation among surgical residents. J Surg Res 93:133–136

15.

Champion JK, Hunter J, Trus T, Laycock W (1996) Teaching basic video skills as an aid in laparoscopic suturing. Surg Endosc 10:23–25

16.

Stefanidis D, Sierra R, Korndorffer JR Jr, Dunne JB, Markley S, Touchard CL, Scott DJ (2006) Intensive continuing medical education course training on simulators results in proficiency for laparoscopic suturing. Am J Surg 191:23–27

17.

Dehabadi M, Fernando B, Berlingieri P (2014) The use of simulation in the acquisition of laparoscopic suturing skills. Int J Surg 12:258–268

18.

Horeman T, Dankelman J, Jansen FW, van den Dobbelsteen JJ (2014) Assessment of laparoscopic skills based on force and motion parameters. IEEE Trans Biomed Eng 61:805–813

19.

Hardon SF, Horeman T, Bonjer HJ, Meijerink WJHJ (2018) Force-based learning curve tracking in fundamental laparoscopic skills training. Surg Endosc 32:3609–3621

20.

Yang K, Perez M, Hubert N, Hossu G, Perrenot C, Hubert J (2017) Effectiveness of an integrated video recording and replaying system in robotic surgical training. Ann Surg 265:521–526
Acknowledgements
The authors would like to thank all volunteers in this study and our cooperation group from Harbin Institute of Technology for offering use of the handheld robotized instrument.
Funding
This study was supported by the project innovation team of Hubei Province (Grant No. WJ2017C0004) and the Fundamental Research Funds for Central Universities (Grant No. 2042017kf0164).
Ethics declarations
Disclosure
Drs. Jing Feng, Kun Yang, Zhang Zhang, Man Li, XiaoJia Chen, Zhiyuan Yan, Zhijiang Du and XingHuan Wang have no conflicts of interest or financial ties to disclose.
Additional information
Publisher's Note
Springer Nature remains neutral with regard to jurisdictional claims in published maps and institutional affiliations.
Electronic supplementary material
Below is the link to the electronic supplementary material.
About this article
Cite this article
Feng, J., Yang, K., Zhang, Z. et al. Handheld laparoscopic robotized instrument: progress or challenge?. Surg Endosc 34, 719–727 (2020) doi:10.1007/s00464-019-06820-z
Received:

Accepted:

Published:

Issue Date:
Keywords
Robotized needle holder

Force sensor

Suture

Laparoscopic surgery

Multiple freedom