Abstract
Background
POEM has been successfully performed in patients with spastic esophageal disorders (SED), such as diffuse esophageal spasm, jackhammer esophagus, and type 3 achalasia. We performed a systematic review and meta-analysis to evaluate its efficacy in these patients and if total average myotomy length and prior medical or endoscopic treatments affected clinical success.
Methods
PubMed, EMBASE, Google-Scholar, Scopus, and Cochrane Review were searched for studies on POEM in SED from 2008 to September 2018. Clinical success was determined by Eckardt score (≤ 3) at follow-up. Sub-group analysis was performed based on myotomy length and evaluates the effect of prior treatments on clinical success.
Results
9 studies with 210 patients were included in the final analysis. We found that the pooled rate of clinical success for POEM was 89.6% (95% CI 83.5–93.1, 95% PI 83.4–93.7, I2 = 0%). In three studies (50 patients), where total myotomy length was < 10 cm, the pooled rate of clinical success was 91.1% (95% CI 79.5–96.4, I2 = 0%). In six studies (160 patients), the length was > 10 cms and the pooled rate of clinical success was 89.1% (95% CI 83.0–93.2, I2 = 0%). The difference between these results was not statistically significant (p = 0.69). Additionally, a meta-regression analysis showed that prior treatment status did not significantly affect the primary outcome (p = 0.43).
Conclusions
While it is well known that POEM is a safe and effective treatment for spastic esophageal disorders, we conclude that variation in total myotomy length and prior endoscopic or medical treatments did not have a significant effect on clinical success.
This is a preview of subscription content, log in to check access.
Access options
Buy single article
Instant unlimited access to the full article PDF.
US$ 39.95
Price includes VAT for USA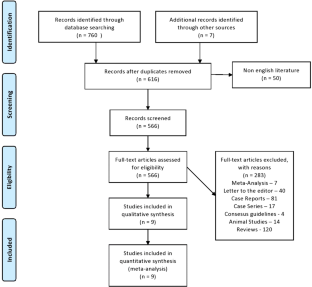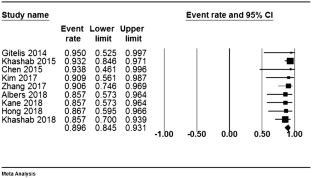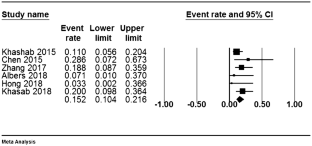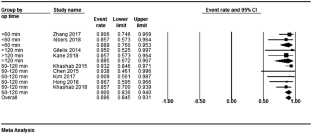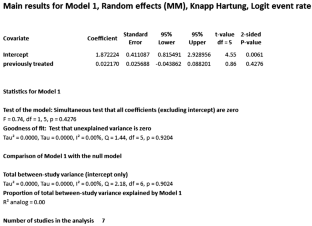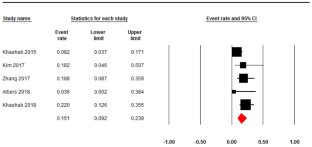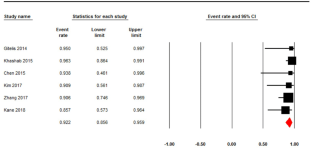 References
1.

Bredenoord AJ, Fox M, Kahrilas PJ, Pandolfino JE, Schwizer W, Smout AJ (2012) Chicago classification criteria of esophageal motility disorders defined in high resolution esophageal pressure topography. Neurogastroenterol Motil 24(Suppl 1):57–65

2.

Pasricha PJ, Hawari R, Ahmed I, Chen J, Cotton PB, Hawes RH et al (2007) Submucosal endoscopic esophageal myotomy: a novel experimental approach for the treatment of achalasia. Endoscopy 39(9):761–764

3.

Inoue H, Minami H, Kobayashi Y, Sato Y, Kaga M, Suzuki M et al (2010) Peroral endoscopic myotomy (POEM) for esophageal achalasia. Endoscopy 42(4):265–271

4.

Kahrilas PJ, Katzka D, Richter JE (2017) Clinical practice update: the use of per-oral endoscopic myotomy in achalasia: expert review and best practice advice from the AGA institute. Gastroenterology 153(5):1205–1211

5.

Kane ED, Budhraja V, Desilets DJ, Romanelli JR (2019) Myotomy length informed by high-resolution esophageal manometry (HREM) results in improved per-oral endoscopic myotomy (POEM) outcomes for type III achalasia. Surg Endosc 33(3):886–894

6.

Patti MG, Pellegrini CA, Arcerito M, Tong J, Mulvihill SJ, Way LW (1995) Comparison of medical and minimally invasive surgical therapy for primary esophageal motility disorders. Arch Surg 130(6):609–615 (discussion 15–16)

7.

Khan MA, Kumbhari V, Ngamruengphong S, Ismail A, Chen YI, Chavez YH et al (2017) Is POEM the answer for management of spastic esophageal disorders? A systematic review and meta-analysis. Dig Dis Sci 62(1):35–44

8.

Moher D, Liberati A, Tetzlaff J, Altman DG (2009) Preferred reporting items for systematic reviews and meta-analyses: the PRISMA statement. Ann Intern Med 151(4):264–269

9.

Stang A (2010) Critical evaluation of the Newcastle-Ottawa scale for the assessment of the quality of nonrandomized studies in meta-analyses. Eur J Epidemiol 25(9):603–605

10.

DerSimonian R, Laird N (1986) Meta-analysis in clinical trials. Control Clin Trials 7(3):177–188

11.

Sutton AJAK, Jones DR et al (2000) Methods for meta-analysis in medical research. Wiley, New York

12.

Higgins JP, Thompson SG, Spiegelhalter DJ (2009) A re-evaluation of random-effects meta-analysis. J R Stat Soc 172(1):137–159

13.

Riley RD, Higgins JP, Deeks JJ (2011) Interpretation of random effects meta-analyses. BMJ 342:d549

14.

Higgins JP, Thompson SG, Deeks JJ, Altman DG (2003) Measuring inconsistency in meta-analyses. BMJ 327(7414):557–560

15.

Kanwal F, White D (2012) "Systematic reviews and meta-analyses" in clinical gastroenterology and hepatology. Clin Gastroenterol Hepatol 10(11):1184–1186

16.

Guyatt GH, Oxman AD, Kunz R, Woodcock J, Brozek J, Helfand M et al (2011) GRADE guidelines: 7 rating the quality of evidence–inconsistency. J Clin Epidemiol 64(12):1294–1302

17.

Easterbrook PJ, Berlin JA, Gopalan R, Matthews DR (1991) Publication bias in clinical research. Lancet 337(8746):867–872

18.

Albers D, Frieling T, Dakkak D, Kuhlbusch-Zicklam R, Tox U, Gittinger M et al (2018) Peroral endoscopic myotomy (POEM) is effective in treatment of noncardiac chest pain caused by hypercontractile esophageal motility disorders: results of the POEM-HYPE-Study. Z Gastroenterol 56(11):1337–1342

19.

Chen X, Li QP, Ji GZ, Ge XX, Zhang XH, Zhao XY et al (2015) Two-year follow-up for 45 patients with achalasia who underwent peroral endoscopic myotomy. Eur J Cardiothorac Surg 47(5):890–896

20.

Gitelis ME, Chiao G, Zapf M, Yetasook AK, Carbray J, Ujiki MB (2014) PerOral endoscopic myotomy (POEM) offers consistent success rates for all achalasia types. Gastroenterology 146(5):1042

21.

Hong S, Ko WJ, Cho JY (2018) Peroral endoscopic myotomy can be effective and safe therapeutic modality for patients with spastic esophageal disorder. Gastrointest Endosc 87(6):568

22.

Khashab MA, Familiari P, Draganov PV, Aridi HD, Cho JY, Ujiki M et al (2018) Peroral endoscopic myotomy is effective and safe in non-achalasia esophageal motility disorders: an international multicenter study. Endosc Int Open 6(8):E1031–E1036

23.

Khashab MA, Messallam AA, Onimaru M, Teitelbaum EN, Ujiki MB, Gitelis ME et al (2015) International multicenter experience with peroral endoscopic myotomy for the treatment of spastic esophageal disorders refractory to medical therapy (with video). Gastrointest Endosc 81(5):1170–1177

24.

Kim WH, Cho JY, Ko WJ, Hong SP, Hahm KB, Cho JH et al (2017) Comparison of the outcomes of peroral endoscopic myotomy for achalasia according to manometric subtype. Gut Liver 11(5):642–647

25.

Zhang W, Linghu EQ (2017) Peroral endoscopic myotomy for type III achalasia of Chicago classification: outcomes with a minimum follow-up of 24 months. J Gastrointest Surg 21(5):785–791

26.

Schlottmann F, Luckett DJ, Fine J, Shaheen NJ, Patti MG (2018) Laparoscopic heller myotomy versus peroral endoscopic myotomy (POEM) for achalasia: a systematic review and meta-analysis. Ann Surg 267(3):451–460

27.

Filicori F, Dunst CM, Sharata A, Abdelmoaty WF, Zihni AM, Reavis KM et al (2018) Long-term outcomes following POEM for non-achalasia motility disorders of the esophagus. Surg Endosc 33(5):1632–1639

28.

Mittal Ravinder K et al (2013) Longitudinal muscle dysfunction in achalasia esophagus and its relevance. J Neurogastroenterol Motil 19(2):126–136

29.

Leconte M, Douard R, Gaudric M, Dumontier I, Chaussade S, Dousset B (2007) Functional results after extended myotomy for diffuse oesophageal spasm. Br J Surg 94(9):1113–1118
Acknowledgements
The authors would like to thank Emily Glenn, MLS, McGoogan Library of Medicine, University of Nebraska Medical Center who assisted in the literature search.
Ethics declarations
Disclosures
This study was not supported by any funding or grants. This study will, in part, be presented as a Lecture Presentation at Digestive Disease Week (DDW) 2019. Mouen Khashab is a consultant and on the medical advisory board for Boston Scientific and Olympus. He is also a consultant for Medtronic. Dr(s). Chandan, Choudhry Chandan, Jha, Mashiana and Hewlett All other authors have no conflict of interest or financial ties to disclose.
Additional information
Publisher's Note
Springer Nature remains neutral with regard to jurisdictional claims in published maps and institutional affiliations.
About this article
Cite this article
Chandan, S., Mohan, B.P., Chandan, O.C. et al. Clinical efficacy of per-oral endoscopic myotomy (POEM) for spastic esophageal disorders: a systematic review and meta-analysis. Surg Endosc 34, 707–718 (2020). https://doi.org/10.1007/s00464-019-06819-6
Received:

Accepted:

Published:

Issue Date:
Keywords
Diffuse esophageal spasm

Nutcracker esophagus

Achalasia

Esophageal motility