Abstract
Background
Malignant strictures and fistulas of the esophagus adversely affect quality of life (QOL) and prognosis, and stenting is considered a useful therapy for improving QOL. However, the predictive factors for improving dysphagia after esophageal stenting are unclear. This retrospective cohort study aimed to evaluate patients with esophageal malignant strictures and fistulas who underwent stenting and investigate the factors for dysphagia improvement after stenting.
Methods
Twenty-four patients with malignant esophageal strictures and fistulas were treated with a self-expandable metallic stent over a period of 5 years and 6 months. The main outcome was improvement in the dysphagia score. We divided the patients into dysphagia improved and non-improved groups after esophageal stenting. Sex, age, cause of stenting (primary or non-primary esophageal cancers), prior treatments, such as chemotherapy and radiation, type of esophageal stents (covered or non-covered), dysphagia score before stenting, and Eastern Cooperative Oncology Group (ECOG) performance status (PS) of the patients before stenting were evaluated. Student's t test and Fisher's exact test were used for continuous and categorical variables, respectively. Factors with a P value < 0.2, age, and sex were included and evaluated using a multiple logistic regression model. Statistical significance was defined as a P value < 0.05.
Results
Stent placements succeeded in all cases without fatal complications. The dysphagia score improved in 15 patients. Twelve patients had primary lesions, and another 12 had non-primary lesions. The reasons for stenting were malignant strictures in 20 patients and esophageal fistulas in 4 patients. There were no significant differences in any factors, except PS before stenting (P = 0.003), between the improved and non-improved groups. Multiple logistic regression analysis results demonstrated that improvement in the dysphagia score was significantly associated with PS before stenting (adjusted odds ratio = 0.035, 95% CI 0.003–0.44, P = 0.009).
Conclusions
Esophageal stenting is safe and effective in patients with malignant esophageal strictures and fistulas. PS is an independent factor for dysphagia improvement after stenting.
This is a preview of subscription content, log in to check access.
Access options
Buy single article
Instant unlimited access to the full article PDF.
US$ 39.95
Price includes VAT for USA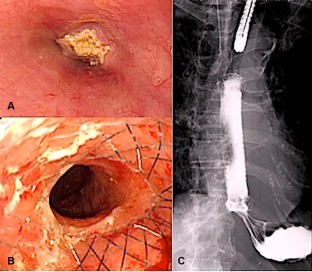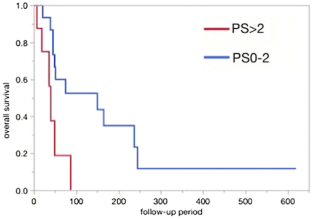 References
1.

Sharma P, Kozarek R, Practice Parameters Committee of American College of G (2010) Role of esophageal stents in benign and malignant diseases. Am J Gastroenterol 105:258–273 (quiz 274)

2.

Chen HY, Ma XM, Ye M, Hou YL, Xie HY, Bai YR (2014) Esophageal perforation during or after conformal radiotherapy for esophageal carcinoma. J Radiat Res 55:940–947

3.

Wlodarczyk JR, Kuzdzal J (2018) stenting in palliation of unresectable esophageal cancer. World J Surg 42:3988–3996

4.

Kujawski K, Stasiak M, Rysz J (2012) The evaluation of esophageal stenting complications in palliative treatment of dysphagia related to esophageal cancer. Med Sci Monit 18:Cr323–Cr329

5.

Mellow MH, Pinkas H (1985) Endoscopic laser therapy for malignancies affecting the esophagus and gastroesophageal junction. Analysis of technical and functional efficacy. Arch Intern Med 145:1443–1446

6.

Medeiros VS, Martins BC, Lenz L, Ribeiro MSI, de Paulo GA, Lima MS, Safatle-Ribeiro AV, Kawaguti FS, Pennacchi C, Geiger SN, Bastos VR, Ribeiro-Junior U, Sallum RA, Maluf-Filho F (2017) Adverse events of self-expandable esophageal metallic stents in patients with long-term survival from advanced malignant disease. Gastrointest Endosc 86:299–306

7.

Ribeiro MSI, da Costa Martins B, Simas de Lima M, Franco MC, Safatle-Ribeiro AV, de Sousa Medeiros V, Bastos VR, Kawaguti FS, Aissar Sallum RA, Ribeiro U Jr, Maluf-Filho F (2018) Self-expandable metal stent for malignant esophagorespiratory fistula: predictive factors associated with clinical failure. Gastrointest Endosc 87:390–396

8.

Amdal CD, Jacobsen AB, Tausjo JE, Wiig JN, Warloe T, Sandstad B, Bjordal K (2011) Palliative interventions and prognosis in patients with advanced esophageal cancer. Dis Esophagus 24:502–509

9.

Schoppmann SF, Langer FB, Prager G, Zacherl J (2013) Outcome and complications of long-term self-expanding esophageal stenting. Dis Esophagus 26:154–158

10.

Javed A, Pal S, Dash NR, Ahuja V, Mohanti BK, Vishnubhatla S, Sahni P, Chattopadhyay TK (2012) Palliative stenting with or without radiotherapy for inoperable esophageal carcinoma: a randomized trial. J Gastrointest Cancer 43:63–69

11.

White RE, Chepkwony R, Mwachiro M, Burgert SL, Enders FT, Topazian M (2015) Randomized trial of small-diameter versus large-diameter esophageal stents for palliation of malignant esophageal obstruction. J Clin Gastroenterol 49:660–665

12.

Kim PH, Kim KY, Song HY, Tsauo J, Park JH, Park JH, Kim MT (2018) Self-expandable metal stent use to palliate malignant esophagorespiratory fistulas in 88 patients. J Vasc Interv Radiol JVIR 29:320–327

13.

Demura Y, Okamura S, Nakanishi M, Touda G, Akai M, Ameshima S, Sasaki F, Ishizaki T, Miyamori I (1998) Lung abscess resulting from esophageal carcinoma successfully treated with intraesophageal covered self-expandable metallic stent. Nihon Kokyuki Gakkai zasshi J Jpn Respir Soc 36:989–993

14.

Shin JH, Song HY, Ko GY, Lim JO, Yoon HK, Sung KB (2004) Esophagorespiratory fistula: long-term results of palliative treatment with covered expandable metallic stents in 61 patients. Radiology 232:252–259

15.

Rodrigues-Pinto E, Pereira P, Baron TH, Macedo G (2017) Should performance status impact stent decision-making in patients with long-term survival from advanced esophageal cancer? Gastrointest Endosc 86:572
Acknowledgements
This study was not supported by any funding.
Ethics declarations
Disclosures
Dr. Yasutoshi Shiratori, Naoki Ishii, Takashi Ikeya, Koichi Takagi, Kenji Nakamura and Katsuyuki Fukuda have no conflicts of interest or financial ties to disclose.
Additional information
Publisher's Note
Springer Nature remains neutral with regard to jurisdictional claims in published maps and institutional affiliations.
About this article
Cite this article
Shiratori, Y., Ishii, N., Ikeya, T. et al. Performance status is a predictive factor of dysphagia improvement after esophageal stenting in patients with malignant esophageal strictures and fistulas. Surg Endosc 34, 564–568 (2020) doi:10.1007/s00464-019-06797-9
Received:

Accepted:

Published:

Issue Date:
Keywords
Dysphagia

Improvement

Performance status