Abstract
Background
Surgeons normally encounter the left gastric vein (LGV) during laparoscopic gastrectomy (LG) for gastric cancer, and the various anatomic variants of this vessel make the procedure difficult. The objective of this study was to classify anatomic variants of the LGV in the laparoscopic operation field and clarify their clinical significance during LG.
Methods
In total, 405 patients who underwent LG in 2013–2017 for gastric cancer were enrolled in the study. LGV drainage was classified into six types by the anatomic relation of the LGV to the arteries of the celiac axis: Type Ia [LGV runs anteriorly to the common hepatic artery (CHA)], Type Ip (LGV runs posteriorly to CHA), Type II (LGV runs anteriorly to the left gastric artery), Type IIIa [LGV runs anteriorly to the splenic artery (SA)], Type IIIp (LGV runs posteriorly to SA), and Type IV (LGV runs cranially into the proximal portal vein or liver parenchyma). If the LGV was injured during the operation, the patient was included as a member of the injury group (IG).
Results
Most patients (n = 391, 96.5%) had a single LGV, whereas 14 (3.5%) patients had double LGVs. Type Ip was the most common of the six drainage types (n = 195, 48.1%). The number of patients in the IG was 49 (13.0%). Types I and III were relatively easily injured when compared with type II (p = 0.025). Patients in the IG had longer operation times, more blood loss, and more lymph node metastases than the non-IG patients.
Conclusions
In most patients, the LGV drains posteriorly to the CHA or anteriorly to the LGA. Gastric surgeons should take great care not to injure the LGV during LG when it is not present on the anterior side of the celiac axis.
This is a preview of subscription content, log in to check access.
Access options
Buy single article
Instant access to the full article PDF.
US$ 39.95
Price includes VAT for USA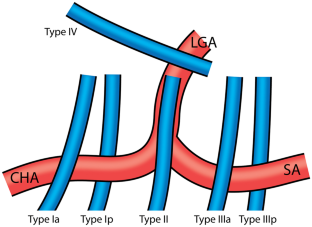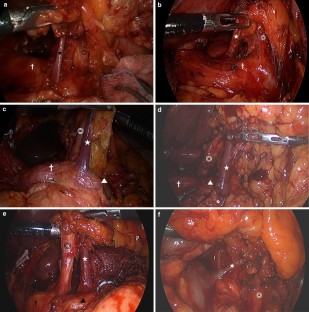 References
1.

Douglass BE, Baggentoss AH, Hollinshead WH (1950) The anatomy of the portal vein and its tributaries. Surg Gynecol Obstet 91:562–576

2.

Natsume T, Shuto K, Yanagawa N, Akai T, Kawahira H, Hayashi H, Matsubara H (2011) The classification of anatomic variations in the perigastric vessels by dual-phase CT to reduce intraoperative bleeding during laparoscopic gastrectomy. Surg Endosc 25:1420–1424

3.

Yuasa Y, Okitsu H, Goto M, Kuramoto S, Tomibayashi A, Matsumoto D, Edagawa H, Mori O, Tani R, Akagawa T, Kinoshita M, Akagawa Y, Tani H, Ohnishi N, Shirono R (2016) Three-dimensional CT for preoperative detection of the left gastric artery and left gastric vein in laparoscopy-assisted distal gastrectomy. Asian J Endosc Surg 9:179–185

4.

Kim HH, Hyung WJ, Cho GS, Kim MC, Han SU, Kim W, Ryu SW, Lee HJ, Song KY (2010) Morbidity and mortality of laparoscopic gastrectomy versus open gastrectomy for gastric cancer: an interim report—a phase III multicenter, prospective, randomized trial (KLASS trial). Ann Surg 251:417–420

5.

Kim HH, Han SU, Kim MC, Hyung WJ, Kim W, Lee HJ, Ryu SW, Cho GS, Song KY, Ryu SY (2014) Long-term results of laparoscopic gastrectomy for gastric cancer: a large-scale case-control and case-matched korean multicenter study. J Clin Oncol 32:627–633

6.

Kim YW, Baik YH, Yun YH, Nam BH, Kim DH, Choi IJ, Bae JM (2008) Improved quality of life outcomes after laparoscopy-assisted distal gastrectomy for early gastric cancer. Ann Surg 248:721–727

7.

Wottawa CR, Cohen JR, Fan RE, Bisley JW, Culjat MO, Grundfest WS, Dutson EP (2013) The role of tactile feedback in grip force during laparoscopic training tasks. Surg Endosc 27:1111–1118

8.

Sakaguchi T, Suzuki S, Morita Y, Oishi K, Suzuki A, Fukumoto K, Inaba K, Kamiya K, Ota M, Setoguchi T, Takehara Y, Nasu H, Nakamura S, Konno H (2010) Analysis of anatomic variants of mesenteric veins by 3-dimensional portography using multidetector-row computed tomography. Am J Surg 200:15–22

9.

Miyamoto R, Inagawa S, Nagai K, Maeda M, Kemmochi A, Yamamoto M (2016) Three-dimensional reconstruction of vascular arrangement including the hepatic artery and left gastric vein during gastric surgery. Springerplus 835:1–6

10.

Kawasaki K, Kanaji S, Kobayashi I, Fujita T, Kominami H, Ueno K, Tsutida S, Ohno M, Ohsawa M, Fujino Y, Tominaga M, Nakamura T (2010) Multidetector computed tomography for preoperative identification of left gastric vein location in patients with gastric cancer. Gastric Cancer 13:25–29

11.

Li CY, Gao BL, Song B, Fan QY, Zhou LX, Feng PY, Zhang XJ, Zhu QF, Xiang C, Peng S, Huang YF, Yang HQ (2016) Evaluation of left gastric vein in Chinese healthy adults with multi-detector computed tomography. Postgrad Med 128:701–705

12.

Wu Y, Chen G, Wu P, Zhu J, Peng W, Xing C (2017) CT imaging-based determination and classification of anatomic variations of left gastric vein. Surg Radiol Anat 39:249–255

13.

Japanese Gastric Cancer Association (2011) Japanese gastric cancer treatment guidelines 2010 (ver. 3). Gastric Cancer 14:113–123

14.

Osaki T, Saito H, Murakami Y, Miyatani K, Kuroda H, Matsunaga T, Fukumoto Y, Ikeguchi M (2015) Usefulness of preoperative assessment of perigastric vascular anatomy by dynamic computed tomography for laparoscopic gastrectomy. Yonago Acta Med 58:157–164

15.

Hiwatashi A, Yoshimitsu K, Honda H, Kuroiwa T, Irie H, Tajima T, Jimi M, Chijiiwa K, Masuda K (1999) Pseudolesion in segment II of the liver observed on CT during arterial portography caused by the aberrant left gastric venous drainage. Abdom Imaging 24:357–359

16.

Roi D (1993) Ultrasound anatomy of the left gastric vein. Clin Radiol 47:396–398

17.

Huang CM, Wang JB, Wang Y, Zheng CH, Li P, Xie JW, Lin JX, Lu J (2014) Left gastric vein on the dorsal side of the splenic artery: a rare anatomic variant revealed during gastric surgery. Surg Radiol Anat 36:173–180

18.

Rebibo L, Chivot C, Fuks D, Sabbagh C, Yzet T, Regimbeau JM (2012) Three-dimensional computed tomography analysis of the left gastric vein in a pancreatectomy. HPB 14:414–421

19.

Iino I, Sakaguchi T, Kikuchi H, Miyazaki S, Fujita T, Hiramatsu Y, Ohta M, Kamiya K, Ushio T, Takehara Y, Konno H (2013) Usefulness of three-dimensional angiographic analysis of perigastric vessels before laparoscopic gastrectomy. Gastric Cancer 16:355–361

20.

Miyaki A, Imamura K, Kobayashi R, Takami M, Matsumoto J, Takada Y (2012) Preoperative assessment of perigastric vascular anatomy by multidetector computed tomography angiogram for laparoscopy-assisted gastrectomy. Langenbeck's Arch Surg 397:945–950
Ethics declarations
Disclosures
Hayemin Lee and Junhyun Lee have no conflicts of interest or financial ties to disclose.
About this article
Cite this article
Lee, H., Lee, J. Anatomic variations in the left gastric vein and their clinical significance during laparoscopic gastrectomy. Surg Endosc 33, 1903–1909 (2019). https://doi.org/10.1007/s00464-018-6470-z
Received:

Accepted:

Published:

Issue Date:
Keywords
Left gastric vein

Anatomic variants

Laparoscopic gastrectomy