Abstract
Background
Colorectal stents are frequently used in patients with stage IV colorectal cancer with obstruction. However, there are only few studies on changes in outcomes of these patients and on the effect of stents on outcome over a long period of time with ongoing changes in therapeutic strategy, including chemotherapy.
Methods
We retrospectively evaluated 353 patients with bowel obstruction in stage IV colorectal cancer who underwent colonic stenting between years 2005 and 2014. The study population was divided into three groups based on time periods: 2005–2008, 2009–2011, and 2012–2014.
Results
The frequency of colorectal stent insertion procedure increased over the time periods (13.8%, 18.3%, and 20.8%, respectively). There were no changes in success rate and total complication rate. However, the early complication rate in the 3rd period was significantly lower than in the other periods (15.4% vs. 17.1% vs. 7.2%; P = 0.039). In the multivariate analysis, carcinomatosis (hazard ratio, 1.478; 95% confidence interval, 1.016–2.149; P = 0.041) and covered or partial-covered stent (hazard ratio, 1.733; 95% confidence interval, 1.144–2.624; P = 0.009; hazard ratio, 1.988; 95% confidence interval, 1.132–3.493; P = 0.017, respectively) were associated with increased complication rate. Stent-related perforation was an independent risk factor related with increased mortality. Although survival duration increased over time (P = 0.042), the mortality rate was unchanged across the three time periods.
Conclusions
Over 10 years, the targeted agent use and survival duration increased, and early complication rate was decreased, without change in late complication rate or mortality rate during the three time periods in patients with obstructive stage IV colorectal cancer and stent insertion.
This is a preview of subscription content, log in to check access.
Access options
Buy single article
Instant access to the full article PDF.
US$ 39.95
Price includes VAT for USA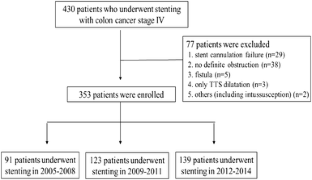 Abbreviations
CRC:

Colorectal cancer

SEMS:

Self-expandable metal stent

5-FU:

5-Fluorouracil

CEA:

Carcinoembryonic antigen

ECOG:

Eastern cooperative oncology group

VEGF:

Vascular endothelial growth factor

IQR:

Interquartile range

HRs:

Hazard ratios

CIs:

Confidence intervals

LV:

Leucovorin
References
1.

van Hooft JE, van Halsema EE, Vanbiervliet G, Beets-Tan RG, DeWitt JM, Donnellan F, Dumonceau JM, Glynne-Jones RG, Hassan C, Jimenez-Perez J, Meisner S, Muthusamy VR, Parker MC, Regimbeau JM, Sabbagh C, Sagar J, Tanis PJ, Vandervoort J, Webster GJ, Manes G, Barthet MA, Repici A (2014) Self-expandable metal stents for obstructing colonic and extracolonic cancer: European Society of Gastrointestinal Endoscopy (ESGE) clinical guideline. Gastrointest Endosc 80:747–761

2.

Kye BH, Lee YS, Cho HM, Kim JG, Oh ST, Lee IK, Kang WK, Ahn CH, Lee SC, Park JK, Kim HJ (2016) Comparison of long-term outcomes between emergency surgery and bridge to surgery for malignant obstruction in right-sided colon cancer: a multicenter retrospective study. Ann Surg Oncol 23:1867–1874

3.

Cheung DY, Lee YK, Yang CH (2014) Status and literature review of self-expandable metallic stents for malignant colorectal obstruction. Clin Endosc 47:65–73

4.

Dohmoto M (1991) New method-endoscopic implantation of rectal stent in palliative treatment of malignant stenosis. Endoscopia Digestiva 3:1507–1512

5.

Lee JM, Byeon JS (2015) Colorectal stents: current status. Clin Endosc 48:194–200

6.

Lee HJ, Hong SP, Cheon JH, Kim TI, Min BS, Kim NK, Kim WH (2011) Long-term outcome of palliative therapy for malignant colorectal obstruction in patients with unresectable metastatic colorectal cancers: endoscopic stenting versus surgery. Gastrointest Endosc 73:535–542

7.

Finlayson A, Hulme-Moir M (2016) Palliative colonic stenting: a safe alternative to surgery in stage IV colorectal cancer. ANZ J Surg 86:773–777

8.

Abbott S, Eglinton TW, Ma Y, Stevenson C, Robertson GM, Frizelle FA (2014) Predictors of outcome in palliative colonic stent placement for malignant obstruction. Br J Surg 101:121–126

9.

Andre T, Boni C, Mounedji-Boudiaf L, Navarro M, Tabernero J, Hickish T, Topham C, Zaninelli M, Clingan P, Bridgewater J, Tabah-Fisch I, de Gramont A (2004) Oxaliplatin, fluorouracil, and leucovorin as adjuvant treatment for colon cancer. N Engl J Med 350:2343–2351

10.

Hong YS, Kim TW (2009) Chemotherapy for colorectal cancer. Korean J Gastroenterol 54:355–363

11.

Dohmoto M, Rupp KD, Hohlbach G (1990) Endoscopically-implanted prosthesis in rectal carcinoma. Deutsche medizinische Wochenschrift (1946) 115:915

12.

Tack J, Gevers AM, Rutgeerts P (1998) Self-expandable metallic stents in the palliation of rectosigmoidal carcinoma: a follow-up study. Gastrointest Endosc 48:267–271

13.

Song HY, Kim JH, Shin JH, Kim HC, Yu CS, Kim JC, Kang SG, Yoon CJ, Lee JY, Koo JH, Lee KH, Kim JK, Kim DH, Shin TB, Jung GS, Han YM (2007) A dual-design expandable colorectal stent for malignant colorectal obstruction: results of a multicenter study. Endoscopy 39:448–454

14.

Park S, Cheon JH, Park JJ, Moon CM, Hong SP, Lee SK, Kim TI, Kim WH (2010) Comparison of efficacies between stents for malignant colorectal obstruction: a randomized, prospective study. Gastrointest Endosc 72:304–310

15.

Watanabe T, Itabashi M, Shimada Y, Tanaka S, Ito Y, Ajioka Y, Hamaguchi T, Hyodo I, Igarashi M, Ishida H, Ishihara S, Ishiguro M, Kanemitsu Y, Kokudo N, Muro K, Ochiai A, Oguchi M, Ohkura Y, Saito Y, Sakai Y, Ueno H, Yoshino T, Boku N, Fujimori T, Koinuma N, Morita T, Nishimura G, Sakata Y, Takahashi K, Tsuruta O, Yamaguchi T, Yoshida M, Yamaguchi N, Kotake K, Sugihara K (2015) Japanese Society for Cancer of the Colon and Rectum (JSCCR) Guidelines 2014 for treatment of colorectal cancer. Int J Clin Oncol 20:207–239

16.

Kim EJ, Kim YJ (2016) Stents for colorectal obstruction: past, present, and future. World J Gastroenterol 22:842–852

17.

Fernandez-Esparrach G, Bordas JM, Giraldez MD, Gines A, Pellise M, Sendino O, Martinez-Palli G, Castells A, Llach J (2010) Severe complications limit long-term clinical success of self-expanding metal stents in patients with obstructive colorectal cancer. Am J Gastroenterol 105:1087–1093

18.

Kim BK, Hong SP, Heo HM, Kim JY, Hur H, Lee KY, Cheon JH, Kim TI, Kim WH (2012) Endoscopic stenting is not as effective for palliation of colorectal obstruction in patients with advanced gastric cancer as emergency surgery. Gastrointest Endosc 75:294–301

19.

Benson 3rd AB, Venook AP, Cederquist L, Chan E, Chen YJ, Cooper HS, Deming D, Engstrom PF, Enzinger PC, Fichera A, Grem JL, Grothey A, Hochster HS, Hoffe S, Hunt S, Kamel A, Kirilcuk N, Krishnamurthi S, Messersmith WA, Mulcahy MF, Murphy JD, Nurkin S, Saltz L, Sharma S, Shibata D, Skibber JM, Sofocleous CT, Stoffel EM, Stotsky-Himelfarb E, Willett CG, Wu CS, Gregory KM, Freedman-Cass D (2017) Colon cancer, version 1.2017, NCCN clinical practice guidelines in oncology. J Natl Compr Cancer Netw 15:370–398

20.

Imbulgoda A, MacLean A, Heine J, Drolet S, Vickers MM (2015) Colonic perforation with intraluminal stents and bevacizumab in advanced colorectal cancer: retrospective case series and literature review. Can J Surg 58:167–171

21.

Watt AM, Faragher IG, Griffin TT, Rieger NA, Maddern GJ (2007) Self-expanding metallic stents for relieving malignant colorectal obstruction: a systematic review. Ann Surg 246:24–30

22.

Karoui M, Charachon A, Delbaldo C, Loriau J, Laurent A, Sobhani I, Tran Van Nhieu J, Delchier JC, Fagniez PL, Piedbois P, Cherqui D (2007) Stents for palliation of obstructive metastatic colon cancer: impact on management and chemotherapy administration. Arch Surg 142:619–623; discussion 623

23.

Vemulapalli R, Lara LF, Sreenarasimhaiah J, Harford WV, Siddiqui AA (2010) A comparison of palliative stenting or emergent surgery for obstructing incurable colon cancer. Dig Dis Sci 55:1732–1737

24.

Im JP, Kim SG, Kang HW, Kim JS, Jung HC, Song IS (2008) Clinical outcomes and patency of self-expanding metal stents in patients with malignant colorectal obstruction: a prospective single center study. Int J Colorectal Dis 23:789–794

25.

Hong SP, Kim TI (2014) Colorectal stenting: an advanced approach to malignant colorectal obstruction. World J Gastroenterol 20:16020–16028

26.

Cheung DY, Kim JY, Hong SP, Jung MK, Ye BD, Kim SG, Kim JH, Lee KM, Kim KH, Baik GH, Kim HG, Eun CS, Kim TI, Kim SW, Kim CD, Yang CH (2012) Outcome and safety of self-expandable metallic stents for malignant colon obstruction: a Korean multicenter randomized prospective study. Surg Endosc 26:3106–3113

27.

Hurwitz H, Fehrenbacher L, Novotny W, Cartwright T, Hainsworth J, Heim W, Berlin J, Baron A, Griffing S, Holmgren E, Ferrara N, Fyfe G, Rogers B, Ross R, Kabbinavar F (2004) Bevacizumab plus irinotecan, fluorouracil, and leucovorin for metastatic colorectal cancer. N Engl J Med 350:2335–2342

28.

Kabbinavar F, Hurwitz HI, Fehrenbacher L, Meropol NJ, Novotny WF, Lieberman G, Griffing S, Bergsland E (2003) Phase II, randomized trial comparing bevacizumab plus fluorouracil (FU)/leucovorin (LV) with FU/LV alone in patients with metastatic colorectal cancer. J Clin Oncol 21:60–65

29.

Hong SN (2018) Genetic and epigenetic alterations of colorectal cancer. Intest Res 16:327–337

30.

Hochster HS, Hart LL, Ramanathan RK, Childs BH, Hainsworth JD, Cohn AL, Wong L, Fehrenbacher L, Abubakr Y, Saif MW, Schwartzberg L, Hedrick E (2008) Safety and efficacy of oxaliplatin and fluoropyrimidine regimens with or without bevacizumab as first-line treatment of metastatic colorectal cancer: results of the TREE study. J Clin Oncol 26:3523–3529

31.

Scappaticci FA, Fehrenbacher L, Cartwright T, Hainsworth JD, Heim W, Berlin J, Kabbinavar F, Novotny W, Sarkar S, Hurwitz H (2005) Surgical wound healing complications in metastatic colorectal cancer patients treated with bevacizumab. J Surg Oncol 91:173–180

32.

Shih T, Lindley C (2006) Bevacizumab: an angiogenesis inhibitor for the treatment of solid malignancies. Clin Ther 28:1779–1802

33.

Kim DH, Kim B, Choi JH, Park SJ, Hong SP, Cheon JH, Kim WH, Kim TI (2016) Tumor characteristics associated with malignant large bowel obstruction in stage IV colorectal cancer patients undergoing chemotherapy. Int J Colorectal Dis 31:1767–1774
Ethics declarations
Disclosures
Yong Eun Park: acquisition of data, analysis and interpretation of data, drafting of the manuscript. Yehyun Park: critical revision of the manuscript for important intellectual content. Soo Jung Park, Jae Hee Cheon, and Won Ho Kim: critical revision of the manuscript for important intellectual content. Tae Il Kim: acquisition of data; study concept and design; critical revision of the manuscript for important intellectual content. All authors approved the final version of the article, including the authorship list. Dr. Yong Eun Park, Dr. Yehyun Park, Dr. Soo Jung Park, Dr. Jae Hee Cheon, Dr. Won Ho Kim, and Dr. Tae Il Kim have no conflict of interest or financial ties to disclose.
Electronic supplementary material
Below is the link to the electronic supplementary material.
About this article
Cite this article
Park, Y.E., Park, Y., Park, S.J. et al. Outcomes of stent insertion and mortality in obstructive stage IV colorectal cancer patients through 10 year duration. Surg Endosc 33, 1225–1234 (2019). https://doi.org/10.1007/s00464-018-6399-2
Received:

Accepted:

Published:

Issue Date:
Keywords
Colon stent

Colorectal neoplasm

Stage IV

Outcome

Mortality