Abstract
Background
Endoscopic screening has been adopted in South Korea for the national screening of gastric cancer (GC). This study aimed to assess the effect on overall survival of GC patients and determine the optimal endoscopic screening interval.
Methods
The baseline characteristics and overall survival of GC patients treated at the National Cancer Center, Korea, between 2010 and 2016 were compared between those without a history of endoscopic evaluation (group N) and those in whom the interval between the last endoscopic evaluations and diagnosis of GC was ≤ 1, 1–2, 2–3, 3–4, or > 4 years (groups 1–5, respectively).
Results
A total of 2362 patients met the criteria for the study (1060 in group N and 1302 in groups 1–5). More patients in groups 1–5 were diagnosed with stage I GC (83.7, 83.7, 71.8, 78.2, and 71.6%, respectively) than in group N (62.4%, P < 0.001) and were treated endoscopically (38.8, 33.8, 24.7, 21.8, and 15.5%, respectively, vs. 13.5%; P < 0.001). Group 2 had less-advanced tumor stages (P = 0.001) and was more likely to have received endoscopic treatments (P = 0.026) than group 3. Hazard ratios for death were significantly lower in groups 2 (0.45; 95% confidence interval [CI], 0.32–0.64) and 3 (0.57; 95% CI, 0.33–0.98) than in group N; the decrease was not significant in group 4 (0.49, 95% CI, 0.20–1.20).
Conclusions
Endoscopic screening every 3 years may reduce the mortality of GC patients, though screenings at least every 2 years may benefit patients with less-advanced stages.
This is a preview of subscription content, log in to check access.
Access options
Buy single article
Instant access to the full article PDF.
US$ 39.95
Price includes VAT for USA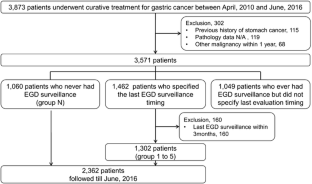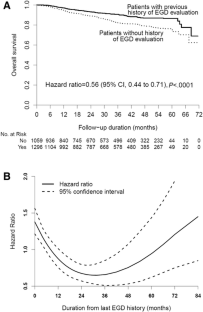 References
1.

Ferlay J, Soerjomataram I, Dikshit R, Eser S, Mathers C, Rebelo M, Parkin DM, Forman D, Bray F (2015) Cancer incidence and mortality worldwide: sources, methods and major patterns in GLOBOCAN 2012. Int J Cancer 136(5):E359–E386. https://doi.org/10.1002/ijc.29210

2.

Jung KW, Won YJ, Oh CM, Kong HJ, Lee DH, Lee KH (2017) Prediction of cancer incidence and mortality in Korea, 2017. Cancer Res Treat 49(2):306–312. https://doi.org/10.4143/crt.2017.130

3.

Yamamoto S (2001) Stomach cancer incidence in the world. Jpn J Clin Oncol 31(9):471

4.

Chen W, Zheng R, Zeng H, Zhang S (2016) The incidence and mortality of major cancers in China, 2012. Chin J Cancer 35(1):73. https://doi.org/10.1186/s40880-016-0137-8

5.

Hamashima C, Shibuya D, Yamazaki H, Inoue K, Fukao A, Saito H, Sobue T (2008) The Japanese guidelines for gastric cancer screening. Jpn J Clin Oncol 38(4):259–267. https://doi.org/10.1093/jjco/hyn017

6.

Kim Y, Jun JK, Choi KS, Lee HY, Park EC (2011) Overview of the National Cancer screening programme and the cancer screening status in Korea. Asian Pac J Cancer Prev 12(3):725–730

7.

Hamashima C, Ogoshi K, Okamoto M, Shabana M, Kishimoto T, Fukao A (2013) A community-based, case-control study evaluating mortality reduction from gastric cancer by endoscopic screening in Japan. PLoS ONE 8(11):e79088. https://doi.org/10.1371/journal.pone.0079088

8.

Kim J, Kim SM, Ha MH, Seo JE, Choi MG, Lee JH, Sohn TS, Kim S, Jung SH, Bae JM (2016) Does the interval of screening endoscopy affect survival in gastric cancer patients? A cross-sectional study. Medicine (Baltimore) 95(49):e5490. https://doi.org/10.1097/MD.0000000000005490

9.

Hosokawa O, Miyanaga T, Kaizaki Y, Hattori M, Dohden K, Ohta K, Itou Y, Aoyagi H (2008) Decreased death from gastric cancer by endoscopic screening: association with a population-based cancer registry. Scand J Gastroenterol 43(9):1112–1115. https://doi.org/10.1080/00365520802085395

10.

Chung SJ, Park MJ, Kang SJ, Kang HY, Chung GE, Kim SG, Jung HC (2012) Effect of annual endoscopic screening on clinicopathologic characteristics and treatment modality of gastric cancer in a high-incidence region of Korea. Int J Cancer 131(10):2376–2384. https://doi.org/10.1002/ijc.27501

11.

Choi KS, Jun JK, Suh M, Park B, Noh DK, Song SH, Jung KW, Lee HY, Choi IJ, Park EC (2015) Effect of endoscopy screening on stage at gastric cancer diagnosis: results of the National Cancer Screening Programme in Korea. Br J Cancer 112(3):608–612. https://doi.org/10.1038/bjc.2014.608

12.

Nam JH, Choi IJ, Cho SJ, Kim CG, Jun JK, Choi KS, Nam BH, Lee JH, Ryu KW, Kim YW (2012) Association of the interval between endoscopies with gastric cancer stage at diagnosis in a region of high prevalence. Cancer 118(20):4953–4960. https://doi.org/10.1002/cncr.27495

13.

Tashiro A, Sano M, Kinameri K, Fujita K, Takeuchi Y (2006) Comparing mass screening techniques for gastric cancer in Japan. World J Gastroenterol 12(30):4873–4874

14.

Mori Y, Arita T, Shimoda K, Yasuda K, Yoshida T, Kitano S (2001) Effect of periodic endoscopy for gastric cancer on early detection and improvement of survival. Gastric Cancer 4(3):132–136

15.

Nam SY, Choi IJ, Park KW, Kim CG, Lee JY, Kook MC, Lee JS, Park SR, Lee JH, Ryu KW, Kim YW (2009) Effect of repeated endoscopic screening on the incidence and treatment of gastric cancer in health screenees. Eur J Gastroenterol Hepatol 21(8):855–860. https://doi.org/10.1097/MEG.0b013e328318ed42

16.

Dan YY, So JB, Yeoh KG (2006) Endoscopic screening for gastric cancer. Clin Gastroenterol Hepatol 4(6):709–716. https://doi.org/10.1016/j.cgh.2006.03.025

17.

Soetikno R, Kaltenbach T, Yeh R, Gotoda T (2005) Endoscopic mucosal resection for early cancers of the upper gastrointestinal tract. J Clin Oncol 23(20):4490–4498. https://doi.org/10.1200/JCO.2005.19.935

18.

Eom BW, Kim YI, Kim KH, Yoon HM, Cho SJ, Lee JY, Kim CG, Kook MC, Kim YW, Nam BH, Ryu KW, Choi IJ (2017) Survival benefit of additional surgery after noncurative endoscopic resection in patients with early gastric cancer. Gastrointest Endosc 85(1):155–163 e153. https://doi.org/10.1016/j.gie.2016.07.036

19.

Washington K (2010) 7th edition of the AJCC cancer staging manual: stomach. Ann Surg Oncol 17(12):3077–3079. https://doi.org/10.1245/s10434-010-1362-z

20.

Eilers PHC, Marx BD (1996) Flexible smoothing with B-splines and penalties. Stat Sci 11(2):89–102

21.

Kim YW, Yoon HM, Yun YH, Nam BH, Eom BW, Baik YH, Lee SE, Lee Y, Kim YA, Park JY, Ryu KW (2013) Long-term outcomes of laparoscopy-assisted distal gastrectomy for early gastric cancer: result of a randomized controlled trial (COACT 0301). Surg Endosc 27(11):4267–4276. https://doi.org/10.1007/s00464-013-3037-x

22.

Jun JK, Choi KS, Lee HY, Suh M, Park B, Song SH, Jung KW, Lee CW, Choi IJ, Park EC, Lee D (2017) Effectiveness of the Korean National Cancer Screening Program in reducing gastric cancer mortality. Gastroenterology 152(6):1319–1328 e1317. https://doi.org/10.1053/j.gastro.2017.01.029

23.

Hosokawa O, Tsuda S, Kidani E, Watanabe K, Tanigawa Y, Shirasaki S, Hayashi H, Hinoshita T (1998) Diagnosis of gastric cancer up to three years after negative upper gastrointestinal endoscopy. Endoscopy 30(8):669–674. https://doi.org/10.1055/s-2007-1001386

24.

Chadwick G, Groene O, Riley S, Hardwick R, Crosby T, Hoare J, Hanna GB, Greenaway K, Cromwell DA (2015) Gastric cancers missed during endoscopy in England. Clin Gastroenterol Hepatol 13(7):1264–1270 e1261. https://doi.org/10.1016/j.cgh.2015.01.025

25.

Park JM, Huo SM, Lee HH, Lee BI, Song HJ, Choi MG (2017) Longer observation time increases proportion of neoplasms detected by esophagogastroduodenoscopy. Gastroenterology 153(2):460–469 e461. https://doi.org/10.1053/j.gastro.2017.05.009

26.

Choi KS, Kwak MS, Lee HY, Jun JK, Hahm MI, Park EC (2009) Screening for gastric cancer in Korea: population-based preferences for endoscopy versus upper gastrointestinal series. Cancer Epidemiol Biomark Prev 18(5):1390–1398. https://doi.org/10.1158/1055-9965.EPI-08-0940

27.

Lim SH, Kwon JW, Kim N, Kim GH, Kang JM, Park MJ, Yim JY, Kim HU, Baik GH, Seo GS, Shin JE, Joo YE, Kim JS, Jung HC (2013) Prevalence and risk factors of Helicobacter pylori infection in Korea: nationwide multicenter study over 13 years. BMC Gastroenterol 13:104. https://doi.org/10.1186/1471-230X-13-104

28.

Smyth EC, Capanu M, Janjigian YY, Kelsen DK, Coit D, Strong VE, Shah MA (2012) Tobacco use is associated with increased recurrence and death from gastric cancer. Ann Surg Oncol 19(7):2088–2094. https://doi.org/10.1245/s10434-012-2230-9

29.

de Vries AC, van Grieken NC, Looman CW, Casparie MK, de Vries E, Meijer GA, Kuipers EJ (2008) Gastric cancer risk in patients with premalignant gastric lesions: a nationwide cohort study in the Netherlands. Gastroenterology 134(4):945–952. https://doi.org/10.1053/j.gastro.2008.01.071
Funding
This study was supported by a Grant from the National Cancer Center, Korea (#1610160-2) and the National Research Foundation, Korea (#NRF-2016R1A2B1010377).
Ethics declarations
Disclosures
Dr. Sang Il Choi, Ms. Boram Park, Drs. Jungnam Joo, Young-Il Kim, Jong Yeul Lee, Chan Gyoo Kim, Il Ju Choi, Myeong-Cherl Kook, and Soo-Jeong Cho have no conflict of interest or financial ties to disclose.
Electronic supplementary material
Below is the link to the electronic supplementary material.
About this article
Cite this article
Choi, S.I., Park, B., Joo, J. et al. Three-year interval for endoscopic screening may reduce the mortality in patients with gastric cancer. Surg Endosc 33, 861–869 (2019). https://doi.org/10.1007/s00464-018-6353-3
Received:

Accepted:

Published:

Issue Date:
Keywords
Endoscopic screening program

Overall survival

Gastric cancer

Screening