Abstract
Background
Very limited informations are currently available about the best approach to perform retroperitoneoscopic surgery. This multicentric international study aimed to compare the outcome of lateral versus prone approach for retroperitoneoscopic partial nephrectomy (RPN) in children.
Methods
The records of 164 patients underwent RPN in 7 international centers of pediatric surgery over the last 5 years were retrospectively reviewed. Sixty-one patients (42 girls and 19 boys, average age 3.8 years) were operated using lateral approach (G1), whereas 103 patients (66 girls and 37 boys, average age 3.0 years) underwent prone RPN (G2). The two groups were compared in regard to operative time, postoperative outcome, postoperative complications, and re-operations.
Results
The average operative time was significantly shorter in G2 (99 min) compared to G1 (160 min) (p = 0.001). Only 2 lateral RPN required conversion to open surgery. There was no significant difference between the two groups as for intraoperative complications (G1:2/61, 3.3%; G2:6/103, 5.8%; p = 0.48), postoperative complications (G1:9/61, 14.7%; G2:17/103, 16.5%; p = 0.80), and re-operations (G1:2/61, 3.3%; G2:4/103, 3.8%; p = 0.85). Regarding postoperative complications, the incidence of symptomatic residual distal ureteric stumps (RDUS) was significantly higher in G2 (7/103, 6.8%) compared to G1 (1/61, 1.6%) (p = 0.001). Most re-operations (4/6, 66.6%) were performed to remove a RDUS .
Conclusions
Both lateral and prone approach are feasible and reasonably safe to perform RPN in children but the superiority of one approach over another is not still confirmed. Although prone technique resulted faster compared to lateral approach, the choice of the technique remains dependent on the surgeon's personal preference and experience. Our results would suggest that the lateral approach should be preferred to the prone technique when a longer ureterectomy is required, for example in cases of vesico-ureteral reflux into the affected kidney moiety, in order to avoid to leave a long ureteric stump that could become symptomatic and require a re-intervention.
This is a preview of subscription content, log in to check access.
Access options
Buy single article
Instant access to the full article PDF.
US$ 39.95
Price includes VAT for USA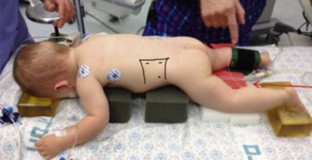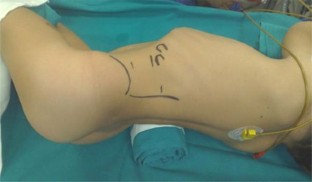 References
1.

Jordan GH, Winslow BH (1993) Laparoendoscopic upper pole partial nephrectomy with ureterectomy. J Urol 150:940–943

2.

Robinson BC, Snow BW, Cartwright PC, de Vries CR, Hamilton BD, Anderson JB (2003) Comparison of laparoscopic versus open partial nephrectomy in a pediatric series. J Urol 169:638–640

3.

Esposito C, Escolino M, Miyano G, Caione P, Chiarenza F, Riccipetitoni G, Yamataka A, Savanelli A, Settimi A, Varlet F, Patkowski D, Cerulo M, Castagnetti M, Till H, Marotta R, La Manna A, Valla JS (2016) A comparison between laparoscopic and retroperitoneoscopic approach for partial nephrectomy in children with duplex kidney: a multicentric survey. World J Urol 34(7):939–948

4.

Esposito C, Miyano G, Caione P, Escolino M, Chiarenza F, Riccipetitoni G, Yamataka A, Cerulo M, Savanelli A, Settimi A, Valla JS (2015) Retroperitoneoscopic heminephrectomy in duplex kidney in infants and children: results of a multicentric survey. J Laparoendosc Adv Surg Tech A 25(10):864–869

5.

Leclair MD, Vidal I, Suply E, Podevin G, Heloury Y (2009) Retroperitoneal laparoscopic heminephrectomy in duplex kidney in infants and children: a 15-year experience. Eur Urol 56:385–389

6.

Valla JS (2007) Retroperitoneoscopic surgery in children. Semin Ped Surg 16:270–273

7.

El Ghoneimi A, Abou-Hashim H, Bonnard A, Verkauskas G, Macher MA, Huot O, Aigrain Y (2006) Retroperitoneal laparoscopic nephrectomy in children: at last the gold standard? J Pediatr Urol 2(4):357–363

8.

Jackman SV, Caddeddu JA, Chen RN, Micali S, Bishoff JT, Lee BR, Moore RG, Kavoussi LR (1998) Utility of the harmonic scalpel for laparoscopic partial nephrectomy. J Endourol 12:441–444

9.

Esposito C, Iaquinto M, Escolino M, Farina A, La Manna A, Savanelli A, Settimi A, Di Mezza A (2014) Is retroperitoneoscopic renal ablative surgery easier and safer using a new hemostatic device compared with clips and monopolar coagulation? A comparative study. Minerva Urol Nefrol 66(2):101–105

10.

El Ghoneimi A, Valla JS, Steyaert H, Grainy AI (1998) Renal surgery via a retroperitoneal approach in children. J Urol 160:1138–1141

11.

Urbanowicz W, Wieczorek M, Sulislawski J (2002) Retroperitoneoscopic nephrectomy in the prone position in children (point of technique). Eur Urol 42:516–519

12.

Cascio S, Winning J, Flett ME, Fyfe AH, O'Toole S (2011) Open versus prone retroperitoneoscopic partial nephrectomy in children: a comparative study. J Pediatr Urol 7:61–64

13.

Borzi PA (2001) A comparison of the lateral and posterior retroperitoneoscopic approach for complete and partial nephroureterectomy in children. BJU Int 87:517–520

14.

Dindo D, Demartines N, Clavien PA (2004) Classification of surgical complications: a new proposal with evaluation in a cohort of 6336 patients and results of a survey. Ann Surg 240:205–213

15.

Mushtaq I, Haleblian G (2007) Laparoscopic heminephrectomy in infants and children: first 54 cases. J Pediatr Urol 3:100–103

16.

Castellan M, Gosalbez R, Carmack AJ, Prieto JC, Perez-Brayfield M, Labbie A (2006) Transperitoneal and retroperitoneal laparoscopic heminephrectomy- what approach for which patient? J Urol 176:2636–2639

17.

Marszalek M, Chromecki T, Al-Ali BM, Meixl H, Madersbacher S, Jeschke K, Pummer K, Zigeuner R (2011) Laparoscopic partial nephrectomy: a matched-pair comparison of the transperitoneal versus the retroperitoneal approach. Urology 77:109–113

18.

Esposito C, Escolino M, Castagnetti M, Savanelli A, La Manna A, Farina A, Turrà F, Roberti A, Settimi A, Varlet F, Till H, Valla JS (2016) Retroperitoneal and laparoscopic heminephrectomy in duplex kidney in infants and children. Transl Pediatr 5(4):245–250

19.

Kawauchi A, Fujito A, Naito Y, Soh J, Ukimura O, Yoneda K, Mizutani Y, Miki T (2004) Retroperitoneoscopic heminephroureterectomy for children with duplex anomaly: initial experience. Int J Urol 11:7–10

20.

Schneider A, Ripepi M, Henry-Florence C, Geiss S (2010) Laparoscopic transperitoneal partial nephrectomy in children under 2 years old: a single-centre experience. J Pediatr Urol 6(2):166–170

21.

Goyal A, Hennayake S (2010) Prone retroperitoneoscopic approach for heminephrectomy: specific advantages relating to access to vascular pedicle. J Pediatr Urol 6:153–156

22.

Iaquinto M, Esposito C, Escolino M, Farina A, Settimi A, Cigliano B (2014) Symptomatic refluxing distal ureteral stump after retroperitoneoscopic nephrectomy. APSP J Case Rep 5(1):14

23.

El Ghoneimi A, Farhat W, Bolduc S, Bagli D, McLorie G, Khoury A (2003) Retroperitoneal laparoscopic vs open partial nephroureterectomy in children. BJU Int 91:532–535

24.

Valla JS, Breaud J, Carfagna L, Tursini S, Steyaert H (2003) Treatment of ureterocele on duplex ureter: upper pole nephrectomy by retroperitoneoscopy in children based on a series of 24 cases. Eur Urol 43:426–429

25.

Lee RS, Retik AB, Borer JG, Diamond DA, Peters CA (2005) Pediatric retroperitoneal laparoscopic partial nephrectomy: comparison with an age-matched cohort of open surgery. J Urol 174:708–712

26.

Wallis MC, Khoury AE, Lorenzo AJ, Pippe-Salle JL, Bagli DJ, Farhat WA (2006) Outcomes analysis of retroperitoneal laparoscopic heminephrectomy in children. J Urol 175:2277–2282
Ethics declarations
Disclosure
Drs Maria Escolino, Giovanna Riccipetitoni, Atsuyuki Yamataka, Imran Mushtaq, Go Miyano, Paolo Caione, Fabio Chiarenza, Peter Borzi, and Ciro Esposito declare that they have no conflicts of interest or financial ties to disclose.
About this article
Cite this article
Escolino, M., Riccipetitoni, G., Yamataka, A. et al. Retroperitoneoscopic partial nephrectomy in children: a multicentric international comparative study between lateral versus prone approach. Surg Endosc 33, 832–839 (2019). https://doi.org/10.1007/s00464-018-6349-z
Received:

Accepted:

Published:

Issue Date:
Keywords
Partial nephrectomy

Retroperitoneoscopy

Technique

Prone

Lateral

Children