Abstract
Introduction
Laparoscopic ventral hernia repair (VHR) is associated with decreased morbidity and shorter length of stay (LOS) when compared to open VHR. Despite evidence of the benefits of laparoscopy, its utilization in VHR has lagged behind that of other complex surgical procedures. We hypothesized that utilization is further reduced in emergency cases. The aim of this study was to evaluate the utilization of laparoscopy in emergent VHR and to assess 30-day outcomes for patients undergoing laparoscopic emergent ventral hernia repair (LEVHR) versus open emergent ventral hernia repair (OEVHR).
Methods
We used the ACS-NSQIP database for years 2006–2015 to compare LEVHR versus OEVHR. Inclusion required two factors: (1) classification as an emergency case and (2) primary procedure documented as laparoscopic or open repair of incarcerated umbilical, ventral, or incisional hernia. LOS and 30-day morbidity and mortality were assessed.
Results
A total of 13,126 patients underwent emergent repair of initial or recurrent umbilical, ventral, or incisional hernia. 1130 (8.6%) underwent LEVHR repair and 11,996 (91.4%) underwent OEVHR. Patient demographic data display a trend toward decreased utilization of laparoscopy in patients with more significant comorbidities. LEVHR was associated with decreased operative time and postoperative LOS. LEVHR was associated with decreased superficial surgical site infection (SSI), deep SSI, and 30-day mortality. Subgroup analysis displays decreased incidence of superficial SSI, deep SSI, wound disruption, pneumonia, and postoperative sepsis for patients ASA1-3 undergoing LEVHR versus OEVHR.
Conclusion
Utilization of laparoscopy in VHR is low in emergency cases. Patients who did undergo LEVHR had decreased postoperative LOS and decreased infectious and wound-related morbidity. Increased utilization in emergency VHR could significantly improve patient outcomes. Further study is warranted.
This is a preview of subscription content, log in to check access.
Access options
Buy single article
Instant access to the full article PDF.
US$ 39.95
Price includes VAT for USA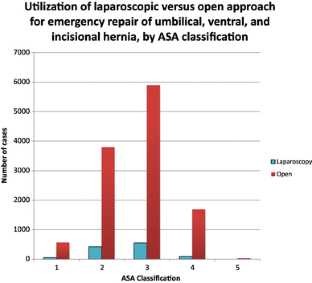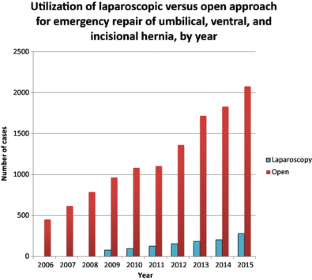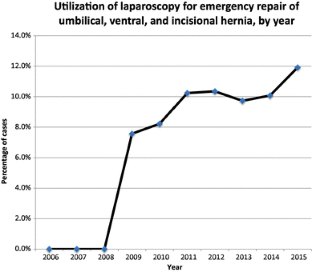 References
1.

Buia A, Stockhausen F, Hanisch E (2015) Laparoscopic surgery: a qualified systematic review. World J Methodol 5(4):238–254

2.

Heniford BT et al (2000) Laparoscopic ventral and incisional hernia repair in 407 patients. J Am Coll Surg 190(6):645–650

3.

Heniford BT et al (2003) Laparoscopic repair of ventral hernias: nine years' experience with 850 consecutive hernias. Ann Surg 238(3):391–399 (discussion 399–400)

4.

Aher CV et al (2015) The utilization of laparoscopy in ventral hernia repair: an update of outcomes analysis using ACS-NSQIP data. Surg Endosc 29(5):1099–1104

5.

LeBlanc KA, Booth WV (1993) Laparoscopic repair of incisional abdominal hernias using expanded polytetrafluoroethylene: preliminary findings. Surg Laparosc Endosc 3(1):39–41

6.

Holzman MD et al (1997) Laparoscopic ventral and incisional hernioplasty. Surg Endosc 11(1):32–35

7.

Park A, Birch DW, Lovrics P (1998) Laparoscopic and open incisional hernia repair: a comparison study. Surgery 124(4):816–821 (discussion 821–2)

8.

Ramshaw BJ et al (1999) Comparison of laparoscopic and open ventral herniorrhaphy. Am Surg 65(9):827–831 (discussion 831–2)

9.

Arita NA et al (2015) Laparoscopic repair reduces incidence of surgical site infections for all ventral hernias. Surg Endosc 29(7):1769–1780

10.

Al Chalabi H et al (2015) A systematic review of laparoscopic versus open abdominal incisional hernia repair, with meta-analysis of randomized controlled trials. Int J Surg 20:65–74

11.

Mason RJ et al (2011) Laparoscopic versus open anterior abdominal wall hernia repair: 30-day morbidity and mortality using the ACS-NSQIP database. Ann Surg 254(4):641–652

12.

Helgstrand F et al (2013) Outcomes after emergency versus elective ventral hernia repair: a prospective nationwide study. World J Surg 37(10):2273–2279
Ethics declarations
Disclosures
Dr. Pechman, Ms. Cao, Dr. Fong, Dr. Thodiyil, and Dr. Surick have no conflicts of interest or financial ties to disclose.
About this article
Cite this article
Pechman, D.M., Cao, L., Fong, C. et al. Laparoscopic versus open emergent ventral hernia repair: utilization and outcomes analysis using the ACSNSQIP database. Surg Endosc 32, 4999–5005 (2018). https://doi.org/10.1007/s00464-018-6312-z
Received:

Accepted:

Published:

Issue Date:
Keywords
Laparoscopy

Minimally invasive surgery

Utilization

Ventral hernia repair

Emergency

Outcomes