Abstract
Background
Studies examining utilization and impact of venous thromboembolism (VTE) chemoprophylaxis for patients undergoing bariatric surgery are limited. Determination of the optimal prophylactic regimen to minimize complications is crucial.
Methods
The Cerner Health Facts database from 2003 to 2013 was queried using ICD-9 codes to identify patients undergoing laparoscopic sleeve gastrectomy (LSG) and Roux-en-Y gastric bypass (RYGB). VTE chemoprophylaxis regimens were divided into pre-operative alone (PreP), post-operative alone (PostP), both pre-operative and post-operative (PPP), or no prophylaxis (NP). Specific chemoprophylaxis agents were compared. Comparisons in inpatient clinical outcomes were based on univariate analysis and multivariable logistic regression when appropriate.
Results
We identified 11,860 patients who underwent LSG and RYGB. 634 (5.35%) had PreP, 4593 (38.73%) had PostP, 2646 (22.31%) had PPP, and 3987 (33.62%) had NP. The overall rates of transfusion, DVT, and PE were 2.48, 0.27, and 0.18%, respectively. Patients without chemoprophylaxis had higher rate of DVT compared to any chemoprophylaxis (0.58 vs 0.11%, p < 0.0001), without any significant difference in PE rate. Patients with pre-operative chemoprophylaxis were more likely to receive transfusion compared to patients with post-operative prophylaxis alone (OR 1.98, 95% CI 1.28–3), without significant difference in having VTE. When examining heparin versus enoxaparin versus mixed regimen in the PostP group, mixed regimen was associated with increased transfusion requirements (p < 0.001).
Conclusions
Bariatric surgical VTE chemoprophylaxis utilization is inconsistent. In this study, post-operative VTE chemoprophylaxis was associated with decreased VTE events compared to NP, while minimizing bleeding compared to PreP. Mixed therapy using heparin and enoxaparin was associated with more bleeding.
This is a preview of subscription content, log in to check access.
Access options
Buy single article
Instant access to the full article PDF.
US$ 39.95
Price includes VAT for USA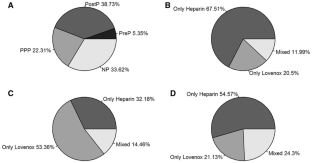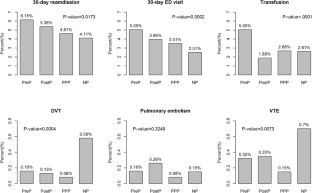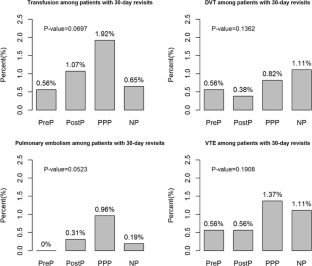 References
1.

Stein PD, Matta F (2013) Pulmonary embolism and deep venous thrombosis following bariatric surgery. Obes Surg 23(5):663–668

2.

Finks JF, English WJ, Carlin AM, Krause KR, Share DA, Banerjee M, Birkmeyer JD, Birkmeyer NJ, Michigan Bariatric Surgery Collaborative, Center for Healthcare Outcomes and Policy (2012) Predicting risk for venous thromboembolism with bariatric surgery: results from the Michigan Bariatric Surgery Collaborative. Ann Surg 255(6):1100–1104

3.

Gould MK, Garcia DA, Wren SM, Karanicolas PJ, Arcelus JI, Heit JA et al. (2012) Prevention of VTE in nonorthopedic surgical patients: antithrombotic therapy and prevention of thrombosis, 9th ed: American College of Chest Physicians evidence-based clinical practice guidelines. Chest 141(2 Suppl):e227S–e277S

4.

DeShazo JP, Hoffman MA (2015) A comparison of a multistate inpatient EHR database to the HCUP Nationwide Inpatient Sample. BMC Health Serv Res 15:384

5.

Peduzzi P, Concato J, Kemper E, Holford TR, Feinstein AR (1996) A simulation study of the number of events per variable in logistic regression analysis. J Clin Epidemiol 49(12):1373–1379

6.

Jamal MH, Corcelles R, Shimizu H et al (2015) Thromboembolic events in bariatric surgery: a large multi-institutional referral center experience. Surg Endosc 29(2):376–380

7.

Froehling DA, Daniels PR, Mauck KF et al (2013) Incidence of venous thromboembolism after bariatric surgery: a population-based cohort study. Obes Surg 23(11):1874–1879

8.

MA Bartlett, KF Mauck, PR Daniels (2015) Vasc Health Risk Manag 11:461–477

9.

Winegar DA, Sherif B, Pate V, DeMaria EJ (2011) Venous thromboembolism after bariatric surgery performed by Bariatric Surgery Center of Excellence Participants: analysis of the Bariatric Outcomes Longitudinal Database. Surg Obes Relat Dis 7(2):181–188

10.

Gagner M, Selzer F, Belle SH et al (2012) Adding chemoprophylaxis to sequential compression might not reduce risk of venous thromboembolism in bariatric surgery patients. Surg Obes Relat Dis 8(6):663–670

11.

Frantzides CT, Welle SN, Ruff TM, Frantzides AT (2012) Routine anticoagulation for venous thromboembolism prevention following laparoscopic gastric bypass. JSLS 16(1):33–37

12.

Birkmeyer NJ, Finks JF, Carlin AM, Michigan Bariatric Surgery Collaborative et al (2012) Comparative effectiveness of unfractionated and low-molecular-weight heparin for prevention of venous thromboembolism following bariatric surgery. Arch Surg 147(11):994–998

13.

Becattini C, Agnelli G, Manina G, Noya G, Rondelli F (2012) Venous thromboembolism after laparoscopic bariatric surgery for morbid obesity: clinical burden and prevention. Surg Obes Relat Dis 8(1):108–115
Acknowledgements
We acknowledge the biostatistical consultation and support provided by the Biostatistical Consulting Core at School of Medicine, Stony Brook University.
Ethics declarations
Disclosures
Dr. Pryor receives honoraria for speaking for Ethicon, Medtronic, Stryker, and Gore; is a consultant for Medicines Company, Merck, and Intuitive; and received research support from Baronova and Obalon. Drs. Altieri, Yang, Spaniolas, Hajagos, Gasparis, Bates, Docimo, Shroyer, Talamini, and Ms. Park have no conflicts of interest or financial ties to disclose.
About this article
Cite this article
Altieri, M.S., Yang, J., Hajagos, J. et al. Evaluation of VTE prophylaxis and the impact of alternate regimens on post-operative bleeding and thrombotic complications following bariatric procedures. Surg Endosc 32, 4805–4812 (2018). https://doi.org/10.1007/s00464-018-6231-z
Received:

Accepted:

Published:

Issue Date:
Keywords
VTE events

Bariatric surgery