Abstract
Background
Despite previous reports of robotic-assisted laparoscopic release for median arcuate ligament syndrome (MALS), the safety and efficacy profile of this approach has been difficult to establish due to the rarity of this diagnostic entity. We aim to present our experience from a tertiary minimally invasive surgery referral center.
Methods
A case series was performed whereby all patients who underwent robotic-assisted MAL release from July 2010 to July 2017 at our institution were included. Diagnosis of MALS was made based on consideration of symptom presentation, celiac artery duplex ultrasound, and corresponding findings on Computed Tomography (CT) or Magnetic Resonance Angiography (MRA). Outcomes up until the most recent clinic follow-up were reviewed.
Results
A total of 13 patients underwent robotic-assisted MAL release. Patients' age ranged from 16 to 71 years (mean 38 years) and consisted primarily of females (76.9%). Most common presenting symptoms included postprandial pain (76.9%), weight loss (76.9%), nausea and vomiting (76.9%). Mean symptom duration was 3 years (range 1–10 years). No intraoperative complications. None required conversion to open surgery. One case required a conversion back to laparoscopy due to anatomical complexity. The mean operative time for successfully completed robotic cases was 94.6 min (range 52–120 min), and for all cases including converted case was 103.5 min (52–210 min). Mean follow-up duration was 19.7 months (range 1–77 months). During subsequent follow-up, a 30-day readmission rate of 23.1% was observed. All but one of the patients experienced prompt symptom improvement. Four patients had symptom recurrence during follow-up.
Conclusions
Our experience demonstrates that the robotic-assisted approach to MAL release may be safe and efficacious in selected patients. Prospective comparative studies are required to further evaluate its outcomes against conventional laparoscopic approach, the current gold standard.
This is a preview of subscription content, log in to check access.
Access options
Buy single article
Instant unlimited access to the full article PDF.
US$ 39.95
Price includes VAT for USA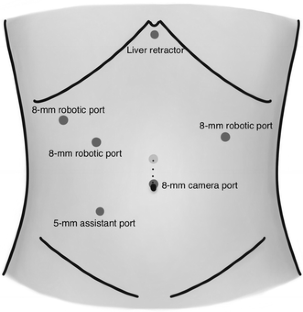 References
1.

Harjola PT (1963) A rare obstruction of the coeliac artery. report of a case. Ann Chir Gynaecol Fenn 52:547–550

2.

Dunbar JD, Molnar W, Beman FF, Marable SA (1965) Compression of the celiac trunk and abdominal angina. Am J Roentgenol Radium Ther Nucl Med 95(3):731–744

3.

Harjola PT, Lahtiharju A (1968) Celiac axis syndrome. Abdominal angina caused by external compression of the celiac artery. Am J Surg 115(6):864–869

4.

Balaban DH, Chen J, Lin Z, Tribble CG, McCallum RW (1997) Median arcuate ligament syndrome: a possible cause of idiopathic gastroparesis. Am J Gastroenterol 92(3):519–523

5.

Cornell SH (1971) Severe stenosis of the celiac artery. Analysis of patients with and without symptoms. Radiology 99(2):311–316

6.

Bron KM, Redman HC (1969) Splanchnic artery stenosis and occlusion. Incidence; arteriographic and clinical manifestations. Radiology 92(2):323–328

7.

Lindner HH, Kemprud E (1971) A clinicoanatomical study of the arcuate ligament of the diaphragm. Arch Surg 103(5):600–605

8.

Harr JN, Haskins IN, Brody F (2017) Median arcuate ligament syndrome in athletes. Surg Endosc 31(1):476

9.

Haskins IN, Harr JN, Brody F (2016) Exercise-related transient abdominal pain secondary to median arcuate ligament syndrome: a case report. J Sports Sci 34(13):1246–1249

10.

Jimenez JC, Harlander-Locke M, Dutson EP (2012) Open and laparoscopic treatment of median arcuate ligament syndrome. J Vasc Surg 56(3):869–873

11.

Desmond CP, Roberts SK (2004) Exercise-related abdominal pain as a manifestation of the median arcuate ligament syndrome. Scand J Gastroenterol 39(12):1310–1313

12.

Jaik NP, Stawicki SP, Weger NS, Lukaszczyk JJ (2007) Celiac artery compression syndrome: successful utilization of robotic-assisted laparoscopic approach. J Gastrointestin Liver Dis 16(1):93–96

13.

Relles D, Moudgill N, Rao A, Rosato F, DiMuzio P, Eisenberg J (2012) Robotic-assisted median arcuate ligament release. J Vasc Surg 56(2):500–503

14.

Do MV, Smith TA, Bazan HA, Sternbergh WC 3rd, Abbas AE, Richardson WS (2013) Laparoscopic versus robot-assisted surgery for median arcuate ligament syndrome. Surg Endosc 27(11):4060–4066

15.

You JS, Cooper M, Nishida S, Matsuda E, Murariu D (2013) Treatment of median arcuate ligament syndrome via traditional and robotic techniques. Hawaii J Med Public Health 72(8):279–281

16.

Thoolen SJ, van der Vliet WJ, Kent TS, Callery MP, Dib MJ, Hamdan A et al (2015) Technique and outcomes of robot-assisted median arcuate ligament release for celiac artery compression syndrome. J Vasc Surg 61(5):1278–1284

17.

Horton KM, Talamini MA, Fishman EK (2005) Median arcuate ligament syndrome: evaluation with CT angiography. Radiographics 25(5):1177–1182

18.

Moneta GL, Lee RW, Yeager RA, Taylor LM Jr, Porter JM (1993) Mesenteric duplex scanning: a blinded prospective study. J Vasc Surg 17(1):79–84 (discussion 5–6)

19.

Meyer M, Gharagozloo F, Nguyen D, Tempesta B, Strother E, Margolis M (2012) Robotic-assisted treatment of celiac artery compression syndrome: report of a case and review of the literature. Int J Med Robot 8(4):379–383

20.

Roseborough GS (2009) Laparoscopic management of celiac artery compression syndrome. J Vasc Surg 50(1):124–133

21.

Columbo JA, Trus T, Nolan B, Goodney P, Rzucidlo E, Powell R et al (2015) Contemporary management of median arcuate ligament syndrome provides early symptom improvement. J Vasc Surg 62(1):151–156

22.

Maeso S, Reza M, Mayol JA, Blasco JA, Guerra M, Andradas E et al (2010) Efficacy of the Da Vinci surgical system in abdominal surgery compared with that of laparoscopy: a systematic review and meta-analysis. Ann Surg 252(2):254–262
Ethics declarations
Disclosures
Drs. Usah Khrucharoen, Yen-Yi Juo, Yas Sanaiha, Yijun Chen, Juan C. Jimenez, and Erik P. Dutson have no conflicts of interest or financial ties to disclose.
Electronic supplementary material
Below is the link to the electronic supplementary material.
Supplementary material 1 (MP4 294447 KB)
About this article
Cite this article
Khrucharoen, U., Juo, Y., Sanaiha, Y. et al. Robotic-assisted laparoscopic median arcuate ligament release: 7-year experience from a single tertiary care center. Surg Endosc 32, 4029–4035 (2018) doi:10.1007/s00464-018-6218-9
Received:

Accepted:

Published:

Issue Date:
Keywords
Postprandial abdominal pain

Median arcuate ligament syndrome

Dunbar syndrome

Celiac artery decompression

Median arcuate ligament release

And robotic-assisted laparoscopic procedure