Abstract
Background
The aim of this study is to categorize splenic artery and vein configurations, and examine their influence on suprapancreatic lymph node (LN) dissection in laparoscopic gastrectomy.
Methods
Digital Imaging and Communications in Medicine images from 169 advanced cancer patients who underwent laparoscopic gastrectomy with D2 dissection were used to reconstruct perigastric vessels in 3D using a volume rendering program (VP Planning®). Splenic artery and vein configuration were classified depending on the relative position of their lowest part in regard to the pancreas. Number of resected LNs and surgical outcomes were analyzed.
Results
The splenic artery was categorized as superficial (36.7%), middle (49.1%), and concealed (14.2%), and the splenic vein was categorized as superior (6.5%), middle (42.0%), and inferior to the pancreas (51.5%). The number of resected LNs around the proximal half of the splenic artery (#11p) and the proportion of the splenic vein located inferiorly to the pancreas were significantly higher in splenic arteries of concealed types. LN metastasis of station #7 was an independent risk factor of LN metastasis in station #11p (p = 0.010). Concealed types showed a tendency towards longer operating times, more blood loss, longer hospital stays, and a higher postoperative morbidity.
Conclusion
Concealed types of splenic artery are associated with an increased difficulty in the dissection of LN station #11p around the splenic artery. A 3D volume rendering program is a useful tool to rapidly and intuitively identify individual anatomical variations, to plan a tailored surgical strategy, and to predict potential challenges.
This is a preview of subscription content, log in to check access.
Access options
Buy single article
Instant unlimited access to the full article PDF.
US$ 39.95
Price includes VAT for USA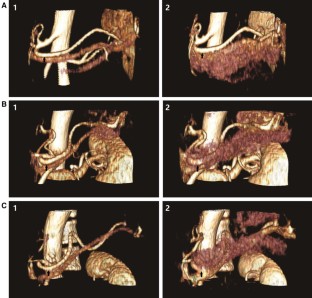 References
1.

Kitano S, Iso Y, Moriyama M, Sugimachi K (1994) Laparoscopy-assisted Billroth I gastrectomy. Surg Laparosc Endosc 4:146–148

2.

Japanese Gastric Cancer A (2017) Japanese gastric cancer treatment guidelines 2014 (ver. 4). Gastric Cancer 20:1–19

3.

Uyama I, Suda K, Satoh S (2013) Laparoscopic surgery for advanced gastric cancer: current status and future perspectives. J Gastric Cancer 13:19–25

4.

Shinohara T, Satoh S, Kanaya S, Ishida Y, Taniguchi K, Isogaki J, Inaba K, Yanaga K, Uyama I (2013) Laparoscopic versus open D2 gastrectomy for advanced gastric cancer: a retrospective cohort study. Surg Endosc 27:286–294

5.

Hu Y, Huang C, Sun Y, Su X, Cao H, Hu J, Xue Y, Suo J, Tao K, He X, Wei H, Ying M, Hu W, Du X, Chen P, Liu H, Zheng C, Liu F, Yu J, Li Z, Zhao G, Chen X, Wang K, Li P, Xing J, Li G (2016) Morbidity and mortality of laparoscopic versus open D2 distal gastrectomy for advanced gastric cancer: a randomized controlled trial. J Clin Oncol 34:1350–1357

6.

Inaki N, Etoh T, Ohyama T, Uchiyama K, Katada N, Koeda K, Yoshida K, Takagane A, Kojima K, Sakuramoto S, Shiraishi N, Kitano S (2015) A multi-institutional, prospective, phase II feasibility study of laparoscopy-assisted distal gastrectomy with D2 lymph node dissection for locally advanced gastric cancer (JLSSG0901). World J Surg 39:2734–2741

7.

Kim HH, Han SU, Kim MC, Hyung WJ, Kim W, Lee HJ, Ryu SW, Cho GS, Song KY, Ryu SY (2014) Long-term results of laparoscopic gastrectomy for gastric cancer: a large-scale case-control and case-matched Korean multicenter study. J Clin Oncol 32:627–633

8.

Sano T, Aiko T (2011) New Japanese classifications and treatment guidelines for gastric cancer: revision concepts and major revised points. Gastric Cancer 14:97–100

9.

Zheng CH, Xu M, Huang CM, Li P, Xie JW, Wang JB, Lin JX, Lu J, Chen QY, Cao LL, Lin M (2015) Anatomy and influence of the splenic artery in laparoscopic spleen-preserving splenic lymphadenectomy. World J Gastroenterol 21:8389–8397

10.

Kim HI, Hur H, Kim YN, Lee HJ, Kim MC, Han SU, Hyung WJ (2014) Standardization of D2 lymphadenectomy and surgical quality control (KLASS-02-QC): a prospective, observational, multicenter study [NCT01283893]. BMC Cancer 14:209

11.

Uyama I, Kanaya S, Ishida Y, Inaba K, Suda K, Satoh S (2012) Novel integrated robotic approach for suprapancreatic D2 nodal dissection for treating gastric cancer: technique and initial experience. World J Surg 36:331–337

12.

Natsume T, Shuto K, Yanagawa N, Akai T, Kawahira H, Hayashi H, Matsubara H (2011) The classification of anatomic variations in the perigastric vessels by dual-phase CT to reduce intraoperative bleeding during laparoscopic gastrectomy. Surg Endosc 25:1420–1424

13.

Adachi Y, Shiraishi N, Suematsu T, Shiromizu A, Yamaguchi K, Kitano S (2000) Most important lymph node information in gastric cancer: multivariate prognostic study. Ann Surg Oncol 7:503–507

14.

Methasate A, Trakarnsanga A, Akaraviputh T, Chinsawangwathanakol V, Lohsiriwat D (2010) Lymph node metastasis in gastric cancer: result of D2 dissection. J Med Assoc Thai 93:310–317

15.

Chen RF, Huang CM, Chen QY, Zheng CH, Li P, Xie JW, Wang JB, Lin JX, Lu J, Cao LL, Lin M (2015) Why the proximal splenic artery approach is the ideal approach for laparoscopic suprapancreatic lymph node dissection in advanced gastric cancer? A large-scale vascular-anatomical-based study. Medicine (Baltimore) 94:e832

16.

Fukunaga T, Hiki N, Tokunaga M, Nohara K, Akashi Y, Katayama H, Yoshiba H, Yamada K, Ohyama S, Yamaguchi T (2009) Left-sided approach for suprapancreatic lymph node dissection in laparoscopy-assisted distal gastrectomy without duodenal transection. Gastric Cancer 12:106–112

17.

Huang CM, Chen QY, Lin JX, Zheng CH, Li P, Xie JW, Wang JB, Lu J, Yang XT (2015) Laparoscopic suprapancreatic lymph node dissection for advanced gastric cancer using a left-sided approach. Ann Surg Oncol 22::2351

18.

Dindo D, Demartines N, Clavien PA (2004) Classification of surgical complications: a new proposal with evaluation in a cohort of 6336 patients and results of a survey. Ann Surg 240:205–213

19.

Kanaya S, Haruta S, Kawamura Y, Yoshimura F, Inaba K, Hiramatsu Y, Ishida Y, Taniguchi K, Isogaki J, Uyama I (2011) Video: laparoscopy distinctive technique for suprapancreatic lymph node dissection: medial approach for laparoscopic gastric cancer surgery. Surg Endosc 25:3928–3929

20.

Okabe H, Obama K, Kan T, Tanaka E, Itami A, Sakai Y (2010) Medial approach for laparoscopic total gastrectomy with splenic lymph node dissection. J Am Coll Surg 211:e1-6

21.

Tu RH, Li P, Xie JW, Wang JB, Lin JX, Lu J, Chen QY, Cao LL, Lin M, Huang CM, Zheng CH (2017) Development of lymph node dissection in laparoscopic gastrectomy: safety and technical tips. Transl Gastroenterol Hepatol 2::23

22.

Ahn SH, Jung DH, Son SY, Park DJ, Kim HH (2014) Pure single-incision laparoscopic D2 lymphadenectomy for gastric cancer: a novel approach to 11p lymph node dissection (midpancreas mobilization). Ann Surg Treat Res 87:279–283

23.

Matsuki M, Tanikake M, Kani H, Tatsugami F, Kanazawa S, Kanamoto T, Inada Y, Yoshikawa S, Narabayashi I, Lee SW, Nomura E, Okuda J, Tanigawa N (2006) Dual-phase 3D CT angiography during a single breath-hold using 16-MDCT: assessment of vascular anatomy before laparoscopic gastrectomy. AJR Am J Roentgenol 186:1079–1085

24.

Wang JB, Huang CM, Zheng CH, Li P, Xie JW, Lin JX, Lu J (2014) Role of 3DCT in laparoscopic total gastrectomy with spleen-preserving splenic lymph node dissection. World J Gastroenterol 20:4797–4805

25.

Iino I, Sakaguchi T, Kikuchi H, Miyazaki S, Fujita T, Hiramatsu Y, Ohta M, Kamiya K, Ushio T, Takehara Y, Konno H (2013) Usefulness of three-dimensional angiographic analysis of perigastric vessels before laparoscopic gastrectomy. Gastric Cancer 16:355–361

26.

Lee SW, Shinohara H, Matsuki M, Okuda J, Nomura E, Mabuchi H, Nishiguchi K, Takaori K, Narabayashi I, Tanigawa N (2003) Preoperative simulation of vascular anatomy by three-dimensional computed tomography imaging in laparoscopic gastric cancer surgery. J Am Coll Surg 197:927–936

27.

Kong SH, Noh YW, Suh YS, Park HS, Lee HJ, Kang KW, Kim HC, Lim YT, Yang HK (2015) Evaluation of the novel near-infrared fluorescence tracers pullulan polymer nanogel and indocyanine green/gamma-glutamic acid complex for sentinel lymph node navigation surgery in large animal models. Gastric Cancer 18:55–64

28.

Marwah R, Nair JR, Singal A, Talwar I (2010) 3D multidetector CT angiographic evaluation of intralobular bronchopulmonary sequestration. J Indian Assoc Pediatr Surg 15:39–41

29.

Wang XD, Wang HG, Shi J, Duan WD, Luo Y, Ji WB, Zhang N, Dong JH (2017) Traditional surgical planning of liver surgery is modified by 3D interactive quantitative surgical planning approach: a single-center experience with 305 patients. Hepatobiliary Pancreat Dis Int 16:271–278

30.

Cai W, Fan Y, Hu H, Xiang N, Fang C, Jia F (2017) Postoperative liver volume was accurately predicted by a medical image three dimensional visualization system in hepatectomy for liver cancer. Surg Oncol 26:188–194

31.

Fernandes de Oliveira Santos B, Silva da Costa MD, Centeno RS, Cavalheiro S, Antonio de Paiva Neto M, Lawton MT, Chaddad-Neto F (2017) Clinical Application of an Open-Source 3D Volume Rendering Software to Neurosurgical Approaches. World Neurosurg 110: e864–e872

32.

Kappanayil M, Koneti NR, Kannan RR, Kottayil BP, Kumar K (2017) Three-dimensional-printed cardiac prototypes aid surgical decision-making and preoperative planning in selected cases of complex congenital heart diseases: early experience and proof of concept in a resource-limited environment. Ann Pediatr Cardiol 10:117–125

33.

Bernhardt S, Nicolau SA, Soler L, Doignon C (2017) The status of augmented reality in laparoscopic surgery as of 2016. Med Image Anal 37:66–90

34.

Azagury DE, Dua MM, Barrese JC, Henderson JM, Buchs NC, Ris F, Cloyd JM, Martinie JB, Razzaque S, Nicolau S, Soler L, Marescaux J, Visser BC (2015) Image-guided surgery. Curr Probl Surg 52:476–520
Acknowledgements
This work was supported by grants (No. 800-20160455) from the Seoul National University College of Medicine. The authors are grateful to Christopher Burel and Guy Temporal, professionals in medical English proofreading, for their valuable help in revising the manuscript.
Ethics declarations
Conflict of interest
Chunchao Zhu, Seong-Ho Kong, Tae-Han Kim, Shin-Hoo Park, Rene Ronson G. Ang, Michele Diana, Luc Soler, Yun-Suhk Suh, Hyuk-Joon Lee, Jacques Marescaux, Hui Cao, and Han-Kwang Yang have no conflicts of interest or financial ties to disclose.
Ethics statement
This retrospective study was conducted ethically in accordance with the Ethical Principles for Medical Research Involving Human Subjects, as outlined in the Declaration of Helsinki after the approval of the Institutional Review Board (IRB) of the Seoul National University Hospital. Informed consent was waived by the Institutional Review Board based on their decision that the risk of this study is minimal for the patient.
Electronic supplementary material
Below is the link to the electronic supplementary material.
Supplementary material 1 (MP4 165694 KB)
About this article
Cite this article
Zhu, C., Kong, S., Kim, T. et al. The anatomical configuration of the splenic artery influences suprapancreatic lymph node dissection in laparoscopic gastrectomy: analysis using a 3D volume rendering program. Surg Endosc 32, 3697–3705 (2018). https://doi.org/10.1007/s00464-018-6201-5
Received:

Accepted:

Published:

Issue Date:
Keywords
Gastric cancer

Splenic artery

Vascular anatomy

Lymphadenectomy