Abstract
Background
Difficulties in endoscopic operations and therapeutic procedures seem to occur due to the complexity of operating the endoscope dial as well as difficulty in performing synchronized movements with both hands. We developed a prototype robotic-assisted flexible endoscope that can be controlled with a single hand in order to simplify the operation of the endoscope. The aim of this study was to confirm the operability of the robotic-assisted flexible endoscope (RAFE) by performing endoscopic submucosal dissection (ESD).
Methods
Study 1: ESD was performed manually or with RAFE by an expert endoscopist in ex vivo porcine stomachs; six operations manually and six were performed with RAFE. The procedure time per unit circumferential length/area was calculated, and the results were statistically analyzed. Study 2: We evaluated how smoothly a non-endoscopist can move a RAFE compared to a manual endoscope by assessing the designated movement of the endoscope.
Results
Study 1: En bloc resection was achieved by ESD using the RAFE. The procedure time was gradually shortened with increasing experience, and the procedure time of ESD performed with the RAFE was not significantly different from that of ESD performed with a manual endoscope. Study 2: The time for the designated movement of the endoscope was significantly shorter with a RAFE than that with a manual endoscope as for a non-endoscopist.
Conclusions
The RAFE that we developed enabled an expert endoscopist to perform the ESD procedure without any problems and allowed a non-endoscopist to control the endoscope more easily and quickly than a manual endoscope. The RAFE is expected to undergo further development.
This is a preview of subscription content, log in to check access.
Access options
Buy single article
Instant unlimited access to the full article PDF.
US$ 39.95
Price includes VAT for USA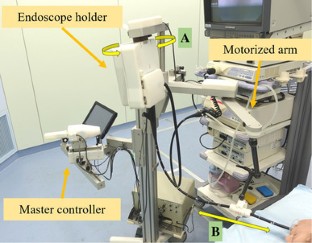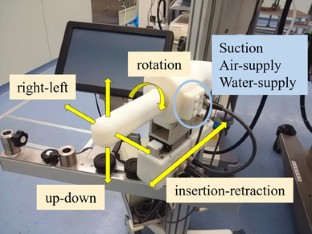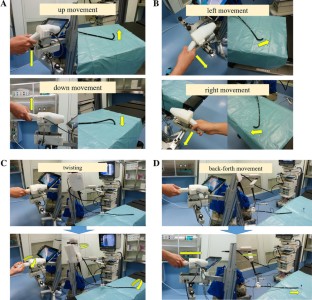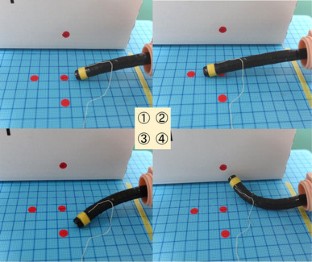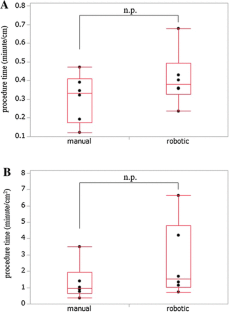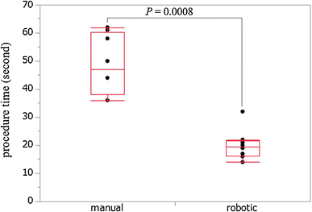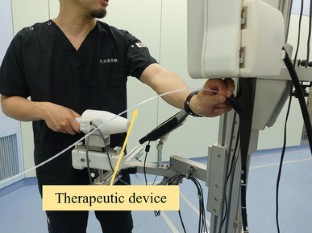 References
1.

Gotoda T, Kondo H, Ono H, Saito Y, Yamaguchi H, Saito D, Yokota T (1999) A new endoscopic mucosal resection procedure using an insulation-tipped electrosurgical knife for rectal flat lesions: report of two cases. Gastrointest Endosc 50:560–563

2.

Rattner D, Kalloo A (2006) ASGE/SAGES Working Group on Natural Orifice Translumenal Endoscopic Surgery. October 2005. Surg Endosc 20:329–333

3.

Hazey JW, Narula VK, Renton DB, Reavis KM, Paul CM, Hinshaw KE, Muscarella P, Ellison EC, Melvin WS (2008) Natural-orifice transgastric endoscopic peritoneoscopy in humans: initial clinical trial. Surg Endosc 22:16–20

4.

Pullens HJ, van der Stap N, Rozeboom ED, Schwartz MP, van der Heijden F, van Oijen MG, Siersema PD, Broeders IA (2016) Colonoscopy with robotic steering and automated lumen centralization: a feasibility study in a colon model. Endoscopy 48:286–290

5.

Rozeboom ED, Bastiaansen BA, de Vries ES, Dekker E, Fockens PA, Broeders IA (2016) Robotic-assisted flexible colonoscopy: preliminary safety and efficiency in humans. Gastrointest Endosc 83:1267–1271

6.

Kume K, Sakai N, Goto T (2015) Development of a novel endoscopic manipulation system: the Endoscopic Operation Robot ver.3. Endoscopy 47:815–819

7.

Sakurazawa N, Kato S, Miyashita M, Kiyama T, Fujita I, Yamashita N, Saitou Y, Tajiri T, Uchida E (2009) An innovative technique for endoscopic submucosal dissection of early gastric cancer using a new spring device. Endoscopy 41:929–933

8.

Ho KY, Phee SJ, Shabbir A, Low SC, Huynh VA, Kencana AP, Yang K, Lomanto D, So BY, Wong YY, Chung SC (2010) Endoscopic submucosal dissection of gastric lesions by using a Master and Slave Transluminal Endoscopic Robot (MASTER). Gastrointest Endosc 72:593–599

9.

Ikeda K, Sumiyama K, Tajiri H, Yasuda K, Kitano S (2011) Evaluation of a new multitasking platform for endoscopic full-thickness resection. Gastrointest Endosc 73:117–122

10.

Phee SJ, Reddy N, Chiu PW, Rebala P, Rao GV, Wang Z, Sun Z, Wong JY, Ho KY (2012) Robot-assisted endoscopic submucosal dissection is effective in treating patients with early-stage gastric neoplasia. Clin Gastroenterol Hepatol 10:1117–1121

11.

Diana M, Chung H, Liu KH, Dallemagne B, Demartines N, Mutter D, Marescaux J (2013) Endoluminal surgical triangulation: overcoming challenges of colonic endoscopic submucosal dissections using a novel flexible endoscopic surgical platform: feasibility study in a porcine model. Surg Endosc 27:4130–4135

12.

Nakadate R, Nakamura S, Moriyama T, Kenmotsu H, Oguri S, Arata J, Uemura M, Ohuchida K, Akahoshi T, Ikeda T, Hashizume M (2015) Gastric endoscopic submucosal dissection using novel 2.6-mm articulating devices: an ex vivo comparative and in vivo feasibility study. Endoscopy 47:820–824
Ethics declarations
Disclosures
Tsutomu Iwasa, Ryu Nakadate, Shinya Onogi, Yasuharu Okamoto, Jumpei Arata, Susumu Oguri, Haruei Ogino, Eikichi Ihara, Kenoki Ohuchida, Tomohiko Akahoshi, Tetsuo Ikeda, Yoshihiro Ogawa, and Makoto Hashizume have no conflicts of interest or financial ties to disclose.
Electronic supplementary material
Below is the link to the electronic supplementary material.
Supplementary material 1 (MP4 20981 KB)
About this article
Cite this article
Iwasa, T., Nakadate, R., Onogi, S. et al. A new robotic-assisted flexible endoscope with single-hand control: endoscopic submucosal dissection in the ex vivo porcine stomach. Surg Endosc 32, 3386–3392 (2018). https://doi.org/10.1007/s00464-018-6188-y
Received:

Accepted:

Published:

Issue Date:
Keywords
Flexible endoscopy

Robotic-assisted flexible endoscope

Endoscopic submucosal dissection

Laparoscopic surgery

Natural orifice transluminal endoscopic surgery