Abstract
Background and aims
We developed a novel method of endoscopic subserosal dissection (ESSD) for removal of subepithelial tumors (SETs) originating from the muscularis propria (MP) layer in the upper gastrointestinal (GI) tract. The aim of this study was to evaluate the efficacy, safety, and clinical outcome of this method.
Methods
Eleven patients with upper GI SETs originating from the MP layer were treated by ESSD between October 2016 and March 2017. ESSD technique consists of six major procedures: (1) incising the mucosal and submucosal layer around the lesion and exposing MP layer; (2) continuous injection was performed while the injection needle slowly moved from the MP layer toward the subserosal layer; (3) incising MP layer; (4) subserosal injection was performed to further separate the serosa from the MP layer; (5) the mucosa, submucosa, and MP layer including SET were carefully dissected en bloc; and (6) closure of the gastric-wall defect with endoscopic techniques. Primary outcome including clinical procedural success and procedure-related adverse events were documented.
Results
ESSD was successfully performed in 11 patients. The complete resection rate was 100%, and the mean operation time was 51 (range 22–76) min. The mean resected lesion size was 27 (range 15–40) mm. Pathological diagnosis of these lesions included gastrointestinal stromal tumors (8/11), heterotopic pancreas (1/11), hamartoma (1/11), and leiomyoma (1/11). The small perforations occurred in two patients (4 × 4 and 5 × 5 mm, respectively) during the operation. All perforations and defects were closed successfully by endoscopic techniques. No GI bleeding, peritonitis, abdominal abscess, and other adverse events were observed. No lesion residual or recurrence was found during the follow-up period (mean 18 weeks; range 10–29 weeks).
Conclusion
ESSD seems to be an efficacious, safe, and minimally invasive treatment for patients with upper GI SETs originating from the MP layer, making it possible to resect deep lesions, provide precise pathological diagnosis, and maintain the integrity of serosa.
This is a preview of subscription content, log in to check access.
Access options
Buy single article
Instant access to the full article PDF.
US$ 39.95
Price includes VAT for USA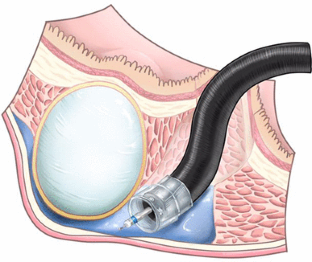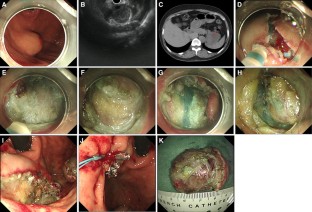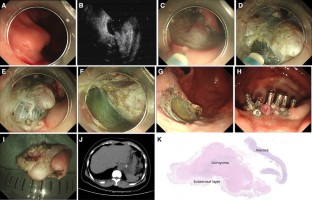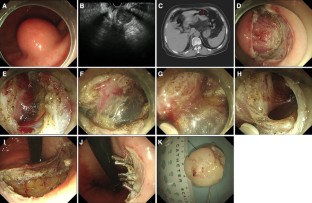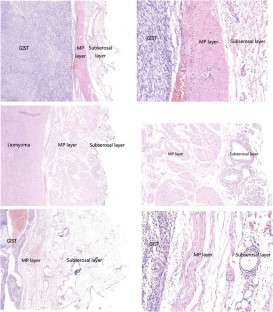 References
1.

Koo DH, Ryu MH, Kim KM, Yang HK, Sawaki A, Hirota S, Zheng J, Zhang B, Tzen CY, Yeh CN, Nishida T, Shen L, Chen LT, Kang YK (2016) Asian consensus guidelines for the diagnosis and management of gastrointestinal stromal tumor. Cancer Res Treat 48:1155–1166

2.

Bialek A, Wiechowska-Kozlowska A, Pertkiewicz J, Polkowski M, Milkiewicz P, Karpinska K, Lawniczak M, Starzynska T (2012) Endoscopic submucosal dissection for treatment of gastric subepithelial tumors (with video). Gastrointest Endosc 75:276–286

3.

Akahoshi K, Sumida Y, Matsui N, Oya M, Akinaga R, Kubokawa M, Motomura Y, Honda K, Watanabe M, Nagaie T (2007) Preoperative diagnosis of gastrointestinal stromal tumor by endoscopic ultrasound-guided fine needle aspiration. World J Gastroenterol 13:2077–2082

4.

Hoda KM, Rodriguez SA, Faigel DO (2009) EUS-guided sampling of suspected GI stromal tumors. Gastrointest Endosc 69:1218–1223

5.

Karakousis GC, Singer S, Zheng J, Gonen M, Coit D, DeMatteo RP, Strong VE (2011) Laparoscopic versus open gastric resections for primary gastrointestinal stromal tumors (GISTs): a size-matched comparison. Ann Surg Oncol 18:1599–1605

6.

Wang L, Fan CQ, Ren W, Zhang X, Li YH, Zhao XY (2011) Endoscopic dissection of large endogenous myogenic tumors in the esophagus and stomach is safe and feasible: a report of 42 cases. Scand J Gastroenterol 46:627–633

7.

Wang L, Ren W, Fan CQ, Li YH, Zhang X, Yu J, Zhao GC, Zhao XY (2011) Full-thickness endoscopic resection of nonintracavitary gastric stromal tumors: a novel approach. Surg Endosc 25:641–647

8.

Wang L, Ren W, Zhang Z, Yu J, Li Y, Song Y (2013) Retrospective study of endoscopic submucosal tunnel dissection (ESTD) for surgical resection of esophageal leiomyoma. Surg Endosc 27:4259–4266

9.

Ko WJ, Cho JY (2016) Current techniques for treating gastrointestinal stromal tumors in the upper gastrointestinal tract. Clin Endosc 49:226–228

10.

Mukai S, Cho S, Kotachi T, Shimizu A, Matuura G, Nonaka M, Hamada T, Hirata K, Nakanishi T (2012) Analysis of delayed bleeding after endoscopic submucosal dissection for gastric epithelial neoplasms. Gastroenterol Res Pract 2012:875323

11.

Joensuu H (2008) Risk stratification of patients diagnosed with gastrointestinal stromal tumor. Hum Pathol 39:1411–1419

12.

Eckardt AJ, Adler A, Gomes EM, Jenssen C, Siebert C, Gottschalk U, Koch M, Rocken C, Rosch T (2012) Endosonographic large-bore biopsy of gastric subepithelial tumors: a prospective multicenter study. Eur J Gastroenterol Hepatol 24:1135–1144

13.

Schmidt A, Bauder M, Riecken B, von Renteln D, Muehleisen H, Caca K (2015) Endoscopic full-thickness resection of gastric subepithelial tumors: a single-center series. Endoscopy 47:154–158

14.

Kumta NA, Saumoy M, Tyberg A, Kahaleh M (2017) Submucosal tunneling endoscopic resection for en bloc removal of large esophageal gastrointestinal stromal tumors. Gastroenterology 152:482–483

15.

Liu BR, Song JT, Qu B, Wen JF, Yin JB, Liu W (2012) Endoscopic muscularis dissection for upper gastrointestinal subepithelial tumors originating from the muscularis propria. Surg Endosc 26:3141–3148

16.

Chun SY, Kim KO, Park DS, Lee IJ, Park JW, Moon SH, Baek IH, Kim JH, Park CK, Kwon MJ (2013) Endoscopic submucosal dissection as a treatment for gastric subepithelial tumors that originate from the muscularis propria layer: a preliminary analysis of appropriate indications. Surg Endosc 27:3271–3279

17.

Shi Q, Zhong YS, Yao LQ, Zhou PH, Xu MD, Wang P (2011) Endoscopic submucosal dissection for treatment of esophageal submucosal tumors originating from the muscularis propria layer. Gastrointest Endosc 74:1194–1200

18.

Zhou PH, Yao LQ, Qin XY, Cai MY, Xu MD, Zhong YS, Chen WF, Zhang YQ, Qin WZ, Hu JW, Liu JZ (2011) Endoscopic full-thickness resection without laparoscopic assistance for gastric submucosal tumors originated from the muscularis propria. Surg Endosc 25:2926–2931

19.

Milone M, Elmore U, Musella M, Parise P, Zotti MC, Bracale U, Di Lauro K, Manigrasso M, Milone F, Rosati R (2017) Safety and efficacy of laparoscopic wedge gastrectomy for large gastrointestinal stromal tumors. Eur J Surg Oncol 43:796–800
Ethics declarations
Disclosures
Drs. Fei Liu, Song Zhang, Wei Ren, Tian Yang, Ying Lv, Tingsheng Ling, Xiaoping Zou, and Lei Wang have no conflicts of interests or financial ties to disclose.
Additional information
Fei Liu and Song Zhang contributed equally to this article.
Electronic supplementary material
Below is the link to the electronic supplementary material.
About this article
Cite this article
Liu, F., Zhang, S., Ren, W. et al. The fourth space surgery: endoscopic subserosal dissection for upper gastrointestinal subepithelial tumors originating from the muscularis propria layer. Surg Endosc 32, 2575–2582 (2018). https://doi.org/10.1007/s00464-017-5985-z
Received:

Accepted:

Published:

Issue Date:
Keywords
Endoscopic resection

Endoscopic subserosal dissection (ESSD)

Subepithelial tumors (SETs)

Gastrointestinal stromal tumors (GISTs)