Abstract
Background
Enhanced recovery after surgery (ERAS), with several evidence-based elements, has been shown to shorten length of hospital stay and reduce perioperative hospital costs in many operations. This randomized clinical trial was performed to compare complications and hospital stay of laparoscopic liver resection between ERAS and traditional care.
Methods
A randomized controlled trial was performed for laparoscopic liver resection from August 2015 to August 2016. Patients were randomly divided into ERAS group and traditional care group. The primary outcome was length of hospital stay (LOS) after surgery. Second outcomes included postoperative complications, hospital cost, and 30-day readmissions. Elements used in ERAS group included more perioperative education, nurse navigators, nutrition support for liver diseases, respiratory therapy, oral carbohydrate 2 h before operation, early mobilization and oral intake, goal-directed fluid therapy, less drainages, postoperative nausea and vomiting (PONV) prophylaxis and multimodal analgesia.
Results
The study included 58 (two conversion to laparotomy) patients in ERAS group and 61 (three conversion to laparotomy) patients in the traditional care group. Postoperative LOS was significantly shorter in the ERAS group than traditional care group (5 vs. 8 days; p < 0.001). ERAS program significantly reduced the hospital costs (CNY 45413.1 vs. 55794.1; p = 0.006) and complications (36.2 vs. 55.7%; p = 0.033). Duration till first flatus and PONV were significantly reduced in ERAS group. Pain control was better in ERAS (Visual analogue scale (VAS) POD1 (≥ 4) 19.0 vs. 39.3%, p = 0.017; VAS POD1 2.5 vs. 3.1, p = 0.010). There was no difference in the rate of 30-day readmissions (6.9 vs. 8.2%; p = 1.000).
Conclusion
ERAS protocol is feasible and safe for laparoscopic liver resection. Patients in ERAS group have less pain and complications.
This is a preview of subscription content, log in to check access.
Access options
Buy single article
Instant access to the full article PDF.
US$ 39.95
Price includes VAT for USA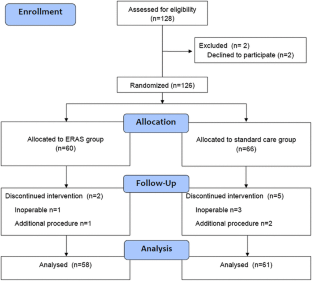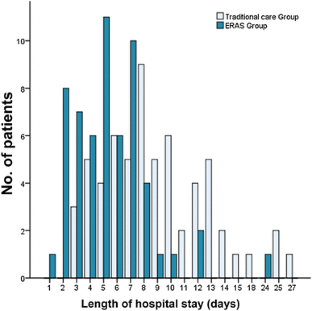 Abbreviations
ERAS:

Enhanced recovery after surgery

PONV:

Postoperative nausea and vomiting

VAS:

Visual analogue scale

CNY:

China Yuan, Renminbi

CCI:

Comprehensive Complication Index
References
1.

Kehlet H (1997) Multimodal approach to control postoperative pathophysiology and rehabilitation. Brit J Anaesth 78(5):606–617

2.

Wang G, Jiang Z, Xu J, Gong J, Bao Y, Xie L, Li J (2011) Fast-track rehabilitation program vs conventional care after colorectal resection: a randomized clinical trial. World J Gastroentero 17(5):671–676

3.

Gatt M, Khan S, MacFie J, Neal KR, Dejong CH, Fearon KC, Ljungqvist O, Lobo DN (2010) In response to: Varadhan KK. The enhanced recovery after surgery (ERAS) pathway for patients undergoing major elective open colorectal surgery: a meta-analysis of randomized controlled trials. Clin Nutr 29(5):434–440

4.

Page AJ, Ejaz A, Spolverato G, Zavadsky T, Grant MC, Galante DJ, Wick EC, Weiss M, Makary MA, Wu CL, Pawlik TM (2015) Enhanced recovery after surgery protocols for open hepatectomy-physiology, immunomodulation, and implementation. J Gastrointest Surg 19(2):387–399

5.

Veenhof AAFA, Vlug MS, van der Pas MHGM, Sietses C, van der Peet DL, de Lange-de Klerk ESM, Bonjer HJ, Bemelman WA, Cuesta MA (2012) Surgical stress response and postoperative immune function after laparoscopy or open surgery with fast track or standard perioperative care a randomized trial. Ann Surg 255(2):216–221

6.

Muehling B, Schelzig H, Steffen P, Meierhenrich R, Sunder-Plassmann L, Orend K (2009) A prospective randomized trial comparing traditional and fast-track patient care in elective open infrarenal aneurysm repair. World J Surg 33(3):577–585

7.

Aarts M, Okrainec A, Glicksman A, Pearsall E, Victor JC, McLeod RS (2012) Adoption of enhanced recovery after surgery (ERAS) strategies for colorectal surgery at academic teaching hospitals and impact on total length of hospital stay. Surg Endosc 26(2):442–450

8.

Schatz C (2015) Enhanced recovery in a minimally invasive thoracic surgery program. AORN J 102(5):482–492

9.

Cerantola Y, Valerio M, Persson B, Jichlinski P, Ljungqvist O, Hubner M, Kassouf W, Muller S, Baldini G, Carli F, Naesheimh T, Ytrebo L, Revhaug A, Lassen K, Knutsen T, Aarsether E, Wiklund P, Patel HRH (2013) Guidelines for perioperative care after radical cystectomy for bladder cancer: enhanced recovery after surgery (ERAS (R)) society recommendations. Clin Nutr 32(6):879–887

10.

Nelson G, Altman AD, Nick A, Meyer LA, Ramirez PT, Achtari C, Antrobus J, Huang J, Scott M, Wijk L, Acheson N, Ljungqvist O, Dowdy SC (2016) Guidelines for pre- and intra-operative care in gynecologic/oncology surgery: enhanced recovery after surgery (ERAS (R)) society recommendations—Part I. Gynecol Oncol 140(2):313–322

11.

Auyong DB, Allen CJ, Pahang JA, Clabeaux JJ, MacDonald KM, Hanson NA (2015) Reduced length of hospitalization in primary total knee arthroplasty patients using an updated enhanced recovery after orthopedic surgery (ERAS) pathway. J Arthroplasty 30(10):1705–1709

12.

Kim JW, Kim WS, Cheong J, Hyung WJ, Choi S, Noh SH (2012) Safety and efficacy of fast-track surgery in laparoscopic distal gastrectomy for gastric cancer: a randomized clinical trial. World J Surg 36(12):2879–2887

13.

Savikko J, Ilmakunnas M, Makisalo H, Nordin A, Isoniemi H (2015) Enhanced recovery protocol after liver resection. Brit J Surg 102(12):1526–1532

14.

Ni CY, Yang Y, Chang YQ, Cai H, Xu B, Yang F, Lau WY, Wang ZH, Zhou WP (2013) Fast-track surgery improves postoperative recovery in patients undergoing partial hepatectomy for primary liver cancer: a prospective randomized controlled trial. Ejso-Eur J Surg Onc 39(6):542–547

15.

Jones C, Kelliher L, Dickinson M, Riga A, Worthington T, Scott MJ, Vandrevala T, Fry CH, Karanjia N, Quiney N (2013) Randomized clinical trial on enhanced recovery versus standard care following open liver resection. Brit J Surg 100(8):1015–1024

16.

Cuesta MA, Meijer S, Paul MA, Debrauw LM (1995) Limited laparoscopic liver resection of benign-tumors guided by laparoscopic ultrasonography—report of 2 cases. Surg Laparosc Endosc 5(5):396–401

17.

Sanchez-Perez B, Aranda-Narvaez JM, Suarez-Munoz MA, Eladel-Delfresno M, Fernandez-Aguilar JL, Perez-Daga JA, Pulido-Roa Y, Santoyo-Santoyo J (2012) Fast-track program in laparoscopic liver surgery: theory or fact? World J Gastrointest Surg 4(11):246–250

18.

Stoot JH, van Dam RM, Busch OR, van Hillegersberg R, De Boer M, Damink SWMO, Bemelmans MH, Dejong CHC (2009) The effect of a multimodal fast-track programme on outcomes in laparoscopic liver surgery: a multicentre pilot study. HPB (Oxford) 11(2):140–144

19.

He F, Lin X, Xie F, Huang Y, Yuan R (2015) The effect of enhanced recovery program for patients undergoing partial laparoscopic hepatectomy of liver cancer. Clin Transl Oncol 17(9):694–701

20.

Liang X, Ying H, Wang H, Xu H, Yu H, Cai L, Wang Y, Tong Y, Ji L, Luo R, Cai X (2016) Enhanced recovery program versus traditional care in laparoscopic hepatectomy. Medicine (Baltimore) 95:e28358

21.

Melloul E, Hubner M, Scott M, Snowden C, Prentis J, Dejong CH, Garden OJ, Farges O, Kokudo N, Vauthey JN, Clavien PA, Demartines N (2016) Guidelines for perioperative care for liver surgery: enhanced recovery after surgery (eras) society recommendations. World J Surg 40(10):2425–2440

22.

Gustafsson UO, Scott MJ, Schwenk W, Demartines N, Roulin D, Francis N, McNaught CE, MacFie J, Liberman AS, Soop M, Hill A, Kennedy RH, Lobo DN, Fearon K, Ljungqvist O (2013) Guidelines for perioperative care in elective colonic surgery: enhanced recovery after surgery (ERAS((R))) society recommendations. World J Surg 37(2):259–284

23.

Kondrup J, Rasmussen HH, Hamberg O, Stanga Z (2003) Nutritional risk screening (NRS 2002): a new method based on an analysis of controlled clinical trials. Clin Nutr 22(3):321–336

24.

McMullen L, Banman T, DeGroot JM, Scott S, Srdanovic D, Mackey H (2016) Providing novice navigators with a gps for role development: oncology nurse navigator competency project. Clin J Oncol Nurs 20(1):33–38

25.

Nygren J, Hausel J, Kehlet H, Revhaug A, Lassen K, Dejong C, Andersen J, von Meyenfeldt M, Ljungqvist O, Fearon KC (2005) A comparison in five European Centres of case mix, clinical management and outcomes following either conventional or fast-track perioperative care in colorectal surgery. Clin Nutr 24(3):455–461

26.

Polle SW, Wind J, Fuhring JW, Hofland J, Gouma DJ, Bemelman WA (2007) Implementation of a fast-track perioperative care program: what are the difficulties? Digest Surg 24(6):441–449

27.

Pearse R, Dawson D, Fawcett J, Rhodes A, Grounds RM, Bennett ED (2005) Early goal-directed therapy after major surgery reduces complications and duration of hospital stay. A randomised, controlled trial [ISRCTN38797445]. Crit Care 9(6):R687-R693

28.

Wakeling HG, McFall MR, Jenkins CS, Woods W, Miles W, Barclay GR, Fleming SC (2005) Intraoperative oesophageal Doppler guided fluid management shortens postoperative hospital stay after major bowel surgery. Brit J Anaesth 95(5):634–642

29.

Whitehouse MW (2011) Anti-inflammatory glucocorticoid drugs: reflections after 60 years. Inflammopharmacology 19(1):1–19

30.

Didonato AN, Rosette JA, Helmberg C, Karin AM (1995) Immunosuppression by glucocorticoids—inhibition of nf-kappa-b activity through induction of i-kappa-b synthesis. Science 270(5234):286–290

31.

Yamashita Y, Shimada M, Hamatsu T, Rikimaru T, Tanaka S, Shirabe K, Sugimachi K (2001) Effects of preoperative steroid administration on surgical stress in hepatic resection—prospective randomised trial. Archiv Surg 136(3):328–333

32.

Aldrighetti L, Pulitano C, Arru M, Finazzi R, Catena M, Soldini L, Comotti L, Ferla G (2006) Impact of preoperative steroids administration on ischemia-reperfusion injury and systemic responses in liver surgery: a prospective randomized study. Liver Transplant 12(6):941–949

33.

Schmidt SC, Hamann S, Langrehr JM, Hoeflich C, Mittler J, Jacob D, Neuhaus P (2007) Preoperative high-dose steroid administration attenuates the surgical stress response following liver resection: results of a prospective randomized study. J Hepato-Biliary-Pancreat Surg 14(5):484–492

34.

Muratore A, Ribero D, Ferrero A, Bergero R, Capussotti L (2003) Prospective randomized study of steroids in the prevention of ischaemic injury during hepatic resection with pedicle clamping. Brit J Surg 90(1):17–22

35.

Hayashi Y, Takayama T, Yamazaki S, Moriguchi M, Ohkubo T, Nakayama H, Higaki T (2011) Validation of perioperative steroids administration in liver resection a randomized controlled trial. Ann Surg 253(1):50–55

36.

Gan TJ, Diemunsch P, Habib AS, Kovac A, Kranke P, Meyer TA, Watcha M, Chung F, Angus S, Apfel CC, Bergese SD, Candiotti KA, Chan MT, Davis PJ, Hooper VD, Lagoo-Deenadayalan S, Myles P, Nezat G, Philip BK, Tramer MR (2014) Consensus guidelines for the management of postoperative nausea and vomiting. Anesth Analg 118(1):85–113

37.

Parikh RP, Sharma K, Guffey R, Myckatyn TM (2016) Preoperative paravertebral block improves postoperative pain control and reduces hospital length of stay in patients undergoing autologous breast reconstruction after mastectomy for breast cancer. Ann Surg Oncol 23(13):4262–4269

38.

Sakowska M, Docherty E, Linscott D, Connor S (2009) A change in practice from epidural to intrathecal morphine analgesia for hepato-pancreato-biliary surgery. World J Surg 33(9):1802–1808

39.

Convertino VA (1997) Cardiovascular consequences of bed rest: effect on maximal oxygen uptake. Med Sci Sport Exer 29(2):191–196

40.

Brower RG (2009) Consequences of bed rest. Crit Care Med 37(10 Suppl):S422–S428

41.

Fan ST (1998) Problems of hepatectomy in cirrhosis. Hepato-Gastroenterol 453:1288–1290

42.

Kyoden Y, Imamura H, Sano K, Beck Y, Sugawara Y, Kokudo N, Makuuchi M (2010) Value of prophylactic abdominal drainage in 1269 consecutive cases of elective liver resection. J Hepatobiliary Pancreat Sci 17(2):186–192

43.

Fawcett WJ, Mythen MG, Scott MJP (2012) I. Enhanced recovery: more than just reducing length of stay? Brit J Anaesth 109(5):671–674

44.

Khuri SF, Henderson WG, DePalma RG, Mosca C, Healey NA, Kumbhani DJ (2005) Determinants of long-term survival after major surgery and the adverse effect of postoperative complications. Ann Surg 242(3):326–343

45.

Wakabayashi G, Cherqui D, Geller DA, Buell JE, Kaneko H, Han HS, Asbun H, O'Rourke N, Tanabe M, Koffron AJ, Tsung A, Soubrane O, Machado MA, Gayet B, Troisi RI, Pessaux P, Van Dam RM, Scatton O, Abu Hilal M, Belli G, Kwon CHD, Edwin B, Choi GH, Aldrighetti LA, Cai X, Clemy S, Chen K, Schoen MR, Sugioka A, Tang C, Herman P, Pekolj J, Chen X, Dagher I, Jarnagin W, Yamamoto M, Strong R, Jagannath P, Lo C, Clavien P, Kokudo N, Barkun J, Strasberg SM (2015) Recommendations for laparoscopic liver resection a report from the second international consensus conference held in morioka. Ann Surg 261(4):619–629

46.

Bhojani FD, Fox A, Pitzul K, Gallinger S, Wei A, Moulton C, Okrainec A, Cleary SP (2012) Clinical and economic comparison of laparoscopic to open liver resections using a 2-to-1 matched pair analysis: an institutional experience. J Am Coll Surg 214(2):184–195

47.

Kevin TN, Marsh JW, Tsung A, Steel JJL, Gamblin TC, Geller DA (2011) Comparative benefits of laparoscopic vs open hepatic resection a critical appraisal. Arch Surg 146(3):348–356

48.

Fretland AA, Dagenborg VJ, Bjornelv GMW, Kazaryan AM, Kristiansen R, Fagerland MW, Hausken J, Tonnessen TI, Abildgaard A, Barkhatov L, Yaqub S, Rosok BI, Bjornbeth BA, Andersen MH, Flatmark K, Aas E, Edwin B (2017) Laparoscopic versus open resection for colorectal liver metastases. The OSLO-COMET Randomized Controlled Trial, Ann Surg

49.

van Dam RM, Wong-Lun-Hing EM, Van Breukelen GJP, Stoot JHMB, van der Vorst JR, Bemelmans MHA, Damink SWMO, Lassen K, Dejong CHC (2012) Open versus laparoscopic left lateral hepatic sectionectomy within an enhanced recovery ERAS (R) programme (ORANGE II—trial): study protocol for a randomised controlled trial. Trials, 13(54)

50.

Vlug MS, Wind J FAU, Hollmann MW, Hollmann MW FAU, Ubbink DT, Ubbink DT FAU, Cense HA, Cense HA FAU, Engel AF, Engel AF FAU, Gerhards MF, Gerhards MF FAU, Van Wagensveld BA, van Wagensveld BA FAU, Van Der Zaag ES, van der Zaag ES FAU, Van Geloven AAW, van Geloven AA FAU, Sprangers MAG, Sprangers MA FAU, Cuesta MA, Cuesta MA FAU, Bemelman WA (2011) Bemelman WA—laparoscopy in combination with fast track multimodal management is the best perioperative strategy in patients undergoing colonic surgery: a randomized clinical trial (LAFA-study). Ann Surg 254(6):868–875. https://doi.org/10.1097/SLA.0b013e31821fd1ce

51.

Gustafsson UO, Hausel J FAU, Thorell A, Thorell A FAU, Ljungqvist O, Ljungqvist O FAU, Soop M, Soop M FAU, Nygren J, Nygren J (2011) Adherence to the enhanced recovery after surgery protocol and outcomes after colorectal cancer surgery. Arch Surg 146(5):571–577. https://doi.org/10.1001/archsurg.2010.309
Acknowledgements
Thanks for the patients who agreed to participate in the study and the surgeons, anesthetists, statistician, and nurses who helped to implement the protocol. Thanks Dr. Liu Hui, a statistician from institution of minimally invasive surgery of Zhejiang university who carried out random allocation and helped with the statistician analysis.
Funding
This study was supported by the Medical Technology Project of Zhejiang Province (Grant 2015RCA015) and the Natural Science Foundation of Zhejiang Province of China (Grant LY17G030019).
Ethics declarations
Disclosures
Xiujun Cai, Xiao Liang, Hanning Ying, Hongwei Wang, Hongxia Xu, Minjun Liu, Haiyan Zhou, Huiqing Ge, Wenbin Jiang, Lijun Feng, Hui Liu, Yingchun Zhang, Zhiying Mao, Jianhua Li, Bo Shen, and Yuelong Liang declares no conflict of interest or financial ties to disclose.
Electronic supplementary material
Below is the link to the electronic supplementary material.
About this article
Cite this article
Liang, X., Ying, H., Wang, H. et al. Enhanced recovery care versus traditional care after laparoscopic liver resections: a randomized controlled trial. Surg Endosc 32, 2746–2757 (2018). https://doi.org/10.1007/s00464-017-5973-3
Received:

Accepted:

Published:

Issue Date:
Keywords
Enhanced recovery after surgery (ERAS)

Laparoscopic liver resection

Randomized controlled trial

Length of hospital stay

Pain control

Complications