Abstract
Background
Laparoscopic liver resections for lesions in the postero-superior segments are technically demanding due their deep location and relation with the vena cava. However, previous reports have demonstrated the feasibility and safety of these resections in centres with advanced experience in laparoscopic liver surgery. In this case series, we present our results and experience of laparoscopic parenchymal sparing liver resections of lesions in segment 8.
Methods
All patients undergoing laparoscopic liver resections of segment 8 lesions, alone or combined with other liver resections, between August 2003 and July 2016 were included. Analysis of baseline characteristics and perioperative results was performed for the whole cohort. A separate subgroup analysis was performed for isolated segment 8 resections. Long-term results were analyzed in patients with colorectal liver metastases. A video is attached for thorough explanation of surgical technique.
Results
A total of 30 patients were included. Among them, 13 patients had isolated segment 8 resections. Operative time for the whole cohort and isolated segment 8 resections were 210 min (range 180–247 min) and 200 min (range 90–300 min), respectively. The conversion rate was 3.4% for the entire cohort and 0 for isolated segment 8 resections. Major morbidity was 7 and 0%, respectively. R0 rates were 96% for the entire cohort and 92% for isolated segment 8 resections. Recurrence free survival in the colorectal liver metastasis subgroup was 82, 71 and 54% at 1, 3 and 5 years. Overall survival was 94, 82 and 65% at 1, 3 and 5 years.
Conclusions
Laparoscopic resection of lesions in segment 8 is feasible and offers the benefits of minimally invasive surgery with parenchyma sparing resections. However, advanced experience in LLR is essential to ensure safety and oncological results.
This is a preview of subscription content, log in to check access.
Access options
Buy single article
Instant unlimited access to the full article PDF.
US$ 39.95
Price includes VAT for USA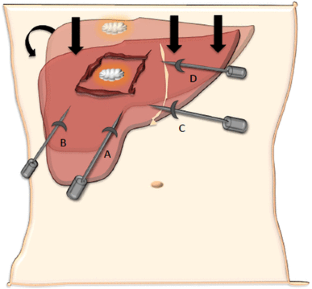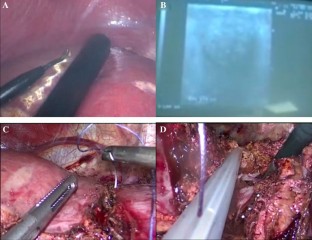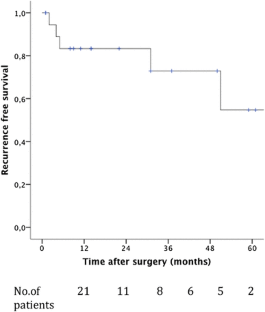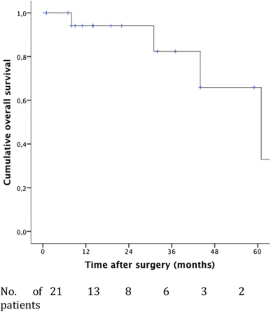 References
1.

Buell JF, Cherqui D, Geller DA et al (2009) The international position on laparoscopic liver surgery: The Louisville Statement, 2008. Ann Surg 250:825–830

2.

Cherqui D, Husson E, Hammoud R, Malassagne B, Ste´phan F, Bensaid S, Rotman N, Fagniez PL (2000) Laparoscopic liver resections: a feasibility study in 30 patients. Ann Surg 232:753–762

3.

Kaneko H (2005) Laparoscopic hepatectomy: indications and outcomes. J Hepatobiliary Pancreat Surg 12:438–443

4.

Cho JY, Han HS, Yoon YS, Shin SH (2008) Feasibility of laparoscopic liver resection for tumors located in the posterosuperior segments of the liver, with a special reference to overcoming current limitations on tumor location. Surgery 144:32–38

5.

Wakabayashi G, Cherqui D, Geller DA, Buell JF, Kaneko H, Han HS, Asbun H et al (2015) Recommendations for laparoscopic liver resection: a report from the second international consensus conference held in Morioka. Ann Surg 261(4):619–629

6.

Pearce NW, Di Fabio F, Teng MJ, Syed S, Primrose JN, Abu Hilal M (2011) Laparoscopic right hepatectomy: a challenging, but feasible, safe and efficient procedure. Am J Surg 202:e52–e55

7.

Abu Hilal M, Di Fabio F, Teng MJ, Lykoudis P, Primrose JN, Pearce NW (2011) Single-centre comparative study of laparoscopic versus open right hepatectomy. J Gastrointest Surg 15:818–823

8.

Coles SR, Besselink MG, Serin KR, Alsaati H, Di Gioia P, Samim M, Pearce NW, Abu Hilal M (2015) Total laparoscopic management of lesions involving liver segment 7. Surg Endosc 29(11):3190–3195

9.

Abu Hilal M, Di Fabio F, Abu Salameh M, Pearce NW (2012) Oncological efficiency analysis of laparoscopic liver resection for primary and metastatic cancer: a single-center UK experience. Arch Surg 147:42–48

10.

Abu Hilal M, Pearce NW (2008) Laparoscopic left lateral liver sectionectomy: a safe, efficient, reproducible technique. Dig Surg 25:305–308

11.

Abu Hilal M, Badran A, Di Fabio F, Pearce NW (2011) Pure laparoscopic en bloc left hemihepatectomy and caudate lobe resection in patients with intrahepatic cholangiocarcinoma. J Laparoendosc Adv Surg Tech A 21(9):845–849

12.

Rotellar F, Pardo F, Bueno A, Martí-Cruchaga P, Zozaya G (2012) Extracorporeal tourniquet method for intermittent hepatic pedicle clamping during laparoscopic liver surgery: an easy, cheap and effective technique. Langenbecks Arch Surg 397(3):481–485

13.

Dindo D, Demartines N, Clavien PA (2004) Classification of surgical complications: a new proposal with evaluation in a cohort of 6336 patients and results of a survey. Ann Surg 240(2):205–213

14.

Ciria R, Cherqui D, Geller DA, Briceño J, Wakabayashi G (2016) Comparative short-term benefits of laparoscopic liver resection: 9000 cases and climbing. Ann Surg 263(4):761–777

15.

Cipriani F, Rawashdeh M, Stanton L, Armstrong T, Takhar A, Pearce NW, Primrose J, Abu Hilal M (2016) Propensity score-based analysis of outcomes of laparoscopic versus open liver resection for colorectal metastases. Br J Surg 103:1504–1512

16.

Takasaki J (1998) Glissonean pedicle transection method for hepatic resection: a new concept of liver segmentation. Hepatobiliary Pancreat Surg 5:286–291

17.

McPhail MJ1, Scibelli T, Abdelaziz M, Titi A, Pearce NW, Abu Hilal M (2009) Laparoscopic versus open left lateral hepatectomy. Expert Rev Gastroenterol Hepatol 3(4):345–351

18.

Abu Hilal M1, Di Fabio F, Syed S, Wiltshire R, Dimovska E, Turner D, Primrose JN, Pearce NW (2013) Assessment of the financial implications for laparoscopic liver surgery: a single-centre UK cost analysis for minor and major hepatectomy. Surg Endosc 27(7):2542–2550

19.

Cipriani F, Shelat VG, Rawashdeh M, Francone E, Aldrighetti L, Takhar A, Armstrong T, Pearce NW, Abu Hilal M (2015) Laparoscopic parenchymal-sparing resections for nonperipheral liver lesions, the diamond technique: technical aspects, clinical outcomes, and oncologic efficiency. J Am Coll Surg 221:265e 272

20.

Ogiso S, Conrad C, Araki K, Nomi T, Anil Z, Gayet B (2015) Laparoscopic transabdominal with transdiaphragmatic access improves resection of difficult posterosuperior liver lesions. Ann Surg 262(2):358–365

21.

Ichida H, Ishizawa T, Tanaka M, Terasawa M, Watanabe G, Takeda Y, Matsuki R, Matsumura M, Hata T, Mise Y, Inoue Y, Takahashi Y, Saiura A (2016) Use of intercostal trocars for laparoscopic resection of subphrenic hepatic tumors. Surg Endosc 21:1280–1286

22.

Tranchart H, Gaillard M, Chirica M, Ferretti S, Perlemuter G, Naveau S, Dagher I (2015) Multivariate analysis of risk factors for postoperative complications after laparoscopic liver resection. Surg Endosc 29:2538–2534

23.

Nomi T, Fuks D, Kawaguchi Y, Mal F, Nakajima Y, Gayet B (2015) laparoscopic major hepatectomy for colorectal liver metastases in elderly patients: a single-center, case-matched study. Surg Endosc 29:1368–1375

24.

Nguyen KT, Laurent A, Dagher I, Geller DA, Steel J, Thomas MT, Marvin M, Ravindra KV, Mejia A, Lainas P, Franco D, Cherqui D, Buell JF, Gamblin TC (2009) Minimally invasive liver resection for metastatic colorectal cancer. Ann Surg 250:842–848

25.

Santambrogio R, Opocher E, Ceretti AP, Barabino M, Costa M, Leone S, Montorsi M (2007) Impact of intraoperative ultrasonography in laparoscopic liver surgery. Surg Endosc 21:181–188

26.

Araki K (2014) Intraoperative ultrasonography of laparoscopic hepatectomy: key technique for safe liver transection. J Am Coll Surg 218:e37–e41
Ethics declarations
Disclosures
David Martínez-Cecilia, Martina Fontana, Najaf N. Siddiqi, Mark Halls, Salvatore Barbaro, Mohammad Abu Hilal have no conflicts of interest or financial ties to disclose.
Electronic supplementary material
Below is the link to the electronic supplementary material.
Supplementary material 1 (MP4 152703 KB)
About this article
Cite this article
Martínez-Cecilia, D., Fontana, M., Siddiqi, N.N. et al. Laparoscopic parenchymal sparing resections in segment 8: techniques for a demanding and infrequent procedure. Surg Endosc 32, 2012–2019 (2018) doi:10.1007/s00464-017-5897-y
Received:

Accepted:

Published:

Issue Date:
Keywords
Laparoscopy

Liver

Segment 8

Postero-superior segments

Parenchymal sparing resection